Welcome to a Great Adventure!
I am researching the life and times of my uncle,
EMIL SILVAN SCOTT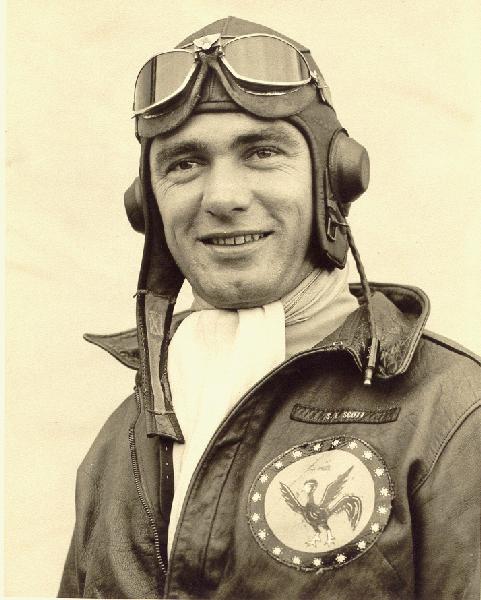 Hawaii 1936-37
Known to his friends as "Scotty".
As pilot of China National Aviation Corporation's (CNAC's) last DC-2, #31, he is killed shortly after take-off from Kunming, China, March 14, 1942. Cable to Emil's father-in-law, George Steele. Emil was survived by his wife, Georgi Scott, who now lives in San Francisco, California, his daughter Gay Moana and ten brothers and sisters; Val Scott, Lois Rutherford, Carlos Scott, Nada Moore, Oleta Marshall, Ruby Andrews, Marguerite Meadows, Homer Scott, Lawrence Scott and Robert Scott.
Georgi Scott seeks the help of good friend Claire Chennault to make her Scotty's final resting place in The National Memorial Cemetery of the Pacific (Punchbowl), overlooking Honolulu.
Emil Silvan Scott was born 2 April 1911 in Chillicothe, Hardman County, Texas, to Lewis Lorenzo Scott and Frankie Frazier Scott. Emil graduated from Jourdanton High School, Texas in 1929. He went on to graduate from Southwest Texas Teachers College with a BA, August 23, 1933. On June 22, 1935, Emil graduates from the Air Corps Advanced Flying School at Kelly Field. On June 1, 1936, Emil and good friend Frank Higgs sailed from New York through the Panama Canal to San Francisco and then to Honolulu. Christmas dinner, 1936, finds 2nd Lt Scott assigned to the 19th Pursuit Squadron at Wheeler Field, Territory of Hawaii. After being recruited by Claire Chennault late in 1937, Emil resigns his commission to become a flight instructor for the Chinese Air Force. This was a clandestine effort for the Chinese Air Force. Emil and his good flying buddy Roger Reynolds (on the left), sail for China on the S.S. Coolidge to become Flight Instructors for the Chinese Air Force. In 1940-1941, Emil worked for Andres Soriano during the embryonic stages of Philippine Air Lines. During their time in Manila, Scotty and Georgi spend many happy hours at the Army-Navy Club. From 1938 to 1942 letters come from many places - Hong Kong, Lui Chow, Canton and Hanoi, but mostly Mentsze and Kunming. Emil's last job was with the China National Aviation Corporation (CNAC), from August 6, 1941 until his death, March 14, 1942.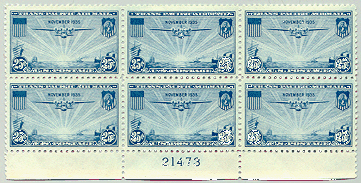 These kinds of postage stamps delivered many letters from the United States across the Pacific Ocean.
Some of Emil's friends are Clarence L. Schmid, Lee Cherymisin, Jimmy Bledsoe, Skip Adair (Emil to his right) and his wife Jeanette - better known as "Steve" (Chennault, Steve Adiar, Georgi Scott and Pearl Heston), Boatner Carney, Billy McDonald, Willie Pannis, Claire Chennault, Harry and Kasy Sutter, Willie and Pearl Heston, Frank Higgs, Rosie Mok, Bob and Chris Angle, John Williams, Foxy Kent, Royal Leonard (click here for more about John Williams), Chuck Sharp in center (in front of his CNAC DC-2), Bob Angle in shorts at left, Lee Cherymisin in center with shorts on and Emil in pith helmet, Hal Sweet, Harvey and Olga Greenlaw and Sebie Biggs Smith (my friend, too) of Montgomery, Alabama. One of Emil's flying students in China was Frederick Liu, currently of Woodland Hills, California. One of Emil's co-flight instructors is E.W. Chen (Chen En Wei) of Madison Heights, Michigan.
LEARNING TO FLY WITH THE U.S. ARMY AIR CORPS
SCOTTY FLEW THESE TYPES OF AIRCRAFTS
CAN YOU IDENTIFY ANY OF THESE PEOPLE?
(Amber is Emil and Georgi's Granddaughter.)
HELP!

Do you know any of these folks?
The smallest clue or anecdote is appreciated.
BOOKS, BOOKS, BOOKS!!!!

Emil and/or Georgi are mentioned in the following books:
Airlines of Pan American since 1927 by Gene Banning (Emil)
An Airline At War by Robert L. Willett (Emil and Georgi)
Chennault by Jack Samson (Emil)
Forgotten Aviator by Barry S. Martin (Emil)
Half a World Away by Frances Long (Georgi)
Reflections of Chrystal by Chrystal S. Angle (Mrs. Robert Angle) (Emil and Georgi)
The Dragon's Wings by William M. Leary, Jr. (Emil)
The Lady And The Tigers by Olga S. Greenlaw (Emil and Georgi)
Trails In Philippine Skies by Enrique B. Santos
Way Of A Fighter by Claire Lee Chennault (Emil and Georgi)
Wings Over Asia Volume IV (Emil)

This is my growing book collection.
This is my growing magazine collection of the 30s and 40s.
This is my video and film collection.
AND THEN, AND THEN ...
I'm looking for these books. More?? I must be nuts!
Maybe just a short e-mail??
'Cause I'd really like to hear from you. Thanks.
Hey, check it out. I got my own CNAC DC2.
As Emil might end one of his letters -

"Adieu & Aloha!"
RELATED SITES OF INTEREST:

History of China National Aviation Corporation (CNAC)
CNAC Hump Pilots
History Pan American World Airways
University of Miami, Pan Am Archives
Chinese Canadian Military Museum Home Page
We Served With Pride
(The Chinese American Experience in WWII)
The World War II Memorial in Washington, DC
China Clipper
The Flying Tigers Home Page (AVG)
Major Airline Disasters
Brief History of the Douglas DC-1, 2 and 3
Boeing & Douglas: A History of Customer Service
Air Sickness Bags
Background music to this
page can be controlled here.
"Clair de Lune"