FOOTPRINTS OF ELIZABETH (STEELE) SCOTT (1919 - 2005)
"GEORGI" MOST OF THE TIME, BUT SOMETIMES CALLED "BETTY" OR "BETTE"
- Born 3 March 1919, 5 P.M., in Paia, Maui, in the Territory of Hawaii to George and Elizabeth Mattison Steele.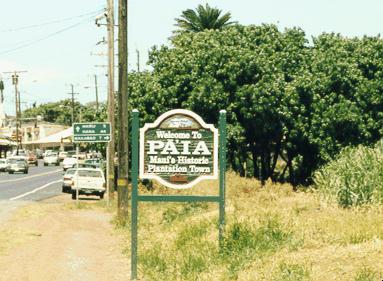 - June 19, 2005 at 7:50 P.M., in San Francisco, California, Georgi Scott passed away. Her remains were cremated and final disposition was at the National Memorial Cemetery of the Pacific (Punchbowl) overlooking Honolulu, Hawaii, Thursday, April 27, 2006, with her beloved "Scott".

(Note: Go to the bottom of this page and stop the music. Then you can play the two "here" links to see the service.)

Click here and here for two short movies from the service.

The minister and singer is Leolani K. Pratt of Honolulu. Leolani preaches at a congregation on the Big Island of Hawaii, where the service is all done in the Hawaiian language. I couldn't have picked a more perfect person for Georgi's service and I think she would have been pleased.



________________________________________________________________________ ________________________________________________________________________

- 1919-1937: Growing up on a plantation in Hawaii must be worth a book in itself.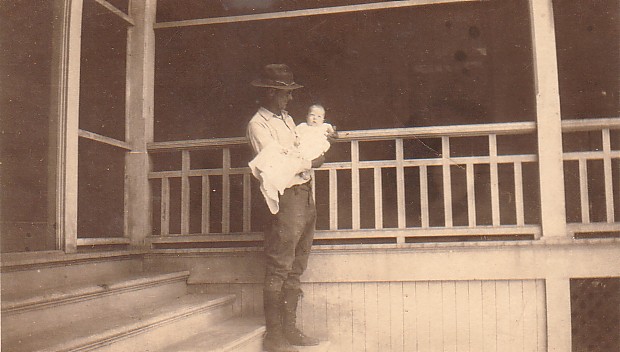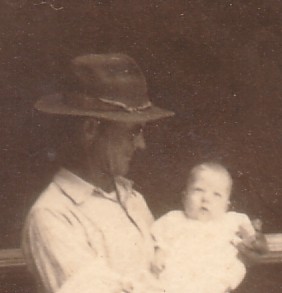 George Steele with his daughter, Elizabeth
Maui - 1919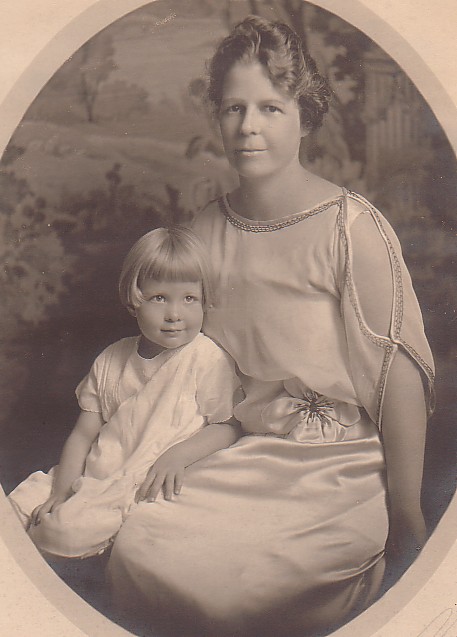 Elizabeth and Elizabeth Steele about 1923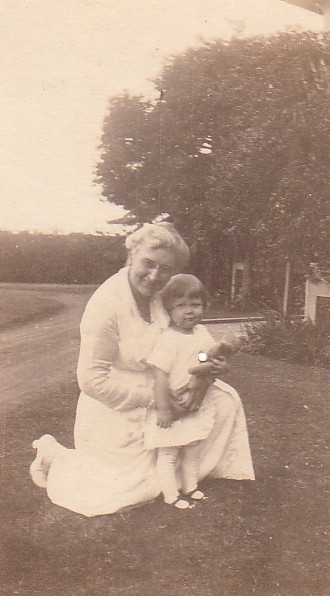 That's little Elizabeth Steele with her Teddy, but who is the woman?
Probably on Maui about 1923.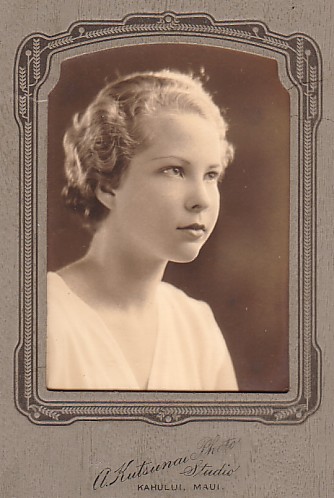 Elizabeth Steele about 1935
- 1935: Betty is in this graduation class at Punahou.
- 1937: Betty is attending the University of Hawaii in Honolulu.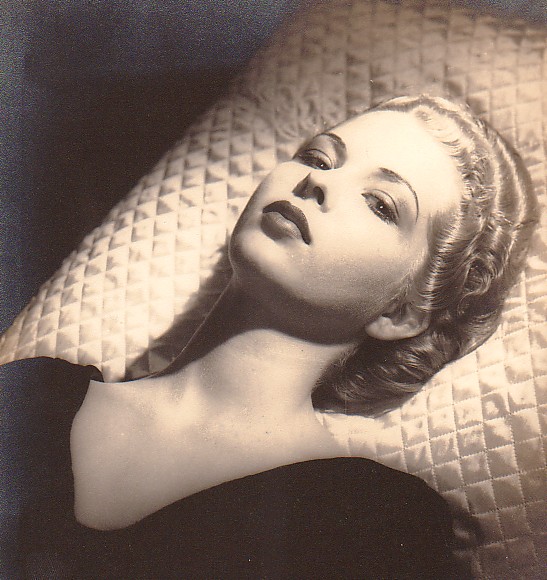 Betty Steele about 1938
- 1937: Betty meets Emil Silvan "Scotty" Scott at a Tea Dance at the Alexander Young Hotel in Honolulu.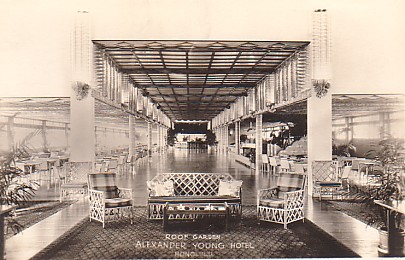 - November 13, 1939: Married in Kowloon to Emil Silvan "Scotty" Scott of Jourdanton, Texas. Best Man at St. Andrews Church was Royal Leonard. Ceremony was also witnessed by Walter Campbell "Foxy" Kent. Katy and Oscar Wilke arranged the reception at the Peninsula Hotel immediately following the wedding.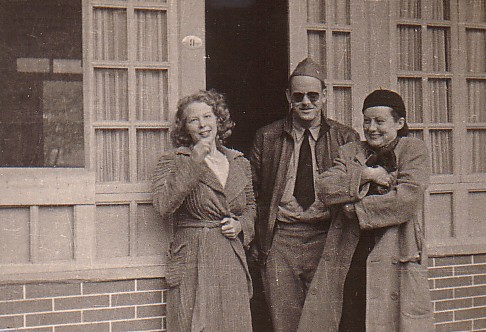 Betty, Unknown and Steve Adair
Anybody know the dogs name?
Probably Kunming - 1940
- 1940: Betty sees a movie in Hong Kong starring Hedi Lamarr. Hedi's character's name is "Georgi". Betty likes the character and name so much she decides to make it her name. Anybody know the name of this movie???? NOTE: Thanks to Tony Banham of Hong Kong, I now know the movie's title (also staring Spencer Tracy), "I Take This Woman". Thanks Tony. Click here to learn more about "I Take This Woman".
- Summer of 1940: Picture taken at the home of Bob and Chris Angle has the following folks in the picture -
Bob Angle
Claire Chennault
Rosie Mok
Emil Scott
John Williams
Kasy Sutter
Chris Angle
Betty Scott
- 30 August 1940: In Manila, the Philippines, Georgi gives birth to a healthy girl - Moana Scott. Moana was delivered by Dr. Beulah Allen.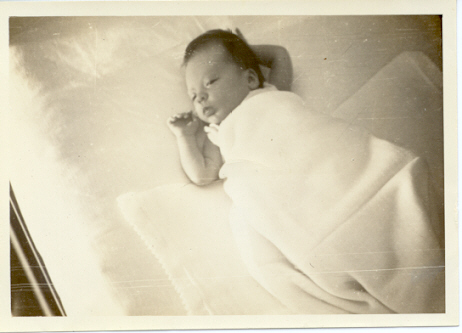 - Monday, November 11, 1941: Letter from Betty "Georgi" Scott, A3 Miramar Apts., Dewey Boulevard, Manila, P.I. Names Mentioned:
Col. Chennault
Frank Higgs
Foxy Kent
- December 8, 1941 - February 1942: After Manila falls, Betty Scott is interned by the Japanese at Santa Tomas (Hospital) Internment Camp and then to Los Banos Internment Camp until she is released at the end of the war in 1945. Betty meets Carl and Shelley Mydans (photo journalists) while interned at Santa Tomas, in addition to the Brazee sisters and the Sams family. Betty also meets E.W. Hazzard, who knew Emil well. Until Betty's release, she did not officially know of Emil's death, but she had read of the accident and suspected about his death, from an English Phillipine newspaper.
(Click HERE to see a list of other Internment/POW Camps.)
- March 14, 1942 (about 10:15 P.M.): Emil was killed in the crash of CNAC's last DC-2, #31, shortly after take-off about 2 km from Kunming Airport on a flight to Chungking, as reported in the New York Times, March 16, 1942. Three crew members and ten passengers died, including Emil, Major General Lancelot Dennys, chief of the British military mission to China, Lieutenant Colonel Frederick L. Kohler of the American military mission, and Fenimore B. Lynch, advisor to the Central Bank of China; four passengers survived.
- March 16, 1942: Emil was buried in the Chinese Cemetery for Military Aviators, 8 kilometers east of Kunming on the Kweiyang road. Chaplain Paul Frillmann performed the burial service. Claire Chennault was in attendance along with Flying Tiger Charlie Bond. Olga S. Greenlaw also attended.
- 1 June 1942: Letter from Lt. Col. Charles H. Morhouse, Aide-de-Camp to General MacArthur and good friend of Emil's, writes to Georgi's mother (Beth Steele), telling her what he knows of Georgi's whereabouts.
- November 27, 1943: Letter (and envelope)from Olga Greenlaw to Lois Rutherford (Emil's sister) about watching "the list of repatriated prisoners of war", but she is unable spot Betty's (Georgi) name.
- 31 January 1945: SECRET Message from CHENNAULT to GHQ SWPA (MACARTHUR) requesting any aid be given to William H. Donald and Betty Scott.
- February 23, 1945: ... the "angels"-- paratroopers from the 11th Airborne Division--descend on the Japanese prisoner of war camp at Los Banos. Over 2000 civilian internees are liberated with no casualties among the rescuers or the internees. Georgi Scott is one of those rescued internees.
Click here to see the "blond bomb" in the food line after liberation. Probably taken at Bilibid.
- March, 1945: While resting on the beach at Luzon, Georgi is approached by a young U.S. Army Air Corp pilot, Edward Meadows. They have an interesting conversation. Eddie was the husband of Emil's youngest sister, Marguerite Meadows.
- 1945 Mar 7: WESTERN UNION TELEGRAM to Mrs. Elizabeth M. Steele, tells of her daughter Elizabeth S. Scott's rescue!!!!
Newspaper article tells of Georgi's release along with two others, Elmer Madsen and William V. Ward.
- 30 July 1945: Letter from General Chennault to Georgi, about her release from internment, Scotty's death and her coming back to China.
- August 9, 1945: Letter from Frank Higgs to Betty (Georgi), about Scotty's estate and Scotty's business with Boatner Carney.
- November 30, 1945: Letter from William "Billy" McDonald, Jr. to Elizabeth Scott, regarding Emil's personal effects and Scotty and Carney's Burma Road business.
- 17 March 1949: Letter from Claire Chennault to Georgi Scott regarding the transfer of Scotty's remains.
- 12 August 1949: Emil's remains are re-interred in Section D, Grave No. 147, in the National Memorial Cemetery of the Pacific (Punchbowl) overlooking Honolulu, Hawaii.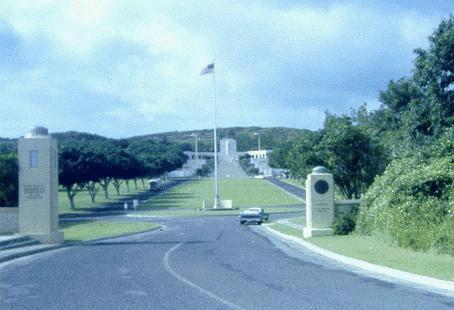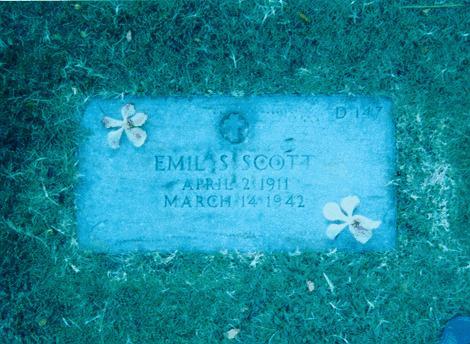 - March 7, 1955: Georgi marries Winthrop Lowell in Las Vegas, Nevada. They were divorced in 195?
- November 15, 1958: Georgi marries Charles Niebel in Palo Alto, California.


The following three pictures were taken at the wedding reception of Charles and Georgi Niebel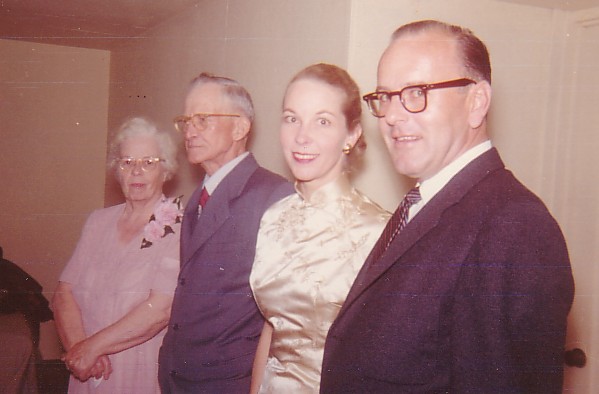 Beth and George Steele with Georgi and Charles Niebel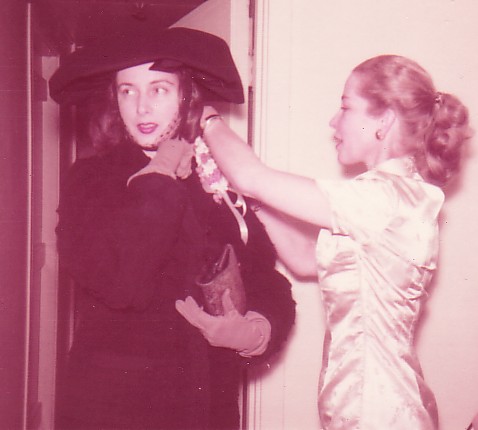 Georgi's 1st cousin, Gail (Baldwin) Creveling and Georgi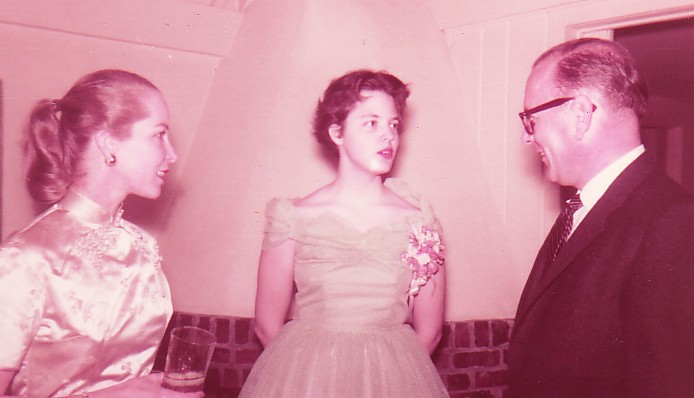 Georgi, her daughter, Moana Scott and Charles


Georgi and Charles were divorced in 1962.

- 1958 through the early 1970s: Georgi lives in Germany and France.

- Christmas 1964: Georgi has a great time on a Christmas vacation on Majorca. But, reads in the International Harold Tribune about the death of Philippine Air Lines originator and general manager of the San Miguel Brewery, Andres Soriano. Georgi remembers him well. She also remembers Col Paul Irving Gunn as a nice man. Gunn worked for Soriano.

- 1977: Letter from Seattle, Washington. Enjoying living there, except for the "rain, rain, rain". And now she's using the "Scott" name again.

- 197? or 80? to present - Georgi likes living in the Bay Area but would like to move back to her beloved Hawaii.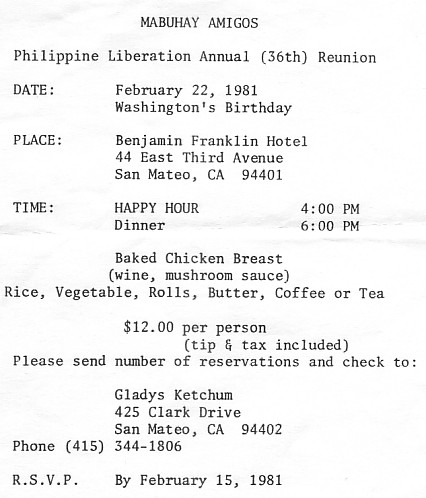 Georgi and Sascha Weinzheimer Jansen at the above reunion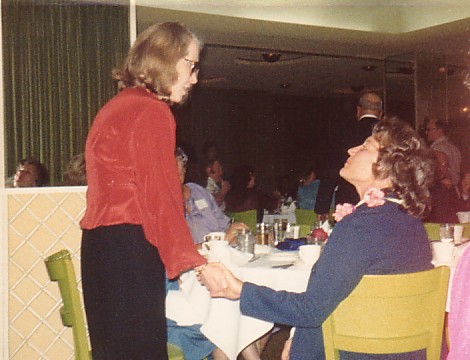 - July 30, 1995: Sunday Brunch at the Moonraker Resturant in Rockaway Beach, California.

Left to right - Clark Argeris, Frances and Larry Scott, Georgi Scott and Tom Moore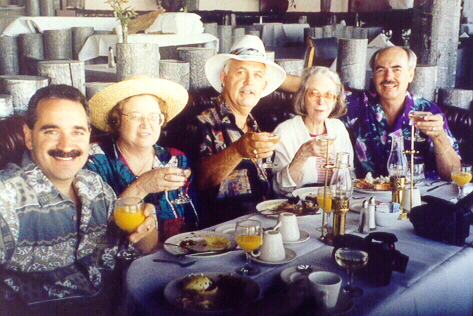 - 1995 - Georgi gives me two photos albums and a stack of paperwork that cover the late 1940's, including letters from Claire Chennault, Billy McDonald and Frank Higgs. I consider these some of my special treasures. Some great pictures, too. Many of these pictures and documents can be seen here on this Web site.
- February 3, 1996: Georgi Scott and Tom Moore at Georgi's apartment in San Francisco.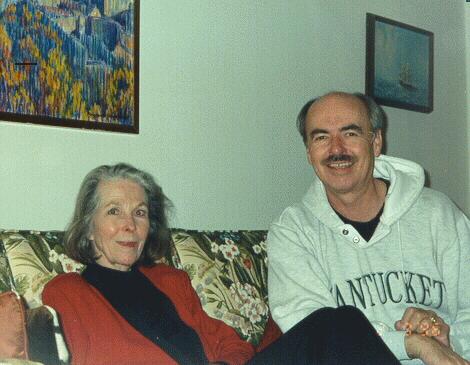 - February 8, 1996: After over 50 years, Carl and Shelley Mydans have a great reunion with Georgi.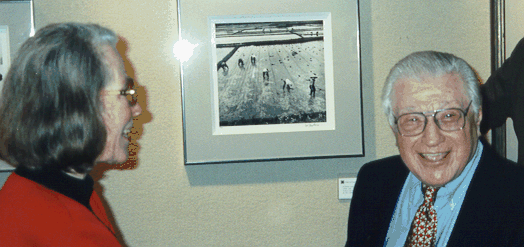 (Click here to see more about the Mydans.)

This reunion was at a showing of Carl's photographic expertise and talent, in San Francisco.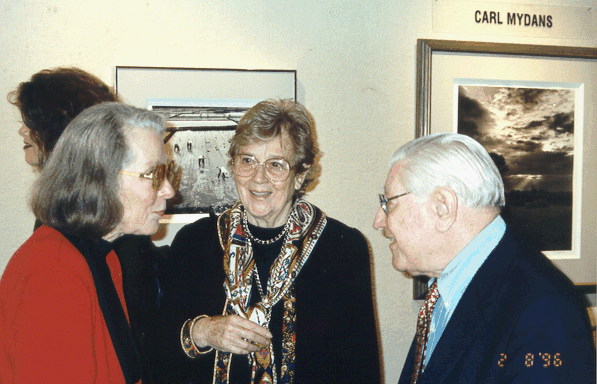 Georgi and Carl seem to be really enjoying themselves, as we all did.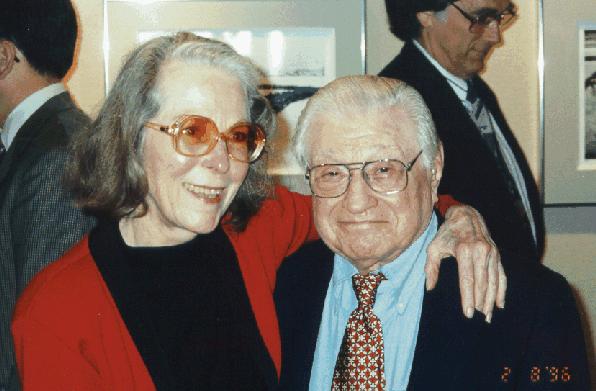 This evening will be remembered for a long time - especially by me, Tom Moore.
Carl and Shelley are accomplished authors in addition to Carl's photo-journalistic career with Life Magazine. Carl's bio.
---
1998
This year Larry and Frances end up in San Francisco and "drag" Georgi to mine and Clark's home in Roseville, California.
Larry Scott is half brother to Emil Scott.
All five of us pile in the car and head up the mountians to Stateline, California/Nevada.
Well, look who we ran into when we walked into Harrah's -- total and happy surprise for all of us.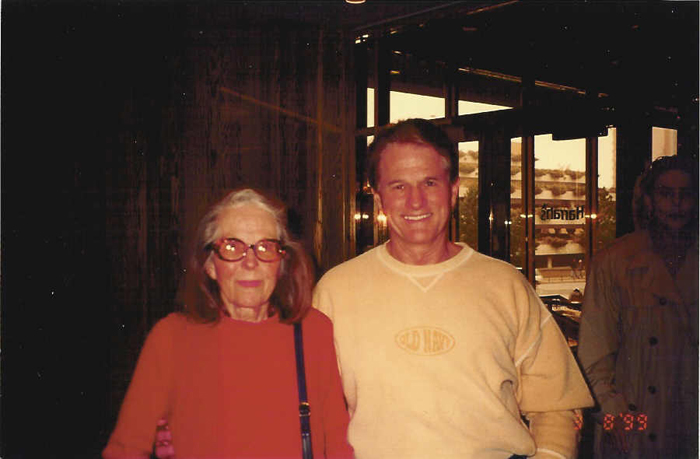 Georgi and Scott Meadows
(I think that's Scott's wife, Juana to the right)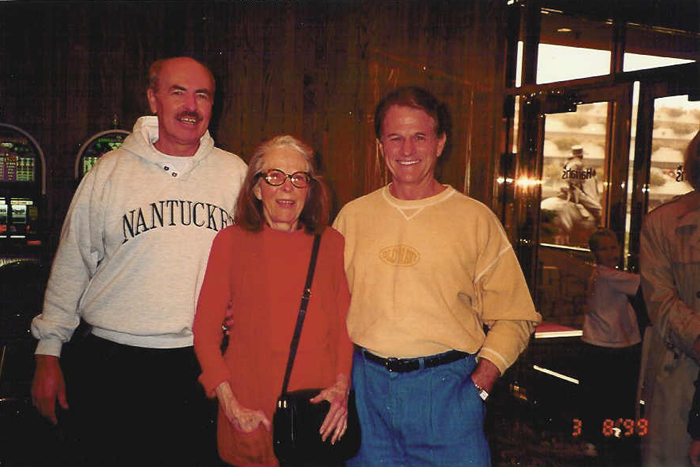 Me, Georgi and Scott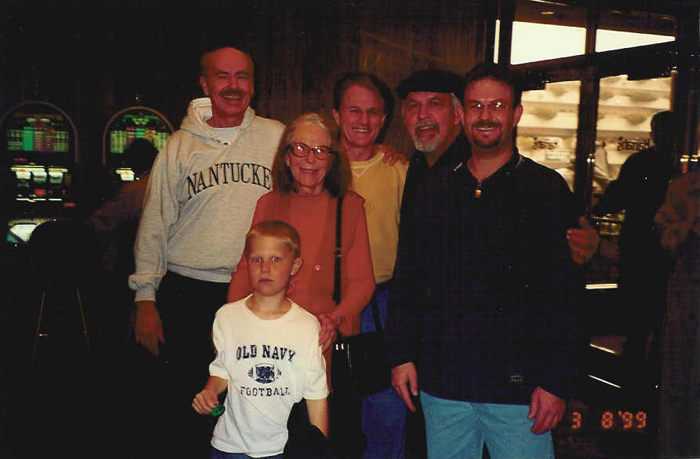 Me, Georgi, Scott, Larry and Scott's son, Brett
??? in front

The next night dinner at our house...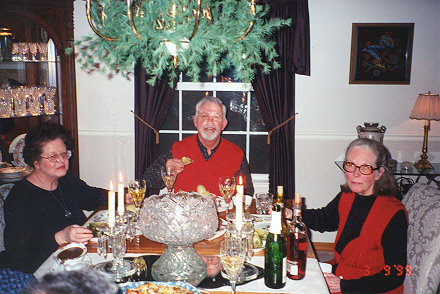 Frances, Larry and Georgi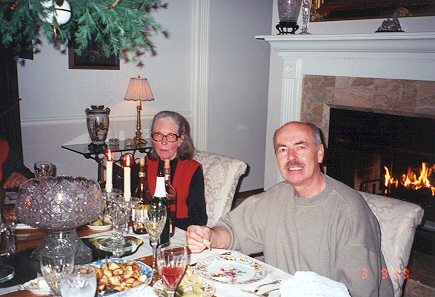 Georgi and Tommy aka Tom aka me


---
March 1999
Here are Georgi and Katherine Cotterman Hoskins.
This was their first meeting since they last saw each other in Santo Tomas (1943).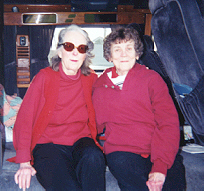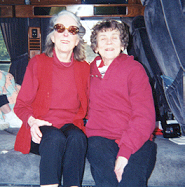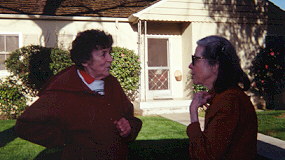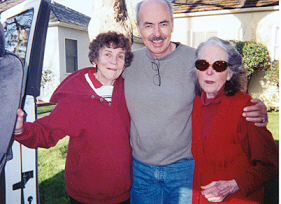 ---
Please sign the following Obituary Guestbook in Georgi's memory.
Thanks.




Background music to this
page can be controlled here.
Theme from the movie "Hawaii"
"I Am Hawaii"