FLYING AND ROMANCE IN HAWAII


(December 1936 - December 1937)
- 9 December 1936: War Department Special Orders No. 291, finds Emil on duty in the Territory of Hawaii as a 2nd Lt. in the Air Corps Reserve.
- Christmas Dinner - 1936, 19th Pursuit Squadron, Air Corps, Wheeler Field, T.H., with Emil S. Scott listed as a Second Lieutenant.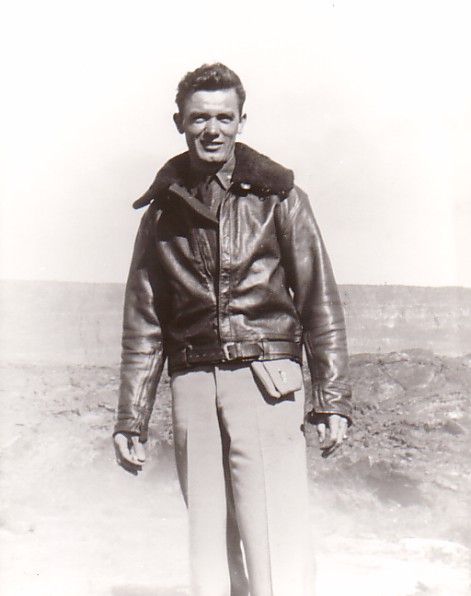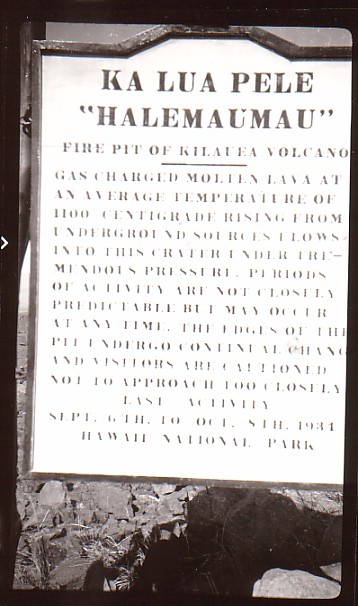 Halema'uma'u in Kilauea Caldera,
Volcano National Park, southwest of Hilo, Hawaii
1936 or 1937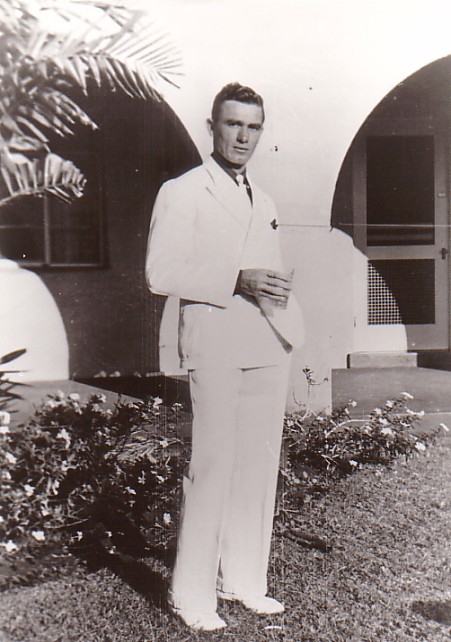 Scotty all decked out for a night on the town!
Or to a Tea Dance on the roof of the Alexander Young Hotel,
where he would meet his future bride?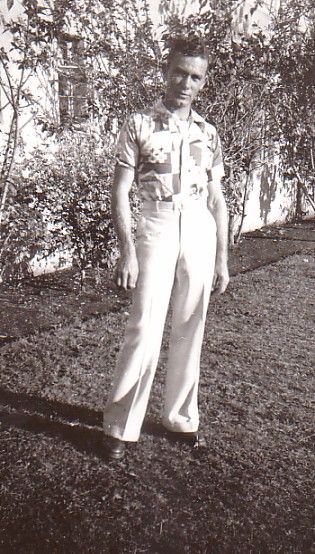 Is Scotty in a precursor to the Hawaiian print shirt?
- Sometime in 1936/7: Inter-Island Airways Sikorsky S-43 (#5), also called the "Baby Clipper", was one of 3 such models Inter-Island owned. #5 arrived in Hawaii in Devember 1935. Inter-Island changed its name to Hawaiian Airlines in September of 1941. Here's some history of Hawaiian Airlines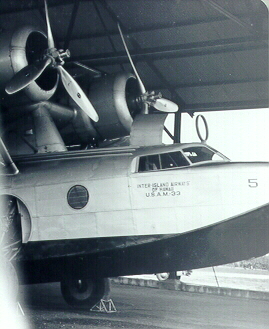 (Photo Courtesy of Tom Moore)


Also sometime in 1936/7: Pan Am Martin M-130, one of 3 used from 1935-39 in the Pacific. This one is anchored near Pearl City, west of Honolulu. Tail #NC 14716 was the "China Clipper". This plane inaugurated the world's first trans-Pacific air mail service, 22-29 November 1935. She sank at Port of Spain, Trinidad, 8 January 1945.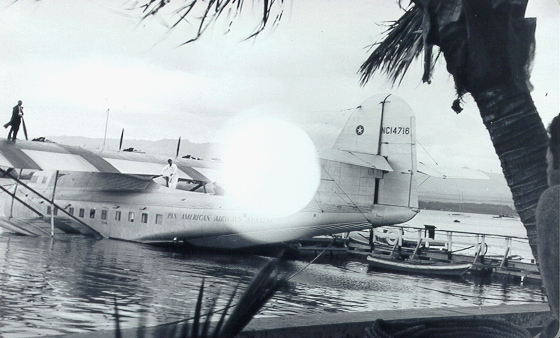 (Photo Courtesy of Tom Moore)
- January 18, 1937: Application For Commission In The Regular Army, signed at Wheeler Field, T.H..
- February of 1937: Other papers indicate that he was assigned to the 19th Pursuit Squadron and the 18th Pursuit Group at Schofield Barracks, Territory of Hawaii.
- 1937: Georgi meets Emil Silvan "Scotty" Scott at a Tea Dance at the Alexander Young Hotel in Honolulu.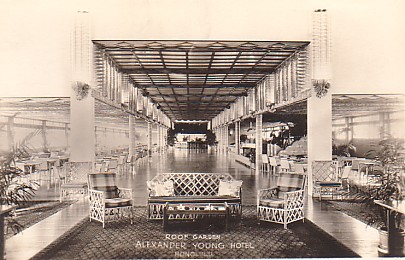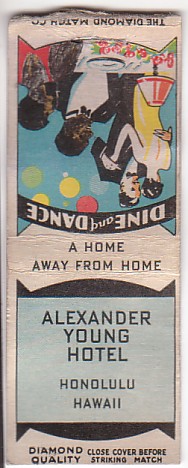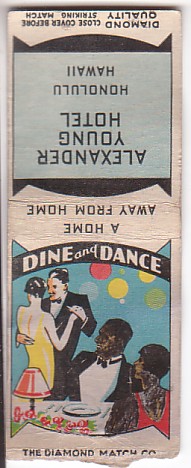 - August 28, 1937: Promoted to 1st Lt. at Fort Shafter, Hawaii.
Sometime in 1937
Betty (later called Georgi) and Emil
at Wheeler Field dance


Must have been an electric evening!
Georgi clearly remembers that dress,
because it cost $40.00 - a lot of $$ in 1937.


- November 1937: Emil and his good flying buddy Roger Reynolds (on the left), sail to China to become Flight Instructors for the Chinese National Air Force. Their transportation is aboard the President Line Ship - Coolidge.

The bon voyage party sending Emil off takes place on board the Coolidge. Georgi is in the poka-dot dress (check the matching shoes) and her "Scotty" is standing to her right -- with the curl hanging over his forehead. The only other person I have been able to identify in this photo is Chrystal Schultz -- soon to become Mrs. Robert Angle. Chrystal is in the center wearing a dark dress and hat, and Bob Angle's wings on her bodice.

Can you identify anyone else in this picture?
If so, please contact me.
Thanks.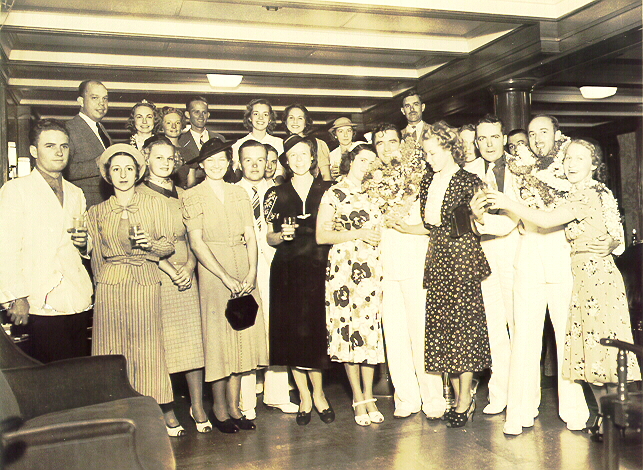 Click here for a larger and higher resolution of the above picture.

FLASH-NEWS ALERT-July 18, 2017
I'm sittin' around minding my own business and I get this private message via FaceBook:

Tom Moore, I have viewed your web page about your Uncle.several times over teh past few years. I think I know who the man is standing on teh left of the woman in the polka dotted dress in the photo of your Uncle's Bon Voyage celebration. I believe it is Gilmore (Gil) V. Minnis. I would have tried to reach you before but I wasn't sure . And I'm not 100% sure now, but I am fairly certain it is he. Gil retired from Norton AFB in San Bernardino, CA as Base Commander. I believe it was in 1965. He stayed in teh area and became a Real Estate Broker. I met him in 1979 (I was 19 at that time). I was the assistant to Monte Hedman at Hedman Escrow in San Bernardino and Gil brought us his sale transactions.. It wasn't until after he passed away that I learned about his military service. I was not surprised to learn he was a Col, nor was I surprised that he had been the Base Commander as he had an air about him that commanded respect. I don't recall him ever raising his voice or acting in a demanding way.. he just told what he wanted and we made sure he got it.. When ever he called the office often he would identify himself as either the then President of the United States or the Easter Bunny. Never did I see him that he didn't have a cigar in hand. He had a somewhat dry sense of humor and seemed to like it if you could intelligently match wit with him. Gil passed away on December of 1990. I left Hedman Escrow in 1991 to go back to college full time. Over the years I have thought of him and wished I'd had asked him about his military career . But even if I had known at that time, like I said he commanded respect, and I'm not so sure I would have felt comfortable asking. Anyway.... I just wanted to say hello and tell you about the photo. I enjoyed (although I had a lump in my throat ) seeing the web page you made for your uncle. You honor him by sharing his life story. Gayle

(and I respond)
Well, I was laying in bed checking any last minute messages on my cell phone when your message popped up. I don't know where it's been for the last 8 days, but here I am and so delighted you wrote to me about your friend Gilmore (Gil) V. Minnis. In short, your message blew me away. You can read more about me on my bio page: www.cnac.org/webeditor01.htm I'll do some research in the morning about Gil and let you know what I find, if anything. I will sleep well, you too. Tom pepperbud@dc.rr.com

(and Gayle responds)
So glad you found my message...(8 days is not so long) and to hear back from you.. I'll check out your website and will; look forward to hearing from you again. Goodnight..

The face of the man behind and to Georgi's left.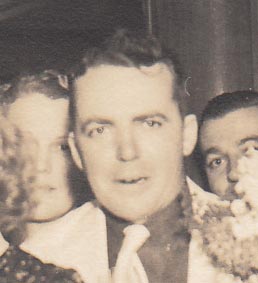 A collective "we" believe this is Gilmore "Gil" Vincent Minnis, Col. USAF Retired (1909-1990).
Former base and wing commander of Norton AFB, California
Your comments are most welcome
Tom Moore, pepperbud@pobox.com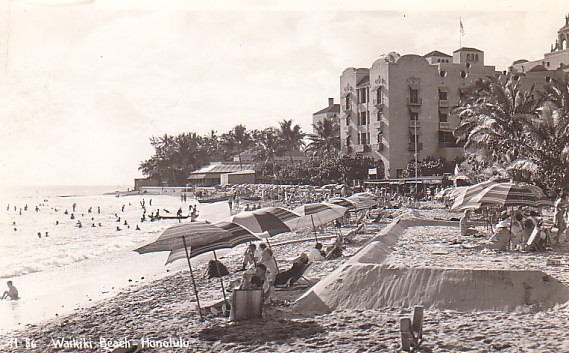 Waikiki Beach as Scotty and Betty knew it.


Background music to this
page can be controlled here.
"Waikiki"