CHINA AND THE PHILIPPINES
(late 1937 - March 1942)

- Late in 1937 several men joined their new boss and commander, Claire Chennault, as flight instructors, mechanics, armament men and other ground personnel for the Chinese Air Force.



- Jan. 1938: First letter from Hong Kong, China. Salary $750.00 per month "instructing behind the lines at the air school same as Randolph".
Business card - English, Chinese.

- Jan 16, 1938: Letter from Hengchowfu, but envelope has Box 0433, Liu Chow, Kwangsi, China. "salary is U.S.$580.00 instead of US$750.00".

- March 18, 1938: Letter postmarked Canton - has shaved his head.

- May 5, 1938: "On May 5, 1938 Mull, Adair and I went to Talifu"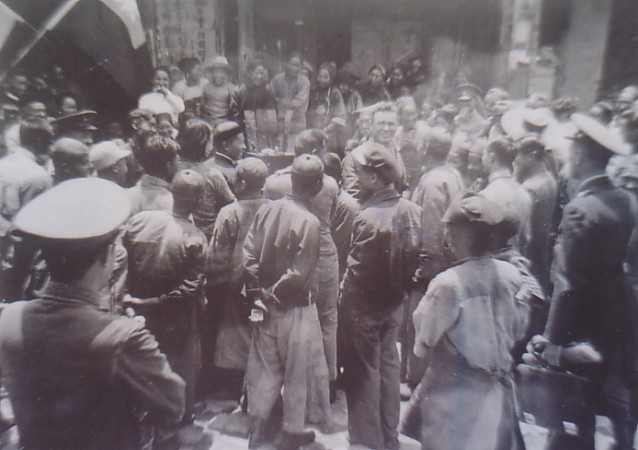 Emil in the center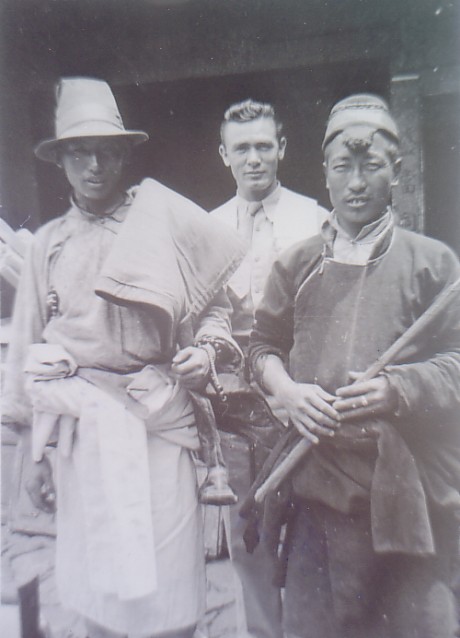 Emil flanked by two Tibetan Monks
- June, 1938: Letter from Box 0433, Liu Chow, Kwangsi, China.
Name Mentioned: Meeting with Dr. Soong.
- July 4, 1938: Letter from Liu Chow. "We got a bunch - 50 - of BT-9's the other day to use up at the Advanced & Basic School."



Names Mentioned:
Gen Westover
Gen Yount
Gen Claggett

- September 19, 1938: Letter from Lui Chow - makes several references to the "Instructor School business".

- Sept 28, 1938: Letter from Liu Chow, Kw.
Names Mentioned:
1st mention of "CNAC"
General Westover
Brass Hat Arnold
Schmid (Clarence L. Schmid - roommate at Randolph Field)


- Oct 1938: Letter, postmarked Hanoi, enroute to Kunming, Yunnan, China. "Liu Chow got a little hot so we are going to 'Kunming, Yunnan, China - c/o Officers Flying School'". (Lu Chow bombed)

- Nov. 14, 1938: Return address is c/o American Consul, Kunming, Yunnan, China.
Names Mentioned:
Madame and Generalissimo
T.V. Soong
Lee Cherymisin


- 12/7/38: Letter from Box 16, Kunming Yunnan China.
Names Mentioned:
Jimmy Bledsoe
Songster
Welsh
"Papa", Emil Scott's Father dies.


- Jan 31, 1939: Letter from Hanoi. 30 days leave to Manila.
Name Mentioned:
Generalissimo's Staff


- March 13, 1939: Back in Kunming, Box 16.

- April 21, 1939: Letter from Kunming "... as Chief of Flying here,...".
Name Mentioned:
Adair


- May 8, 1939: Letter from Box 16, Kunming, Yunnan. The Post Office in Kunming burns - probably by the postmaster. "...half way through this Primary Class ...". Adair, Mulls and Emil went up to the Tibetian Fair at Talifu. In enclosed letter to sister Marguerite Emil says, "...I sure hanker for a big steak at the Olmos Club. BROTHER RABBIT"
Names Mentioned:
British Ambassador, Clarke-Kerr
Col. Chennault (1st mention)
Bledsoe
Adair
Mulls


- June 7, 1939: Letter from Box 16, Kunming. "... been playing too many Hawaiian records on my Victrola today and thinking about the Maui lassie. You should hear my dog howl when the music starts up!"
Names mentioned:
Generallissimo's
Schmid - roommate at Randolph
Willie Heston
Col. Chennault
Higgs


- June 30, 1939: Letter from Box 16, Kunming. Name Mentioned:
Cherymisin


- August 8, 1939: Letter from Box 2, Mentsze, Yunnan.

- Oct. 12, 1939: Letter from Mengtsz, Yunnan.
Name Mentioned:
Carney


- 9 November 1939: Letter from Madame Chiang Kai-shek to Mr, McDonald, complementing him and all the American (flight) instructors.

- November 13, 1939: Married in Kowloon to Elizabeth Lowe Steele of Maui, Territory of Hawaii. Best Man at St. Andrews Church was Royal Leonard. Ceremony was also witnessed by Walter Campbell "Foxy" Kent. Katy and Oscar Wilke arranged the reception at the Peninsula Hotel immediately following the wedding.

- November 22, 1939: Announcements for the wedding were mailed from "The Island of Maui" by Gerogi's parents, George and Elizabeth Steele.

- February 15, 1940: Back to Kunming, Box 92-15.

- March 22, 1940: Letter from Box 92-115, Kunming, Yunnan.
Names Mentioned:
Higgs
Bledsoe
Hunter
Pannis
Reynolds
Angle
Col. Chennault
Col. Chiang


- Summer of 1940: Picture taken at the home of Bob and Chris Angle has the following folks in the picture:
Bob Angle
Claire Chennault
Rosie Mok
Emil Scott
John Williams
Kasy Sutter
Chris Angle
Betty Scott


- 1940-1941: "Trails In Philippine Skies" by Enrique B. Santos, pages 261 & 267, identifies Emil as working for Philippine Aerial Taxi Company (PATCO) and after PATCOs demise he worked for Philippine Air Lines (PAL). CEO of both companies was Andres Soriano.

- 1940-1941: During their time in Manila, Scotty and Georgi spent some happy hours at the Army-Navy Club of Manila.

- Jul 10, 1940: Post card from the Miramar Apts in Manila.

- August 24, 1940: Letter from 2 Sunseet Court, Baclaran, Paranaque, Rizal, P.I. Emil says, "I am flying on inactive status here at Nichols Field, flying P-26s." ". . . one of the guys in our outfit passed here a few days ago on his way home after finishing his contract and two days out of here to Portland he died of Dengue fever . . ."

- 30 August 1940: To Scotty and Georgi, one very healthy daughter, Moana "Gay" Scott, is born in Manila.
Mother and daughter, Georgi and Moana, are doing just fine!

- INAUGURAL FLIGHT OF PHILIPPINE AIRLINES, MARCH 15, 1941
Early on the morning of March 15, a Saturday, Philippine Airlines came to life with the departure of its first airplane, a twin-engine Beech Model 18, from Nielson Airport in Makati for Baguio City. The pilots were Paul I. "Pappy" Gunn and Emil Scott.
And here's the rest of the story: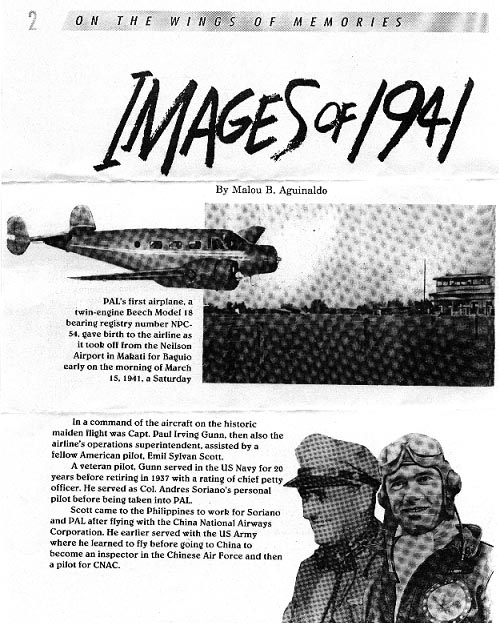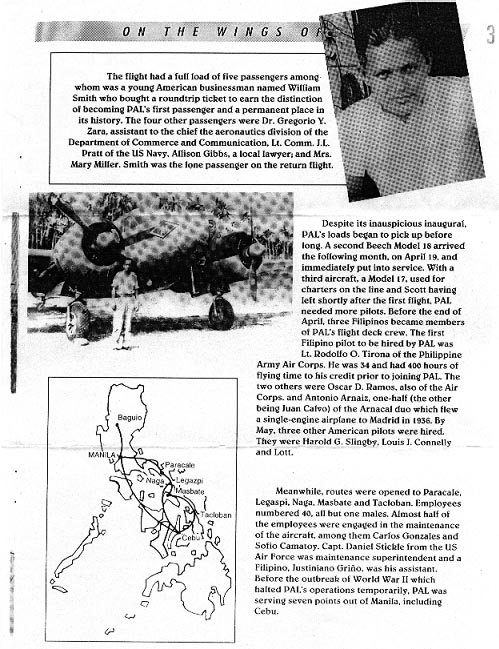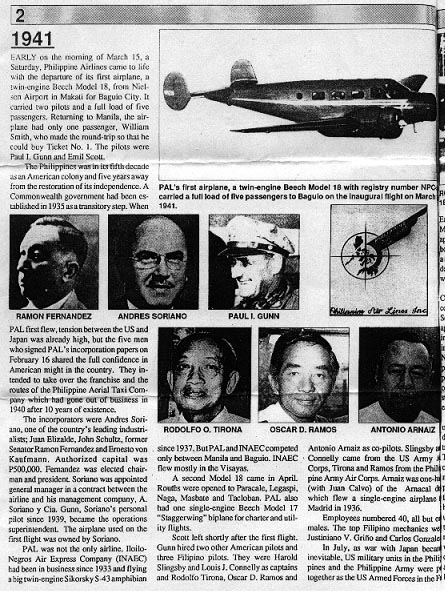 - June 30, 1941: Letter from Boulevard Apartment Hotel, Manila. First mention of "My trucks in Burma ..."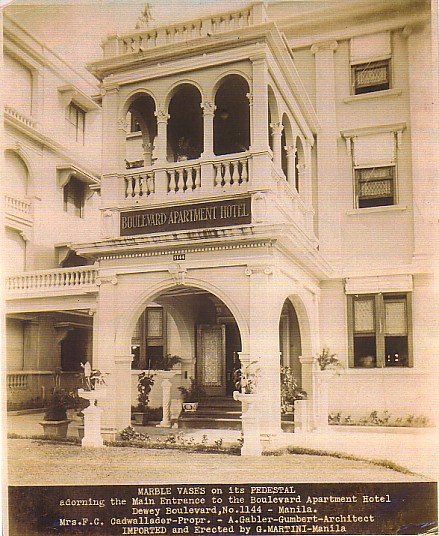 (Photo Courtesy of Ted Cadwallader)
---
- August 11, 1941: Letter from 164 Argyle Street, Kowloon, Hong Kong. Decides to join the China National Aviation Corporation (CNAC). " - base pay $700, plus $20 an hour over 60 . . . I'm on freight service now and should be on passenger - $800 a month - in about three or four weeks."
- Nov 1941: Letterhead - S. E. Scott, C.N.A.C, Hong Kong.
Name Mentioned: Mr. Kurusu
- November 8, 1941: (Point of history -- First CNAC flight over the Hump; plane #47 at Liang. Emil was not on this flight.)
- Monday, November 11, 1941: Letter frrom Betty "Georgi" Scott, A3 Miramar Apts., Dewey Boulevard, Manila, P.I.
Names Mentioned:
Col. Chennault
Frank Higgs
Foxy Kent

- December 8, 1941 - that's December 7, 1941 in Honolulu, Hawaii.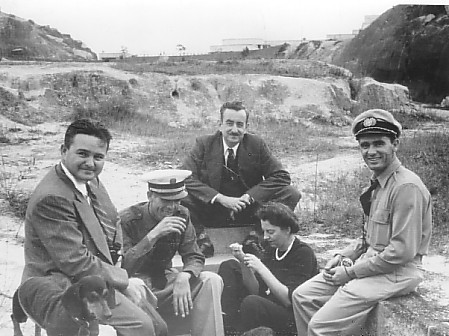 Chuck Sharp, Pan Am pilot, in the white hat, of the Hong Kong Clipper II being shot up in the harbor, is Capt. Fred S. Ralph, Pop Kessler, Maj Woods and Emil Scott while they are hiding among boulders during a Jap raid a short distance from Kai Tak Airport, Hong Kong. Also, an unidentified military person (male). Manila bombed that same day. A similar picture is in "Wings Over Asia, Vol IV", but this photo is courtesy of Judy Polanich, the niece of Paul "Pop" Kessler.
---
April 9, 2007

Yo Tom,

Am just curious if you had ever received my short blurb regarding Uncle Emil.

Very short story: My Uncle Dave was a member of the HONG KONG CLIPPER's complement in 1941. After the destruction of said Clipper by Jap Zeros, the Pan Am crew was transported all over China by CNAC aircraft.

My Uncle David Featherstone met your Uncle Emil Scott who had been the major pilot on these flights. They became good friends for a while until the final leg of their journey together.

The crew was delivered to Karachi and were eventually picked up by a large Pan Am Boeing Clipper. My Uncle was very saddened to learn of the loss of your Uncle Emil in the crash of his aircraft.

Just thought I would let you know.

Regards

Frank Stagner, graduate of STIC Survival Training, Class of 1945.
---
- December 8, 1941 - February 1942: Betty Scott is interned by the Japanese at the fall of Manila at Santa Tomas (Hospital) Camp and then to Los Banos until she is released at the end of the war in 1945. Betty meets Carl and Shelley Mydans (photo journalists) while interned at Santa Tomas, in addition to the Brazee sisters and the Sams family. Betty also meets E.W. Hazzard, who knew Emil well. Until Betty's release, she did not officially know of Emil's death, but she had read of the accident and suspected about his death, from an English Phillipine newspaper. She now resides in San Francisco, California.
- December 10, 1941: PAN AMEICAN AIRWAYS: CNAC (EVACUATION FROM HONG KONG. 1941)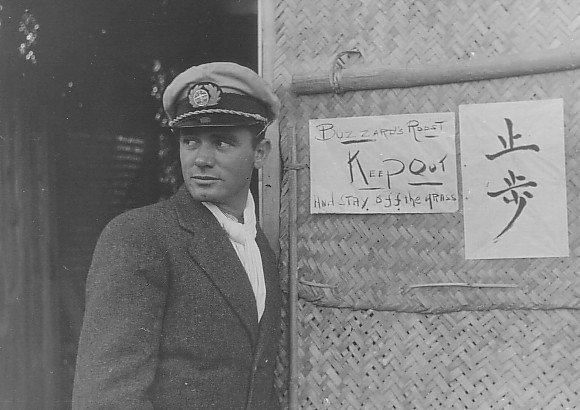 Capt. S. E. Scott, of Waco, TX (one of the 1st CNAC pilots to fly back into Honk Kong to evacuate personnel after the Japanese attack of 8 December 1941) leans against wall of "new quarters" at Chungking, China, the morning after the last flight to Hong Kong, 10 December 1941." Copied from photo loaned by Ron Thomas, Dunedin, Fl; credited to Harrison Forman. (On file in the Smithsonian #92 7044)

- December 15, 1941: The New York Times, this date, identified the following eight CNAC pilots who participated in the air evacuation of Hong Kong:
Charles L. Sharp - "Chuck"
Hugh L. Woods
Harold A. Sweet - "Hal"
William McDonald - "Billy" or "Mac"
Frank L. Higgs - "Higgs" or "Dude"
Robert S. Angle - "Bob"
P. W. Kessler - "Pop"
S. E. Scott - "Scotty"
(I added the nicknames)


- Feb. 9, 1942: Letter from Beth Steele (Betty Scott's Mother) refers to Emil as "Sandy".

- March 14, 1942 (about 9:30/45 P.M.): Emil was killed in the crash of CNAC's last DC-2, #31, shortly after take-off about 2 km from Kunming Airdrome on a flight to Chungking, as reported in the New York Times, March 16, 1942. Three crew members and ten passengers died, including Emil, Major General Lancelot Dennys, chief of the British military mission to China, Lieutenant Colonel Frederick L. Kohler of the American military mission, and Fenimore B. Lynch, advisor to the Central Bank of China; four passengers survived.

- March 16, 1942: Emil was buried in the Chinese Cemetery for Military Aviators, 8 kilometers east of Kunming on the Kweiyang road. Chaplain Paul Frillmann performed the burial service. Claire Chennault was in attendance along with Flying Tiger Charlie Bond. Olga S. Greenlaw also attended.

- 12 August 1949: At Georgi (Betty) Scott's request and with General Chennault's help, Emil is re-interred in Section D, Grave No. 147, in the National Memorial Cemetery of the Pacific (Punchbowl) overlooking Honolulu, Hawaii.

Background music to this
page can be controlled here.
"Yin Nian Hao"