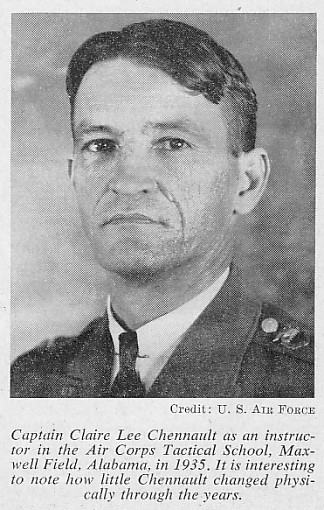 The intent of this page is to show Chennault from an angle that may not have been written about, as yet. I hope you enjoy this page and that it will give you some, as yet, unseen insight to a very interesting person. I have chosen the palms and the song Waikiki for the Old Man because, in my reading, he seemed to have more fun and enjoy his assignment in the Territory of Hawaii more than others. My Uncle Emil (outside his family he was known as "Scotty") joined "the Old Man" in China in 1938 as a flight instructor for the Chinese Air Force. I will also be posting some photos from my uncle's collection that I hope everyone will enjoy.

Tom Moore

---
Now here's a man we have very little information about Dimitri Panteleieff, who worked for Chennault. Can you help? Thanks.


---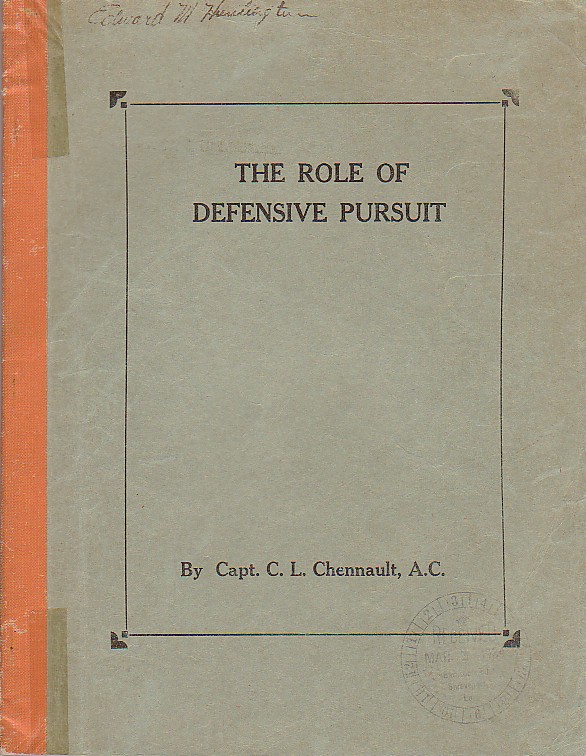 This book's cover has a date stamp indicating this copy was received March 1, 1934 at 3:45
(Book from my collection, Tom Moore)
---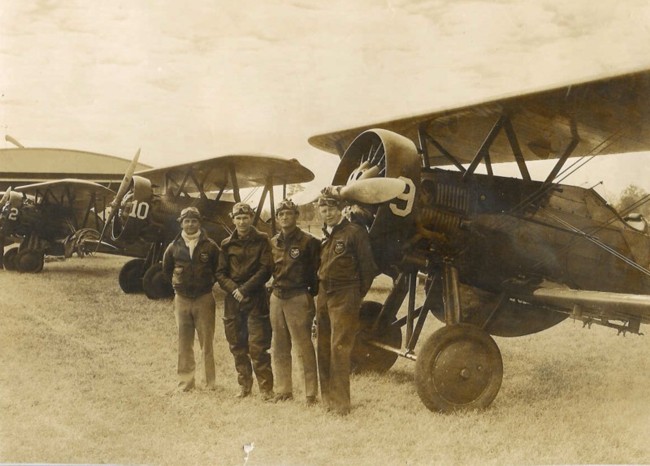 Left to Right
William "Mac" McDonald, Possum Hansell (I think), Chennault and Luke Williamson
1934-35
(Photo Courtesy of Mac's daughter, Cameron Vowell)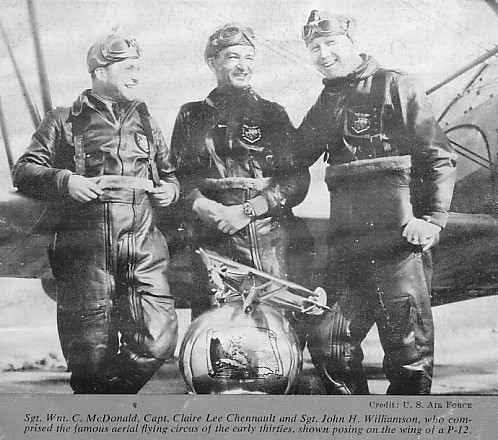 ---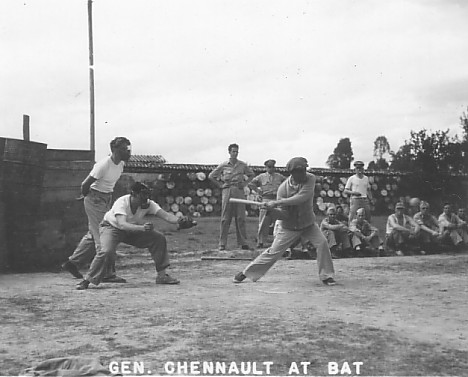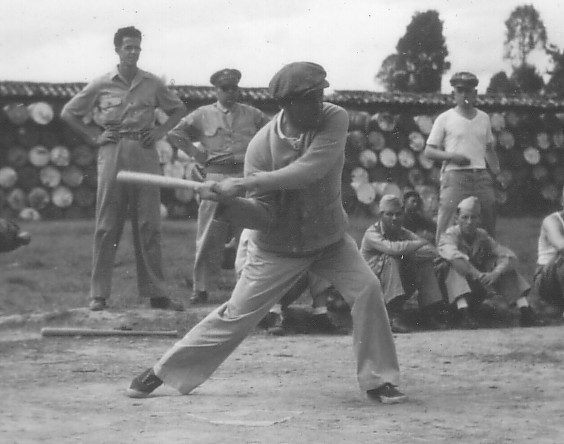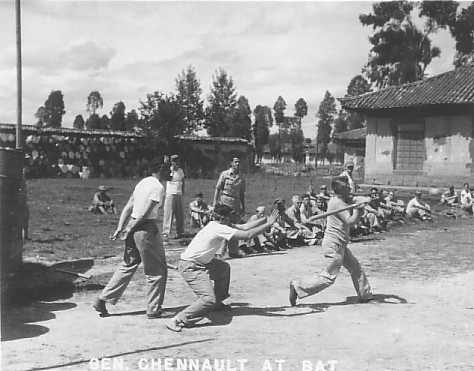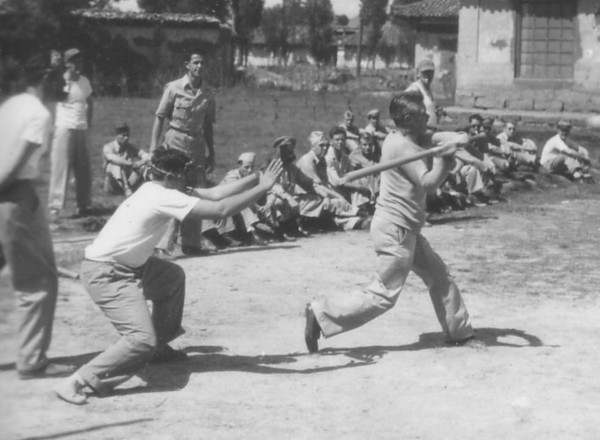 I really don't think this is Chennault. What do you think?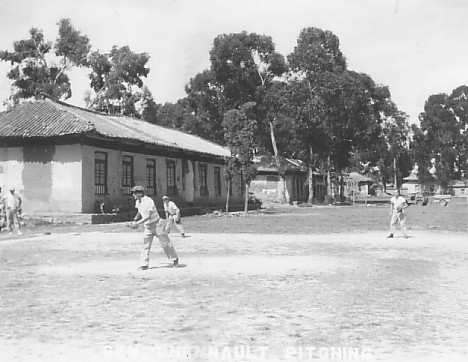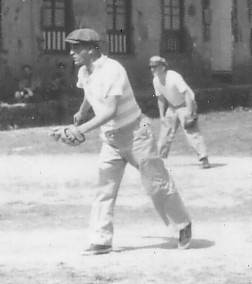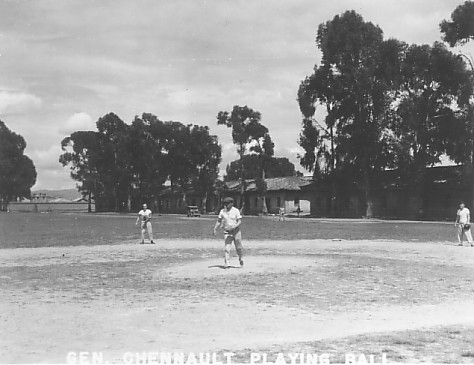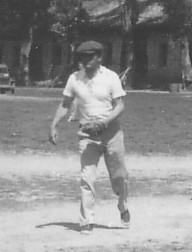 ---
July 5, 2007

Dear Mr. Moore

Fun website and very interesting. I came across this in my search for a CACW Major who I am trying to find if still living or at least his relatives. I am a collector of WWII material mostly correspondence and postal history. I found a box of letters sent to a Mrs, Jeanne Jones in Cleveland Ohio and there are many wonderful letters from a Major KP Wlison APO 273. of the CACW I wanted to find him or his family who may want these letters. One piece that was interesting was the First Anniversary dinner program that included Maj Gen CL Chennault as the guest of Honor .. Can you advise me in any way?

Thanks,

Brett Altieri
E-mail brett_altieri@medco.com

I gave Brett some suggestion on finding Major K.P. Wilson, but no luck so far. Maybe with this information posted on the Internet someone may contact us with information about the Major.

Tom Moore
E-mail pepperbud@pobox.com

July 26, 2007

Dear Tom,

I finally had a chance to have my beautiful wife scan these letters and documents. I am going to send a series of 6 emails. I find the logo on the Chinese American Composite Wing (CACW) first anniversary invitation very interesting. Please note the letter from Capt. Kenneth Wilson, ( who I am trying find, or his immediate family ) who describes the day and the event. He also explains the design of the logo and the meaning behind it. The letter I find very interesting, he seems like really good guy.and a close family man.

Let me know what you think, and please stay in touch.

Regards,

Brett



And here are those C.A.W.C. documents Brett was talking about.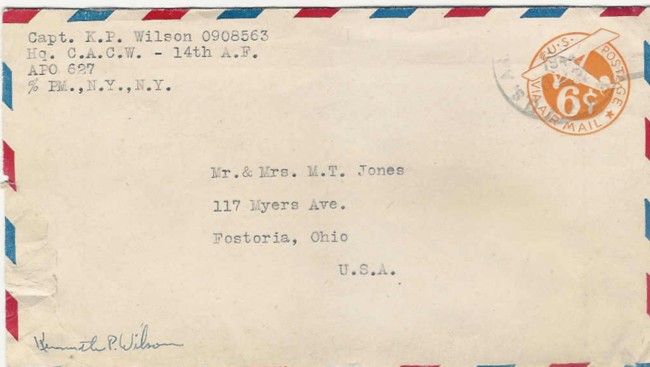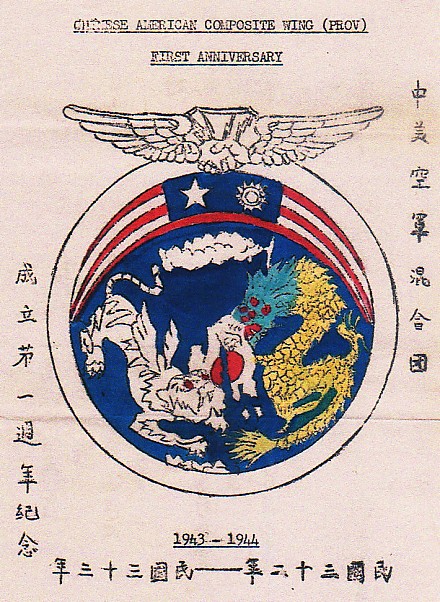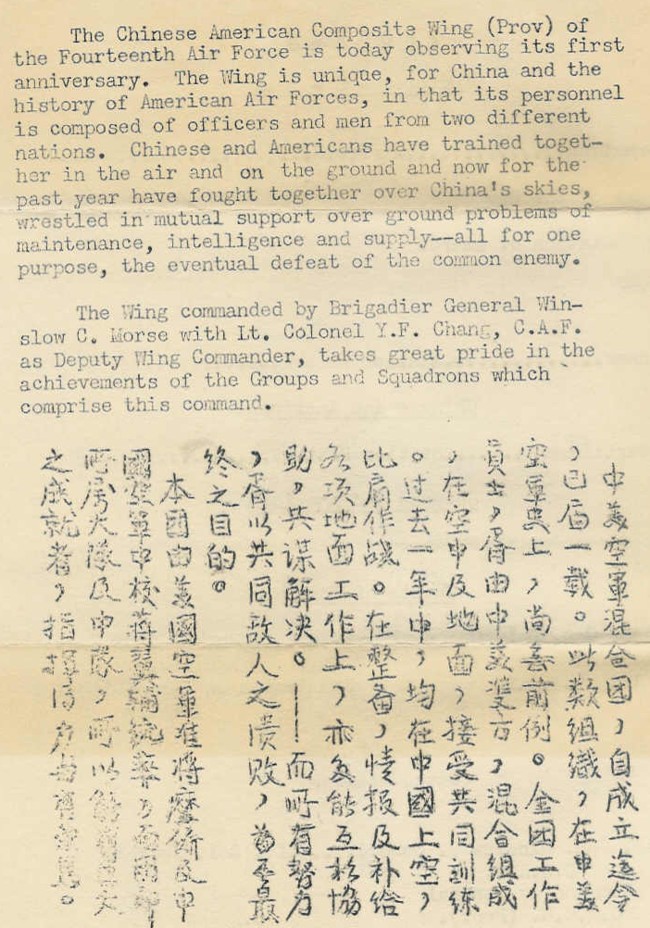 English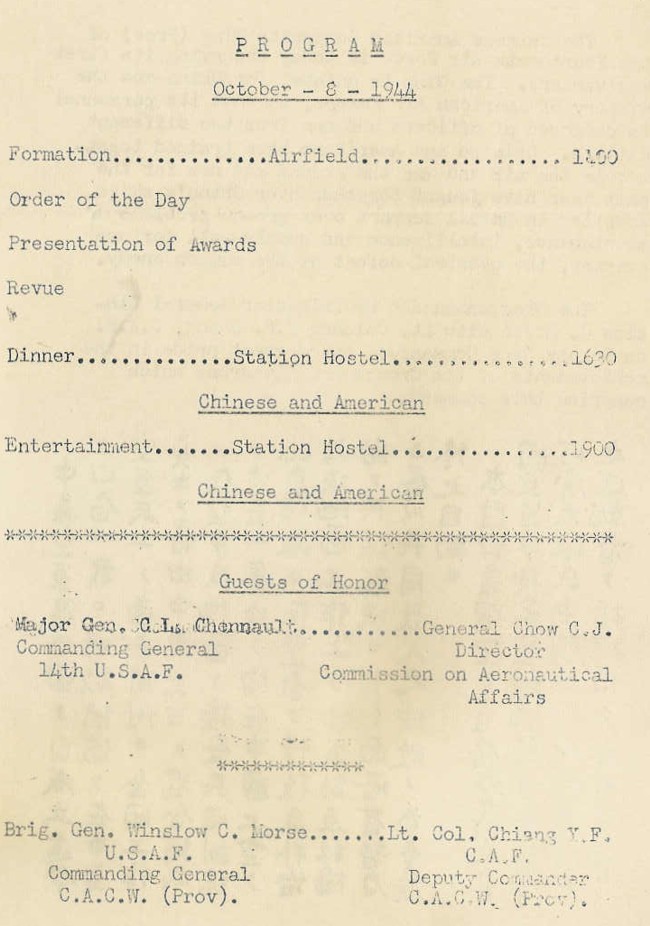 Chinese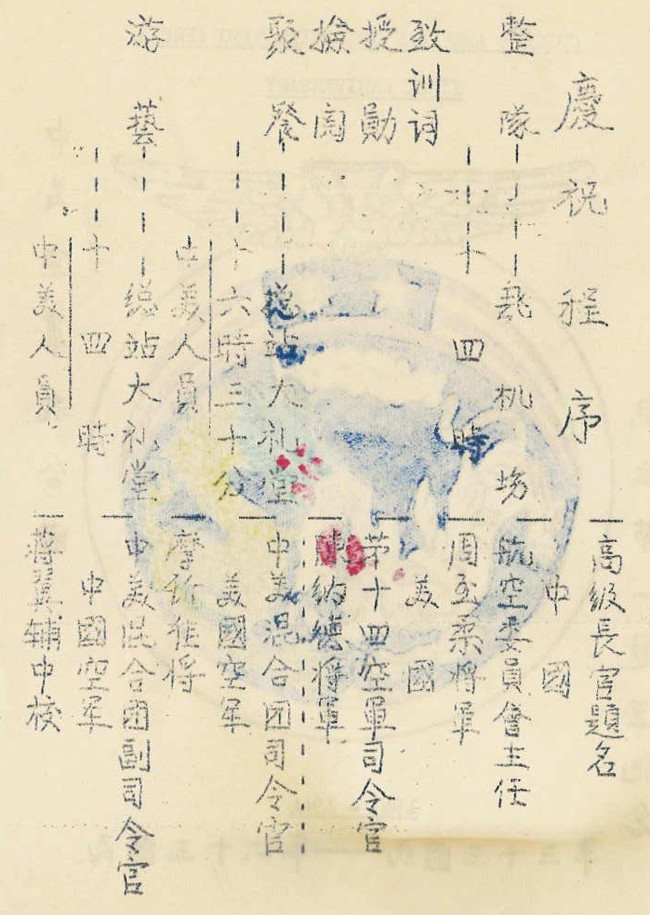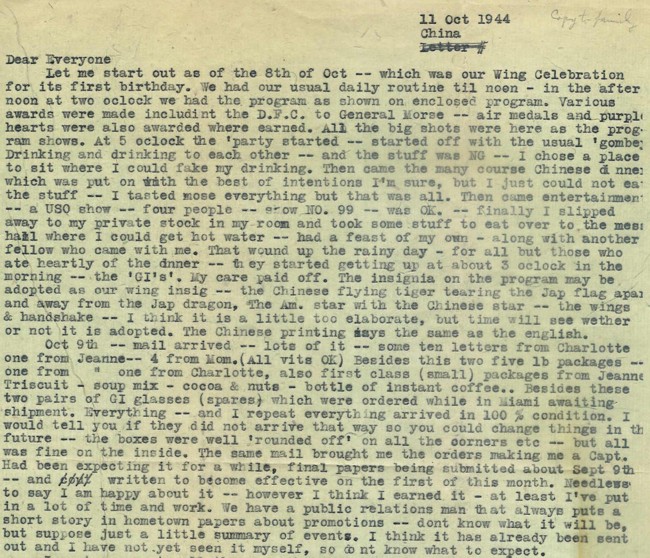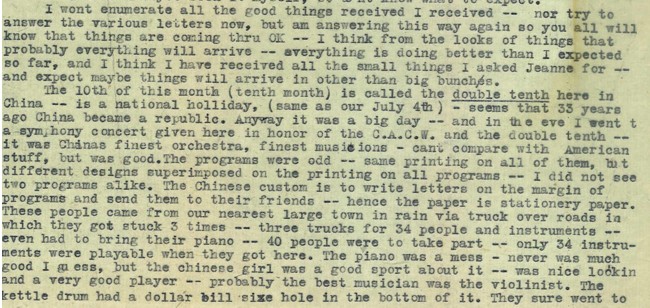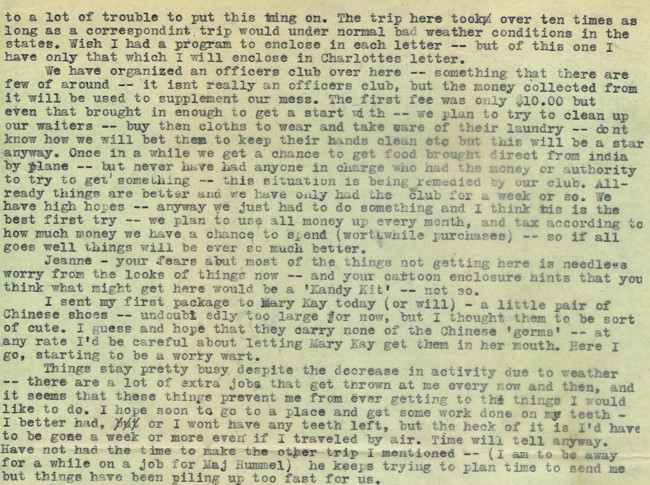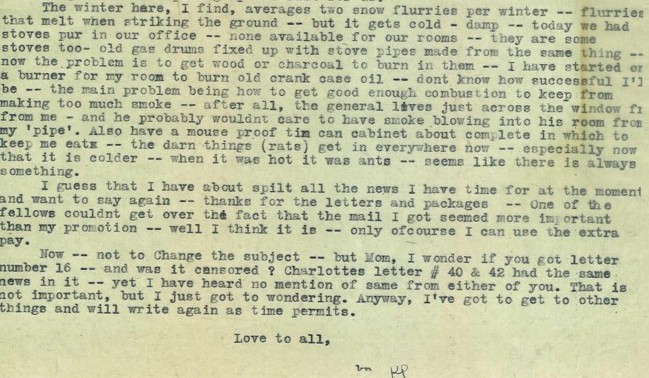 The following site has more on the Chinese American Composite Wing (CACW):
https://en.wikipedia.org/wiki/Chinese-American_Composite_Wing_(Provisional)
---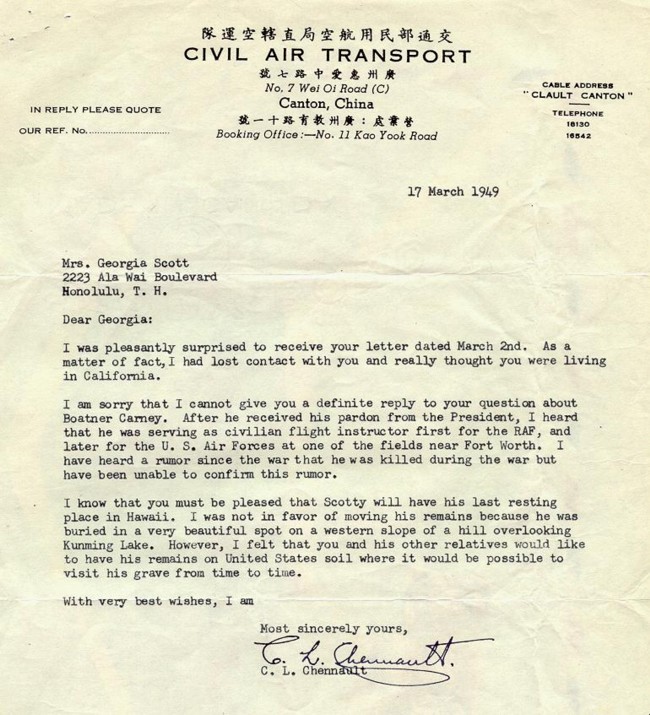 Chennault helped my aunt, Elizabeth "Georgi" Scott have my uncle's (Emil Scott) remains
moved to Punchbowl overlooking Honolulu.
---
November 15, 2004

Mr. Tom Moore;

I am a Hawaii resident. Enjoyed your comments about Claire Chennault enjoying life in Hawaii. In that connection in 1924, he became the C.O. of the 19th Pursuit Squadron, stationed at Luke Field on Ford Island in Pearl Harbor. On December 7, 1941 Ford Island was the site of Battleship Row and the Japanese pounded the h - - - out of most every ship there.

During his tour in Hawaii, on June 24,1926, Chennault was raised to the degree of Master Mason by Schofield Lodge No.443 F& AM which was under the Grand Lodge of California at the time. The Lodge is now under the Grand Lodge of Hawaii.

I am in the process of working on a paper about General Chennault, Flying Tigers, China Air Task Force, 14th USAAF and the Chinese American Composite Wing, all led by Chennault.

My wife and I just returned after a 17-day tour of China and we managed to spend a half hour in the Chennault/Flying Tigers Museum in Chungking. Yup, I use the old Wade-Giles system rather than the new pinyin system for the Chinese spelling.

I retired from the Federal Aviation Administration (FAA) and did a lot of work with Air Asia and Air America, also flew on Civil Air Transport several times during the Vietnam War.

You do an excellent job with the CNAC Web site.

Herbert G. Gardiner, Grand Historian
Grand Lodge F & AM of Hawaii
E-mail herb-gin@hawaii.rr.com

and here's more from Herb...

November 16, 2004

Hi Tom:

Here is are two tid bits that might interest you...............

In September of 2001 the Sino-American Aviation Heritage Foundation (SAAHF) participated in a symposium at the Museum Of the War of Chinese People's Resistance Against Japan in Beijing. They explored and commemorated the accomplishments of the Flying Tigers and the airman who flew the Hump Airlift during WW II. Representing the U. S. and the SAAHF were Dick Rossi, Eric Shilling, and Robert Raine. All three of these Flying Tigers following their American Volunteer Group service flew the Hump while flying for the China National Aviation Corporation.

The American Volunteer Group (AVG) was the original Flying Tigers and they were all civilians, including Claire L. Chennault their leader at the time. Chennault reported to Chiang Kai-shek.

Following the original Flying Tigers were The China Air Task Force, the 14th Army Air Force and their adjunct the Chinese American Composite Wing also commanded by Chennault. They assumed the name and mantle of the Flying Tigers but were actually part of the USAF under the command of General Joe Stilwell, the U.S. commander of the CBI Theater. When Stilwell was recalled by President Roosevelt as insisted by Chiang Kai-shek, General Albert Wedemeyer replaced him. Chennault then served under Wedemeyer until he was forced to retire by General Hap Arnold. On June 7, 1945, eight years to the day he first offered his services to Nationalist China, Claire Lee Chennault requested he be relieved from active duty. In his memoirs Chennault noted, "Marshall and Arnold made it quite plain that the Army held no future for me in China and that I would be barred from any significant participation in the victory. It was clearly time to go."

Chennault who had more time fighting the armed might of Imperial Japan than any other U.S. Officer who attended the Japanese surrender aboard the Battleship Misssouri, was not invited to attend the surrender ceremony in Tokyo Bay. Unfortunately such was the military politics of the period.

Herbert G. Gardiner


---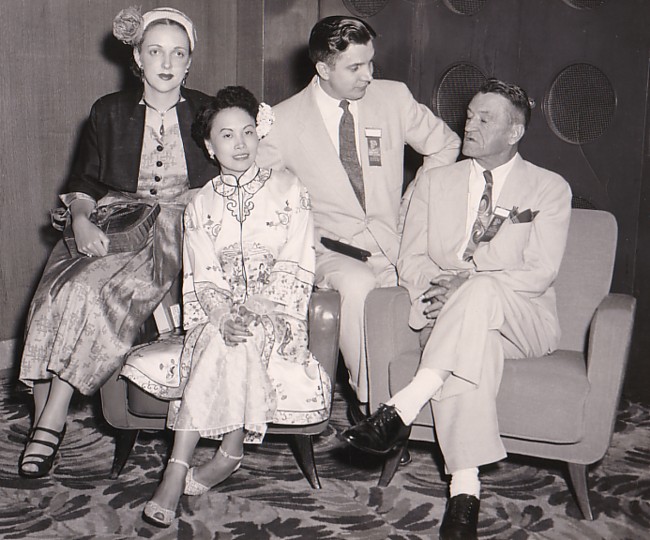 Mr. and Mrs. Norman J. Sloan with General and Mrs. Claire Chennault
August 1953
Mayflower Hotel, Washington, DC
Sloan was in the 22nd Bomb Sqd, 341st Bomb Grp
(Photo purchased on eBay April 2007 by Tom Moore)

If you would like to share any information about Claire Lee Chennault
or be added to the CNAC e-mail distribution list,
please let the CNAC Web Editor, Tom Moore, know.
Thanks!