ROBERT S. ANGLE (1907-1979)
(CNAC 1941 - 1943)
(CNAC Captain - 194?)
(Hump Flights - XXX)


My uncle and aunt, Emil "Scotty" and Georgi Scott were very good friends with Bob and Chris Angle. I will tell the story of Bob and Chris through the letters that Chris has written to me the last few years.

In November 1937, a bon voyage party sending Scotty Scott off to China as a flight instructor under Chennault for the Chinese Air Force, takes place on board the Coolidge. Georgi is in the poka-dot dress (check the matching shoes) and her "Scotty" is standing to her right -- with the curl hanging over his forehead. The only other person I have been able to identify in this photo is Chrystal Schultz -- soon to become Mrs. Robert Angle. Chrystal is in the center wearing a dark dress and hat, and Bob Angle's wings on her bodice.


Can you identify anyone else in this picture? If so, please contact me. Thanks.
Until then, please check out this very interesting story about this picture.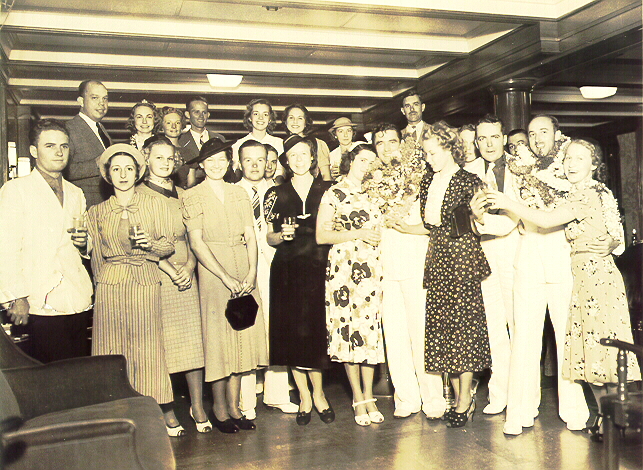 Aboard the S.S. Coolidge
November 1937
(Photo was a gift from Chris Angle to Tom Moore)



From Gene Banning's list of 8/31/00:
"..spring, 1938; tfrd to MIA (Miami) 1943 & to NY 1947, retired from PAA about 1970."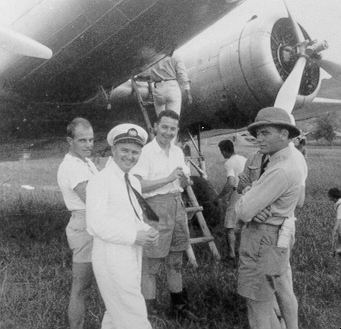 Liu Chow - 1938
Chuck Sharp in white uniform in front of his CNAC DC-2.
Bob Angle in shorts at left, Lee Cherymisin center with shorts,
and Emil "Scotty" Scott in pith helmet.
(Photo Courtesy of Tom Moore)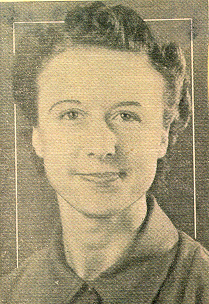 Chris Angle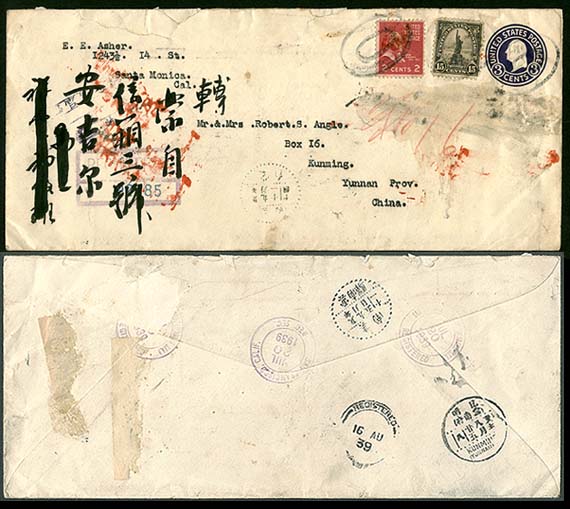 July/August 1939
(Envelope Courtesy of Tom Moore)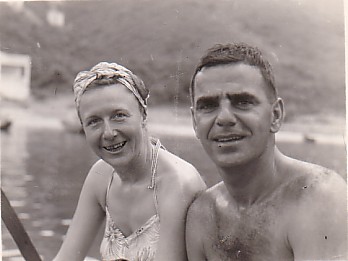 Chris Angle and Frank Higgs
Probably Kunming - 1940
(Photo Courtesy of Judy Polanich, the niece of Paul Kessler)
Now let's see, in todays USDollars this check would be worth about $700.00 -- maybe $1.3 Million, but who knows???



Front
Back


---
Chris wrote a book and had it pre-published in 1993. I wish someone could/would take on the job of getting the book published.


Reflections of Chrystal by Chrystal Angle (1907-2000)
Characters on cover spell "ANGLE"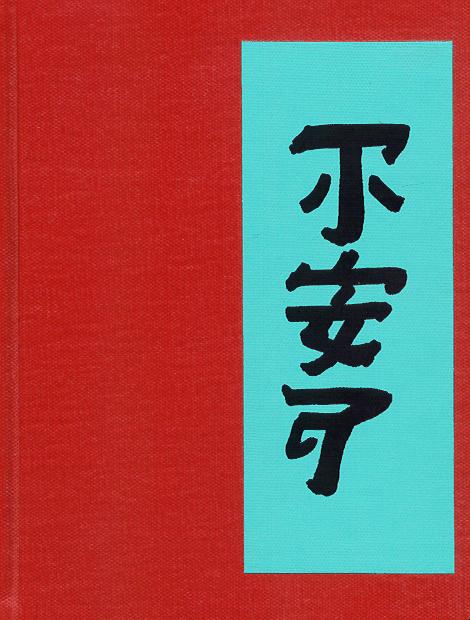 This pre-published copy (1993) was signed by Chris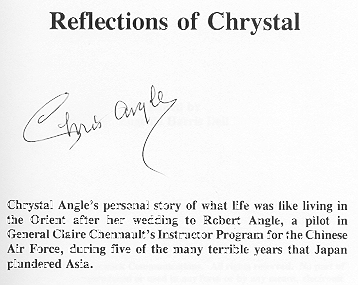 Chris was born September 27, 1907 and raised near Pella, Iowa and went to high school in Pella.
She passed away December 31, 2000 in Southbury, Connecticut.

---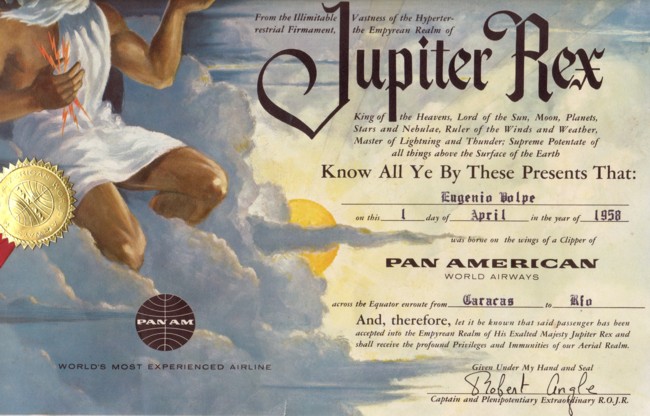 If you would like to share any information about Bob or Chris Angle
or would like to be added to the CNAC e-mail distribution list,
please let the CNAC Web Editor, Tom Moore, know.
Thanks!


Background music to this
page can be controlled here.
"It's De-Lovely"