From Gene Banning's list of 8/31/00:
"Harold A. "Hal" Sweet, 1938; tfrd to PAA Air Ferries in mid 1941, returned to CNAC in March, 1943 from PAA Africa; probably joined in 1938. Left CNAC in 1946 to operate own line in Philippines. Born in SLC, Utah; 1904; learned to fly on own, barnstormer. Went to Philippines in early 1930's flying mail. Married Mabel (from U.S., working in bank there) in Manila in 1934; stayed in Manila until 1938."

---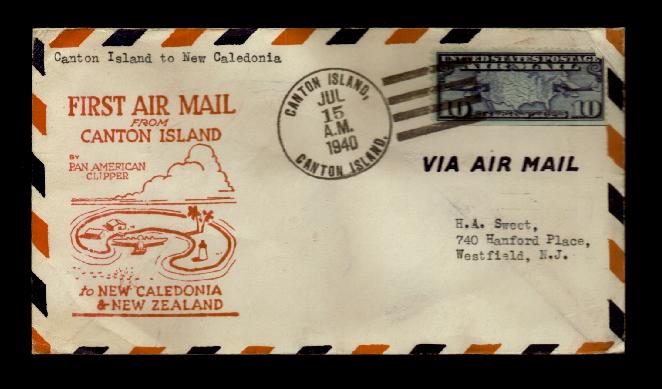 (Don't know if this is our Hal Sweet or not. Do you???)
---
And from the New York Times - June 1, 1941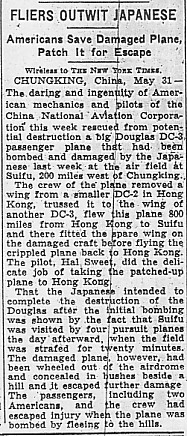 The New York Times of December 15, 1941, identified the following eight CNAC pilots who participated in the air evacuation of Hong Kong:

Charles L. Sharp - "Chuck"
Hugh L. Woods - "Woody"
Harold A. Sweet - "Hal"
William McDolald - "Billy"
Frank L. Higgs - "Higgs" or "Dude"
Robert S. Angle - "Bob"
P. W. Kessler - "Pop"
S. E. Scott - "Scotty"
(I added the nicknames)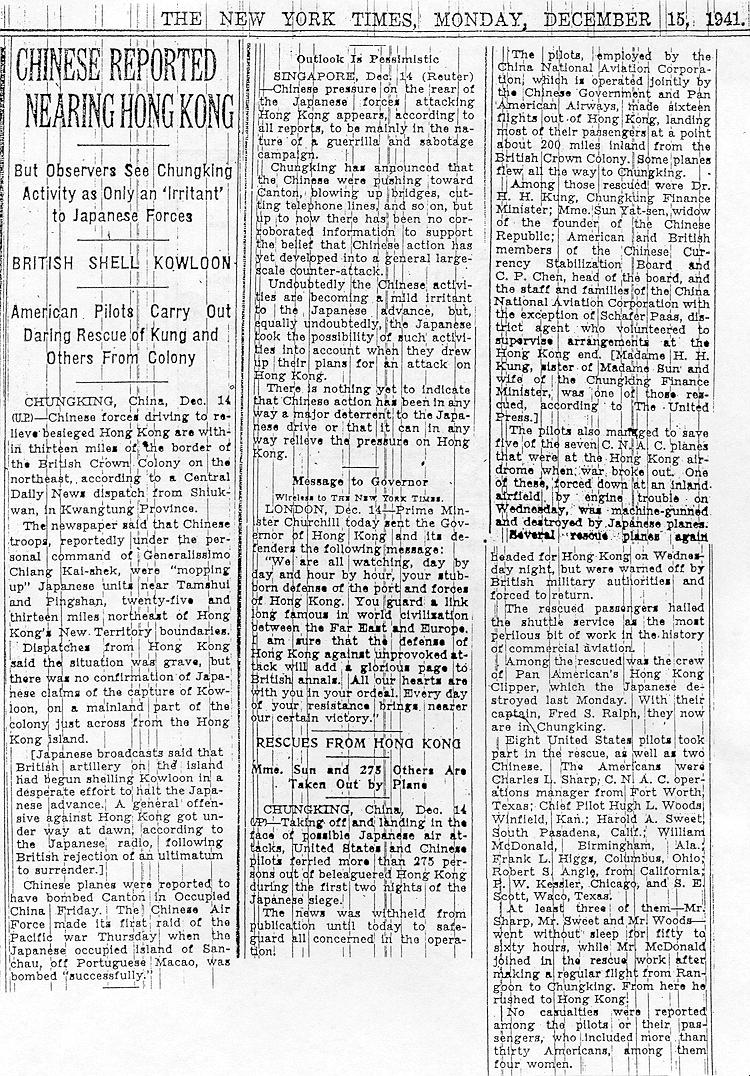 ---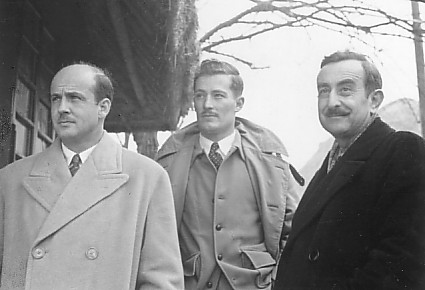 Hal Sweet, Syd de Kantzow and Paul Kessler
(Photo Courtesy of Judy Polanich, Paul Kessler's niece)
---

---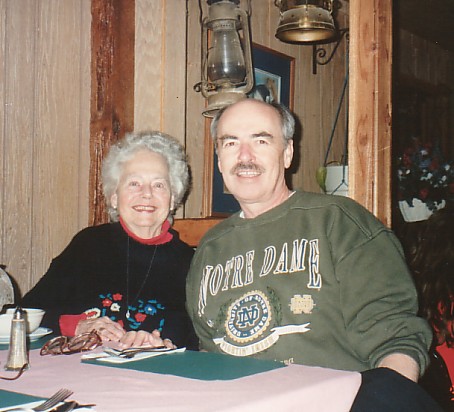 Mabel Sweet and Tom Moore
Quincey, California - 1996
---
Mabel Brazee Sweet Palmer passed away December 17, 2004.
Mabel was married to CNAC Captain Hal Sweet.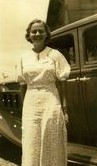 Mabel Brazee Sweet Palmer
Mabel also had many "Brazee Family" members who were interned at Santo Tomas, Manila, Philippines during WW II.
---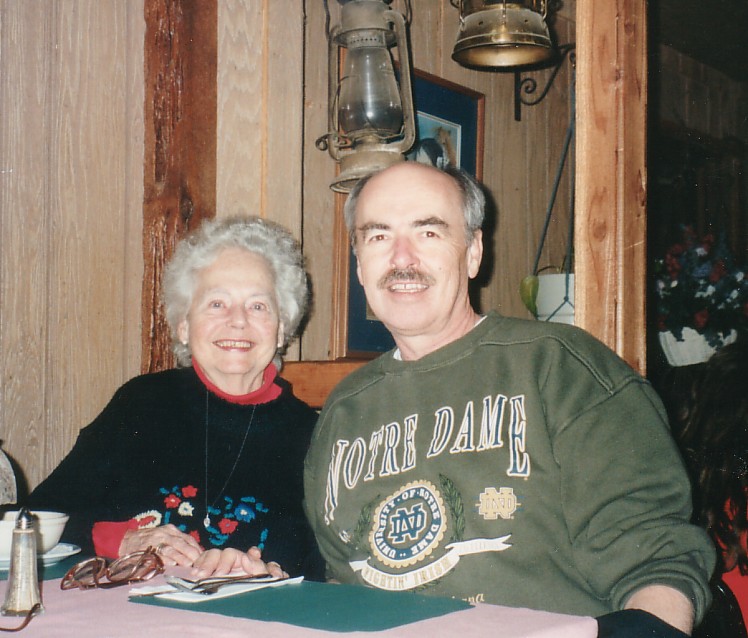 Mabel Palmer and Tom Moore
Quincey, California - September 3, 1996


Mabel Brazee Palmer, age 94, peacefully went to be with the Lord Friday, Dec. 17, 2004, with family at her side at Antelope Valley Hospital located in Little Rock.

A native of the Philippines, Mabel was born in Masbate City on Masbate Island on Oct. 18, 1910, to Albert and Conseulo Brazee. Her father was sent to the islands as part of the Oregon Volunteers during the Spanish American War. Mabel was raised and educated in the Philippines and went on to attend Secretarial College there. She met and later married the late Harold A. Sweet while residing in the Philippines in 1930. The family moved from the islands to settle in Hong Kong, China where Hal was employed as a pilot for the Chinese National Aviation Corporation. The family was forced to leave Hong Kong during the Japanese invasion of World War II, to settle in Pasadena. Harold passed away in 1948 and Mabel, as a single mother, proudly raised her family of seven children while working for the California Department of Motor Vehicles. After meeting and marrying the late Glenn Palmer, the family moved to Quincy in 1966 where Mable served as a legal secretary for the Plumas County Court system for seven years prior to her retirement.

Mabel was a devout member of the Roman Catholic faith who was a stalwart of St. John's Parish of Quincy. While religiously attending daily Mass, the members of the parish could always count on Mabel to be there to help in the operation of the parish while serving as a member of the altar society, helping with the religious education of the youth to cleaning and preparing the altar linens. Mabel found pleasure and solace in attending retreats while also enjoying travel. She traveled throughout the world visiting religious shrines and the holy land.

Mabel is survived by her loving and caring family to include her children, Harold Sweet of Richmond; Denis Sweet of Lewiston, Maine; Kim Sweet of Quincy; Greg Sweet of Little Rock; Diane Sweet of Long Beach; and Dale Palmer of Missouri; along with her precious 10 grandchildren and 13 great-grandchildren. Mabel is preceded in death by her husbands, Harold Sweet in 1948 and Glenn Palmer in 1981; her three sons, Russell Sweet, Christopher Sweet and Richard Cockrell; along with two brothers and five sisters.

A memorial Mass of Resurrection will be celebrated for the repose of Mabel's soul at 10 a.m., on Thursday, Jan. 6, 2005, at the church she so dearly loved, St. Johns Catholic Church located in Quincy. Inurnment will take place in the Meadow Valley District Cemetery. An opportunity to express your condolences to the family along with signing the memorial guest register is available online at http://www.fehrmanmortuary.com. The family suggests any donations in Mabel's memory be made to the St. John's Altar Society, c/o Fehrman Mortuary and Crematory, P.O. Box 53, Quincy, CA 95971.



We know there are many more stories about Hal.
If you would like to share a story about Hal Sweet
or would like to be added to the CNAC e-mail distribution list,
please let the CNAC Web Editor, Tom Moore, know.
Thanks!