Roger M. Reynolds was born August 5, 1908 in Colville, Washington to Jesse Bartlett Reynolds and Sarah Edel. He died June 28, 1975 in Florida.

---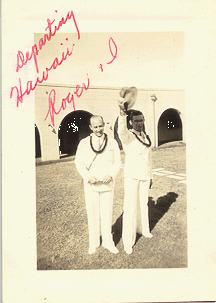 Honolulu -- November 1937
Roger and his good flying buddy Emil "Scotty" Scott (on the right), sail to China to become Flight Instructors for the Chinese National Air Force. Their transportation is aboard the President Line Ship - Coolidge.
(Photo Courtesy of Tom Moore)
---
In the 1943-45 log book of Don McBride, Roger gave his address as:


Rogerd REYNOLDS
(L.A.)
---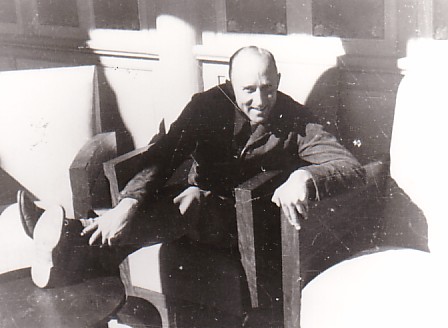 Roger Reynolds - best guess is Kunming, 1940(?)
(Photo Courtesy of Tom Moore)
---
In 1971 Roger and his wife Phyllis lived at:
1908 N.E. 29th Ave.
Ft. Lauderdale, Fla.

When Roger died in 1979 their address was listed as:
1908 Intracoastal Drive
Ft. Lauderdale, Florida

The 1995 CNAC mailing list has Phyllis living at:
1832 S. Ocean Dr.
Ft. Lauderdale, FL 33316


---
March 5, 2006

Hello,

My name is Sara Reynolds Morton. My father is Roger M. Reynolds. Born in Colville, Washington. Roger died in June 28,1975 but not of lung cancer and had luckily quit smoking around 1954-55, mother quit at the same time. It was bone marrow cancer (multiple myeloma) that took him away.

He had a law degree from Southern Cal., graduating with high honors, and as soon as he graduated went to do the thing he loved most to do -- fly. Graduated from the Class of 1932, Pursuit, C Flight. I'm not sure which field (Marshall?) but could look it up. In China you know the factory story but he also flew Chennault when he was in the area.

Mother passed away 14 years later at my house in Roswell, Ga on September 23, 1989, of colon cancer. She was from Wales and moved to NJ with her family when she was 8-9 years old. She worked in NY as a Wall Street secretary & then moved to Hong Kong & was hired a bit later by Bill Pawley to work with him in China at the field where she and a dashing, handsome pilot fell in love and were married in Rangoon. They loved Hawaii and lived there after the war for a few years. They would have been married for 49 years. Our parents are buried at Forrest Lawn in Glendale, California. Phyllis has a sister living in Long Beach.

Hopefully this will help, I am having trouble with tears at the moment so hope this is intelligible.

We went to some of the CNAC reunions when I was 10 yrs old or so the Ohi, Nevada reunion is the one I remember the best. (Sara - I think you may mean Ojai, California) My sister, Patty (Patricia) lives in Fayetteville, GA and has 2 children, Shawn & Jeanna.

I have Daddy's manuscript and plan in a few years to take some time off from work and do something with it and get it published. Have't read it in years and it is on thin paper so I want to retype it since it is so fragile.

It was nice seeing info on Scotty. My parents talked of him so often and Mac and so many others that I do not recall. They loved the "adventure and sparkle of it all", my Mother's words.

This had better be all for now. I just happened the other day to learn about Googling someone and couldn't believe this came up. You have some good pictures of Daddy. Thank you for doing that and all the things in the past you have done in the service of our country.

Sincerely,

Sara R. Morton
smordance@yahoo.com


---
September 2, 2001
From Fletcher "Christy" Hanks
"Tom
Roger was a personal friend of Emil Scott. Roger left CNAC for a while to be test pilot for Bill Pawley's Cmco at Loiwing. He returned to CNAC in 1944 with his wife. They lived in Darjelling, so few pilots got to know him. I checked him out on the Hump routes in 1944. He was the most modest CNAC pilot who flew the Hump. The amazing thing, he thanked me for teaching him things he didn't know. He visited me in Oxford, but I can't recall much about the visit or his wife. Unfortunately he died before his time. He taught me more than I taught him.
Christy"



If you can share any information about Roger and Phyllis Reynolds
or would like to be added to the CNAC e-mail distribution list,
please let the CNAC Web Editor, Tom Moore, know.
Thanks!