In the 1943-45 log book of Don McBride, Maje listed her home address as:


Elva R. Major
Vancouver, Wash.
---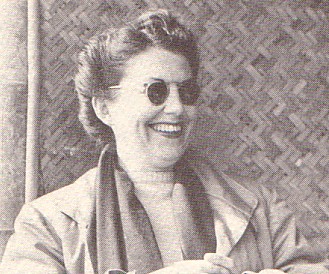 Maje Major (Then)


Elva was a secretary in the U.S. Consulate, later to marry Hugh Woods in Dinjan in 1944.

---
December 8, 1941 - thatís December 7, 1941 in Honolulu, Hawaii.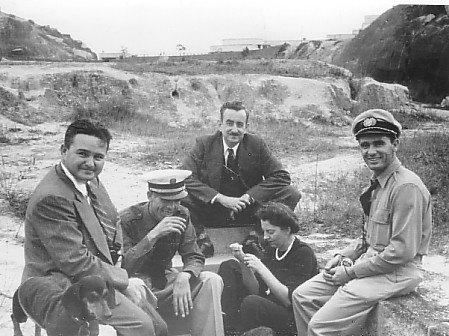 Chuck Sharp, Pop Kessler, Maj Major (later to be Woods) and Emil Scott while they are hiding among boulders during a Jap raid a short distance from Kai Tak Airport, Hong Kong. Also, an unidentified male military(?) person in a white hat, at Sharp's left. Manila bombed that same day. A similar picture is in "Wings Over Asia, Vol IV", but this photo is courtesy of Judy Polanich, the niece of Paul "Pop" Kessler.
---
June 27, 2001
I have been in contact with Jere Van Dyk, a nephew of Hugh and Madge Woods. Hopefully he will be able to add information to the CNAC pages of his uncle and aunt.


---
December 16, 2002

Tom,

She took a boat from either Seattle or San Francisco to Shanghai, I believe, where she worked in the U.S. Consulate there or perhaps in Hong Kong. I want to say Shanghai. Will have to check on this. She told me that she was in Dinjan. She never mentioned Calcutta. Her brother, Roy Major, a pilot also, who was part of the team that flew Roosevelt to Yalta, was later charting routes for TWA, after the war, and landed one day in Calcutta. Signing in, he looked on the list of people who had passed through there that day and saw the name Elva Major two names below his. "That's my sister," he all but shouted. He died a few months ago or I would ask him where Aunt Elva was working then.

Regards,
Jere Van Dyk (Jere is the nephew of Hugh and Maj Woods.)
E-mail address for Jere: jere.vandyk@att.net



If you would like to share any information about Elva Major
or would like to be added to the CNAC e-mail distribution list,
please let the CNAC Web Editor, Tom Moore, know.
Thanks!