From the Ft Worth Star Telegram
March 31, 1936
"PILOT ESCAPES BURNING PLANE"
---
1937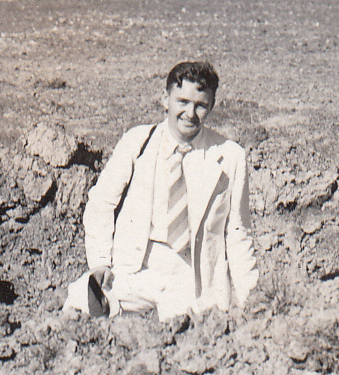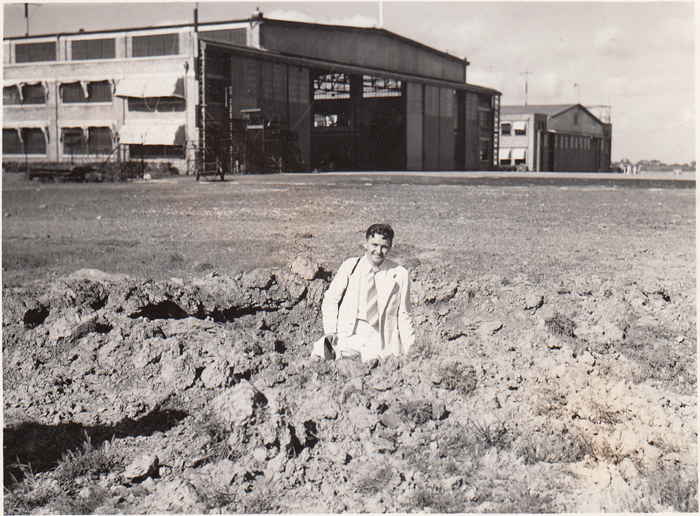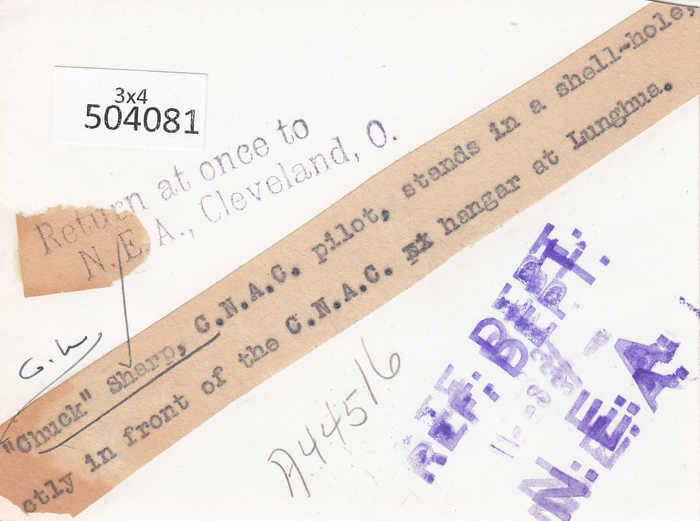 ---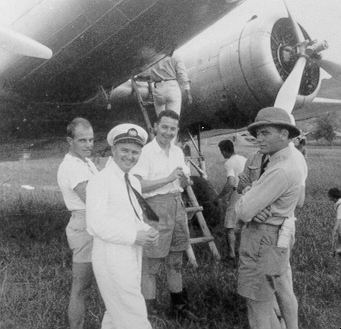 Liu Chow - 1938
Chuck Sharp in white uniform in front of his CNAC DC-2.
Bob Angle in shorts at left, Lee Cherymisin center with shorts,
and Emil "Scotty" Scott in pith helmet.
(Photo Courtesy of Scotty's nephew, Tom Moore)
---
First Flight Cover from Chungking to Rangoon
October 30, 1939
Addressed to Mr. Z. Soldinski
and signed by Capt. C.L. Sharp, Pilot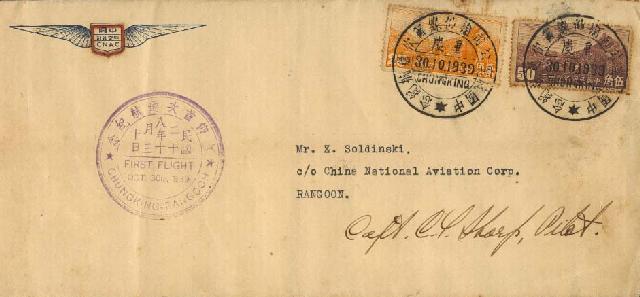 (back of envelope)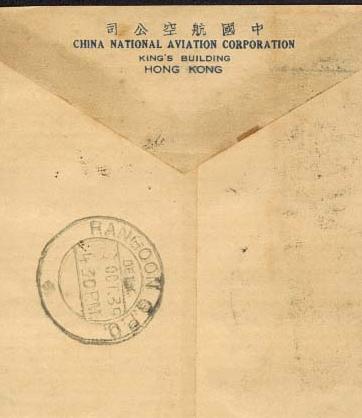 CNAC payroll check to Robert W. Erne
Signed by C.L. Sharp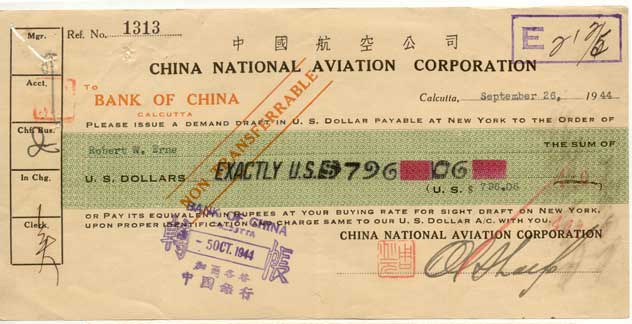 ---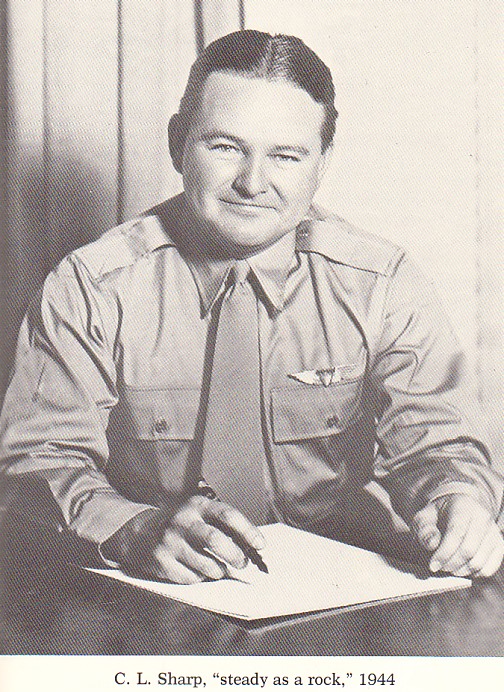 April 23, 1908 - January 14, 1974


From Wings Over Asia Volume III (copyright 1975)

We honor the man who led CNAC through turbulent times in China, Burma and India. He was an outstanding and able administrator, a superior pilot and a leader of men.

Chuck was a real pioneer airline pilot in China. His accomplishments were many: The first flight over the "Hump," the last passenger flight out of Hong Kong in "41, direction and supervision of the first airlift over the "Hump," to name a few.

He attended grade schools in Fort Worth, attended SMU, University of Colorado and the University of Texas from which he graduated. He received an appointment to the Air Corps Flying Cadet School and graduated from Brooks and Kelly Fileds in 1932.

After completing his military service Chuck joined CNAC in Shanghai in 1933. By the time he left the airline as Operations Manager in 1947 it had become the size of Eastern Airlines.

In 1947 Captain Sharp took up his seniority with Pan American Airways and flew it's routes all over the world. His last flights were 707 flights into Hong Kong. He retired because of illness in 1968 and died in Houston, Texas in 1974.

Chuck leaves a wonderful family; his wife Grace, three daughters, Carol Diann, Claudia Jean, Charon Louise, and a son, Charles Douglass. His many friends throughout the world join his family in mourning the death of one of aviations's finest.

W.C. McDonald


---
In the Fall of 2000, Frieda Chen sent me the following bit of information about Captain Sharp. Thanks Frieda.
"Captain Sharp, Operations Manager CNAC based in Calcutta 1942-1946. After V-J Day, base of operations moved back to Shanghai."

---
December 22, 2002
Received the following story from Bill Thomas (thomaswil@rcn.com), about a flight his father took on a CNAC DC-2 in 1938. Here's a link to Bill's father's book: http://www.willysthomas.net/ Thanks Bill.

Journey of G.H. "Jim" Thomas of Hempstead, L.I, on March 15, 1938, from Hong Kong to take up a new job assignment in Chungking on a CNAC Douglas DC-2. Jim worked for Texaco as a marketing assistant in Tsingtao and then manager in Chungking. The company supplied fuel for many of the planes - we believe. (The Japanese by this time had taken over Peking, Tsingtao, Shanghai and most of East China. They did not take Hong Kong until Dec. 41)

Shortly before six I was off in a taxi to Kai Tak Airport, which is on the outskirts of Kowloon, a good twenty minutes ride from Star Ferry. At the field a big tri-motored Junker belonging to Eurasia Airlines was warming up under the care of a couple of German pilots for its run to Hankow, and standing on the runway was my even larger Douglas DC-2.

It had turned very cold over night and the wind blowing over the field was really unpleasant. In the little office where I had to be weighed and have my bags weighed, I met Chuck Sharp the pilot, whom I knew quite well from Tsingtao days before the war, when he used to do the Shanghai-Peking run. I chatted with him while paying out three good Hong Kong dollars per kilo on each of twenty-five excess kilos.

Finally we were told to take our places in the plane, and a minute or so after, with our safety belts tight around us, roared into the takeoff. Hong Kong from the air as we gained altitude was all that you might expect -- a truly marvelous sight. As we headed northwest I took a last glimpse of the Peak and the famous harbor studded with junks and steamers.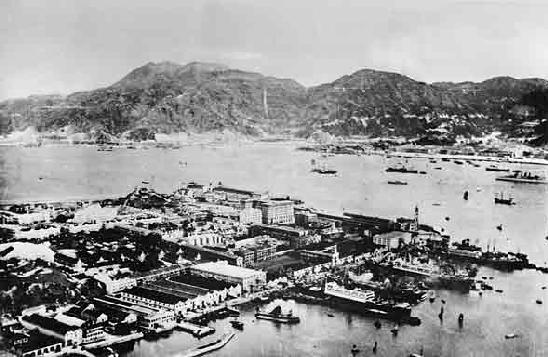 Hong Kong Harbor - 1938
(Photo Courtesy of Bill Thomas)
(Copyright 2002 by W.J. Thomas)


In Hong Kong at this time, unlike Shanghai, one is surrounded by land still held by the Chinese. It is thus at the time of leaving Hong Kong that you actually make the transition, and though it's not terribly dangerous, it's not at all like a walk around the block at home.

Immediately on leaving the colony, you are flying over territory that is bombed daily by Jap planes. You are in a Chinese commercial aircraft that is legal prey to the enemy and your safety depends on three things : correct and up-to-the-minute radio information concerning any activities, your pilot's ability to avoid trouble (flying high or through clouds) and in the last recourse, the superior speed of the DC-2's. You can imagine that during at least the first two hours, which are the most dangerous, you are not exactly bored with the trip.

An hour and a quarter after leaving Hong Kong, we circled over Wuchow and settled down on the small field on the bank of the river. The planes refuel at Wuchow in spite of the fact that they have used very little gasoline in the short run from Hong Kong.

My ears were buzzing as I stepped out of the plane and I had that peculiar sensation that comes after swimming when you get water in your ears. Chuck said that the cure was the same: "Blow your nose and jump on one foot and then the other." That helped considerably.

From the field, the town of Wuchow is just an indistinguishable blur on the other side of the river and down quite aways, so you seem to be out in the middle of nowere. There were three or four light brown patches in the field where sand and gravel had been used to fill up bomb holes made the week before, when several Jap planes had come over and paid a visit.

No plane had been on the field at the time. But the CNAC ground attendant had been caught without shelter, and though he had made a running dive for the tall reeds growing along the river, he had had his clothes burned off by a bomb that landed within thirty feet of him.

Chuck was telling me about this as we stood and watched the gasoline being poured into the tank from five-gallon tins brought over from the little mud storage hut.

The more up-to-the-minute news that Chuck had for me was that he had just heard by wireless that a squad of Jap planes had crossed our path about five minutes behind us forty miles back. It was exciting to realize that we didn't have the air to ourselves. And I noticed that Chuck was keeping a pretty close watch on the sky to the southeast. I asked him what our plan of action would be if we saw them coming in our direction while we were standing on the field. His reply came real quick: "Run like hell for the riverbank!"

His advice turned out to be unnecessary and in a few minutes, with our fuel tanks filled to the brim again, we were up in the air headed for our next and last stop before Chungking, Kweilin.



If you can share any information about Charles Sharp
or would like to be added to the CNAC e-mail distribution list,
please let the CNAC Web Editor, Tom Moore, know.
Thanks!