Mrs. Moore's Little Bouncing Baby Boy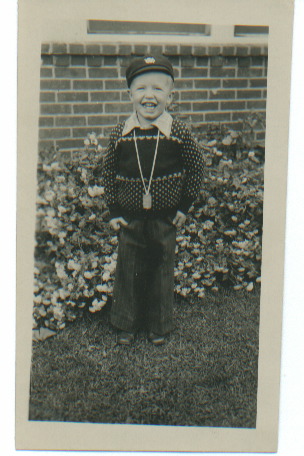 Sacramento, California
About 1944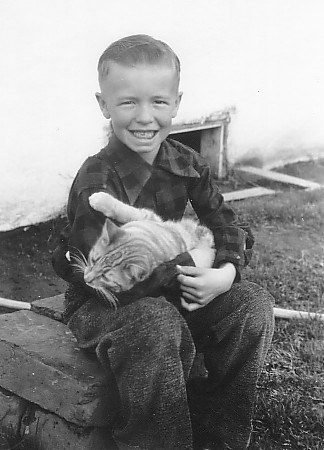 This is my friend and guard cat, "Zero".
Backyard at 236 Tivoli Way - 1948


Here's a little bit about me. My name is Tom O. Moore, Jr. I was the second son born to Tom and Nada Moore on November 27, 1942, in Sacramento, California. My brother's name is Jim. I went to Theodore Judah Elementary School (K-6; 1948?-1954?), Kit Carson Junior High School (7-9; Class of June 1957), Sacramento Senior High School (10-12; Class of June 1960) and just a little bit at Sacramento City College.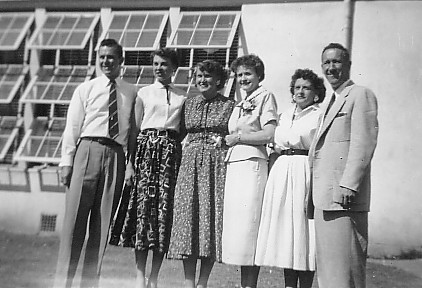 Some of my Theodore Judah teachers
taken in the early 1950's, left to right
Mr. Berka, Miss Vasquez(?), Miss Jenkins, Unknown, Mrs. Elma Snider and Mr. Perry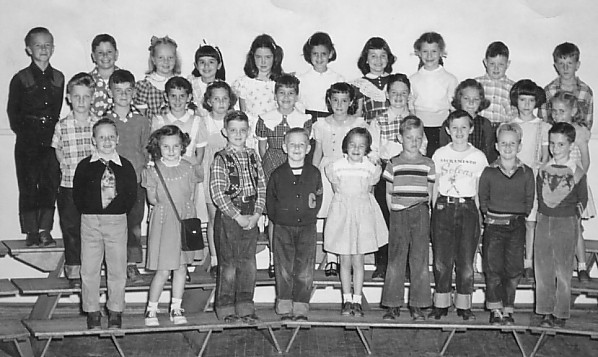 1951 - Mrs. Elma Snider's Class
Left to right
Top row, 1-Tommy Moore, 2- Stephen ??, 3-Dorothy Nelson, 4-?, 5-?, 6-?, 7-?, 8-?, 9-Richard Tremaine, 10-?
Middle row, 1-Bob Winger, 2-?, 3-?, 4-?, 5-?, 6-?, 7-?, 8-?, 9-Leslie??, 10-?
Bottom row, 1-?, 2-?, 3-?, 4-?, 5-she had an identical twin sister and they lived on Tivoli Way, 6-Ron Krueger, 7-?, 8-Ron Barton, 9-?
My thanks to Ron Barton for identifying some of the kids.
Do you know any of these children -- now adults?
---
Cub Scout Den 11
front row left to right
Wayne Smith, Jimmie Holmes, Ray Lawson, Jordon Bloom
back row left to right
Tommy Moore, Dan Jensen, Mike Herberger
This picture was taken at a house on 35th Street.
1953 or 1954

and here's that porch today...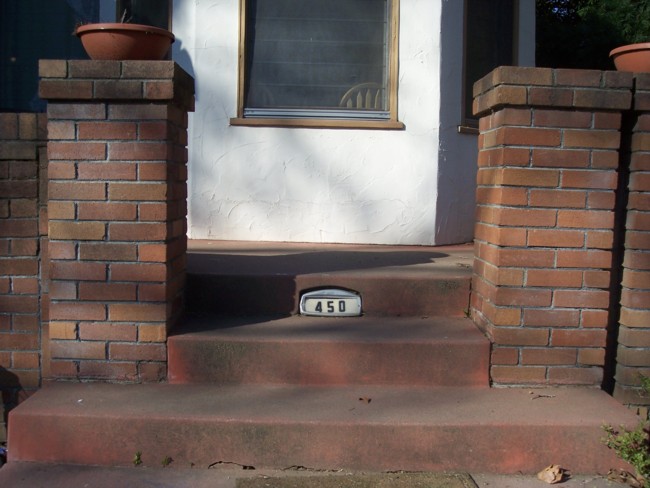 Theodore Elementary School - about 1955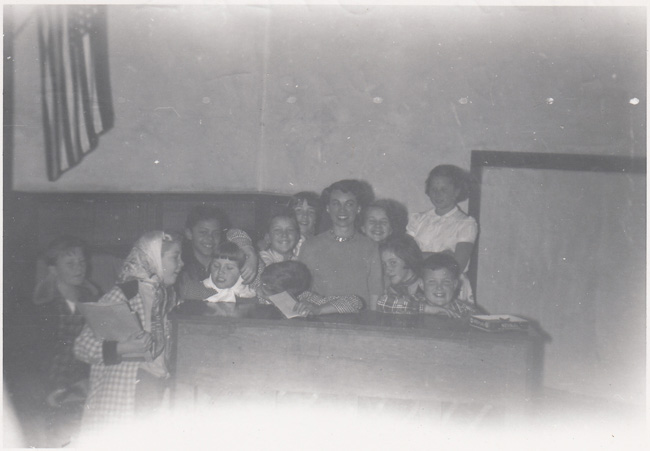 and a closer look at these faces...



left to right: Ron Barton, Jane Lohmeyer, Mundo Silva, Judy Boshard, unknowns, Richard Tremaine at the right with Jane Wren behind him. Is that Pat Sikola to Richard's right? The teacher was either Miss Timmins or Miss Grenz
Click here for a larger view.
Anybody know where Mundo "Ray" Silva might be today?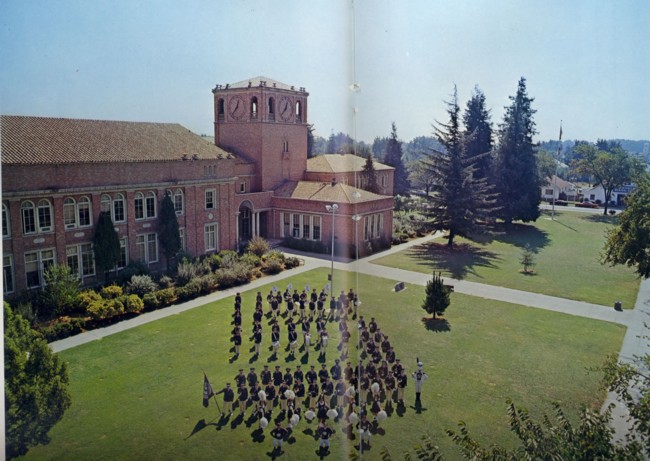 This is the Sacramento Senior High School I remember.
Picture taken in 1968
---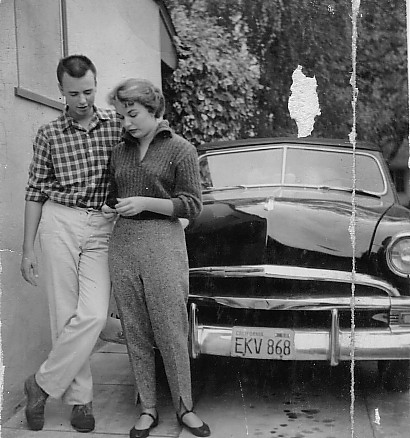 Too cool for school!
about 1957 or 1958
---
I started working at McClellan Air Force Base in January 1962, as a tabulation machine operator. I did this for two and one half years, then I was drafted into the U.S. Army in the Spring of 1964. After Basic Training at Fort Ord, California, I spent just under one year stationed at Fort Lewis in Washington State. My next thirteen months were spent stationed in South Korea (Inchon and Taegu). That's when I really got my chance to travel. My love affair with the Hawaiian Islands had already begun, but being in the service gave me my first chance to see Hawaii. Click here for some of our trips.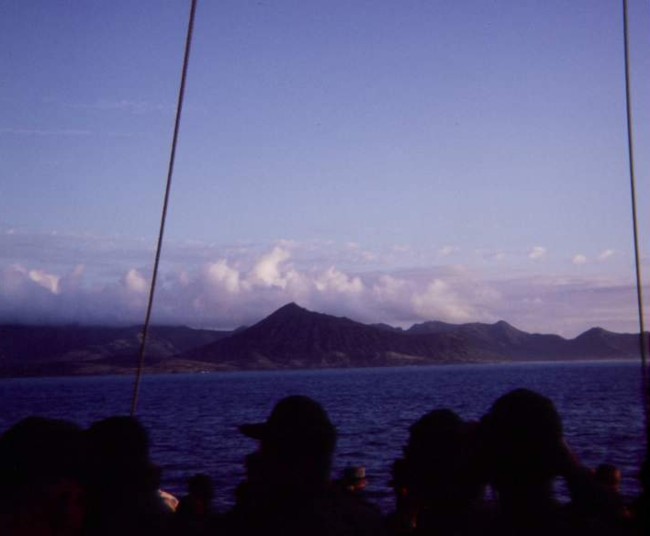 What a beautiful morning!
My very first look at Hawaii and Diamond Head.
Click here for additional pictures of that day.
Click here for military service pictures.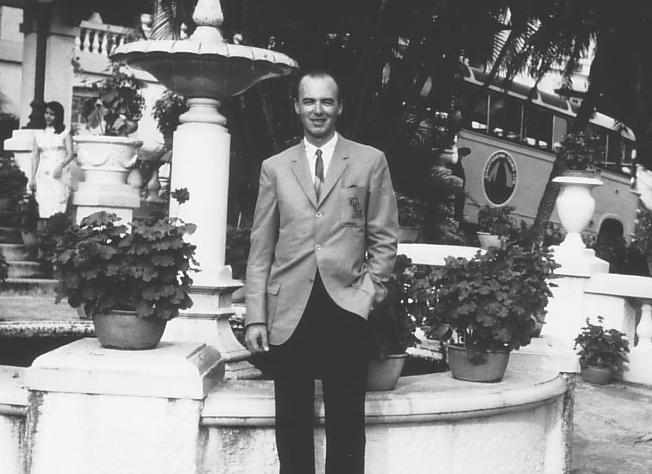 It's just me, again, in front of the Repluse Bay Hotel.
Hong Kong - 1966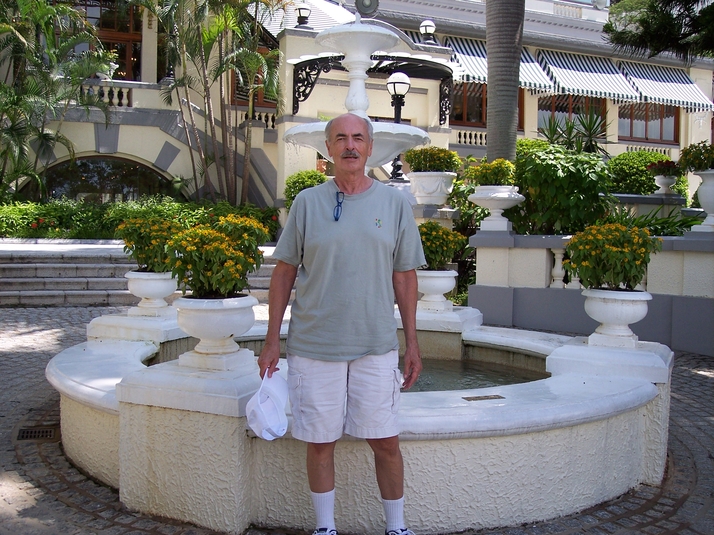 And here I am at that fountain in September 2010
(Follow this link for the trip to China in September 2010: http://www.cnac.org/chinatrip201001.htm)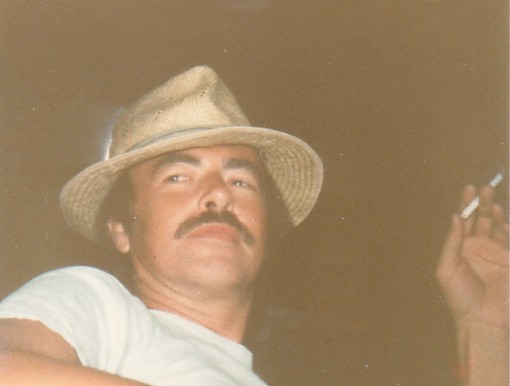 about 1976
I haven't smoked in such a long time it seems like someone else in this photo.


After my time in the service I returned to McClellan Air Force Base working as a computer operator and then as a computer programmer. From 1983 until my retirement in September 1998 I was the base focal point for Computer Security.
In October of 2008 my partner Clark and I moved to Cathedral City, California, near Palm Springs. Here is the backyard, which sold us on this very comfortable home: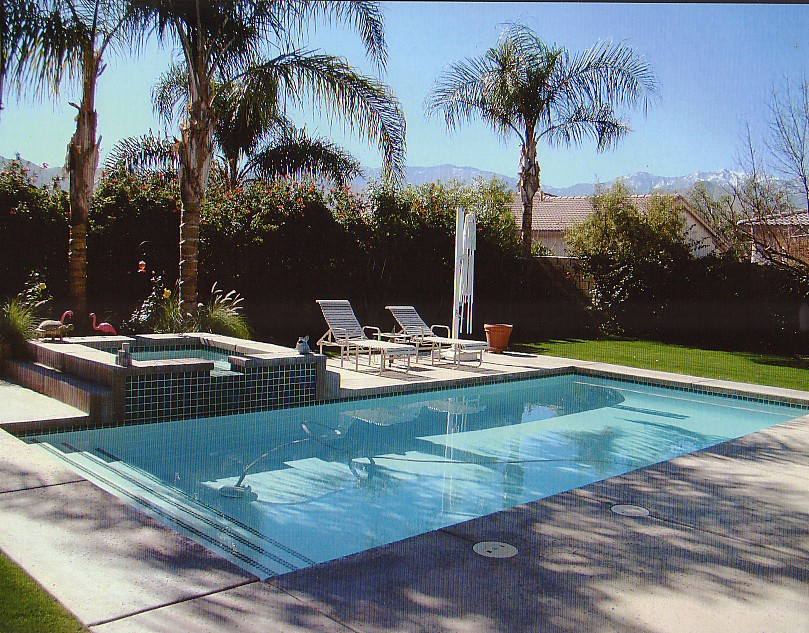 But of course, Gypsy's like we are, in 2011, we bought a replacement home about 6 blocks from the old one in Rancho Mirage. Here's our backyard view: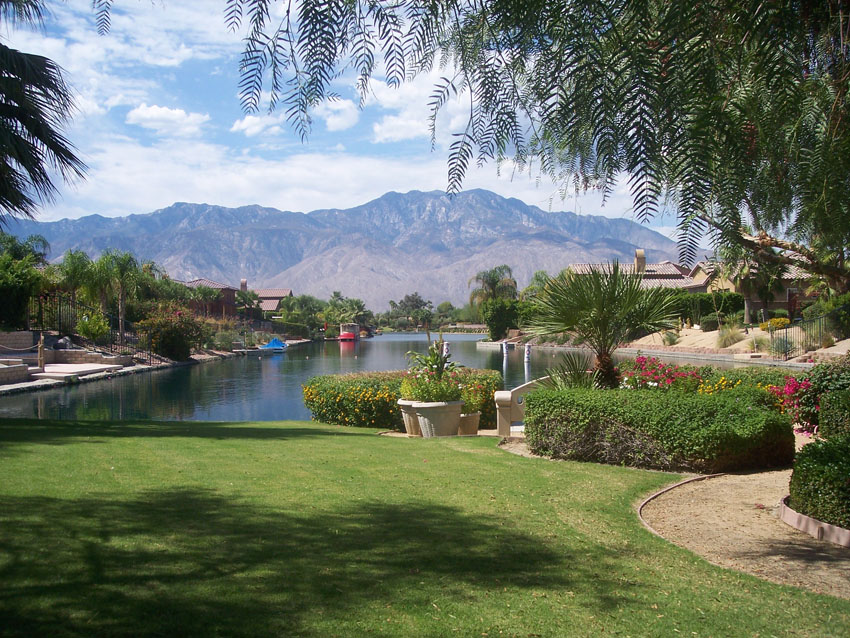 My interest in CNAC unknowingly started about 1992 when I decided that I wanted to really get to know the uncle (Emil Scott) that I had always wondered about because of his World travels. Thanks to Dick Rossi my research got off on the right foot when Dick told me that he didn't know my uncle, but knew about the accident that killed him in Kunming on March 14, 1942. My general interest in computers and the advent of the Internet made it a natural for me to build a web site in honor of my uncle. You can see that site by clicking here.

In October of 1999 I built the first un-official CNAC Internet Web Site. After talking with Jim Dalby and Jim talking with Bill Maher, the Official CNAC Web Site opened for business November 6, 1999. Thanks to the efforts of CNAC Captain John Kenehan and his son John we established our own domain name of cnac.org -- Thanks also go to Peggy Maher, daughter of CNAC Captain Bill Maher, for underwriting the hosting of the site. We went live with our own domain name on April 12, 2000.

The site has continued to grow with the help of former CNAC employees and their families. I now hear from spouses, friends, siblings, nieces, nephews, children, grandchildren and even some great-grandchildren of former CNAC employees. So, if you have anything you'd like to add to this site no matter how big or small, please let me know.



Hey, check it out. I even got my own CNAC DC2!
---
Mrs. Moore's Little Bouncing Baby Boy -- many years later...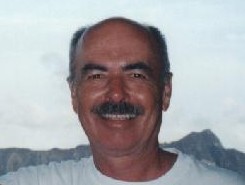 Diamond Head in the background - July 2000
---
Remember all those broken bones you've had over the years.
I've broken enough that I thought I'd tell you about them.
Click here for my story.