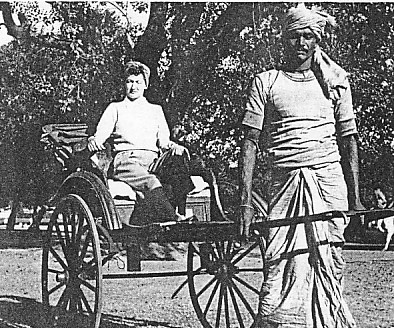 Kitty Shilling, Calcutta with Ricksha and puller.
(Wings Over Asia, Volume IV)
---
Kitty Shilling was the Link Instructor for CNAC in Calcutta.
She was also married to CNAC Captain Erik Shilling during this time.

---
In the 1943-45 log book of Don McBride, Kitty gave her address as:

Mrs. Eriksen E. Shilling
(Kitty)
8711 Sundale Drive
Silver Springs, Md.
---
On the 1971 CNAC mailing list there is a:
Kitty Howser (She and Erik had divorced)
AOPA Box 5960
Washington, D.C.

---
From the 1979 CNAC Active Mailing List:
Kitty Howser
1560 East West Hwy
Silver Springs, MD 20910

---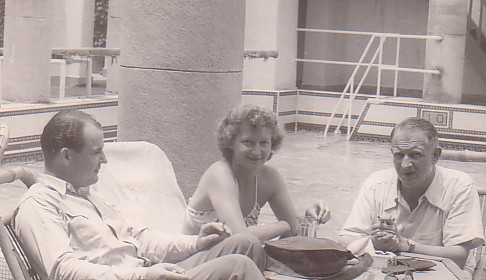 Shanghai - 1947/8?
Bussart, Kitty and Bob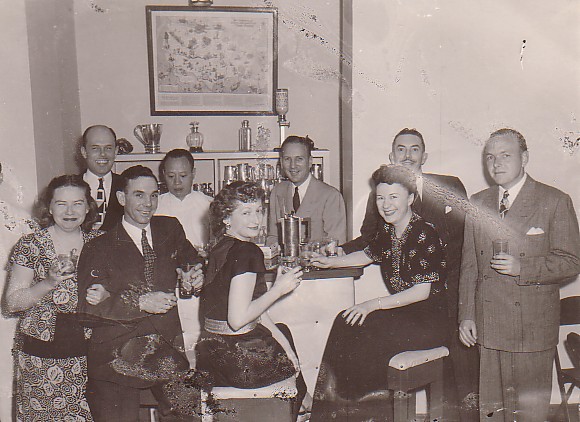 Peg and Billy McDonald's in Shanghai - 1947
The Watson's and the McDonald's had divided up a large apartment and they had a shared kitchen with separate living areas.
Kitty is in the center seated.
Standing at the far left is Mary Margaret Pottschmidt
Not sure of the others, but on the back of the picture:
MM Maxi Smith
Joe Honeycutt
Bill Snag(sp?)
---
Found this letter in the July 1973 issue of the Cannon Ball.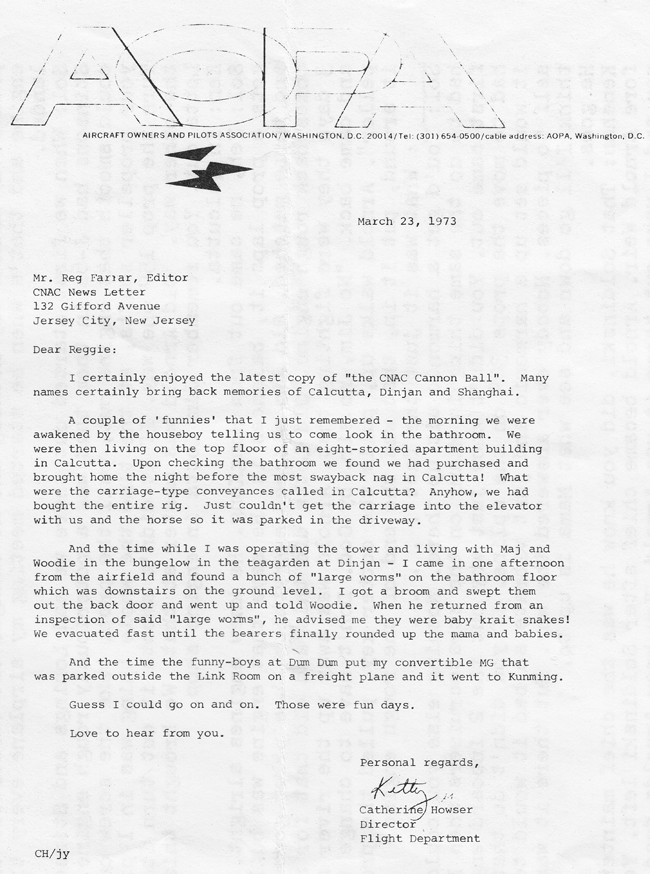 ---

July 7, 2002
"Hi, Tom: I never knew Kitty's official first name if indeed it wasn't Kitty. About all I remember about her--she was an attractive woman with a slender figure and an engaging personality. She joined Erik in India when he flew with CNAC. She was a private pilot with a U.S. FAA control tower operator's certirificate and got a job operating an Army Air Corps control tower somewhee in India. It could have been with Air Traffic Control. Whichever and wherever it was, she worked CNAC planes. IF I had to guess I'd say it was in the neighborhood of Dinjan (now Bangladesh???) which was CNAC's base of operations for its Hump operation. (CNAC's Far East executive offices were at Dum Dum Aerodrome outside Calcutta.) Army Air Corps pilots were surprised to hear an American woman's voice in that tower, or AirTraffic Control Center, whichever it was. Have you tried asking Christy (Fletcher) Hanks who lives in Maryland? He has a retentative memory. Another good source of information is Dick Rossi. Another good source is Don Bussart. After the war, CNAC moved to Shanghai. Kitty and Don's first wife both lived with their husbands in Shanghai and must have known each other. Don Bussart's first wife occasionally comes to a CNAC reunion. CNAC's Bill Maher should have her address. And he would remember the name of Don Bussart's first wife who remarried so she'll have a different last name. She is very sociable and amiable and would be glad to correspond with you. Fortunately the Bussart divorce didn't end in bitterness.

The Kitty Howser is a possibility since she belongs to the AOPA. Maybe you could phone her and ask. Can't remember if I told you. However, the memory is so vague in my mind, I wouldn't trust it. I have a faint recollection of Kitty Shilling instrucring me (and other CNAC pilots) in a Link Trainer (the forerunner of simulaters) perhaps at the CNAC base in Calcutta. If you discover that Howser is the original Shilling, ask her if she instructed guys in a Link Trainer and where.

Regards, Felix (Smith)"

---
July 7, 2002
"Hello Tom -

Yes, I knew Kitty Shilling -- not well, but I remember her as a bright, attractive, warm-hearted person. I never did know what her given first name was. She worked in a control tower for a while. I'll look through my records and see if I have any more information.

I hope that you are happily moved and settled. I moved a year ago and I'm still unpacking.

Glad you're keeping the CNAC group informed. The last time I was with them was on the trip to China and India with a trip over the Hump. That was a long time ago. But I still like to hear about the ones I knew.

Regards,
Alice (Knight)"

---
July 9, 2002
Tom

For a few months while I was flying for CNAC I lived with Erik and Kitty Shilling in their apartment in Calcutta. I was living in the hostel at Dum Dum airport, and Erik asked another pilot, whose name escapes me now, if we wanted to live with them while in Calcutta, and share expenses. We did for a while. I remember going to supper with them at an Italian restaurant in Calcutta, and then a party at someone's house. The other fellow moved out shortly, but I stayed there for a while, my guess is a few months, not longer, when I began to think that I didn't really need the amenities of the the apartment (Plenty of space, privacy, a nice place, and a bearer) and I would rather send the money to my account in the savings bank in my hometown of Ithaca, NY, so I moved back to the hostel. After all, we weren't in Calcutta all that much.

Kitty was pretty and vivacious. She had gotten training so she was the CNAC Link Trainer instructor. Before I went to CNAC I had worked for Sperry Gyroscope Co. and they had a Link and an operator and encouraged their people to use it to become familiar with instrument flying and Sperry instruments. I spent quite a bit of time in the Sperry Link room and logged about 40 hours of Link time, flying down the LaGuardia ILS, which had a kink in it near the bottom, and making approaches on the Mitchell Field range, the old low frequency "beam". Consequently I had no trouble in passing Kitty Shilling's Link test when I first started at CNAC.

I do not know when Erik and Kitty were divorced. By 1962 Kittty was working for the AOPA as the "Service and travel" contributing editor, or really staff person who answered the queries of members. I remember taking her to supper one time when I was in Washington on business for the Cornell Aeronautical Laboratory in Buffalo, where I worked for 28 years. Query AOPA if you want to know dates of her AOPA service. Remember, her name then was Howser.

Kitty had remarried. Her full name then was Catherine V. Howser. I got that from the masthead of the April, 1962, AOPA Pilot. I still have a copy because I had a small article in that issue. So I think it is a fair assumption that in CNAC days she was Catherine V. Shilling.

Best to you

Giff Bull


---
As Catherine V. Howser, I believe that Kitty passed away December 1, 1998, possibly in Silver Spring, Maryland.



If you would like to share any information about Kitty Shilling
or would like to be added to the CNAC e-mail distribution list,
please let the CNAC Web Editor, Tom Moore, know.
Thanks!