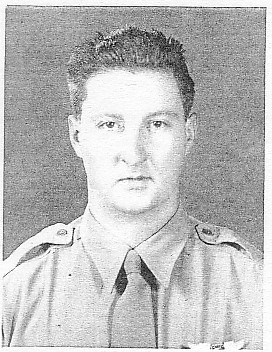 During his time flying for CNAC, Don kept a diary.
(Copyright 2007)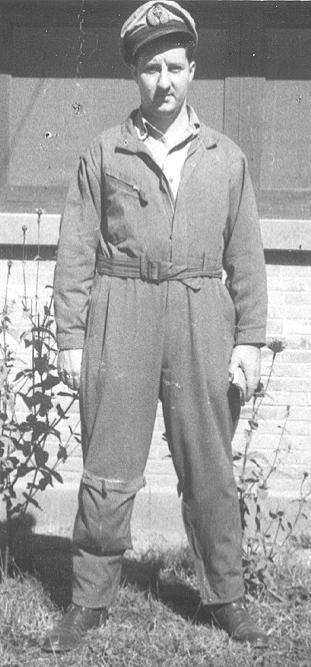 Don McBride Kunming - November 1944
(Photo Courtesy of Jim Dalby)


The following article is reprinted with permission from the Omaha World-Herald and may not be reprinted, resold or redistributed without further permission from the Omaha World-Herald.



Published Friday
November 10, 2000

Omahan Flew Cargo Into China

BY GERALD WADE

WORLD-HERALD STAFF WRITER



"You had a lot of things to contend with." - Don McBride

Saturday is Veterans Day. This is the story of one veteran among many who live in Omaha.

Don McBride, in his 80th year, is compactly built and spry. He exercises weekly in a YMCA pool.

An amateur paleontologist and one-time fish farmer on a ranch near his hometown of Orchard, Neb., McBride has many fossils in his basement and medals framed on a wall at his home near 120th Street and Westover Road. In a closet hangs his World War II flight jacket.

McBride became a pilot before World War II, a war he believed would pass him by. Seasoned instructors were needed to train the greenhorns who would be sent into combat when war came. McBride was frozen out of enlisting in any branch. He tried to join the Royal Canadian Air Force but was refused. He tried to join a U.S. unit as an inexperienced cadet but was caught.

McBride finally saw combat by way of Pan Am, which he said had enough clout in Washington, D.C., to hire him. He carried cargo and personnel, mostly for the government, to South America, Africa, the Middle East and elsewhere.

He then was recruited to fly for a company of which Pan Am owned 45 percent, the CNAC (China National Aviation Corp). Americans who volunteered for the CNAC and its sister outfit, the Flying Tigers, would be absorbed into the Army Air Forces, but McBride and others originally signed on as civilians.

The Chinese recruiter did not lie, McBride said. "He told us what we were up against. He said half of you won't come back, but we need pilots over there badly."

McBride mostly flew a two-engine DC-3, taking cargo, and sometimes people, into and out of China over "the Hump," the Himalaya Mountains.

McBride's group was based at a jungle airstrip 700 miles northeast of Calcutta, India, where China, India, Burma and Tibet join. Calcutta was the last seaport in the region not under Japanese control.

The plane McBride flew was sturdy but not pressurized.

"You would get in the airplane down in the jungle," McBride said. "It would be 150 degrees in the airplane with all of the windows open. Every window back in the cabin had a gun port. It was supposed to have rubber plugs, but there were never any rubber plugs. We didn't mind for the first 10,000 feet because that sucked out the hot air.

"The first thing we did when we got in the airplane was take off our clothes down to our shorts, shoes and a pair of gloves. You could not touch the controls without gloves. They were too hot. After you got up to about 10,000 feet, you'd start putting your pants on. By the time you got to 15,000 you were putting on a fur-lined flying suit. At 20,000 you were freezing to death. I've seen it 55 below up there. You had a lot of things to contend with."

McBride said his cargo was anything you could imagine: explosives, bicycles, laborers, medicine, gold bullion, hog bristles and duck feathers.

"The duck feathers and hog bristles had a high priority," McBride said. "The feathers were used for winter uniforms. The bristles made wonderful paint brushes. They were given high priority to get them back to the States."

Besides having to contend with Japanese fighter planes, there was the weather, especially in monsoon season.

"I remember going out one night about 11 o'clock," he said. "I got over the first range of mountains in North Burma, and I hit a thunderstorm. I was still climbing at 11,000 feet. I was going on up to about 16,000 when I hit that storm. I couldn't control the plane. I put down the gear and shut both engines off. I went from 11,000 to 19,000 feet with the engines off and the nose pointed down. Talk about an elevator ride. The next second, you'd be going down 6,000 feet."

McBride made emergency landings more than once and had other close calls. One time he was attacked, and the plane crippled over thick Burma jungle. He had to go down.

"The only place to land was a little Japanese fighter strip about 20 miles from me," McBride said. "I didn't know who controlled it. We had been hauling supplies to the Chinese fighting there, so I knew they were in the vicinity. I had no choice. I landed on the strip, and fortunately the Chinese were in control of most of the field."

After lunch, McBride showed his medals and ticked them off in an understated, almost reverse order of significance: "The Chinese Air Force gave me the China Service Medal. The U.S. Air Force gave me the World War II Victory Medal, the Asia-Pacific Theater Medal, four Bronze Stars, the Air Medal and the DFC (Distinguished Flying Cross)."

---

Interviews by Jean McBride, one of Don's daughters.
First interview
Second interview
Third interview



If you would like to share any information about Don McBride
or would like to be added to the CNAC e-mail distribution list,
please let the CNAC Web Editor, Tom Moore, know.
Thanks!