Troy worked in the maintenance department.


---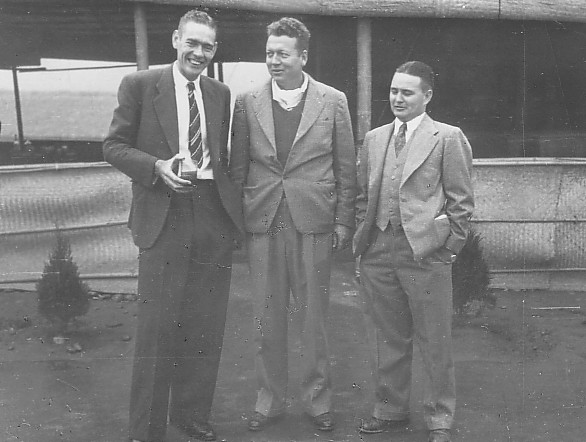 Unknown CNAC mechanic, Troy Haynie and Chuck Sharp
Moon Chin identified Haynie and Sharp, but couldn't remember the other mechanic's name.
Moon said that Haynie was in the U.S. Navy and later ran a filling station in San Jose, California.
Moon also remembers Haynie being married with 2 or 3 sons.
(From the Bill Price Collection)


"Mechanic Haynie" as he is referred to in one of Bond's letters... was working on the Hankow airfield in October, 1938...

"Mechanic Haynie, who stopped to look after the passengers, was the last man to make the dug-out, and the Japs were machine-gunning him when he dived in. One passenger, a high official in the Ministry of Railroads, refused to come out after the raid was over, and he was told the plane would not return. It took five hours to get him out and they had to back a car up to the entrance."

(Bond to Stokeley Morgan, Oct. 29, 1938)


---
September 3, 2007

Hi Tom:

Re Troy Haynie, our family use to visit them when we were kids. I vaguely recall the gas station... What I do remember is Pleasanton and Gilroy, CA. Troy was married to Ann Haynie and they had 3 kids, Mildred (oldest), Robert (Bobby) and Edward (Eddie). We used to drive down on Sundays to their farm in Pleasanton and the kids would swim and play while the adults relaxed and talked about old times. Lots of home grown stuff to eat; also remember finding out that unpasterized milk didn't agree with me (amazing what the memory recalls). Then, the Haynie's sold the farm because it was just too difficult to maintain and bought a motel in Gilroy. I think the gas station came after that, thought it was also in Gilroy. Troy passed away (heart problems) and Ann continued to run the gas station for a while. She passed away a number of years later, and then our families just sort of lost touch.

Sorry, I'll be missing the reunion this year. Hope it's a great one as always!

Cheers,

Dona (daughter of Captain Donald Wong)



If you would like to share any information about Troy Haynie
or would like to be added to the CNAC e-mail distribution list,
please let the CNAC Web Editor, Tom Moore, know.
Thanks!