Captain Donald Sam Wong
April 11, 1909 – March 20, 1999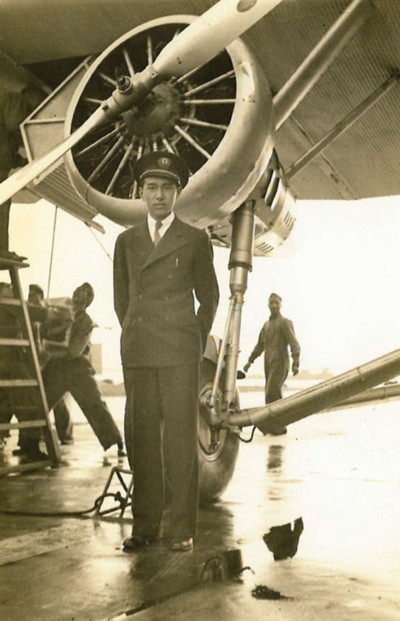 Captain Donald Sam Wong was born on April 11, 1909 in Chicago, Illinois to Wong Sam and Chan Fook Lum. When he was ten, his Father passed away, and he helped support his Mother and five sisters, Dora, Daisy, Edith, Frieda and Ruth by working two jobs while attending Chicago public schools. Academic excellence secured him a full scholarship to Armor Institute of Technology, now part of the Illinois Institute of Technology, where he studied electrical engineering. However, he was eager to learn to fly, and an "Uncle" in the Chinese community gave him money to take flying lessons. His Mother was adamantly against his flying, but Donald provided a convincing argument in the family kitchen, positioning chairs and other furniture to simulate an airplane and demonstrate its safety. Eventually, she acquiesced, and Donald began flying lessons at Curtis Reynolds Airport in Chicago, making his first solo flight on September 23, 1930. He secured his pilot's license to fly single engine airplanes on August 31, 1931 and joined his buddies in China in January 1933, enrolling in further pilot training at Sky Harbor Airport to master flying passenger planes and ferrying cargo. On September 2, 1933, he logged his first 8 hr and 5 min flight from Shanghai, where he was based, to Peiping, flying the Peiping Line via Haichow, Tsingtao and Tientsin. In December of 1933, Donald became the first certified Chinese/Chinese-American pilot for China National Aviation Corporation. By September 1937, he had logged over 3600 flying hours for CNAC, wearing his CNAC wings proudly and carrying a 1922 US silver dollar for luck.



Here's that lucky silver dollar.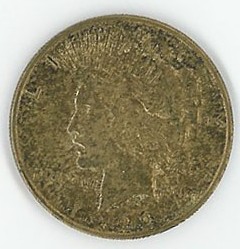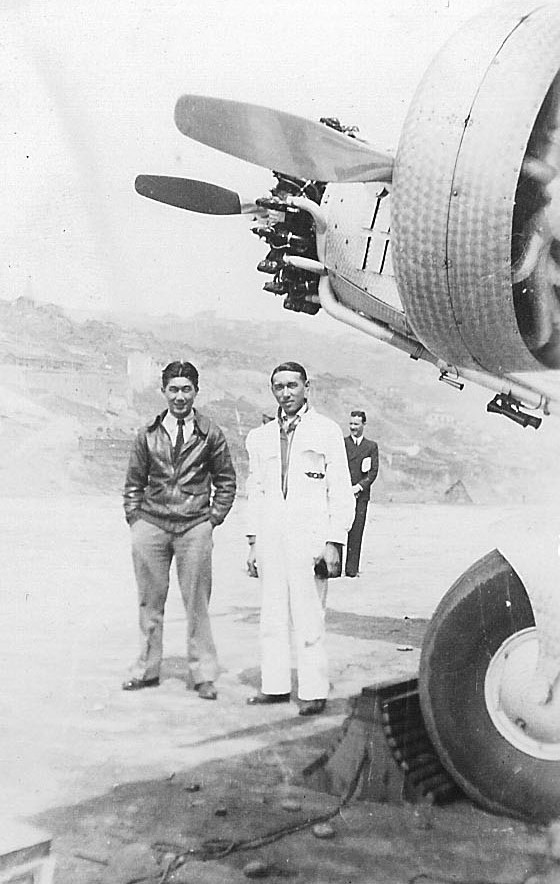 Joy Thom, Donald Wong and Unknown in background
Unknown on ground, Unknown in cockpit and Donald Wong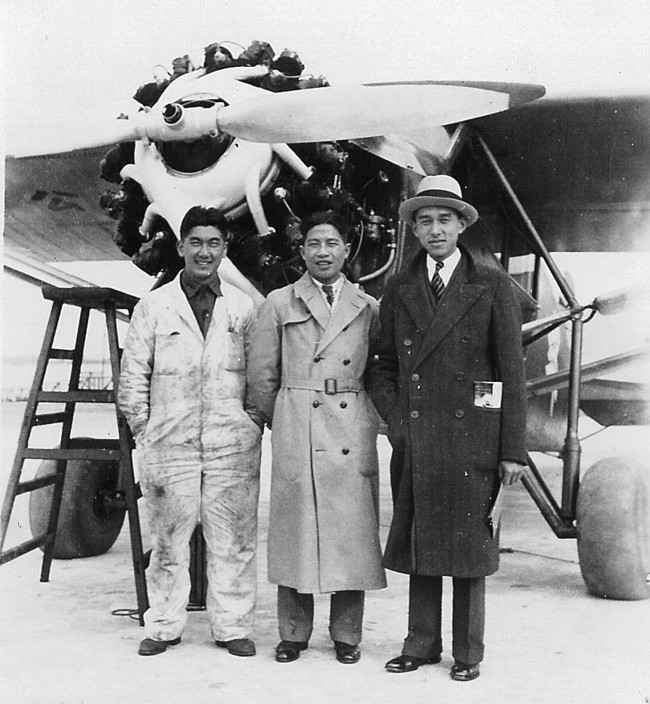 Joy Thom, Moon Chin and Donald Wong


Donald met his wife Mary Lee Wong in China, and they wed in Shanghai on April 11, 1937.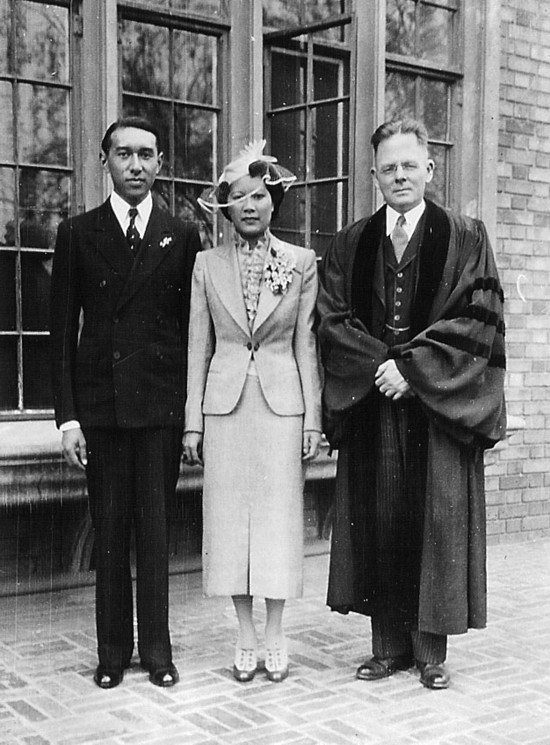 Donald, Mary and Unknown
Shanghai - April 11, 1937


He returned to the States when Mary became ill but came back to China at the beginning of World War II to help the United States war effort. Having piloted planes to India from 1933 to 1937, Donald was enlisted to fly a plane from Miami to Calcutta on February 2, 1942 when CNAC "had the first two lend-lease planes ready for shipment". The latter was quite a contrast to his early days of flying in China, when airplanes were transported in pieces via ship and then assembled upon arrival. While the airfields were equipped with skilled ground crews, pilots and co-pilots learned to be their own mechanics, should those skills be required in an emergency.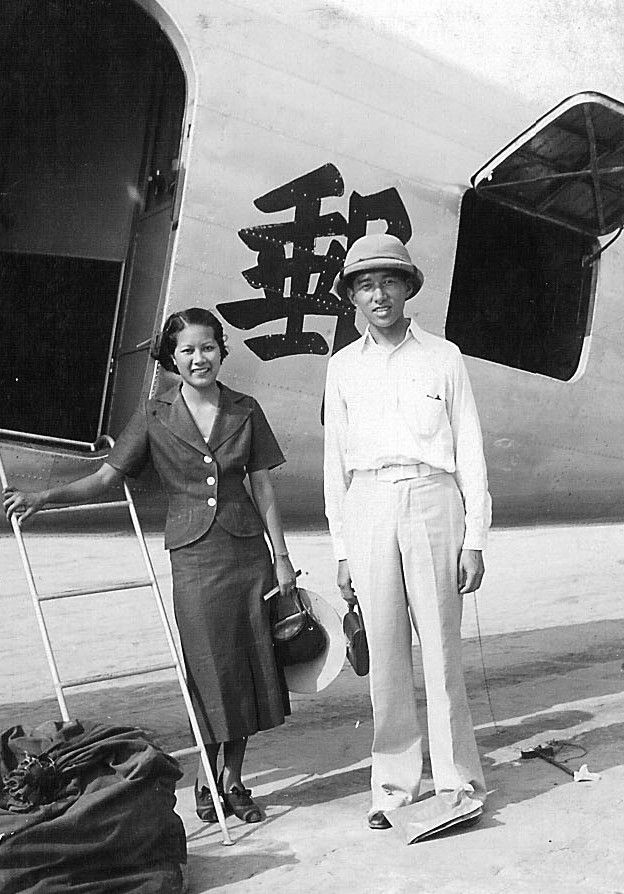 Mary and Donald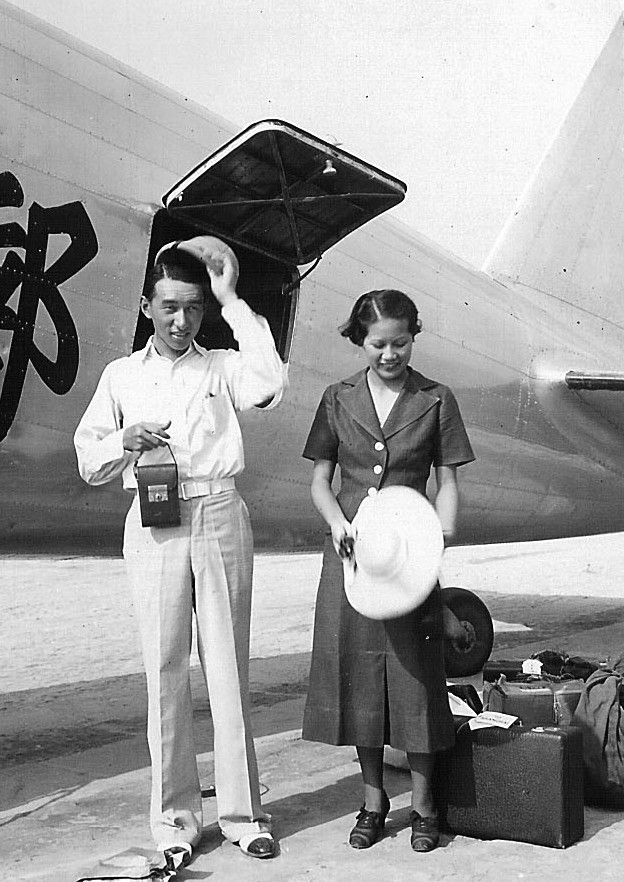 Donald and Mary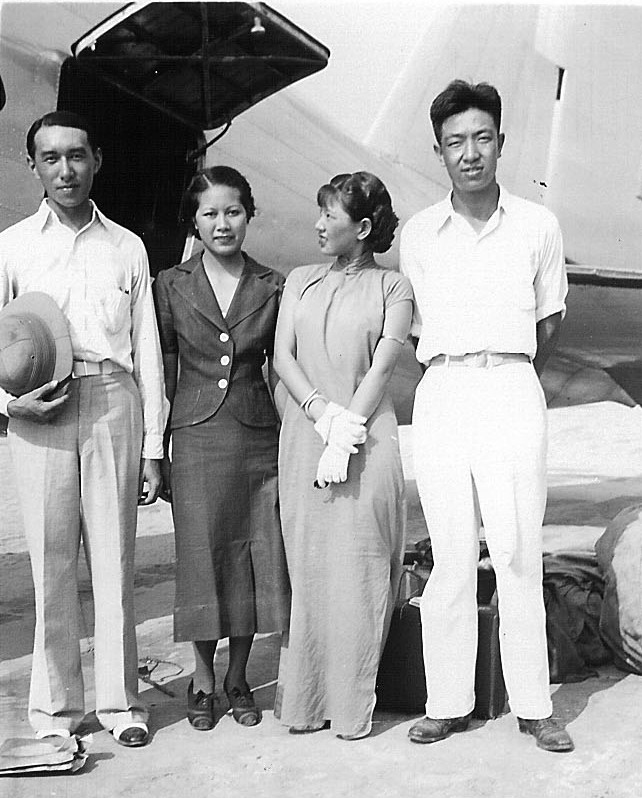 Donald and Mary -- Unknown and Unknown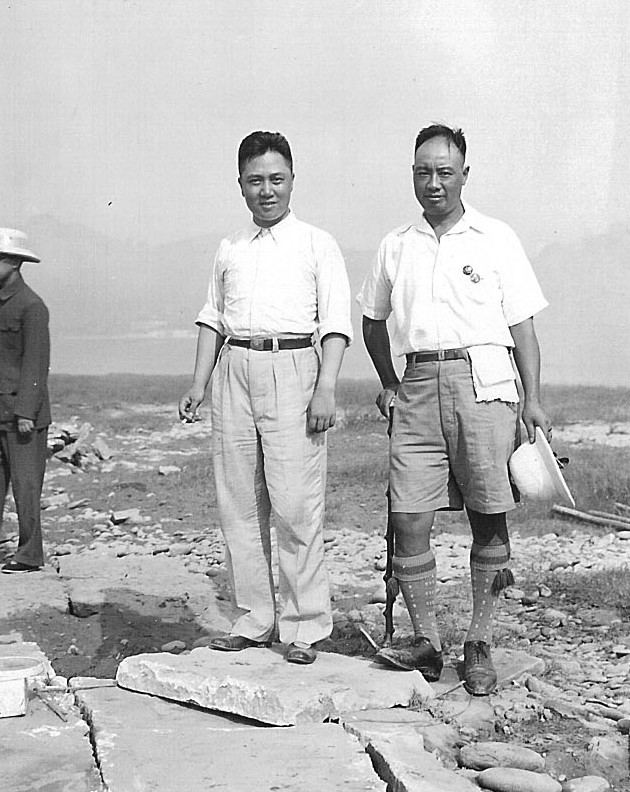 Unknown, Unknown and Unknown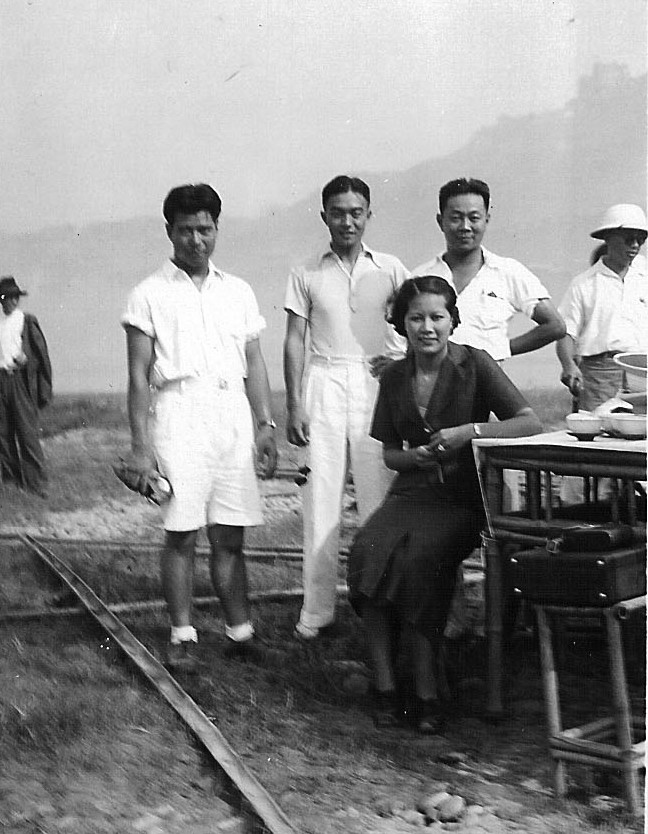 All standing are Unknown
Mary is sitting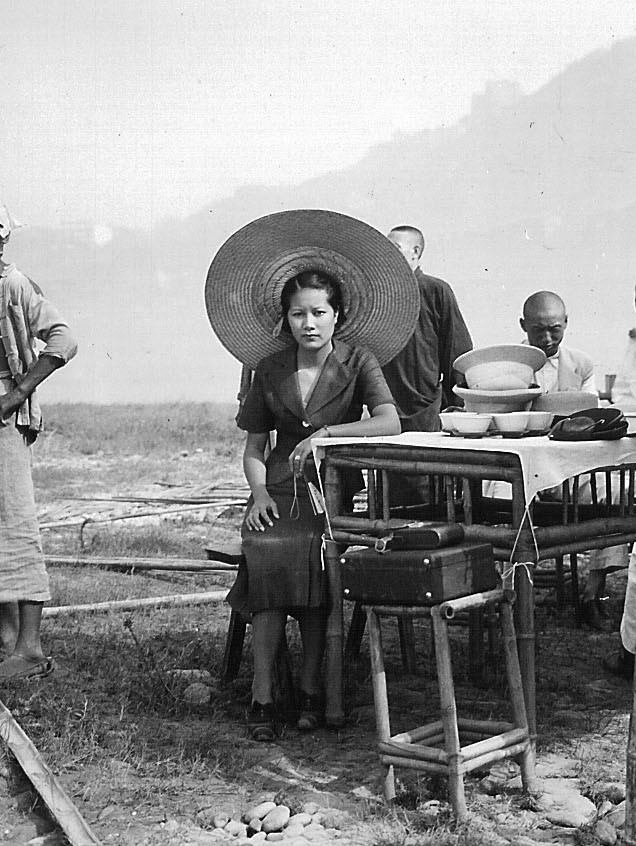 Mary in that great hat!


Through December 16, 1944, Donald made many trips with his flying buddies, as U.S. civilians and CNAC pilots, ferrying DC-3 airplanes carrying supplies into China and people out via "The Hump," to avoid detection and attack by the Japanese. In an April 1945 radio interview, Donald described the Hump as "a chain of mountains stretching down from Southern China from the Himalaya range of Tibet". With peaks as high as 15-18,000 feet, passage was dangerous, and the danger was compounded by unpredictable weather, where sudden storms reduced visability. The "Hump" pilots flew war weapons, e.g. ammunitions, guns, trucks and gasoline, into China and ferried scarce materials available in China, e.g. wolfram, tin and mercury, back to India. In addition, they flew refugees and wounded soldiers out of Burma, from a field north of Rangoon. While planes could seat around 30 passengers, the Hump pilots loaded on many as 75 refugees on some of runs out of Rangoon. It was a dangerous time for all who served their countries. As related by Donald, two Japanese MiGs chased him on one cargo ferrying trip between Kuming and Dinjan. With his cockpit full of holes, and his co-pilot passed out from the oxygen loss in the cabin, he was struggling to keep his plane airborne. Fortunately, he passed over a British RAF field where two RAF fighter planes were quickly dispatched to aid him. They managed to chase off the Japanese fighter planes, and Donald landed safely. With the capture of Myitkyina, greater protection was afforded to the men flying these runs by forward airfields staffed with American and RAF fighter squadrons. Lower altitude routes could then be utilized, and radio communication alerted pilots and co-pilots to the presence of enemy planes.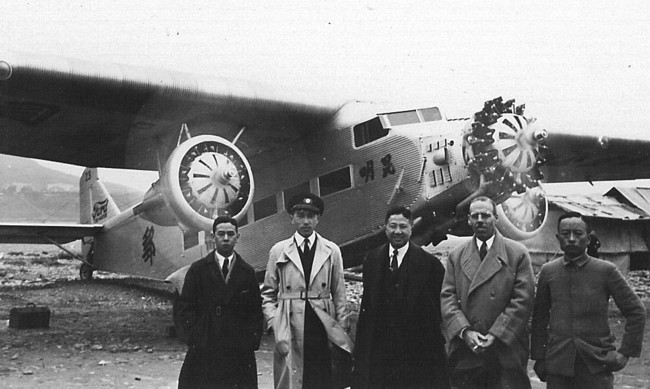 Joe Loh, Donald Wong, Ki Chun, Harold Bixby and K.I. Nieh


In 1944, Donald was sent back to the States after becoming seriously ill upon a second exposure to anti-malarial medication. Diagnosed at the time with "black water fever", he found out years later that the medication was making him sick because he carried a genetic deficiency.

After the war, Donald eventually settled in San Mateo, CA. He had hoped to become a pilot with Pan American through the help of Harold Bixby, Pan Am's Far Eastern representative. Despite tremendous effort, Mr. Bixby was unable to alter the mindset of American commercial aviation, which was not ready for a Chinese pilot.

On February 24, 1995, Donald, along with four of his "flying buddies", Moon Chin, Harold Chinn, Art Chin and Hing Wong, were retroactively inducted into the U.S. Air Force and awarded The Air Medal and Distinguished Flying Cross for meritorious achievement in aerial flight for service in China during World War II along with several medals from the Chinese government recognizing their war feats and efforts. This long awaited event was clearly a highlight in Donald's life and came to pass through the efforts of sister Frieda, who urged and helped him assemble the materials for submission. Yet, a modest and unassuming man, he spoke little of those missions of courage and daring until years later, finally responding to the prying questions of his daughters, who had found a treasure chest of his flying memorabilia in the steamer trunk that had accompanied him on his ocean journeys between the U.S. and China. In fact, Donald had hoped that the record of cooperation between the British Royal Airforce, the American Army Air Force, the Air Transport Command and China National Aviation Corporation, a company jointly operated by Chinese and Americans, during the time of war was proof that cooperation in the Far East would be possible in time of peace. He further believed that aviation was a stepping stone to post-war economic progress in the Orient and that underdeveloped territories, separated by vast distances, would be linked together for greater understanding and mutual cooperation, with the airplane helping to make that possible.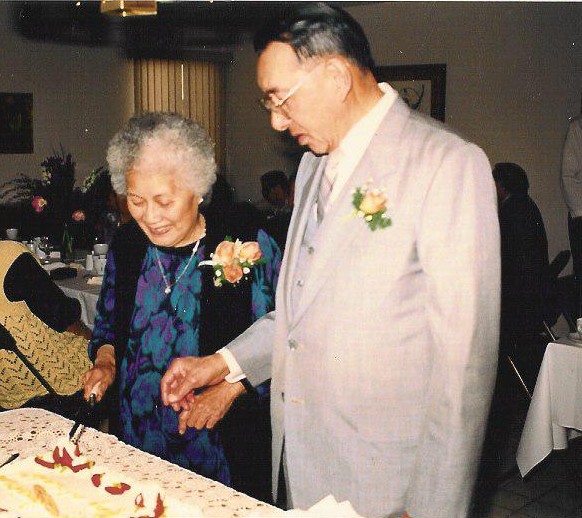 Mary and Donald at their 50th wedding anniversary.
During the last 12-1/2 years of his life, Donald cared for wife Mary at home and enjoyed special time with grandson David.
He never wavered in providing for his family's needs, even when he became ill himself.

On March 20, 1999, Donald died peacefully at home, having lived a full life, just short of 90 years.

If you would like to share any information about Donald Wong
or would like to be added to the CNAC e-mail distirbution list,
please let the CNAC Web Editor, Tom Moore, know.
Thanks!