In the 1943-45 log book of Don McBride, Lad listed his address as:

Lad Moore
805 S. Ganett
Marshall, Texas
---
Your CNAC Web Editor would like to thank Lad Moore, Jr. for the following information and photos: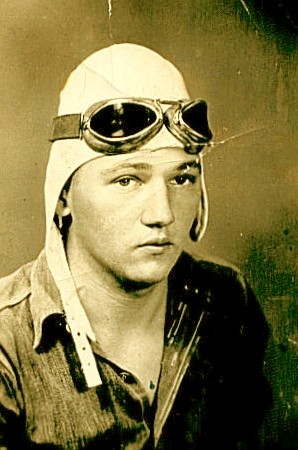 Here's an unusual photo.
It is of my dad, Lad Moore, Sr., in his early flying days in Marshall, Texas.
Around 1932 -- age about 18
Looks like a barnstormer, eh?


Dear Tom,

My name is Lad Moore, Jr. My father, as you know, flew with CNAC and I was proud to find his name listed in the pilots list. A friend of mine, who knew my dad flew with CNAC, found your website just browsing the net. I was thrilled to find it.

He died in 1956 in Bonham, Texas, of cancer of the liver and pancreas. (This was quite an ironic coincidence in itself, as he did his personal training and instruction out of Jones Field in Bonham way before CNAC.)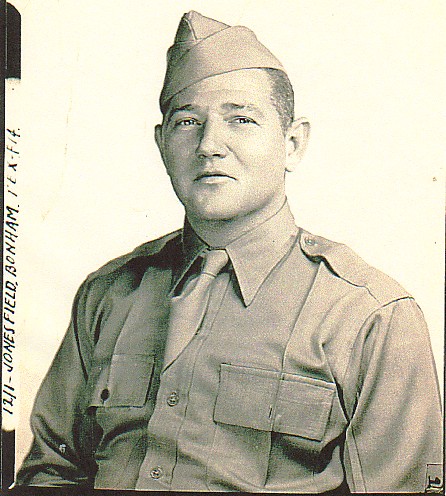 "My aunt found this picture of my father. On the back is noted:
Dec. 11, 1943
Lad Moore
Class Commander
Flight Supervision
Jones Field
Bonham Texas
This is where my father taught aviation, before he took off for CNAC. I don't know how long he was there -- there might be a patch on his lower left shoulder -- or perhaps it is a camera flaw -- can't tell. Maybe there is enough of it showing that one of your readers can make it out."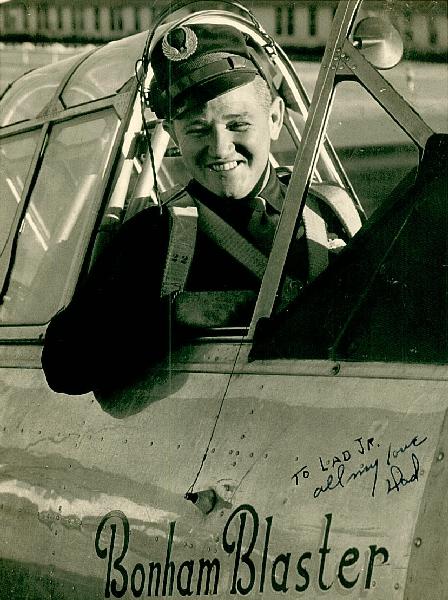 Tom, this is a photo of my father, Lad Moore. Maybe a reader can identify the wings on the cap. They do not look like the CNAC wings that I have of his, but maybe they are a variation of such. They may also be wings from his pilot training days at Jones Field in Bonham, TX. This photo is undated, but I put it somewhere around 1943 or 1944, because I was born in 1943, and his photo inscription has my name on it.





I have to "intelligently guess" how many hump flights he made based on the log book entries during that period. He records his "first flight over the hump" on March 29, 1944 in a Army Douglas C-47. After that, I count 126 flights from Dinjan to Kunming (the hump crossing) in the log. All flights were in the C-47 aircraft. There appears to only be this one log book for the entire theatre period.

Further in the logbook he lists that on July 1, 1946, he began flying both the C-47 and a C-46 Curtis Commando, and thus began a series of flights from Dinjan to "LUC". Those are followed by numerous other flights SHA -NKG-SHA. Also PPG-TAO-PPG, etc etc. There are no further Dinjan to Kunming routes.

The logbook ends May 28, 1947 with a flight, Formosa-SHA.

I traveled with him all over the far east after the days of the Hump and CNAC. We settled in Bandung, Indonesia where he and JH Maupin, a Mr. Roundtree, Parish, and a few others flew for Angatan Udara (may be mispelled) as flight instructors mainly. In about 1949 he married Annie Liang, a CNAC stewardess from Shainghai, our stepmother. I am 75% sure that the picture of the CNAC stewardesses includes her, last on the right, second row (back row). I wish I could be 100% certain, but she disappeared after his death -- in a very mysterious manner.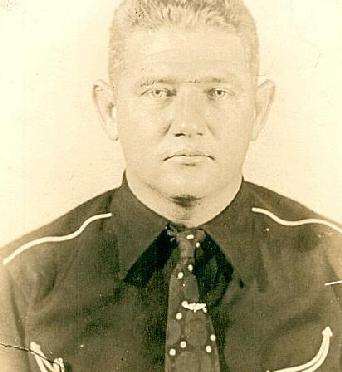 Lad Moore
Passport Photo, 1949

I have some memorabilia that I cherish, a set of the fabric covered CNAC wings, a flight jacket patch, and another pair of gold wings with the blue and white sunburst in the center. Perhaps I can figure out how to get a close-up of them but I only have a simple camera. I have a few photos, and I can scan and upload those if you wanted to see them and can use them. Let me know.

My address information is:
Lad Moore (Jr.)
549 Blackjack Road
Jefferson, TX 75657
pogo@shreve.net
903-935-3551

October 7, 2000
More about Lad Moore (from his son)
The work that Lad and his pilots did in Indonesia began to wane once young Indonesian pilots were trained to fly the mostly C-47's and the few fighter planes. Several of the flyboys left for other pastures. I remember that one of them, and I am almost sure it was Parish, had sent his family back home, and their plane was shot down. As I recall, there were casualties, but some of the family made it through in a small inflatable liferaft. The story of this was in Reader's Digest or Cornet magazine. One of the readers here may know about it.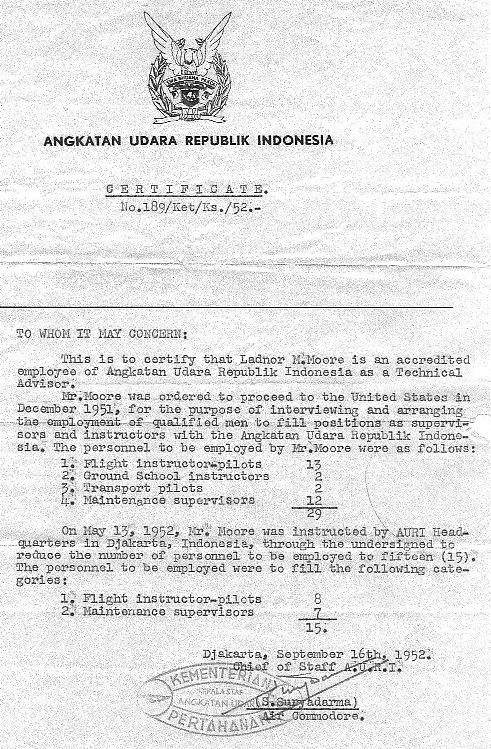 All of this was during the rule of Indonesia's Sukarno, and he was battling with communists for control of the goverment. At the peak of that time---somewhere around 1950-1951, my dad believed that it had become too dangerous for me to live there. There had been an episode that scared him. I was flying with him in a C-47 full of freight. Insurrectionists had lit burning barrels of oil across the runway, and he had to do some real manuevering to get the plan down safely. But the straw that broke the camel's back occurred early one morning---about 2am---as our house was sprayed with maching-gun fire. The bullets came from an open-top Jeep that had come tearing up the driveway---after having killed one of our perimeter guards. (The armed guards walked our grounds and rang a gong for "all's well" every thirty minutes.) Well, the very next day I was USA bound.

After 18 months or so, things settled down, and I returned to Bandung and lived another year with him. I had a private tutor who claimed to be an exiled Russian Prince--- (my dad always grinned about that---I think he doubted those credentials). He taught from a US-supplied text, and I did lessons and mailed them back to the states to the Calvert Correspondence School in Maryland. They would then wire back the grades. This is how I got U.S. accreditation for foreign education.



The following letter was written by Lad to his Mother.
(Courtesy of Lad Moore, Jr.)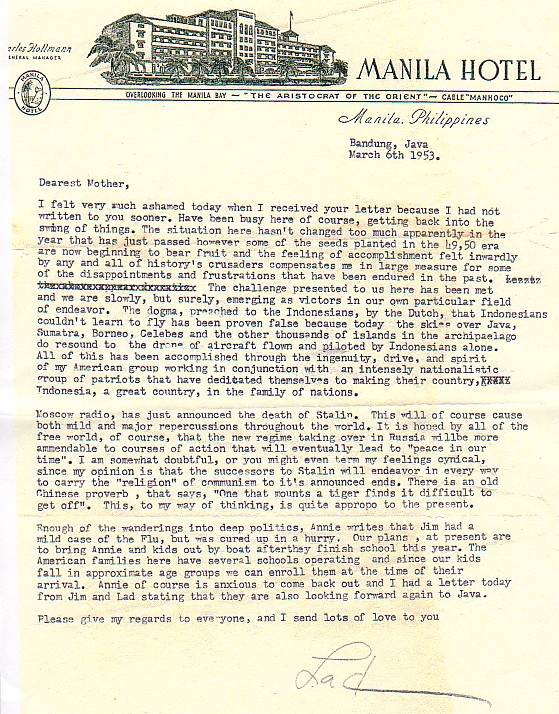 During this time, our family relations were strained, and my stepmother, (Annie Liang, stewardess from CNAC) did not like my being there. She was a tough cookie. I have written some short stories for publication about her. She did not believe in 'sparing the rod," (some of my antics I am sure deserved some intervention of some kind). One such story is called "Orphans 'n Annie". If I had a website, I would love to post them for your site readers.

(NOTE: Well, Lad has access to a web site and you can read his story by clicking "Orphans 'n Annie" (This is an Adobe document. You may have to download the Adobe Reader, but it's free.).



Tom, attached is a picture I found inside a book, it's been years since I remember seeing it,
but it is Annie Liang center, with stepsons Lad Moore (L) and Jim Moore, (R)
(1954, in Marshall, Texas)

Regards, Lad Moore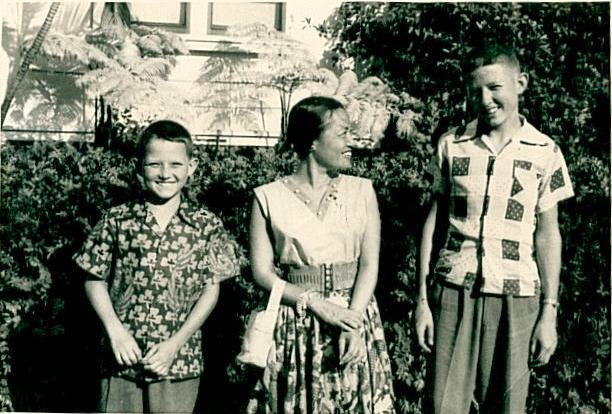 The Angatan Udara adventure ended and we returned to the states. My dad first got into the oil exploration business in Colorado, and then met a man named Robinson and together started Plains Oil Mills in Sidney, Nebraska. This was a new idea at the time---the processing and making of Safflower Oil. The results of that, of course, are a history lesson in success!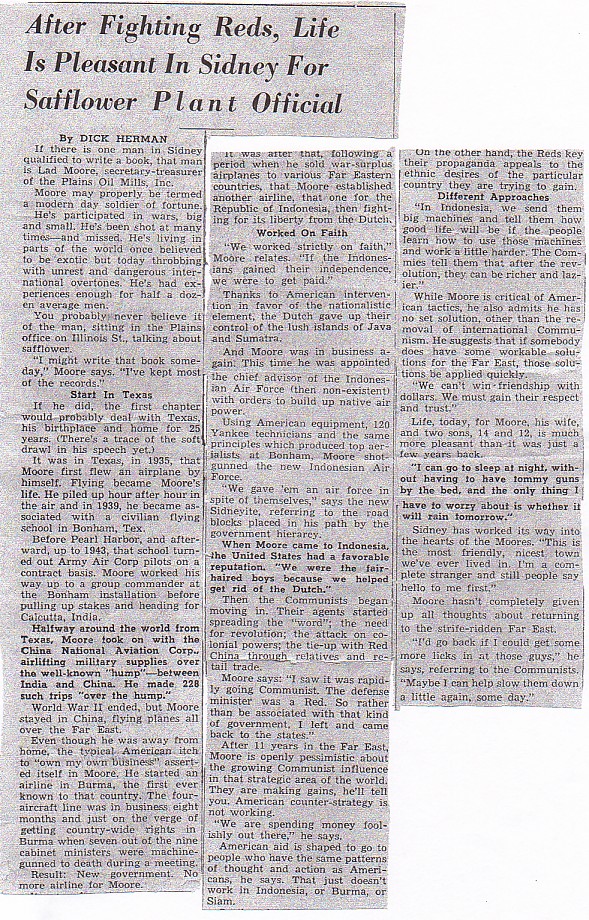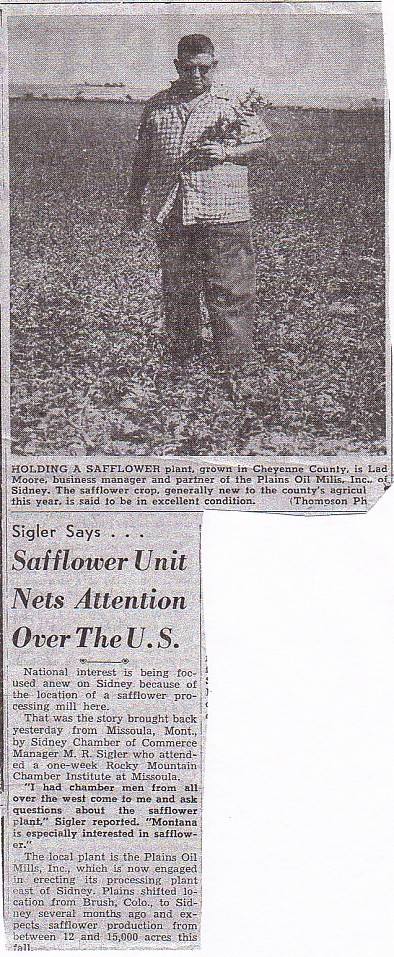 He and Annie Liang were getting divorced in 1956, the year he died, and I was not living with them, having been sent to my grandmother's when the family strife got really heated. He died on July 22, and I vividly remember her coming to his funeral---she wore a silk brocade Chinese dress with a high mandarin collar, and a long slit down the side. She placed a flower on his casket and walked away briskly into a waiting taxi. I never saw her again.

This event is told in one of my short stories called "Embroidered Dragon."

Here are two more stories by Lad Moore, Jr., The Leapfrogging Pool and The Untattling of the Tale which is a story about Annie that starts with fact (The life aboard a ship) but then turns to fiction to the end. Maybe the readers might like a little prose, huh?

---
November 23, 2002
Received the following e-mail from a friend of Lad Moore's.

Rec`d all this info from Lad Moore (Jr) in Tx. I flew the Hump with the RAF and was checked out by Lad Moore and J Maupin. I flew 84 crossings with the RAF and got the the DFC. Got thru on a day when 32 airplanes were lost, Jan 6 and 7 l945. Named my oldest Son after Lad Moore. Lad Moore (Jr) supplied me with all this about your Web, perhaps you would like to contact me and I have many terrific pictures of the Hump taken by the RCAF after I had been lost 7 hrs on the day of the crashes Jan 7. If you get this I live in Florida, ret. age 81, I`ve really enjoyed making contact with Lad Moore (Jr) who was located by my Son Lad from Md. Hope this goes thru -- my phone # is 386-428-5878 Address 1071 Clubhouse Blvd New Smyrna Bch Fl 32168. I am now in reg contact with Lad Moore (Jr) providing him with much info about his Father in our China Burma India days.

Thanking you for your time.

Major Murray Scott DFC (ret) RCAF
mscott@ucnsb.net



If you would like to share any information about Lad Moore
or would like to be added to the CNAC e-mail distribution list,
please let the CNAC Web Editor, Tom Moore, know.
Thanks!