CNAC FLIGHT ATTENDANTS

NOTE
During the 1930's and 1940's these people were reffered to as "stewardesses" and "Stewards"
None of these people remember ever being called "Flight Attendants"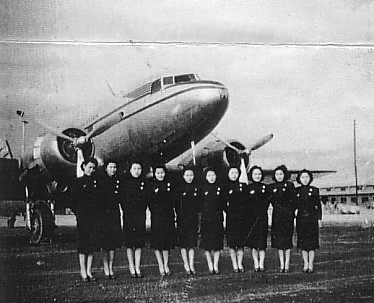 Lunghwa Airport - September 1946
2nd Class of stewardesses
left to right
Irene Shen, Hilda Chu, Marion Tan, Helen Fong, Lucy Sih, Gertrude Sun, Julia Chu, Margaret Mun, Elizabeth Lan and Kathy Lu
(Photo Courtesy of Margaret Mun Soong)
---
Do you know or remember any of these CNAC Stewardesses?
Chu-Xiong Zhou (Chu-Hsung Chou when he was with CNAC) identified some
of the women in this picture, including his wife, Cynda Wang.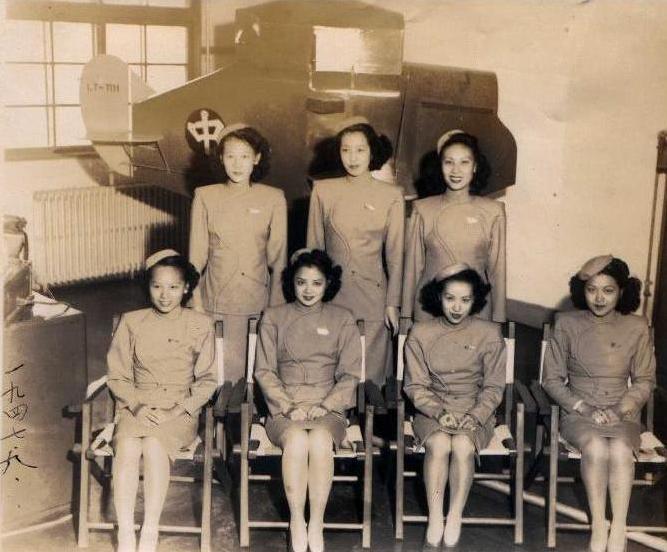 1st Group Air Steward in training center, Shanghai
Chinese characters on left side of photo say, "Sept. 1947"
Front row, left to right:
Cynda Wang, unknown, Edith Wang and Betty Shu
Back row, left to right:
Mabel Shu, Penny Ling and unknown
(Thanks to Chu-Xiong Zhou for these names.)
(Photo courtesy of Chiu F. Tang)
---
In a memo dated JAN. 1948, E.M. Allison says, "Stewardesses instruction has been carried out during the year with result that 33 stewardesses have been graduated. The duties of these girls are considered very important as most passengers base their opinion of the company on the services rendered by the stewardesses. Other girls will be employed and trained as CNAC lines are extended and schedules increased."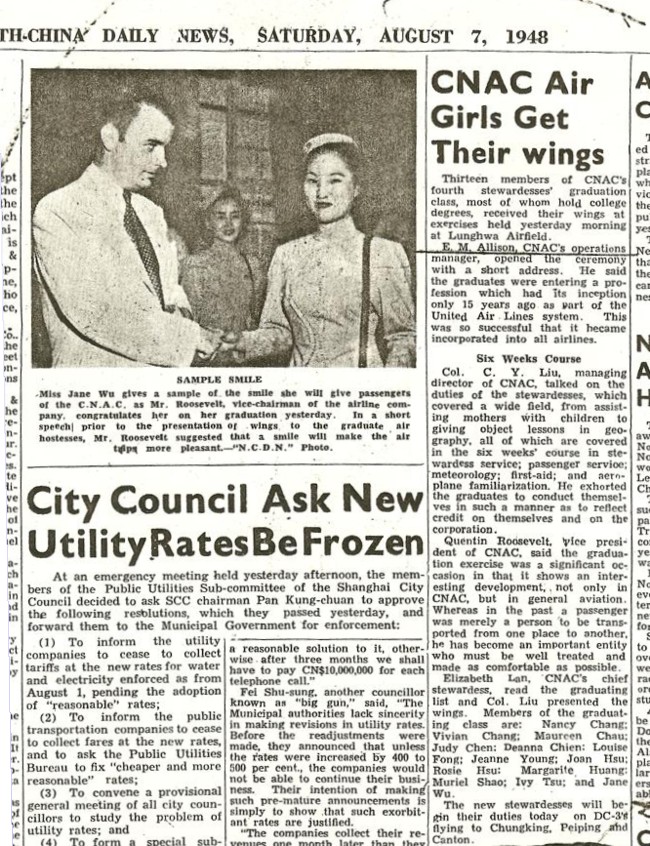 ---






If you would like to share any information about the CNAC Stewardesses or Stewards
or would like to be added to the CNAC e-mail distribution list,
please let the CNAC Web Editor, Tom Moore, know.
Thanks!


Background music to this page can be controlled here.
"You're The Top"