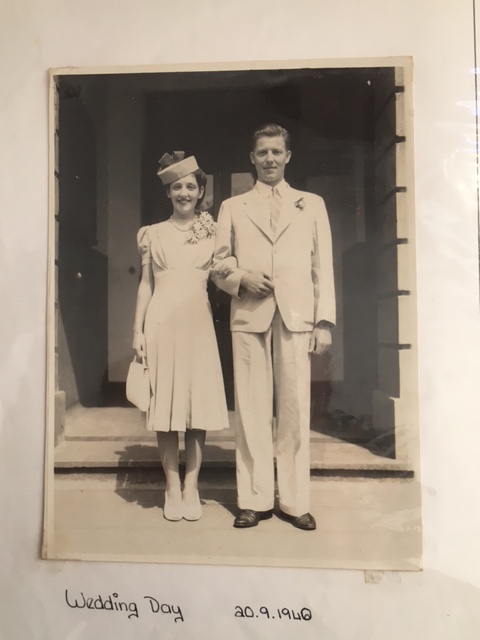 Wedding photo was taken on the steps of the British Consulate General in Shanghai where they were married.
September 20, 1940
---
June 5, 2017

Hi Tom,

I recently came across this site whilst looking for more information on my Mum and Dad.
My name is Joscelyn Burn, (nee Hodges) and I would appreciate if you could add to the list of internees my parents.

Arthur "John " Hodges. Santo Tomas (later to Los Banos Internment Camp)
Eleanora Hodges. Santo Tomas, Santo Tomas (later to Los Banos internment Camp)

Both my parents were born in Shanghai, my father a British subject, and my mother had a Russian mother and I think a Swiss Father. I have not been able to establish her birthplace.
Dad was educated at St Francis Xavier College in Shanghai (1928-1932) and my mother at the Public School for Girls in Yu Yang Road Shanghai, and Dad went on to work for the Texas Company( China ) Ltd., in Shanghai, Hankou, Saigon, Singapore, Hong Kong and then back to Shanghai Texaco.
In November 1941 Texaco offered my parents passage to Australia due to the eminent threat of the Japanese on the S.S. Anhui.
The S.S. Anhui was ordered into Manilla Bay. On the 10th November 1941 they were ordered off the ship with 1 suitcase each.
They were taken to the Manilla Club and then separated with mum going to Calucaan Golf Club and dad remaining at the Manilla Club.
On the 1st January 1942 all were taken to Santo Thomas .
Dad spent most of his internment in the gardens growing veges etc.
Mum spent a lot of her time in the Annex Kitchen, cleaning, vegetable duties, rice cleaning (extracting the worms) and then in 1944 became the teacher's aide for grade 3.(Los Banos)
When they were liberated, John weighed 39kilos and Eleanora 19 and spent 30 days in a field hospital to " fatten up!" in order to have strength to travel to Australia. This fattening up process took place at the New Bilibid Prison at Montinlupa.
They were flown to Leyte where they embarked on the "David C Shanks" and disembarked at Townsville in Queensland Australia.
Dad continued to work for Texaco now Caltex which he did up until he retired as the Superintendent of Caltex Queensland stationed in Brisbane in 1975.
Mum unfortunately passed away in 1959 (never recovered from the internment) and Dad in 1998.

On reading the Bios of the internees, I particularly took note of William Elmer Murray who was interned in both Santo Tomas and Los Banos, and who spent his entire working life working for Caltex, same as my dad.I wonder if they knew each other in camp.??
I have also attached:
• A certificate handed out to Room 58 in December, 1943 at STIC and on the back is a list of those males who lived in this room. 17 names of which only 2 appear on your list of internees: P. Wygle. I assume this would be Peter, and R. Wygle. Maybe their families might like a copy.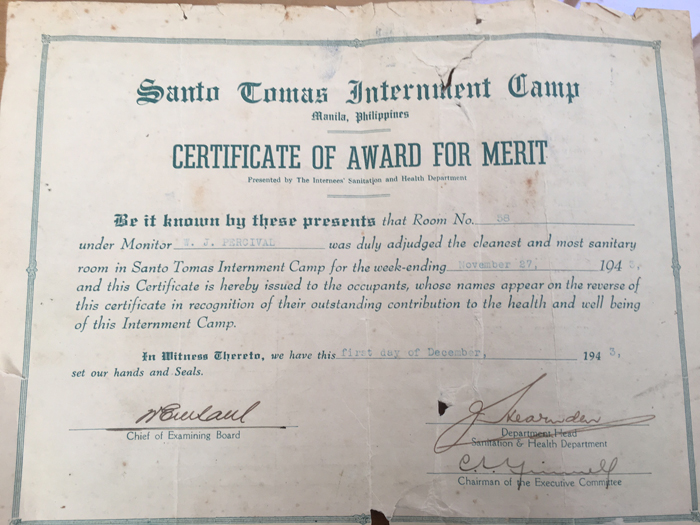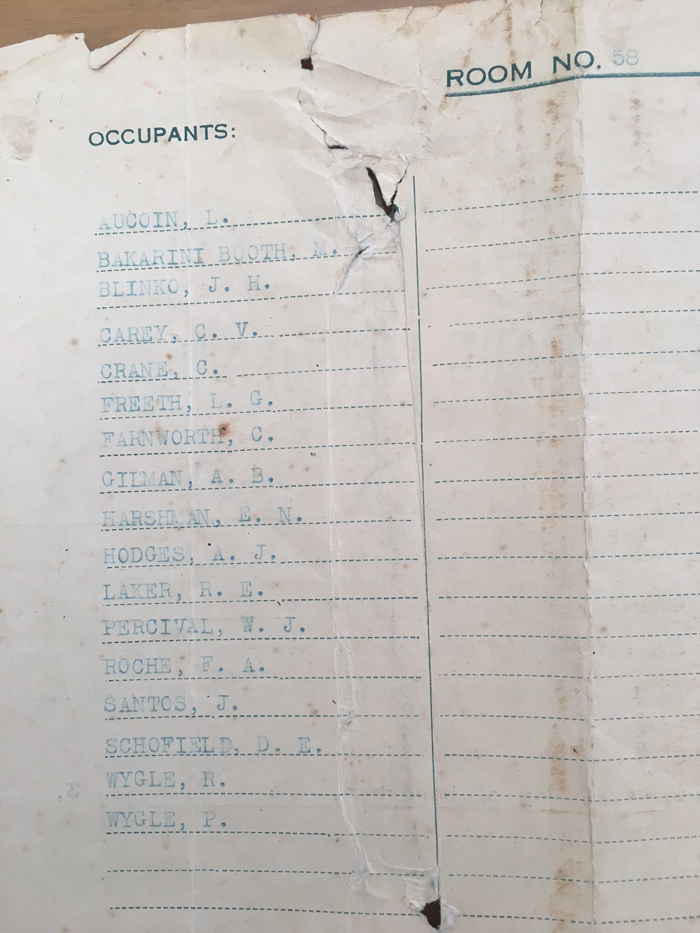 Aucoin, L.
Bakarini Booth, M.
Blinko, J. H.
Carey, C. V.
Crane, C.
Freeth, L. G.
Farnworth, C.
Gilman, A. B.
Harshman, E. N.
Hodges, A. J.
Laker, R. E.
Percival, W. J.
Roche, F. A.
Santos, J.
Schofield, D. E.
P. Wygle
Wygle, R.



• A photo of my Mum and Dad taken on their wedding day 1940. Most relevant to the date of their intern and how they looked at that time. (see above)

• An extract from my Mum's manuscript that she wrote on the lead up to their 3 years intern at both STIC and Los Banos. This extract is their passage from Shanghai to the Internment at Santo Tomas.

• Copies of a letter they each wrote from STIC.



Arthur - front and back of card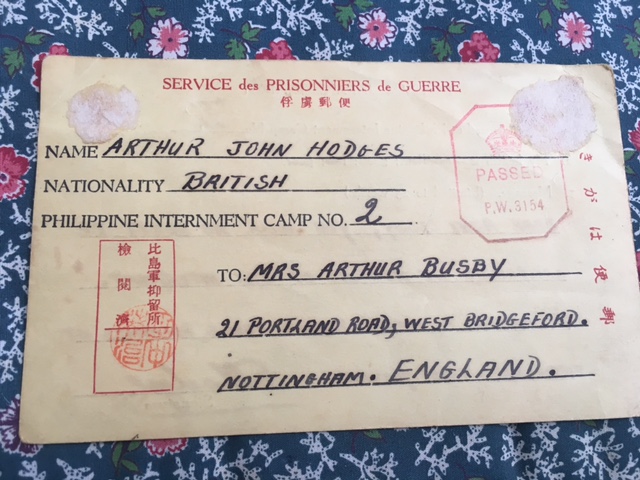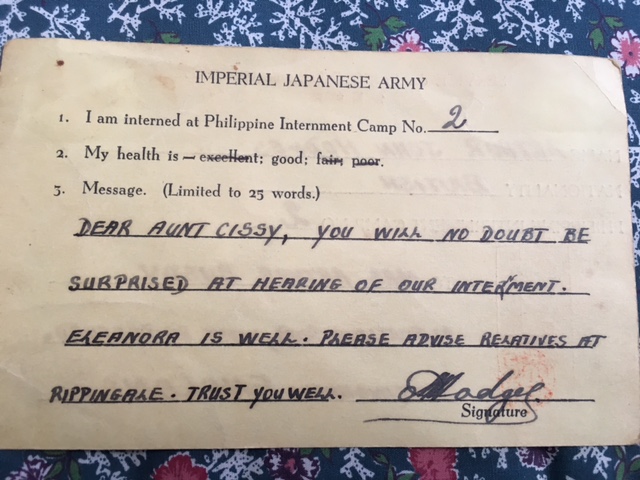 Eleanora -- front and back of card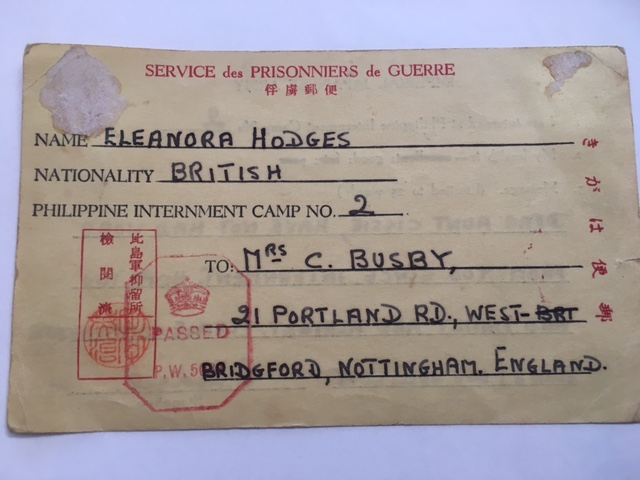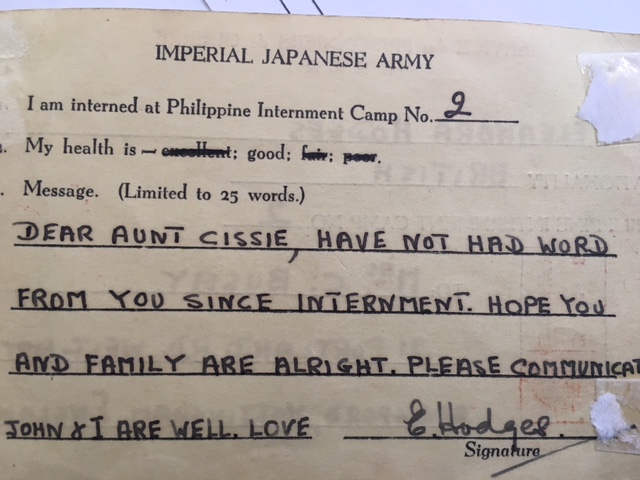 • A note inside a Prayer Book which she was given during her internment by (Lulu??) I wonder if this signature could be identified by someone please???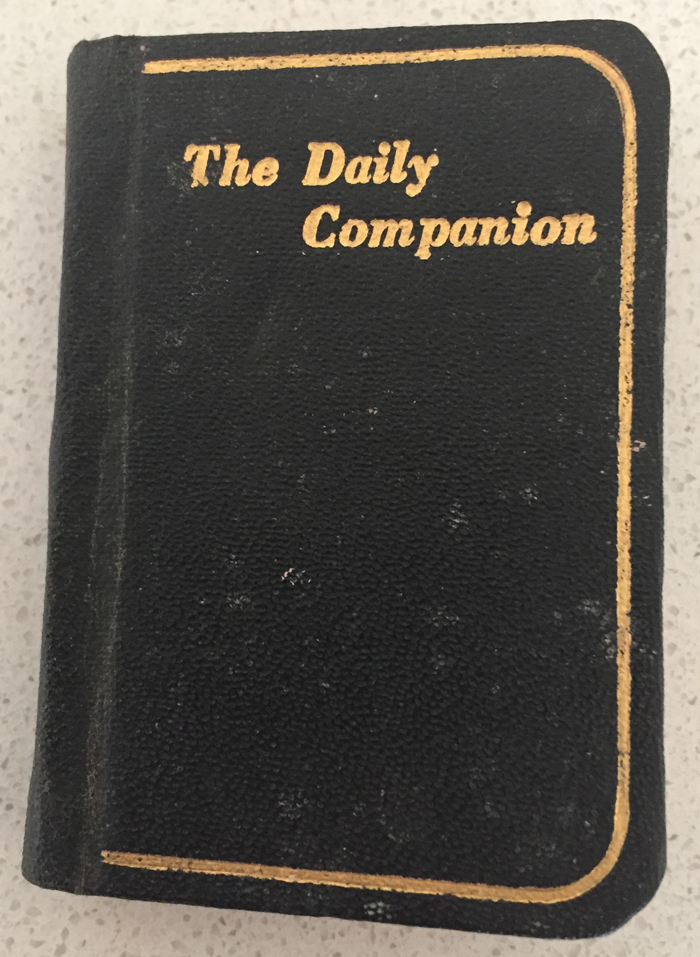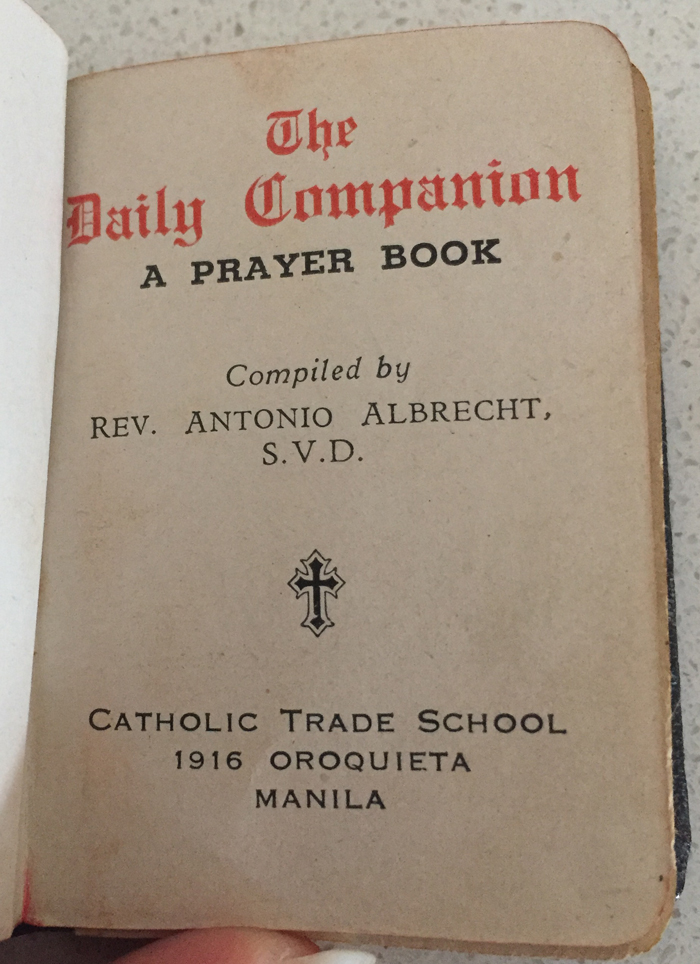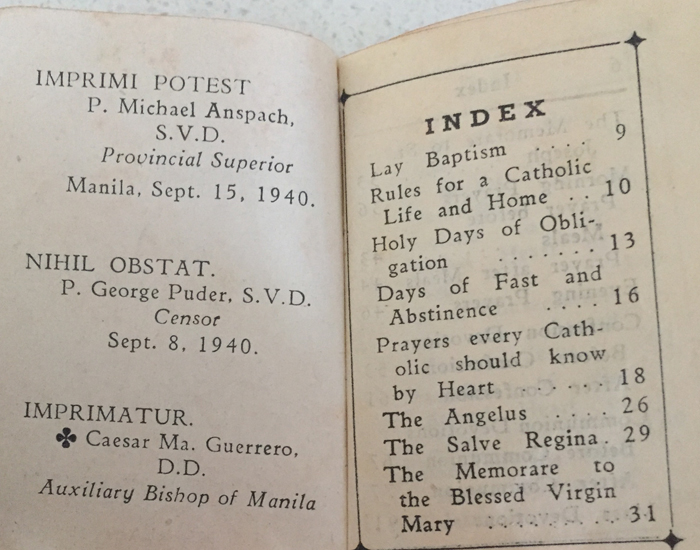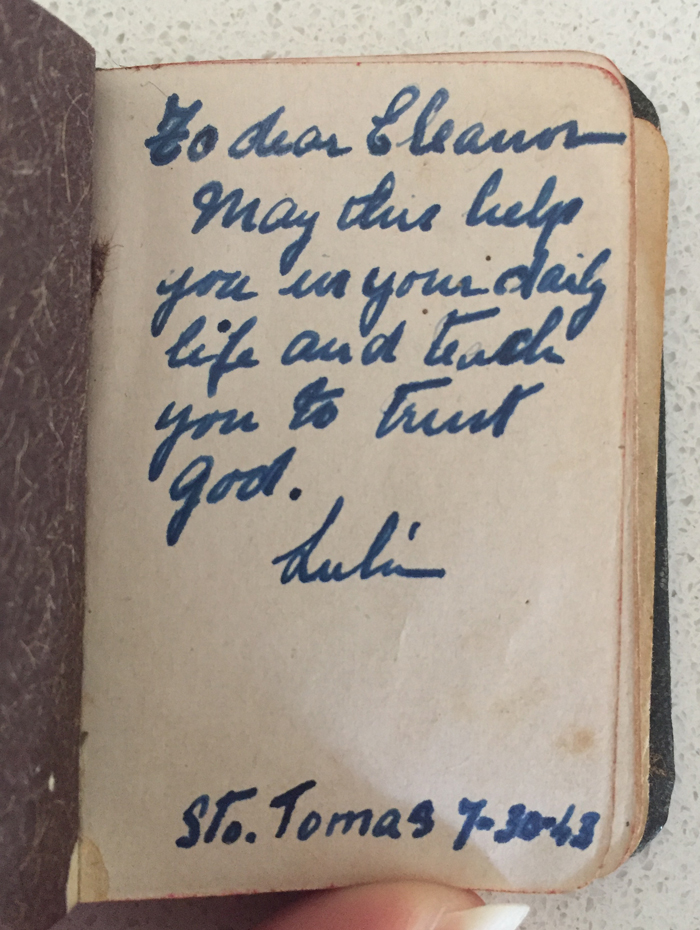 ---

Tom,
I have in my possession a manuscript written by my mother which details all the communiques from the Japs to the internees, the internees response through their chairman of their committee, how the rations changed over time throughout the internment, the rules and regulations, her comments on Konichi and Kuo and their bastardly acts.
The only names mentioned are those of the Japs, she does not mention the names of any internees.
I have no photos from their internment but she does mention of both her and Dad, along with every barrack having their photos taken by a Japanese photographer in Los Banos in September 1944.
Apparently this Jap Photographer was quite a character and had difficulty positioning himself and the sun.
They were all given a number for the photographs;

Mum's number was 10721 Dad 1066. Have you ever come across these photos or know of their existence?

Thank you so much for reading this and I hope you may be able to assist with some of my questions as I might be able to assist if you have any questions.
You have produced an amazing web site and I will continually consult it.
I would also like to receive your newsletters and updates.

Kind Regards,

Joscelyn Burn,
2 Debin Street,
Brighton 4017,
Brisbane,
Australia.
pgburn@bigpond.com



If you would like to share any information about Arthur or Eleanora Hodges
or would like to be added to my POW/Internee e-mail distribution list,
please let me, Tom Moore know.
Thanks!