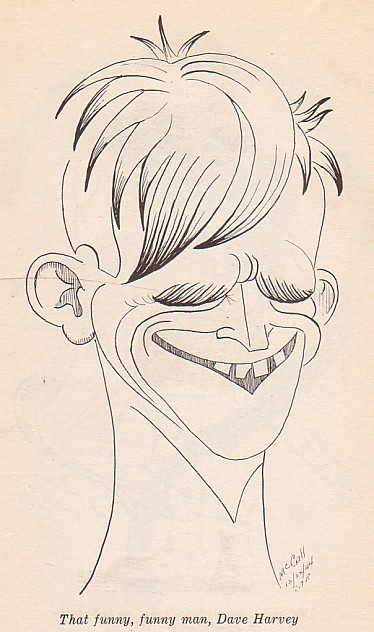 This caricature of Dave was drawn by James McCall
Click here to see a few seconds of Dave Harvey walking across the stage of the last show after liberation.
There is no sound to this clip.
(This clip and the photo below are courtesy of Lou Gopal)
(http://www.lougopal.com)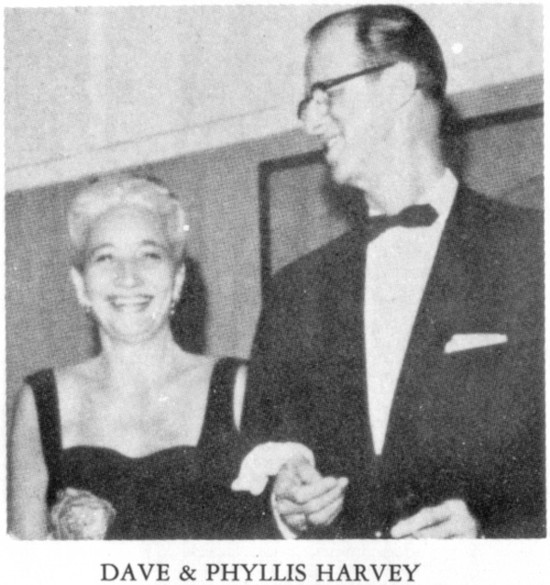 Dave and Phyllis Dyer worked on the shows in Santo Tomas.
After the War they were married.
---
January 13, 2006

Regarding Dave Harvey

I know that he organized the shows in camp. My father told me that he was an entertainer before he was interned. The shows were lots of fun, even for a young child. I boxed before the whole camp.

Roy Doolan
E-mail RoyDoolan@aol.com

---
January 14, 2006

Yeah, I remember the internees talking about him. Dave Harvey was his stage name. His last name was McTurk. Try checking the Stevens book under that name. I have a photo of him I can send you. He's also featured in the film ("Victims of Curcumstance").

Lou
http://www.lougopal.com
Note: Dave is listed in the Stevens book, "Santo Tomas" as David Harvey MacTurk.

---
January 14, 2006

I do remember my grandparents talking about Dave and his shows. I am not sure I can come up with any written documentation but do know that they said that he often made camp life more cheerful and that for days after his shows people were much nicer to each other and happier-less complaining. All camp was talking about the shows -either the ones being worked on or one seen. It often seemed touch and go if they would be allowed to do the show. They mentioned how hard it was to wait for the new stage and I know they contributed to the financial cost of it. My parents and grandparents (the Searl family) appreciated the entertainment but were not in any of the shows that I am aware of. I do think a close friend of theirs, Karl Kreutz, was in several as when they would get together with Karl and Hazel (his wife) in Santa Barbara, CA they would have a good chuckle about it. I was a not very interested teen at the time and could kick myself for not paying more attention to their conversations with "inmate" friends. Oh, to be able to have long conversations with my parents and grandparents about camp days. I know that it was difficult but I also know that there were lighter times and that they made many dear friends through the trials and tears, laughter and joy and every day living. My grandmother had a wonderful attitude about the whole experience. "Bad things happen in war (on all sides) and there is no use dwelling on the negative. Think what we have learned and gained. Not what we lost."

I will check my Santo Thomas books and papers to see if I have anything in print.

Frances Searl Parker aka Toddy
E-mail ronandtoddy@charter.net


---
January 14, 2006

Hi Tom, Well, I certainly remember Dave Harvey and the shows he put on. I can remember as well the introduction to each:



"Pack up all your cares and woe, tonight's another Radio Show, People, Hello!"


I believe, also, and I am pretty sure about this, that Dave Harvey was a stage name. And i believe that somewhere I saw reference to his real name. But just where escapes me. I believe Dave was a nightclub entertainer before the war, hence the stage name. I only knew of him in camp. I am sure most ex-internees will remember him, he was quite a character and we all looked forward to the shows he put on. Len Baker, of Wales, may know more; he performed in one of the shows Dave put on.

Regards, and keep up the excellent work you have been doing.

Curtis (Brooks)
E-mail Curtbrooks@aol.com

---
January 14, 2006

Tom,

Dave Harvey was his stage name. He was a great entertainer and kept our morale up with his skits and jokes which were over the heads of the Japs. I remember even though I was a kid I got a lot of laughs from this lovable man.

Happy New Year!

Connie (Ford)
E-mail ccford@att.net

---
January 15, 2006

Tom,

My recollection of Dave Harvey was as a funny man. He used to be part of the stage shows that the internees would put on from time to time. I believe that he was professionally an electrician, and if my memory serves me well, he used to do all the work on the public address system we had in the Camp, and probably worked on both secret receivers we had there. The book Santo Tomas Internment Camp that one of your correspondents wrote about getting on E-bay has a caricature of him as a very funny person.

I have seen the book advertised on EBay - its description about a Camp for military POWs is incorrect. Santo Tomas, and Los Baņos camps were both for civilian POWs.

If I can be of any more help, just write.

George (Baker)
E-mail gem.baker@sympatico.ca

---
January 15, 2006

Hi Tom,

The reason you couldn't find Dave Harvey is because his name was Dave Harvey MacTurk. Harvey was his middle name which he used for show biz purposes. He entertained before the war and during. He was talented and wrote many wonderful programs with music and dancing etc. The scripts he wrote were with Clarence Beliel who was known by the name Don Bell before the war.

The Japs were always part of the audience and could not understand what the Americans were laughing at. Dave would be called into the Commandants office all the time after the performances to explain the scripts. The Japs thot we were laughing at the Japs, so he had to explain we were laughhing at ourselves in the scripts.

His girl friend was Phyllis Dyer. She sewed costumes, danced etc. and was in a lot of his productions. After liberation they got married but I do not think he lasted too long after that.

Dave and his committee brought much laughter and joy in our lives among the ruin and devastation of war.

When the GI's came in and brought USO type entertainment for us at the end of Feb, Dave helped them out as well and we had quite a few good entertainment productions with the Army.

If I hear more, I shall continue.

Aloha - Sascha (Weinzheimer Jansen)
E-mail Mabuhayma@aol.com






If you would like to share any information about Dave Harvey
or if you would like to be added to my POW/Internee e-mail distribution list,
please let me, Tom Moore, know.
Thanks!

td>