Clarence Alton Beliel, Sr. and Lilia Helen Beliel
and their sons
Clarence Alton Beliel, Jr.
and
Richard Orvil Beliel

Clarence, Sr. was also the Manila radio personality Don Bell. Pat Chittick Remley talked with one of the sons in 2000. The son said his father was still alive and living in Florida.


---
October 29, 2005

Clarence Beliel, Sr. was a well known Manila radio commentator known as Don Bell. Prior to the War, he worked for radio station KZRH in Manila. He and his family were interned at Santo Tomas shortly after the Japanese took over Manila. You have a reference to Clarence Beliel on your web site; on your InternNews, 1st page (http://www.cnac.org/emilscott/internews01.htm), the name "C. Beliel Circulation" is shown in the upper right corner of the image scan. I first learned about Don Bell when reading some of the operational reports of my dad's Navy Patrol Bombing Squadron, VPB-119.

After the liberation of Santo Tomas, Don Bell went back to news reporting and, in March of 1945, went on a bombing mission with one of the crews in my dad's squadron (at the time, VPB-119 was based out of Clark Field, Luzon). Bell's intention was to go on the mission and then file a field report about the American war effort when he returned but, the plane was shot down over Amoy Harbor, China. Bell and 7 members of the planes crew (crew #15, Lt. V. J. Evans commanding) survived the crash and were hidden from the Japanese by Chinese guerillas while they were smuggled out of the area and eventually to Kunming, China.

I've attached a copy of some of the summary information from the VPB-119 files:



Summary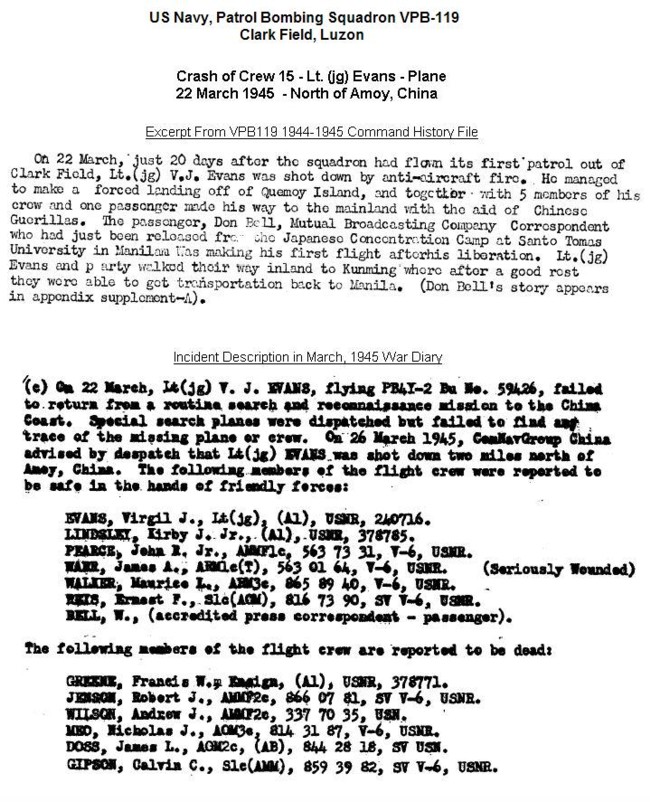 I've also attached an excerpt of an article on VPB-119 from the June, 1949 edition of Naval Aviation News which gives a quick summary of Bell's story. The scan is a bit fuzzy; if necessary, you can download the entire magazine (free) from the Naval Historical Center at http://www.history.navy.mil/nan/backissues/1940s/1949/jun49.pdf



Excerpt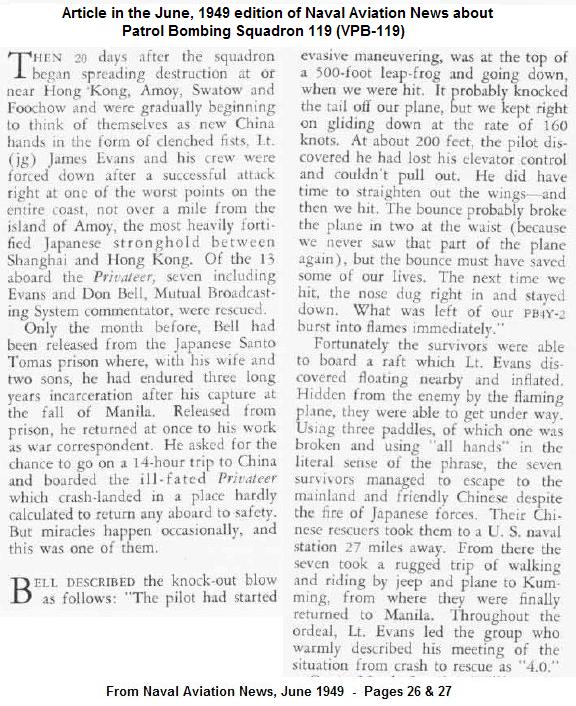 After his rescue, Bell wrote a detailed report which became part of the squadron's classified unit history. This report remained buried in the national archives until the unit files were declassified and retrieved back in the 1990's. The attached Adobe Acrobat *.pdf file (DonBell_Crew15.pdf) is Bell's report from the Patrol Bombing Squadron VPB-119 historical files. It is a very interesting story.

*Note [10/28/2005 - When I've talked to my dad about the shoot down and rescue of Bell & Evans' crew, dad called them the "GOM BAY" crew. I asked what this meant and dad said that he had spoken to one the survivors when they returned to Clark Field and that they described how the Chinese had taken care of them. Apparently, it is considered good hospitality in China to ply your guests with alcohol to the point that they are pretty well crocked. In the course of a meal, the host keeps everybody's cup fulled and offer's up multiple toasts and finishes his salutes and compliments with the phrase "gan bei" (sounds something like 'GOM BAY'). Gan bei literally means "dry cup" and is equivalent to the English, "bottoms up". The crew described that the Chinese hospitality was so great that they were almost "Gom Bayed" to death.]

The more I read about Don Bell and the more I found out about him, the more fascinated I became with his rather remarkable life. What an adventure!

In my digging around, I've found old audio recordings of Don Bell reporting before and after the internment at STIC. There is one recording of a news report he made immediately after his rescue in China where he describes the crash. Apparently, Bell stayed busy through the end of the war and then did some reporting of the atomic bomb tests at Bikini atoll in 1946. After that, he returned to the States; in 1947 he was working for radio station WGAY in Silver Spring, Maryland.

The last thing I can find about Don Bell was any entry in a forum about old radio stations which said that Don Bell worked for station KOME in Tulsa, Oklahoma in the late 40's and early 50's. After that, I can not find anything else about him; he was a pretty outspoken fellow … it's strange that his 'trail' just stops right there.

Do you have any photographs of Don Bell / Clarence Beliel? (NOTE: Dave -- sorry, I don't have any photos of Don, but I'll bet someone will come forward with photos of the whole family, Tom)

In searching for information about Don Bell and Santo Tomas, I have come across a couple of recent interviews with STIC survivors:

Mrs. Liz Lautzenhiser Irvine was interviewed by the "Air Force Print News" http://www.af.mil/news/story.asp?storyID=123008670

Mrs. Ann Wilson Wohlhueter was interviewed by a publication named the "Free Lance-Star": http://www.fredericksburg.com/News/FLS/2005/042005/04162005/1732695

Dave Deatherage
(Son of Paul Deatherage, Crew #4, VPB-119, 1944-1945)
E-mail satx_dave@flash.net


---
October 31, 2005

Tom -
I found this clip of Don Bell aka Clarence Beliel Sr. It was filmed immediately after Liberation. As you can see he was introducing the segment which would honor the women of Santo Tomas camp when an incoming shell explodes behind him. As you recall, the Japanese were still in force within the city of Manila and were actively shelling the camp. Several internees were killed and many injured.

Hope this helps!

Lou Gopal
Producer, "Victims of Circumstance"
http://www.lougopal.com



If you would like to share any information about the Beliel Family
or would like to be added to my POW/Internee e-mail distribution list,
please let me, Tom Moore, know.
Thanks!