JIM AND MARGE SHAFER
It might be James K. and Marjorie Shafer. Do you know???


In the 1943-45 log book of Don McBride, Marge listed her home address as:


Marge Shafer (is that a quote mark (") or the very first happy face?) Great ??????
2835 East 32nd St
Shaker Heights - Cleveland, Ohio
---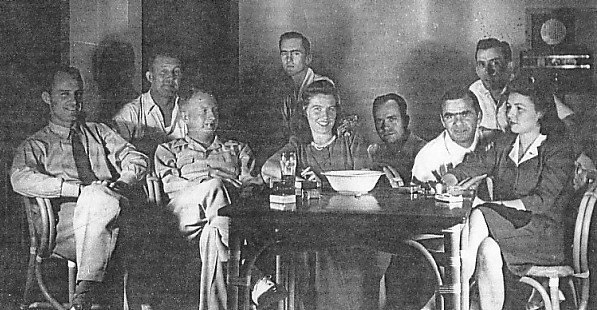 Calcutta - 1943
left to right
Jim Shaffer, Jack Blackkmore (?), Bob Pottschmidt, Dickie Stratford, Marge Shafer, Unknown,
Frank Higgs, Nagholds (probably Nasholds), Diana Barrington Menzies (Mrs. Higgs to be)
We need help to make positive identifications from YOU!

Now, let's see those faces a little closer.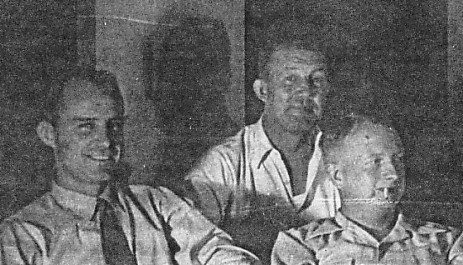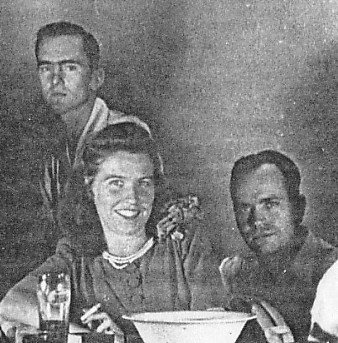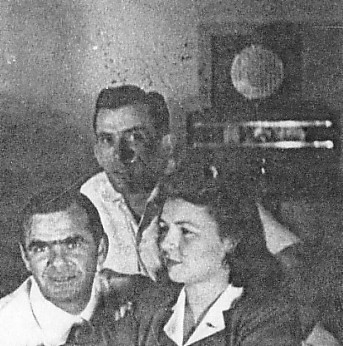 ---
From a 1960's CNAC Personnel List:
Schaffer, Marge (Durran)

From the 1964 CNAC Mailing List:
Marge Schaffer
460 Lansdale Rd.
S.F., 27, Calif.

THEN we have the following name from the 1995 CNAC Mailing List.
Is this person related to Marge and Charles Shafer?
F. Kurt Shafer
1304 Wendy
Manhattan Beach, CA 90266
213-374-4146 (5-8-07 fast-busy)

And from the 1998 and 2000 CNAC Mailing List:
F. Kurt Shafer
5 Nantucket Pl
Manhattan Beach, CA 90266
310-546-4517 (5-8-07 disconnected)


Flash!
OK, I got it figured out, well part of the Shafer mystery. Kurt Shafer is the son of CNAC Captain Al Thorwaldson. No relationship to these Shafers.
---
February 10, 2007

Hi Tom,

Nice to hear from you and to know you are well on the mend!!

You have asked about Marge. I knew her quite well and Jim also. Jim stayed mainly in the background. It was Marge that was the "go-getter"! I believe Frank Higgs had her written up in Terry The Pirates as Dragon Lady; or, as Tiger Lady?

She worked for CNAC in Kunming for a while as our C-NAK hostel manager? Or some such job.

Toward the end of the war she returned to Calcutta and was divorced. Jim returned to the States. After Frank Higgs died, Dianna started cutting up the rug in Calcutta along with Marge. They became rivals over Kiwi Mueller!!! Then, early in '48?, Marge met a US Major by the name of Bob Duran (this is the correct spelling). He had been an engineer on the Ledo Road project. They were married and returned to the States.

Duran settled in Cleveland where he went to work for Sear and Roebuck. Many years later when I was with the FAA and checking maiinly United Airlines that were operating British built Viscounts. I would stop over from time to time and visit Marge and Bob.They were both hitting the bottle pretty hard. This was around 1964 and '65 Bob died not long after that; followed by Marge.

Thats the best of what I can remember.

Pete
Pscnainital@aol.com



If you would like to share any information about the Jim or Marge Shafer
or would like to be on the CNAC e-mail distribution list,
please let the CNAC Web Editor, Tom Moore, know.
Thanks!