From Wings for an Embattled China by W. Langhorne Bond, page 152, "I met the two American directors of CNAC who were in Shanghai at the American Club for Lunch. They were George Sellet, who was also attorney for Pan Am, and Max Polin, president and founder of the Cathay Oil Company who had negotiated the original contract setting up CNAC."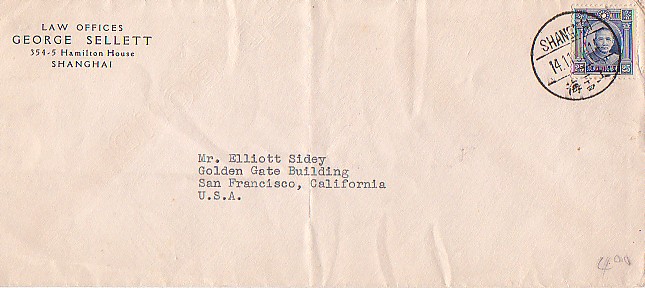 (Courtesy of Tom Moore)
---
October 18, 2002

Dear Sir,

Presently, I have on my screen, your web page for George Sellett, inquiring about additional information on George Sellett, CNAC American Director.

George Sellett was my Great Uncle. I have many wonderful memories of his visiting my immediate family, myself included, during my childhood, back in the 60's, whenever he traveled from his residence in Shanghai, to visit relatives in the Illinois, USA area. I remember him as an exceptionally kind and dignified uncle who always remembered me with generous birthday and Christmas presents.

Although I have only peripheral knowledge of his involvement in the CNAC, I would gladly attempt to contact other relatives, to try to answer for you, any specific questions that may help to complete your internet archives of the CNAC. If you wish, please provide me with some specific items of information you are looking for, and I will gladly make every effort to research the answers.

Sincerely,

Louis Sellett
8308 Meadow Ridge Ct
Raleigh, NC 27615-2939
USA

E-mail tractorman@earthlink.net


---
January 31, 2007

You also asked for an image of George Sellett. Please see attached a very poor excuse for a photo that you may not wish to use, but it includes all the folks who started up Aviation Exploration Inc. (the forerunner of CNAC), and Dr Sellett is one of them. Itís from the China Weekly Review, 31 August 1929.

Patti Gully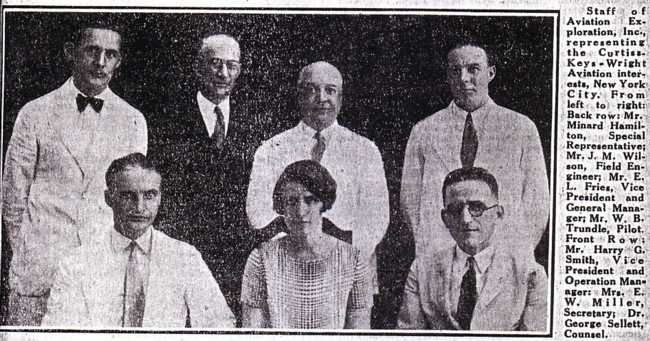 left to right, back row
Minard Hamilton, J.M. Wilson, E.L Fries and W.B. Trundle
front row
Harry G. Smith, Mrs. E.W. Miller and Dr. George Sellett
Here's another article from Patti
Hong Kong Daily Press, 27 November 1939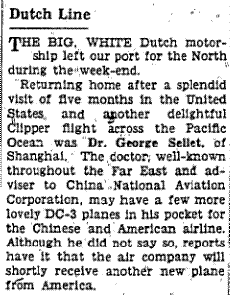 If you would like to share any information about George Sellett
or would like to be added to the CNAC e-mail distribution list,
please let the CNAC Web Editor, Tom Moore, know.
Thanks!