RAYMOND MARSHALL HAUPTMAN (1920-1971
"Ray"
(Pilot)
(CNAC November 1942 - 1947)
(Captain - July 1943)
(Hump Flights - XXX)


In the 1943-45 log book of Don McBride, Raymond listed his home address as:



Raymond M. Hauptman
?02 PARK STREET
WAYNESBORO PENNA.

and here is another entry after Ray's CNAC days: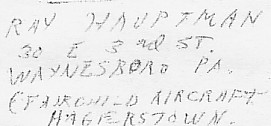 RAY HAUPTMAN
30 E 3rd ST.
WAYNESBORO PA.
(FAIRCHILD AIRCRAFT
HAGERSTOWN.
---
December 31, 2000
From Jim Dalby
"I remember him. A very good looking guy & nice fellow, senior to me.


Left to right seated
Howard Dean, Jack Blackmore, Charles Sharkey, Russ Coldren
L to R Standing
Jake Fassett, Ray Hauptman, others unknown
Squatter with back to camera is unknown
Blackmore, Sharkey & Coldren were killed
(Photo Courtesy of Jim Dalby)
Front and back of one of Ray's CNAC Checks. This one was signed by Chuck Sharp
I bought this one on eBay in 2014.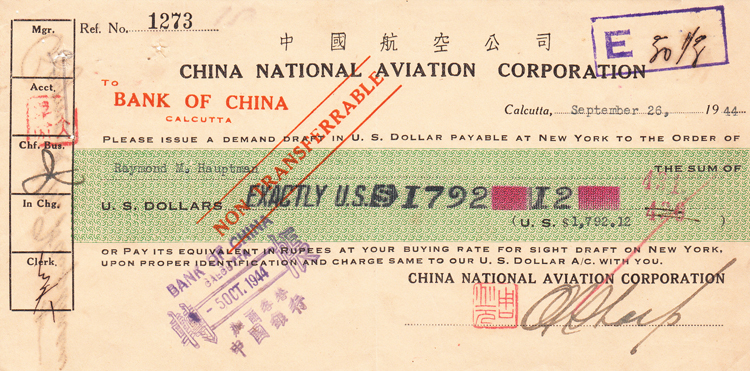 ---
(Editor's note: I have seen Ray's last name spelled with two n's. Can anyone confirm or reject this spelling? Thanks.)

---
From Gene Banning's list of 8/31/00:
"... 11/42 (PAA Africa) prom to capt 7/43."

---
Ray's address in 1971 was:
Ray Hauptman
99 E. Glenolden, Apt. A-202
Glenolden, Pa. 19036

---

February 1, 2005

Dear Editor:

I am one of Ray Hauptman's two daughters, Linda L. (Hauptman) Flanigan. I can verify the spelling of his name:

Raymond Marshall Hauptman

He died October 13th, 1971, at the age of 51, and the address you have was his last address. His death was due to natural causes. At the time of his death he was employed as a corporate pilot for Scott Paper Company out of the Phila. Int'l. Airport. Yes, he flew Pan Am routes in Africa and the Hump for CNAC.

Sorry to say I am not much of an historian. I do have old scrapbooks and will go thru these at some point. Let me know if you desire further information. Did you by chance know him?

Yours truly,

Linda
E-mail llflanigan@atlanticbb.net






If you would like to share any information about Raymond Hauptman
or would like to be added to the CNAC e-mail distribution list,
please let the CNAC Web Editor, Tom Moore, know.
Thanks!



Ray's daughter says this was his favorite song:
"Begin The Beguine"
Top of the chart in 1940.