In the 1943-45 log book of Don McBride, Russell listed his address as: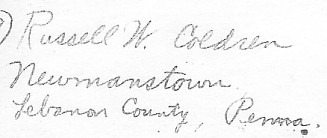 Russell W. Coldren
Newmanstown
Lebanon County, Penna.
---
From Gene Banning's list of 8/31/00:
"... killed in crash over Hump 1/6/45, plane #77 in severe weather and winds at night."

---
December 31, 2001 -- From Don McBride, via his daughter Eileen McBride
"Russ Coldren - Russ arrived in late 1943 and was Dad's roommate. He was killed in a storm in 1945. Coldren was a Pan Am pilot and flew the big Clippers out of N.Y. before he went over to China."

---
August 18, 2002 The following information was received regarding Russell:
"Born 13-Jan-1920 in Newmanstown, Pennsylvania.

Russell graduated from Newmanstown High School in 1938 and from Rising Sun School of Aeronautics in Philadelphia in 1939 with aircraft and aircraft mechanics license from C.A.A. In September 1943, Russell became a flight captain for the China National Aviation Corporation. After delivering his cargo to Kumming, China, Russell was attempting to return to Dinjan, India by way of "The Hump" and was lost in a severe storm. His body was never recovered, but a memorial in Newmanstown marks his contribution and passing.

At last report, Russell's brother Kenneth was living in Baltimore, MD."


---
January 23, 2005

I'm not sure if this email address is valid and current but thought I would respond anyway. The Coldrens were close to my family back in Pennsylvnaia. Russell Coldren (CNAC) whose memorial monument sits in The Elias Church of Chirst Cemetery in Newmanstown, PA, was a close friend of my father, Carroll Noll, who also flew in WWII. Sharing a mutual interst in airplanes, they grew up together in Newmanstown, PA. I heard stories about Russell as I grew up, mostly from friends of Russell and my father. My father passed away when I was 13 years of age. I am very interested in WWII history and would love to hear from anyone who may have known Russell.

Craig
E-mail canoll@earthlink.net


---
August 15, 2005
(From the namesake and nephew of Russell Coldren, Russ Coldren.)

Good Morning,

I visited with my Dad (Russell's brother, Kenneth) and asked him many questions. He has had a stroke but his memory is still good. It just takes a while to get his point across. He was telling me that Russell had joined the equivalent of the Civil Air Patrol after aircraft school to learn to fly. He took lessons in Hagerstown, Maryland and after soloing, my Dad would fly with him. As young kids, their parents were divorced. Russell and Kenneth lived with their grandparents, father and aunt.

Their grandfather owned the only general store in town and above the store was their model airplane shop. These boys were crazy about aircraft.

Russ Coldren
E-mail kruss@verizon.net


---
In May 1946 a civic minded citizen, Eddie Miller decided that Newmanstown should honor the men and women who served in the armed forces. Russell Coldren was one of them people.
Click here for a brief History of Memorial Park.
Click here for the Memorial Park Dedication.


---
The following article speaks for itself -- enjoy.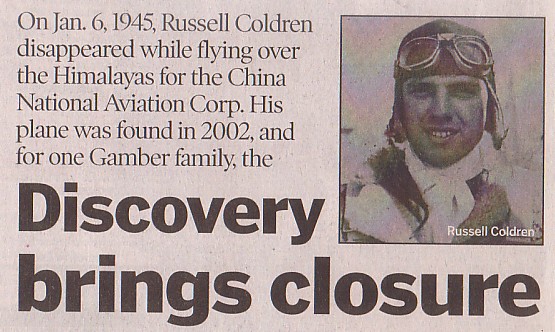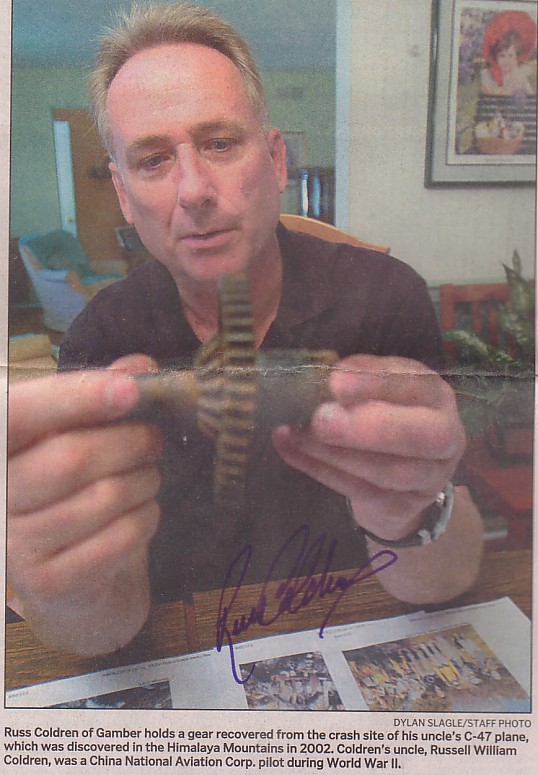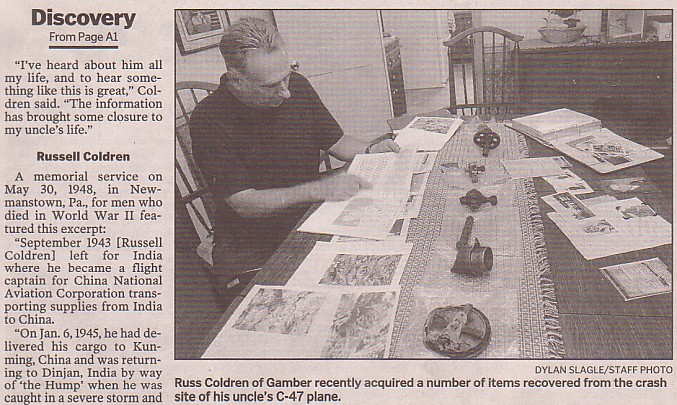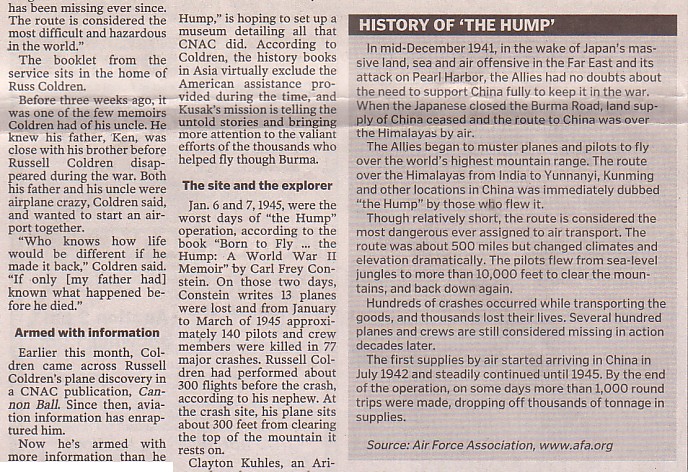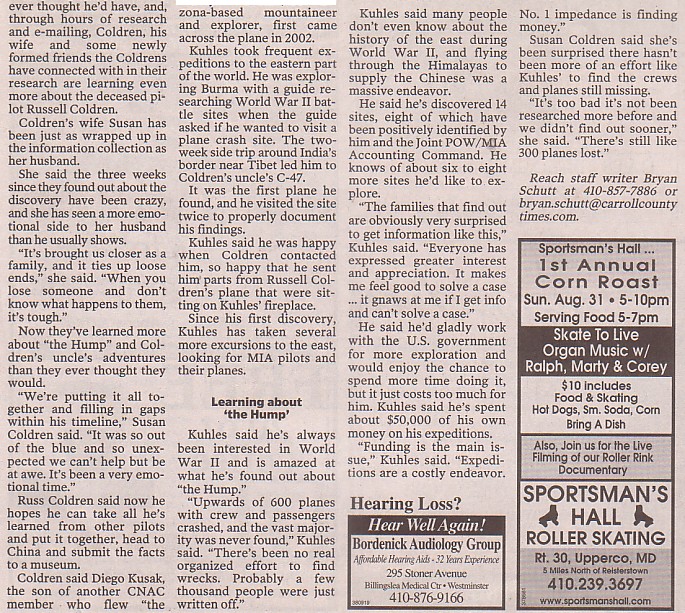 ---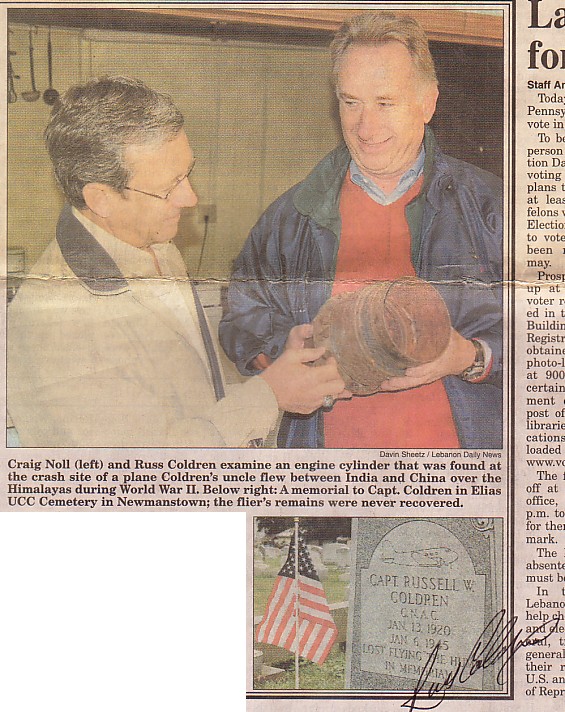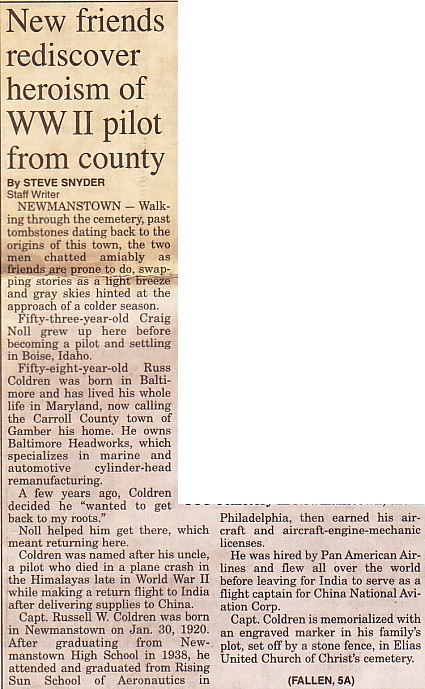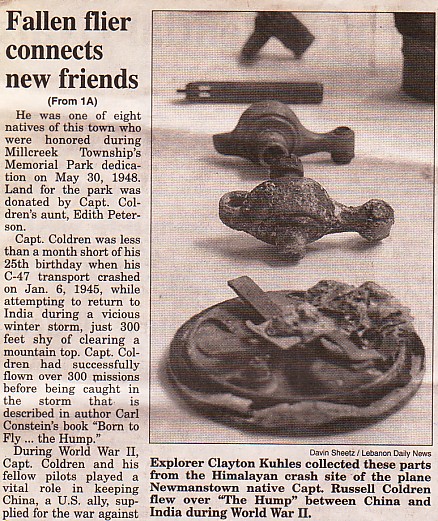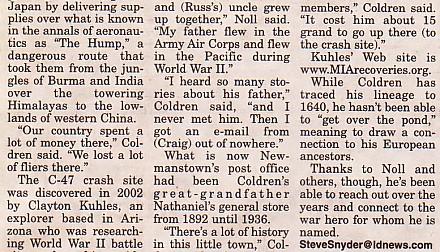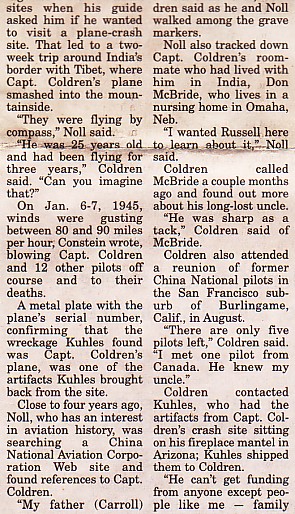 ()()()()()


If you would like to share any information about Russell W. Coldren
or would like to be added to the CNAC e-mail distribution list,
please let the CNAC Web Editor, Tom Moore, know.
Thanks!