CHARLES GOMES (1908-1982)
(CNAC 1942 - 1945)
(Hump Flights - XXX)


Charles Gomes was a Dinjan Short A Chief.

---
In the 1943-45 log book of Don McBride, Charles listed his home address as: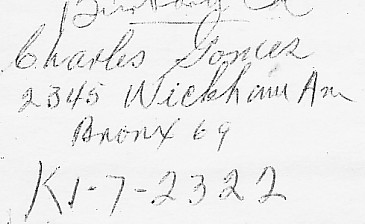 Charles Gomes
2345 Wickham Ave
Bronx 69
KI-7-2322
---
January 13, 2002
I received this very nice e-mail...
"Hello,
We are the Daughter and Granddaughter of a late Charles Gomes which you have down as C. Gomez. (please correct Spelling - Correction made). He was born in Brazil on January 16th 1908, and passed away on September 26th 1982. He came over as a young child with his sister Georgina Gomes. She raised him from a young child in New York City. In 1942 while working for Pan American World Airways in Miami, FL as Chief Mechanic, "I was informed on the need of mechanics in China". He volunteered for the services with China National Aviation Corp. When he arrived he was given the number 24. He was a Chief Plane Mechanic and he also flew as Co-pliot and flew many times over the Hump. He served on Numerous airfields in China and India. He spoke many times of a best friend Sherman T. Ball also known as "Fuzzy". He returned home in 1945 to New York to a wife (Agnes Lally Gomes) and 4 children. Mrs. Gomes ran the household as well as the parking lot they owned in New York City during his absence. In 1955 he and the family moved to Miami Florida, a place he loved. By this time his 7th child was born with 3 boys and 4 girls. The children oldest to youngest are Carlos, Clarence, Charlotte (Lolly), Charles, Linda, Agnes (Sugar), and Diane. In Miami Florida he purchased a gas station City Service. Which is now known as Citco today. Also, he purchased a Trailer Park which the family ran together. Some of my best memories were spent here with my parents and siblings. His interests included boating, fishing, skiing, and any water sports with the family. The families boat took them every Sunday after church over the sunny water of South Florida. His Favorite song was When Irish Eyes Are Shinning. He used to sing this to his beautiful wife every day. He played the harmonica and loved singing any kind of Irish songs. The family would gather in the living room and sing around the player piano. He is missed dearly by his 7 children 15 grandchildren and 9 great grand children. His wife Agnes recently passed on and they are now reunited in heaven.

Diane Gomes McDonald
and
Tiffany McDonald






If you would like to share any information about Charles Gomes
or would like to be added to the CNAC e-mail distribution list,
please let the CNAC Web Editor, Tom Moore, know.
Thanks!



Background music to this
page can be controlled here.
"When Irish Eyes Are Smiling"