In the 1943-45 log book of Don McBride, Fuzzy listed his address as:


Sherwin J. Ball
541 W. 26th st
Houston, Texas
---
From Gene Banning's list of 8/31/00:
"... prom to capt 7/44, killed 1/7/45 over Hump, plane #102."

---
FUZZY BALL'S TIGER

(Story to follow soon...)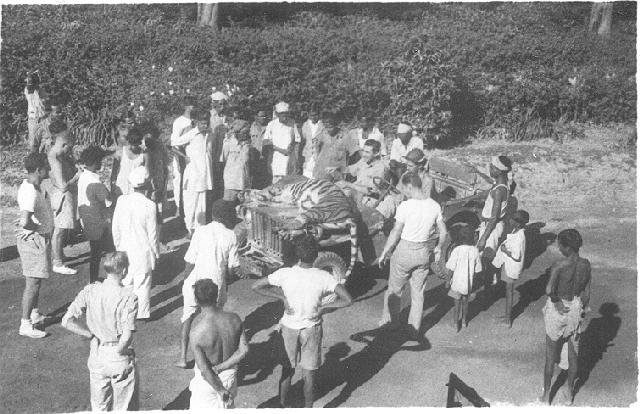 Fuzzy is driving the jeep.
From Jim Dalby
"The only person that I recognize in this picture is Howard Dean.
Crew cut and shirtless to the left."
(Photo courtesy of Jim Dalby)
---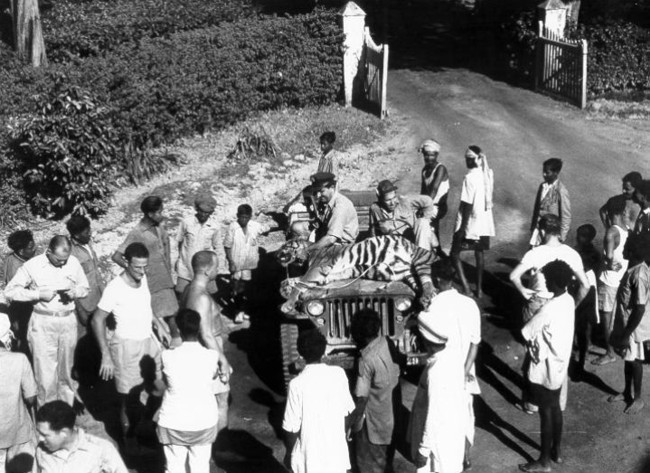 Fuzzy is driving the jeep.
The man with his arm across the tiger's neck is Don McBride
To left of jeep - Howard (Howie) Dean, Bob Blair and Jake Fasset.
(Thanks to Jim Dalby for identifying Howie and Bob.)
That's Jake Fassett on the left loading his camera.
(Photo courtesy of Jake Fassett)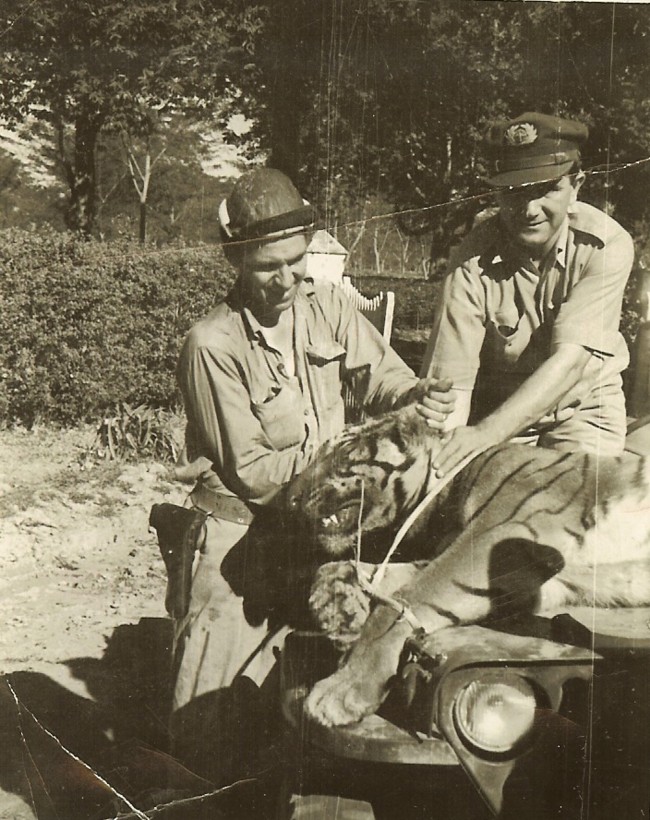 Fuzzy and Don McBride
(Photo courtesy of Pamela and Lionel York, wife and son of CNAC Captain Wilson York)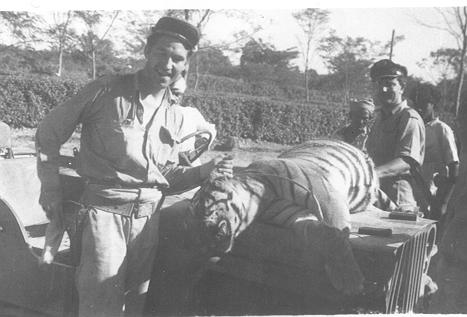 Fuzzy holding his tiger's ear!
The man at the tiger's tail is Don McBride
(Photo courtesy of Jim Dalby)
---
February 1, 2001
From Don McBride's grandson, Dan Ramirez:
"In regard to the picture of the tiger on top of the jeep. Grandpa (i.e., Don McBride) went out with Fuzzy to find the tiger the morning after Fuzzy shot it. The night before, when Fuzzy shot the tiger, the tiger ran into the jungle and he (Fuzzy) was afraid to go into the jungle to find it. The next morning, my grandfather went with Fuzzy to track the tiger and they found it dead in a bamboo thicket, a couple of hundred yards from where Fuzzy shot it. Grandpa helped Fuzzy bring it back to the village where these pictures (see above) were taken."

---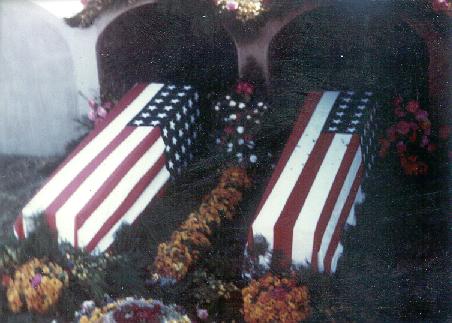 From Jim Dalby
"I found Ball's airplane and went to his internment in Kunming.
Ball in on the left side and an Air Force Pilot is on the right.
They were not killed at the same time."
(Photo courtesy of Jim Dalby)
---
March 13, 2009

At some point in time, Sherwin "Fuzzy" Ball's (my grandfather's nephew) body was removed from Kunming and re-interred at the National Memorial Cemetery of the Pacific (the Punchbowl at Honolulu, HI), Section Q Site 357.

Also, I printed the photo's of Sherwin with the tiger and, without telling her who it was, showed them to my 88 year old mother and she immediately exclaimed "That's Fuzzy!"

Thanks,

Conrad Dippel
http://www.dippel.com
Motto To Live By:

Life should NOT be a journey to the grave with the intention of arriving safely in an attractive and well preserved body, but rather to skid in sideways, chocolate in one hand, martini in the other, body thoroughly used up, totally worn out and screaming "WAHOO, what a ride."

In August 2009 I was in Honolulu. The following information and photo were taken during this trip. Tom Moore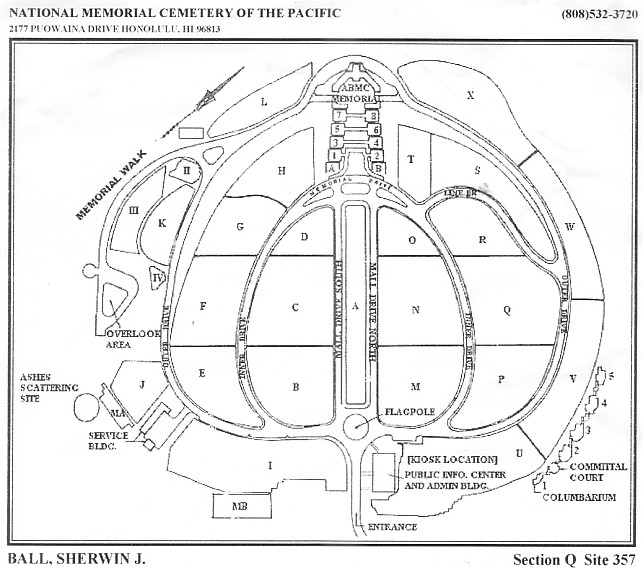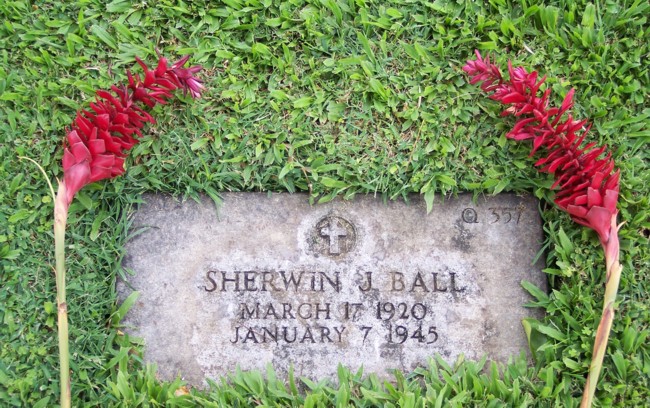 If you would like to share any information about Sherwin "Fuzzy" Ball
or would like to be added to the CNAC e-mail distribution list,
please let the CNAC Web Editor, Tom Moore, know.
Thanks!