ELBERT MONROE OVERTON (1912 - 2003)
Much better known as "Al" and later "Elbert" became "Albert".


The following notes were taken from
Mr. Al Overton
P.O. Box 192224
Dallas, Texas 72119-8515
Mr. Overton does not have a phone
and lives in an apartment across the street from the Hotel Crescent Court
Memorial Day, May 28, 2001
At The Beau Nash Restaurant in The Hotel Crescent Court
214-871-3240
By Tom O. Moore, Jr.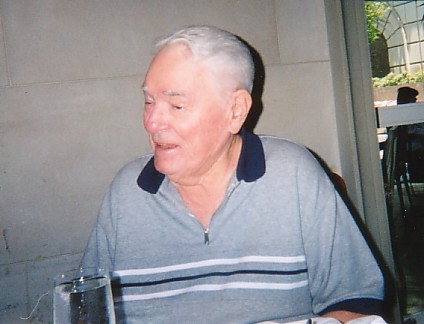 AL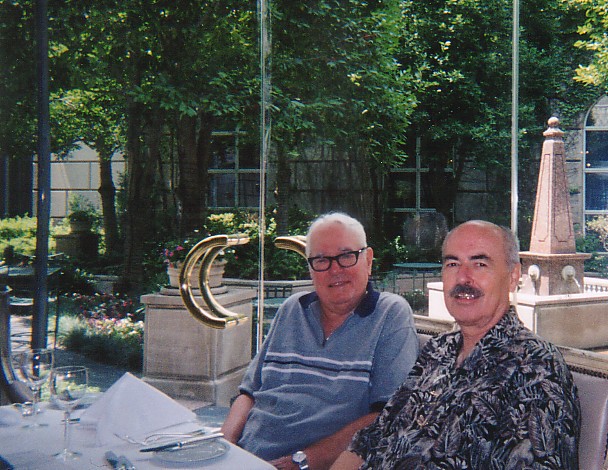 Al and Tom
---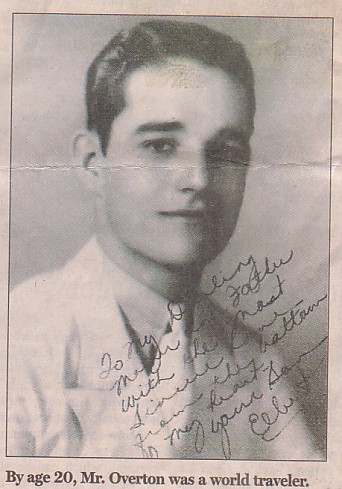 Al Overton was interned in the Philippines, at Santo Tomas and Los Banos until liberated in 1943.

Al Overton will be 89 in September 2001.

For Jerry and Margaret Sams, Al gives his best regards. Al wants to know if Jerry remembers Mike O'Brian's favorite cliché? "Nothing for sure, except death and taxes." Al and Gerry were in Room 40 (?) – 46 in the room. Gerry was into radio.

Rhonda Grill in Manila.

Earl Carl was a YMCA worker and later worked for an insurance company. He was also one of the Committee at Santo Tomas.

Blakey later married Chris. He was quite a bit older than she. Blakey was a good friends of Al's.

Admiral Eberle was on the same ship with Al on the way back to the States.

Will Durrant – later a good friend of Al's. Had lots of problems caused by two sets of genitals.

Paul Hartley worked for Firestone.

George Rowe-

Pete Miles – malcontent – demolition expert and hard rock miner – blew up bridges.

Poodle Dog Café in Manila. Owned by Billy Oakes.

Charles Miller was a photographer in the Philippines.

Al remembers - Vince Packard.

Tom's Dixie Kitchen (24 hour bar) – upstairs was the Oriental Grill owned by a black man named Tom Pritchard.

"Looking For Trouble" by Virginia Coles (sp?)

Jimmy Halsema was a good friend of Al's. Jimmy's father was the mayor of Baguio.

Al held hands with Jean McArthur as they watched the first Clipper land November 14, 1935.

The Pub Room at the Manila Hotel.

Floyd Gibbons – patch over right eye.

Paul McNutt (American Counsel) made a radio broadcast in 1937 from the US to PI that all was well and secure in the P.I.

In 1932, Al tried to catch a boat before it went thru the Panama Canal – East to West. Missed the boat – found a guy with a plane who charged him $5.00 for a flight to the other end of the canal to catch the boat - the Adrastus(sp?). The Cadwallader Family was on this boat. The Cadwallader family later owned the Boulevard Apartments in Manila. Emil and Georgi Scott lived there for awhile in 1940-41.

I called Ted Cadwallader and he and Al talked for about 30 minutes – until the battery in my cell phone went dead. Al wanted to know if Ted knew of any Cadwallader's living in Dallas. Ted gave Al, Mary Cadwallader's number in Dallas on Meadowbrook, 214-522-2116. Al remembers 2 Brook Cadwallader's. (Ted – did I get it right????)

Carson Taylor and the Manila Daily Bulletin.

Al knew Martha Gellhorn and her husband Ernest Hemmingway. Al has an inscribed copy of "For Whom The Bell Tolls".

Al knew Jimmy Morgan who married Elizabeth "Betty".

Al doesn't remember Catherine Cotterman Hoskins, but remembered that the Cotterman's owned the Walkover Shoe Store in Manila.

Al remembers Carl and Shelley Mydans and their daughter and son, Shelley and Seth.

Al does not remember my Aunt Elizabeth "Georgi" Scott – even when I told him that sometimes she was referred to as the "blonde bomb".

- THE END -






If you would like to share any information about Al Overton
or would like to be added to my POW/Internee e-mail distribution list,
please let me, Tom Moore, know.
Thanks!


Background music to this
page can be controlled here.
"Keep Your Sunny Side Up"