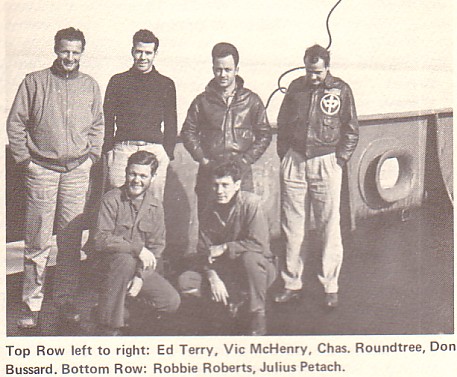 Top row left to right: Ed Terry, Vic McHenry, Chars. Rountree, Don Bussart
Bottom Row: Robbie Roberts, Julius Petach
(This photo and the caption came from "Wings Over Asia" Volume IV.
Terry's, Bussart's and Rountree's names aren't quite correct.
---
In the 1943-45 log book of Don McBride, Robbie listed his home address as: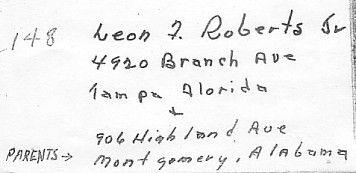 Leon F. Roberts Jr
4920 Branch Ave
Tampa Florida
&
PARENTS
906 Highland Ave
Montgomery, Alabama
---
Robbie wound up as president of the "Hump" Pilot's Assoc. for a number of years out of Atlanta, Ga.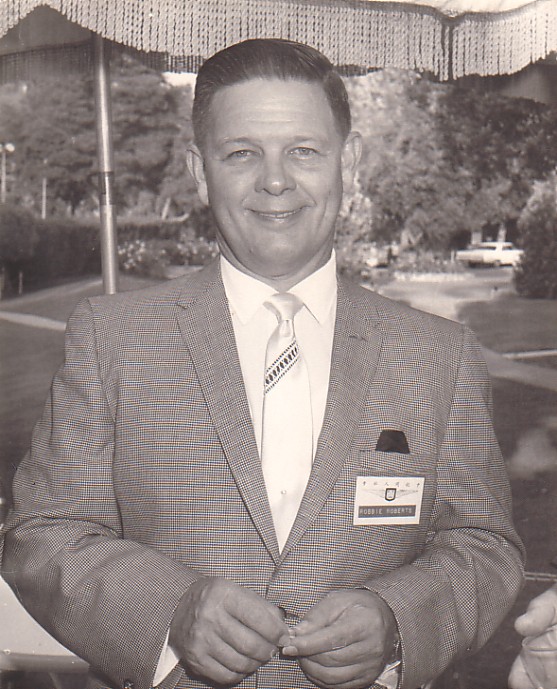 ---
March 22, 2004

Tom Moore,

I am really pleased to note that my uncle is listed on here. Known to me as L.F., Uncle Fatty and called, "Junior", by my grandparents, he never said much about the war except that he flew "The Hump". Since he passed away a couple of years ago in the Atlanta area, I have had occasion to close out my mother's residence when she went into a nursing home. In going through things she had saved, I came across some old letters from L.F. to his parents, his CNAC Wings, and a map printed on silk.

My younger brother has L.F.'s Wings and the letters. He was going to save them, so I'm pretty sure he still has them. I'll have to ask him.

I know it was said by family members that he had more missions over "The Hump" during that period of time, than anyone else under those conditions. He also owned his own plane for many years after the war.

L.F. was the oldest of three brothers. All three were pilots. L.F. and James P. were originally in the AAF. James P. was later in the USAF and was called up for active duty during Korea. He was, at one time when I was a kid, the Hospital and MP CO at MacDill AFB in Florida too, which also included the harbor Patrol boats.

Jack, the youngest brother was a "Conscientious Objector", but was a Medic. Jack was killed in a small plane crash years ago. He owned and ran Smoky Mountain Aviation in Sevierville, TN. The plane suffered low level carb icing and Jack and a young photographer were both killed in the crash. Attendance at his funeral was huge and included the Governor of TN at the time because Smoky Mountain Aviation was involved in the Model Airport program somehow.

Their father, "Pappy", was Leon F. Roberts, Sr.. The F. is for Festus. He and their mother, Maude, are buried in Asheville, NC where they lived for many years before their deaths.

Dick Roberts
E-mail rj.roberts@mchsi.com



If you would like to share any information about Leon "Robbie/Robby" Roberts
or would like to be added to the CNAC e-mail distribution list,
please let the CNAC Web Editor, Tom Moore, know.
Thanks!