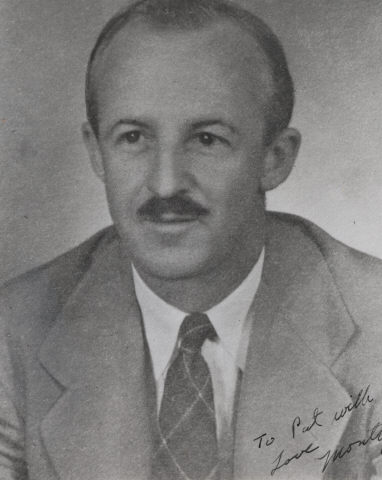 Monte Manning - 1946
---
July 15, 2001
"Dear Tom Moore
My name is Ted Montgomery Manning, son of Monte Manning, who is listed on your web site as being one of the operations personnel for CNAC. I've stumbled across your website by accident and have read it with great interest, and I can give you some information regarding my father. His full name was MONTGOMERY EDWARD MANNING, 1909-1981. I don't know the dates he was with CNAC, however he was factory production manager for Hindustan Aircraft in 1943, in Bangalore.He was in Shanghai between 1945-1947, as I was born in Shanghai in 1946. He returned to India in 1947, from China, and was invovled in various engineering projects, before moving to Sydney Australia in 1954. In Sydney he worked as a consultant civil engineer on the Sydney Opera House. Then for many years worked for Besser (Australia), before going into private practice, then retired to the state of Queensland, Australia, where I now live in Cairns (an old Catalina base during the War).

I have some old photo's from CNAC days in China that I will go through, and will be only too happy to make available.

Looking forward to a reply
Many regards

Ted Manning"

And here are some of those photos -- Thanks, Ted!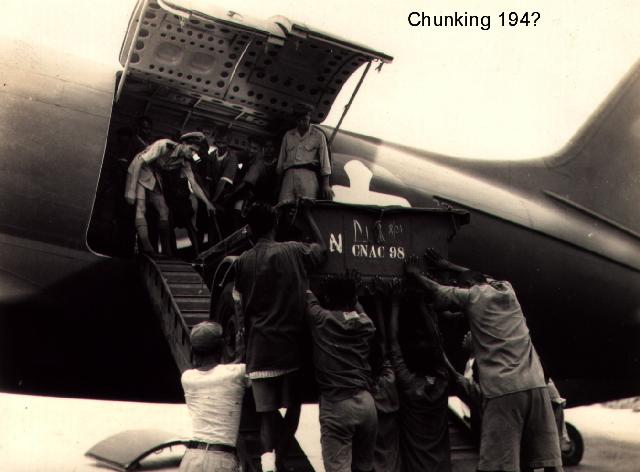 Chungking - 194?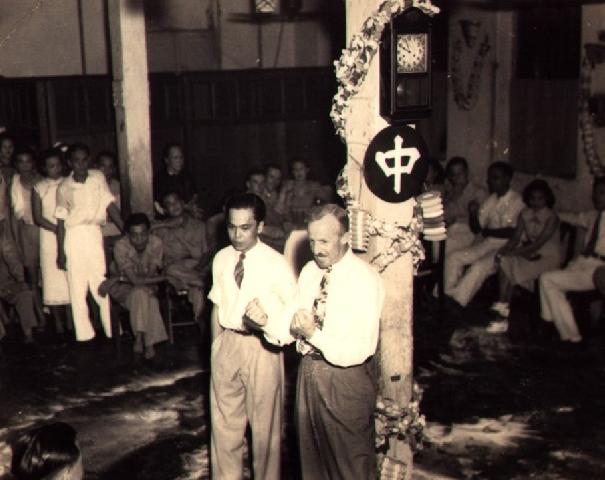 Unknowns and Monty
Looks like a CNAC party?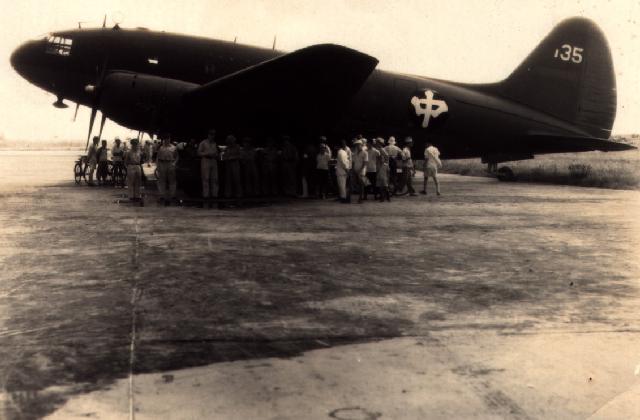 Loading at Chungking 194?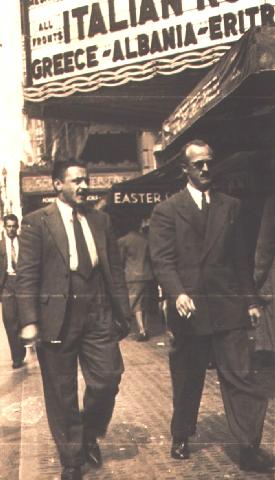 Unknown on the left - Monty on the right
Possibly in San Diego, California
---
November 6, 2001
The following e-mail was received from Frank Losonsky:
"Received your E mail. I remember Montgomery Manning at Hindfustan, but I never did have much to do with him because of being in different departments.

I am doing well for my age, but at times get tired. Sorry I could not help you more.

Frank"


---
February 17, 2005

Sir.

For your records my father Montgomery Edward Manning had been working for CNAC out of Calcutta (at Dum Dum), very soon after the war we (mother & 3 sons) sailed for Shanghai on the USS "Albion Victory" (an armed merchant ship with only 12 passengers). In December 1945 Monty (father) arrived by air from Calcutta. For a short time we lived in "Eden Gardens" & later moved to 212 Hangjau road. John & I attended the Shanghai American School. We left Shanghai in1947 (to the best of my recollection in May, our youngest brother Ted was born April 3 of that year & it was very soon after his birth). We flew to Hong Kong & boarded the "Taksang" (British officers & Chinese crew) for Calcutta via Saigon. It was a freighter with only about 10 passengers on board, no air-conditioning (in those days) & hot as hell in the cabins.

Monty was involved in several engineering projects in Calcutta, Bihar, Siliguri, & the Dooars (near Assam). In 1954 he arrived in Australia where he worked as an engineer & also as a consultant for several companies, (including the "Snowy Mountains Project for Kaiser Walsh Perini Raymond joint venture). He retired to Queensland where he died on July 29 1982. Monty never surrendered his American citizenship.

Monty Manning's niece Mrs Jeanne Medley of Boise Idaho (copied) has a wealth of information regarding CNAC that she may wish to share with you. Her father was very close to Bill Pawley.

Monty is also survived by children from his first marriage, they live in America.

Regards, Tom Manning
E-mail Tom_Manning@bigpond.com



If you would like to share any information about Montgomery "Monte" Manning
or would like to be added to the CNAC e-mail distribution list,
please let the CNAC Web Editor know.
Thanks!