In the 1943-45 log book of Don McBride, Frank listed two home addresses as: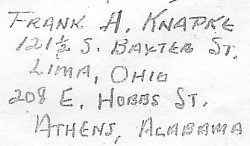 Frank A. Knapke
121 1/2 S. Baxter St.
Lima, Ohio
and
208 E. Hobbs St.
Athens, Alabama

---
From the 1964 CNAC Mailing List:
c/o U.S. Steel Flt Section
Pittsburgh, Pa.

---
From the 1965 CNAC Mailing List:
Frank Knapke
Box 4429
Pittsburg, Pa.

---
From John Kenehan's list:
Came from CPT/WTS; checked out May 24, 1945.

---
From Gene Banning's list of 8/31/00:
"... 1942 to 1948, left for Indonesia and married there."

---
December 21, 2002
Received the following e-mail from Felix Smith

The following info re FRANK KNAPKE is unreliable because my memory is vague on this. I seem to remember Knapke at CNAC 's early reunions in California not too long after the China's mainland fell to the Reds. At that time I remember one of the pilots---I think it was Knapke-- telling me he lived in Michigan and sold fire engines which were manufactured in that state. I don't know how far you want to research this, but there can't be many companies in Michigan that make fire engines. Its historical records might reveal Knapke's name.

Knapke and Krupke were close friends, I often saw them together, so my memory may have switched them. It seems to me that Knapke was the more light-hearted, optimistic of the two. Krupke was more serious. Perhaps Bill Maher, of Michigan, remembers more.

Regards, Felix


---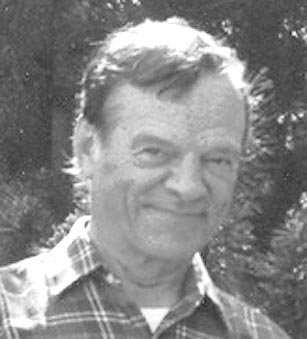 FRANK A. KNAPKE


Age 86, passed away in peace after a short illness, on July 22, 2005. He was born to Frank and Hazel Knapke on January 21, 1919 in Lima, Ohio. In 1956 he married Mary Jo Bittle with whom they had two children. He attended Catholic schools in Ohio and Alabama and earned an MBA at the University of Pittsburgh. He started flying airplanes at age 19. From 1939-40 he trained pilots for the Army Air Corps for World War II. From 1940-1948 he flew for CNAC in Asia. After a short stint in the US he became an Air Advisor to the Indonesian Government until 1952. From 1953-58 he was a check pilot for Pan Am. From 1958-1977 he lived in Sewickley, PA where he flew corporate jets for the U.S. Steel Corporation. In 1977 he retired from U.S. Steel and moved to Saudi Arabia where he flew for the Saudi Government until 1986. He then retired for good to Salt Lake City, UT where he could pursue his favorite sports. Frank will be best remembered for his maniacal love of skiing and tennis. He is survived by his wife, daughters Vivian Oakes and Susan (Rob) Kertesz and granddaughter Hannah. Interment at Mt. Calvary Cemetery in Salt Lake City, Utah.

Please sign the Guestbook for Frank A. Knapke at the following link: http://www.legacy.com/PostGazette/Obituaries.asp?Page=LifeStory&PersonId=16485826



If you would like to share any information about Frank Knapke
or would like to be added to the CNAC e-mail distribution list,
please let the CNAC Web Editor, Tom Moore, know.
Thanks!