JOSEPH LAWRENCE HALL (1909?-1994)
"Joe" most of the time, but sometimes called "Les"
(Pilot)
(CNAC Sept 1944 - End of 1945?)
(Captain - March or July 1943?)


In the 1943-45 log book of Don McBride, Hal listed his job as "MECH." and his address as: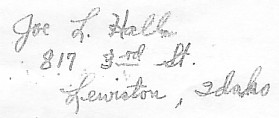 Joe L. Hall
817 3rd St.
Lewiston, Idaho
---
From the Dragon's Wings, quoting Don McBride, "March 14: Capt. Les Hall lost an engine over the middle of the Hump yesterday. He jettisoned a cargo of Chinese currency. Captains Carroll and Mickelson still missing."

From Gene Banning's list of 8/31/00:
Lester J. "Joe" Hall, AVG; hired Sep 1944, arr Jan 1945 (had gone to USAF in 1942? left end of 1945? (have item showing promoted to capt. March or July 1943??)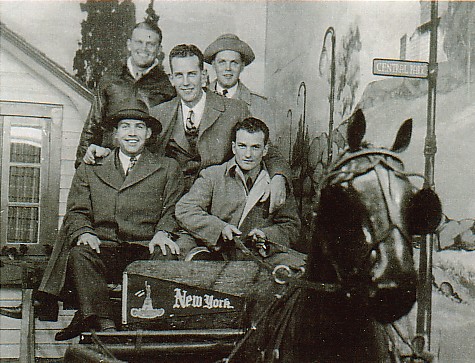 left to right, top to bottom
Len Parish and Bob Rengo
Joe Hall in the middle
Bill Maher and Tud Tarbet
Note from Bill Maher,
"(the picture) was taken in New York just prior to our embarkation in February 1945."
(Photo Courtesy of Valerie Parish Kendrick)
---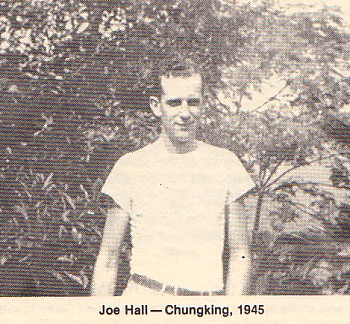 (From Wings Over Asia Volume V)
---
October 10, 2004

Hello,

My name is Kevin Pearson. My grandmother is Iris Hall, maiden name Iris Little, married to Les Hall. I have recently acquired several items from Mr. Hall's time with the Flying Tigers including his CNAC flask, crusher cap, antique mah jong set and several other antiques from Asia. Im interested in learning more about my step-grandfather. Please e-mail with any info.

Thank You,

Kevin
E-mail mmgt168@morganusa.com

Kevin - Let me hear from you. Thanks, Tom




If you would like to share any information about Lester Hall
or would like to be added to the CNAC e-mail distribution list,
please let the CNAC Web Editor, Tom Moore, know.
Thanks!


Background music to this
page can be controlled here.
"Tuxedo Junction"