July 23, 2001
Marcia Tarbet, one of Tud's nieces, provided the following sketch about Tud.


---
August 19, 2001
From Bob Sherwood "Tud Tarbet was a flight instructor with me at Sequoia Field at Visalia, CA and we went with CNAC at the same time. He used to come to my apartment in Visalia often because I had a car and he liked us to go to Mexican restaurants for hot food. He liked Roy Acuff records. He was a very bright guy. -- Bob"

---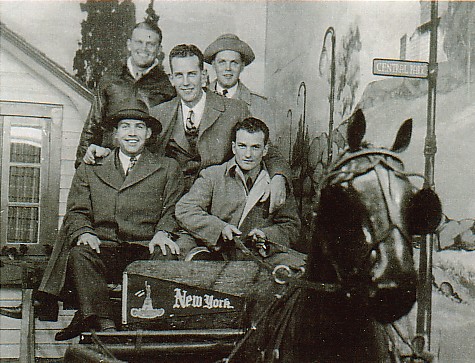 left to right, top to bottom
Len Parish and Bob Rengo
Joe Hall in the middle
Bill Maher and Tud Tarbet
From Bill Maher, "(the picture) was taken in New York just prior to our embarkation in February 1945."
(Photo Courtesy of Valerie Parish Kendrick)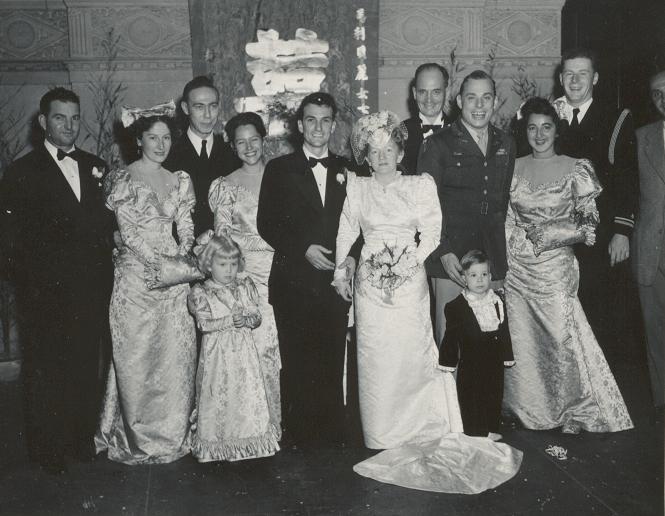 Wedding of Tud Tarbet and Mary Margaret Barry
November 1946
Left to right the men are:
William "Mac" McDonald, Reg "Doc" Farrah, Tud Tarbet (bridegroom), balding man in back is unknown, William A. Smith (in Army Air Corp uniform), "Red"? (in Navy? uniform), Bob Rengo (kinda cut-off).
Left to right the women are:
1st lady is unknown, Elizabeth(?) McDonald, Mary Margaret Tarbet (bride), last lady on right is unknown.
Little flower girl in front is Pam Parish (daughter of Len and Fran Parish) and the little boy is Patrick Mahrt (son of Harvey and Isabelle Mahrt)
(Photo Courtesy of Valerie Parish Kendrick)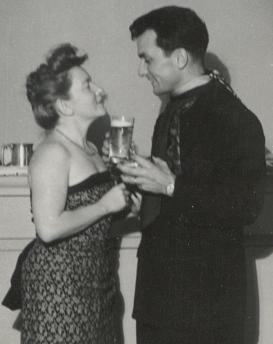 Fran Parish helped Mary Margaret give Tud a surprise birthday party
The photo is Mary Margaret and Tud
(Photo Courtesy of Valerie Parish Kendrick)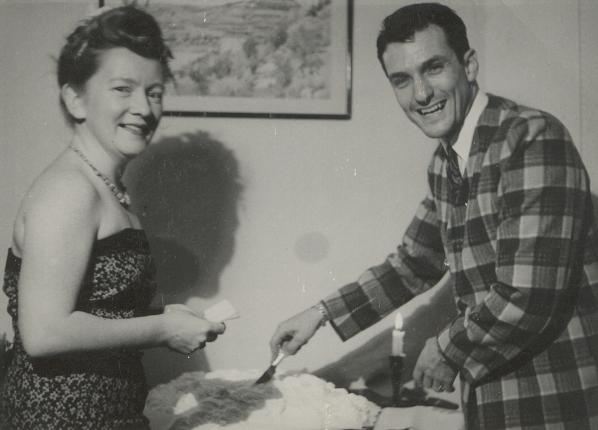 Mary Margaret and Tud at the same surprise birthday party
(Photo Courtesy of Valerie Parish Kendrick)
---
We think the following from Don Bussart is pretty close to what happened:
(not a quote) Don said that he played poker and gin rummey with Tud. Tud was killed on take off in a C-46 with control locks down. The aircraft rolled and killed all aboard. The aircraft crashed at Csingo China in 1946 or 1947 (actually it was 1948).



New York Times - July 30, 1948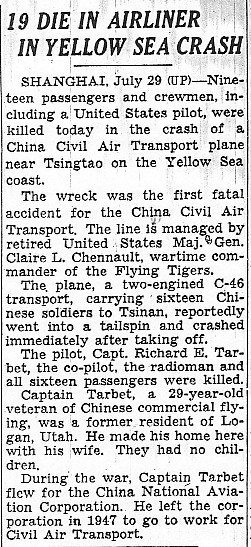 Can anyone explain the use of the name "Richard E. Tarbet" in the above article?

If you would like to share any information about Clyde "Tud" Tarbet
or would like to be added to the CNAC e-mail distribution list,
please let the CNAC Web Editor know.
Thanks!