From "Santo Tomas" by Frederic Stevens:
American - Santo Tomas:
Robert James Thomson


---
February 7, 2008

Hi Tom..

What a pleasure to speak with you. My quest has been a long one, but seems to be coming to fruition. I'll call it complete when I actually speak with someone who says "Yeah, I knew your grandfather--I remember once when he...". Until then though, I'll be perfectly happy collecting the historical data.

My grandfather was Robert James Thomson, son of George Thomson and Catherine Smith. Born 3 March 1893 in Paisley, Bruce County, Ontario Canada. Died 30 July 1952 in San Diego, California, USA. Married (1) Lillian Bower 16 March 1921 in West Allis, WI. Married (2) Mercedes Giron Felepe 7 January 1946 in San Diego, California, USA.

Mercedes was the granddaughter of a very influential judge and piano teacher. Now I find out, they may actually have been married prior to 7 Dec. But after Pearl Harbor, they may have burned their marriage certificate to save Mercedes any grief from the Japs.

My grandfather entered Santo Tomas on 17 Feb 1943. Don't know when or where he was captured, but he was a civilian employee of the U.S. Navy, in charge of the aircraft repair facility at Cavite.

My mother remembers my grandfather telling stories of being starved, yet being on a forced march with others, all carrying 50 pound sacks of sugar on their backs. He also told of the Japs feeding them un-hulled rice, and of having to hold it in your hands until it got warm enough to peal the hulls off so you could eat it. He told of one man who was too hungry to wait and ate the rice with hulls, and dying soon after. He also told of making yeast out of banana peels. She seems to recall him mentioning a place called 'Bilibid' or similar. My dad went to live with him when dad was just 12 years old. He went to Cavite and lived in the Masonic Temple with his Dad. Dad couldn't stand living with his mother. Grandpa was sending money to Lillian to help support her however...

Dad and grandpa were in Shanghai in 1939 and watched the Japs bomb the city from the rooftop of the Palace Hotel.. Mom said any mother would have taken her son to the basement, not a rooftop. (BTW, I have the photo album dad kept from Shanghai and the Phillipines with photos of the bombings, dead bodies in the street, etc.)

Dad caught pneumonia just before 7 Dec. And went back to San Diego.

Now, Robert James and Mercedes may actually NOT have been married prior to or during the War. That story may have been a concoction to get Mercedes into the US with my grandpa after the war. Attached are a couple of pictures and a couple of telegrams. I've got plenty of pictures, but precious little else. Anybody who could tell the story or pass on any kind of info is long gone. My mom is still around, doing well and living in Roseville.

Hopefully, I can make next years reunion. Note that my grandfathers name and mine are not spelled the same. When my dad joined the Army Air Corp in 1944, (P-47 pilot) the clerk put a 'P' in it, and it's been there ever since.

Please feel free to pass on this info to anyone you feel can help. If you need better copies of the photos, let me know.

Robert M. "Mike" Thompson
Cell (530)263-5786
mikensheila@sbcglobal.net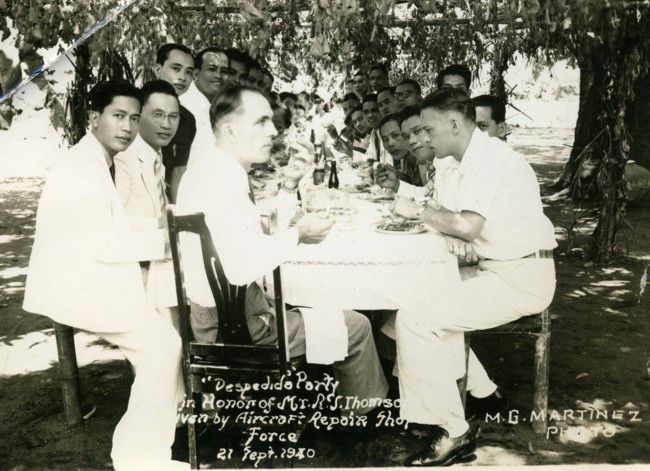 How about a closer look of the above photo.
Do you know any of these men?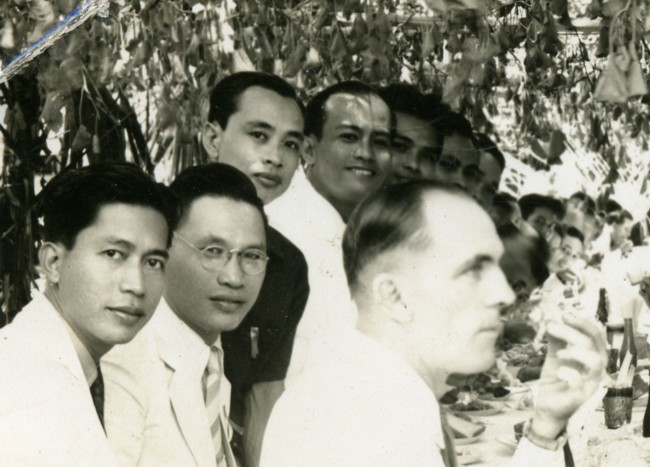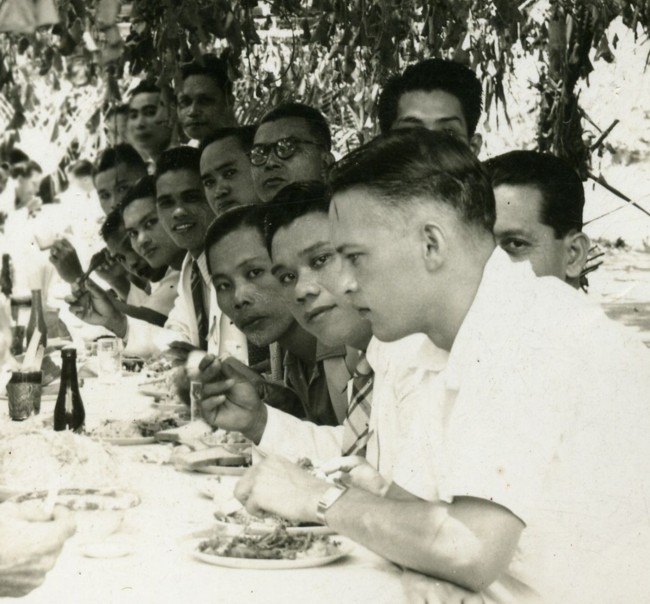 Click here to see the photo in original format.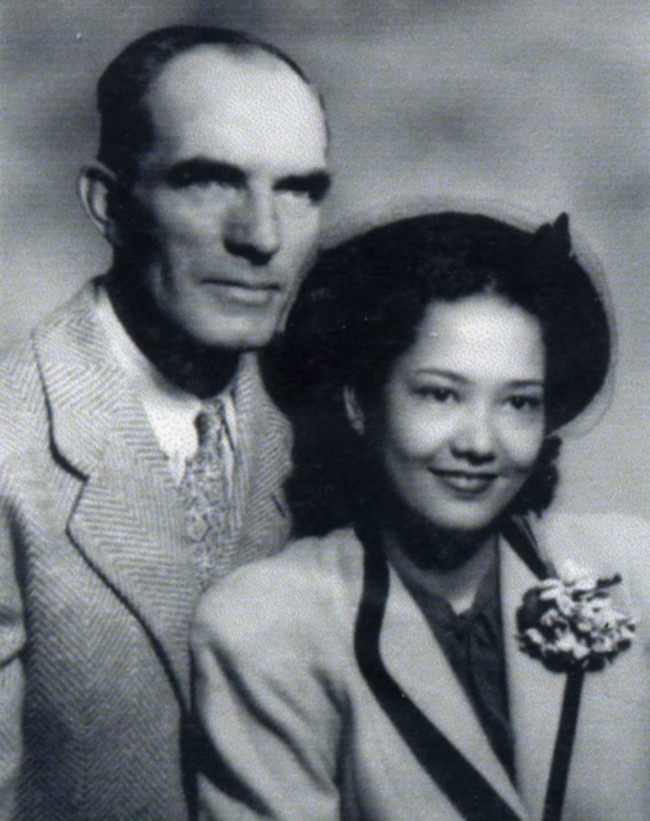 Robert and Mercedes Thomson

If you would like to share any information about Robert James Thomson
or would like to be added to my POW/Internee e-mail distribution list,
please let the me, Tom Moore, know.
Thanks!