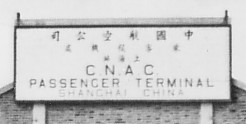 CNAC's main passenger terminal, Shanghai, 1937
(Photo Courtesy of Tom Moore)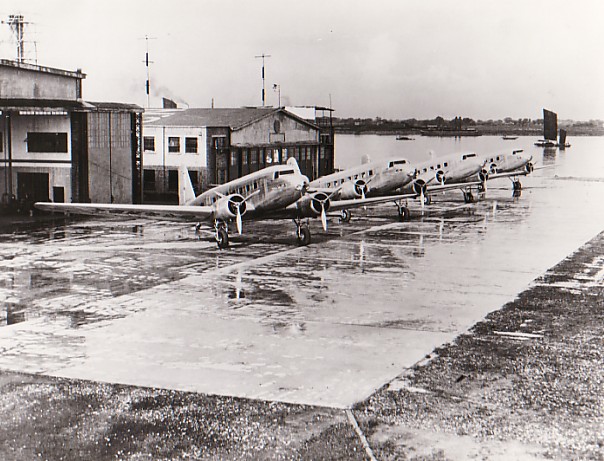 CNAC's fleet of DC-2s, Shanghai, 1937
(Photo Courtesy of Tom Moore)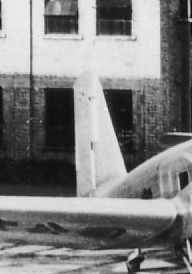 Tail of first aircraft on the left, above.
Looks like tail #24. Anyone got a better guess?
---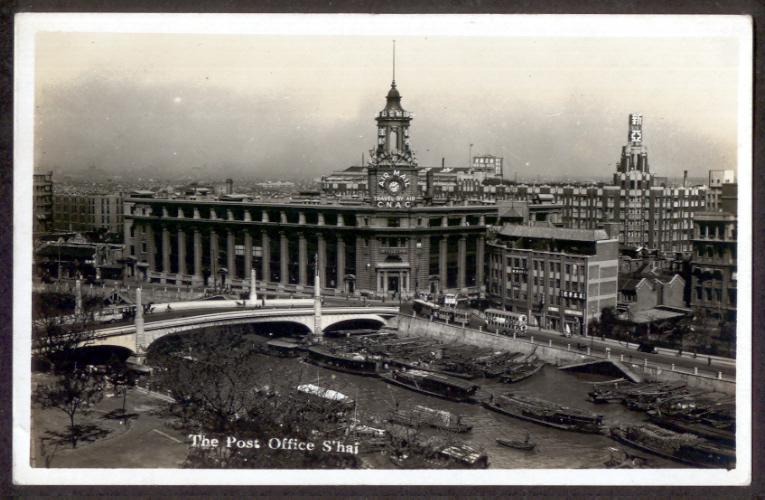 PHOTOGRAPHIC POSTCARD OF A VIEW LOOKING OVER SOOCHOW CREEK TOWARDS THE CENTRAL POST OFFICE.
NOTE THE AIR MAIL AND CNAC AIRLINE ADVERISTMENT ON THE TOWER OF THE BUILDING,SHANGHAI,CHINA.
(anyone guess on the year? Probably in the 1930s?)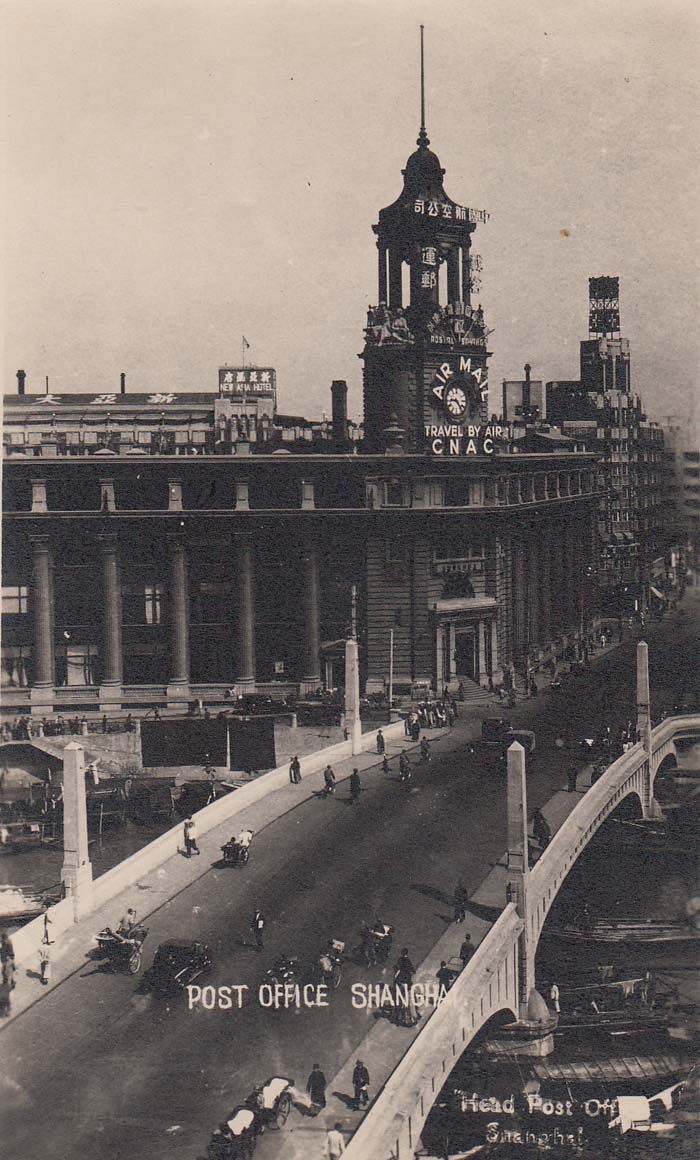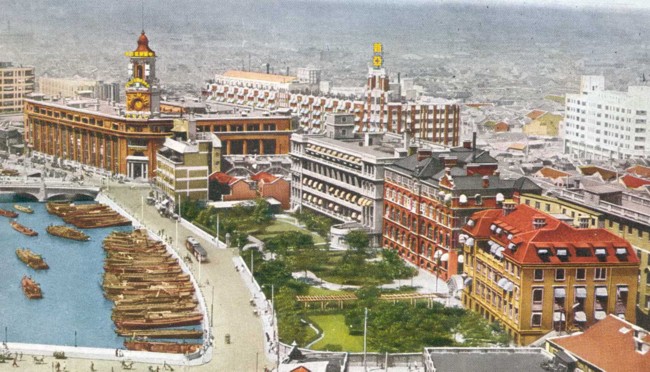 Here is another picture of the Post Office building on the north side of the Soochow Creek.
This one is in colour which shows that the C.N.A.C. sign was painted yellow.
(Courtesy of Ron Kliene)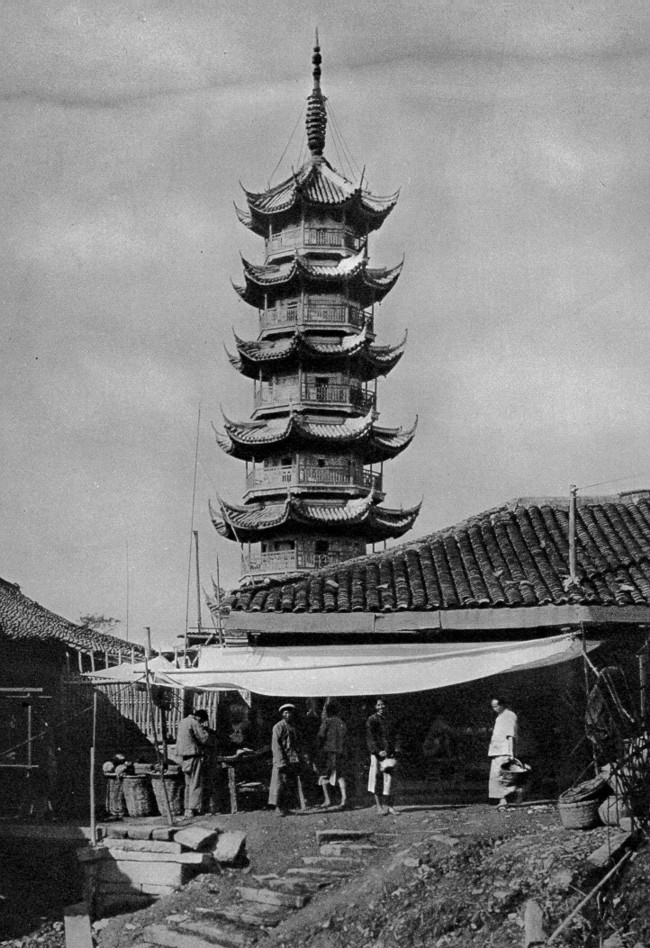 The Lunghwa Pagoda near Lunghwa airport, to the south of Shanghai.
The pagoda was slightly damaged during the war between China and Japan in 1937.
This shot was taken just after some minor repairs.
(Courtesy of Ron Kliene)
---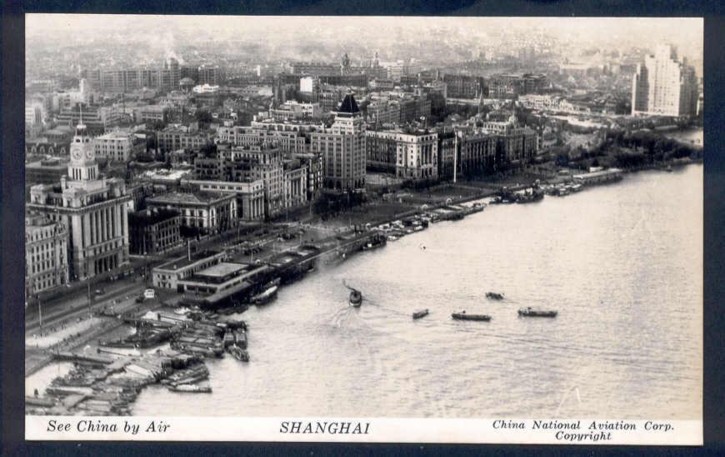 Early unused Asian old postcard edited by China National Aviation Corp. and distributed by Kekky and Walsh.

I can tell from looking at the Bund photo that it's between 34 and 37 -- Broadway Manions at Soochow Creek and the Whangpoo was finished in 34, and the Bank of China building (which on the postcard hasn't been built yet -- it's the hole in the Bund to the right of the Cathay Hotel) was finished in 37 (I think).

Cheers, Greg (Crouch)
---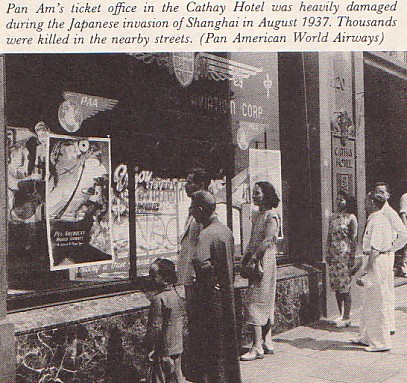 September 24, 2004

Hello, I am Hiroshi Inoue, the Japanese, living in Shanghai.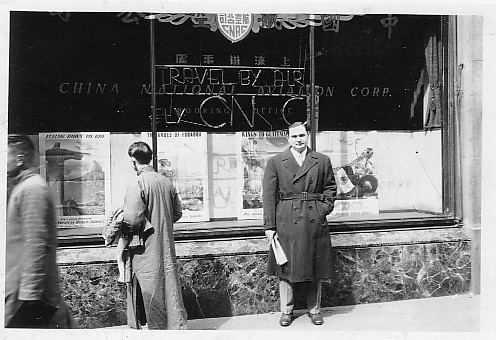 Al Belski


About the above photograph.

Yesterday, I printed out this photograph and went to Peace Hotel (Cathay Hotel) on Nanking road. In this photograph, there is a belt of a stone under the window glass. The belt of a stone has a marble effect (pattern). I found out the same marble effect on the left side of the entrance facing the Nanking road. One seemed not to change as it is just as it is. I was still surprised that the thing of those days remains as it is.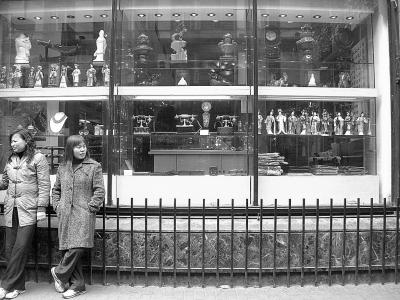 The Building today - January 2007

You can see more pictures of this building at: http://4travel.jp/traveler/dapuqiao/album/10120458/


"51 Canton Road, Shanghai"---- It is a completely different place.

Hiroshi Inoue
inouehir@online.sh.cn


---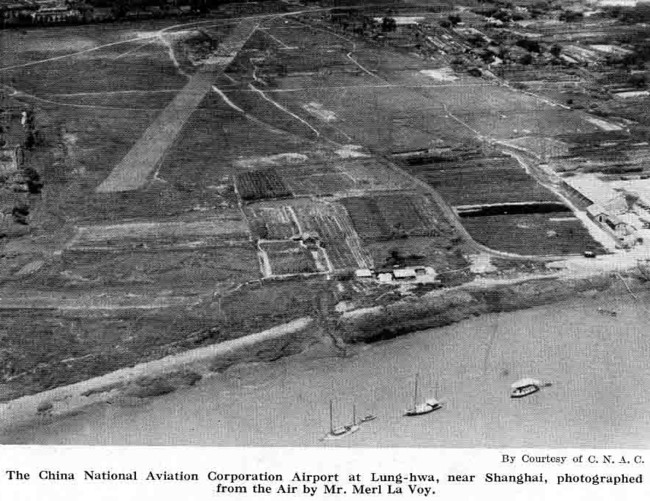 ---
January 13, 2007

Hello Tom,

I hope you are still making good progress.
I found this old picture of Lunghwa Airport in the Shanghai Illustrated News Magazine dated 1935. It could have been taken earlier. There is only one runway and was therefore taken quite early before the second runway was built. It is facing north and the approach to the south end of the runway is quite near to the Whangpoo River. The village of Lunghwa can be seen to the right. This would be the direction of approaching flights on the day of the Christmas accidents in 1946. If Captain Preus in CNAC 115 struck a school building it would probably have been in Lunghwa village which would be well off the line of the runway. I never heard the final verdict but one report suggested that he struck the mast of a junk in the river which makes more sense to me. If you have better information I would like to know.

Regards
Ron (Kliene)