Eugene Arthur Perkins (1888 - 1956)
and daughter
Dora Perkins Anderson (1914 - 1989)
and her daughter
Sheila Mildred Anderson (1942 - 1987)

---
The following comes from Robin Prising
In the Marines!
On ship SS Thomas into San Francisco from Manila on 15 Jan 1916 -- with Wife.
But where was their daughter, Dora?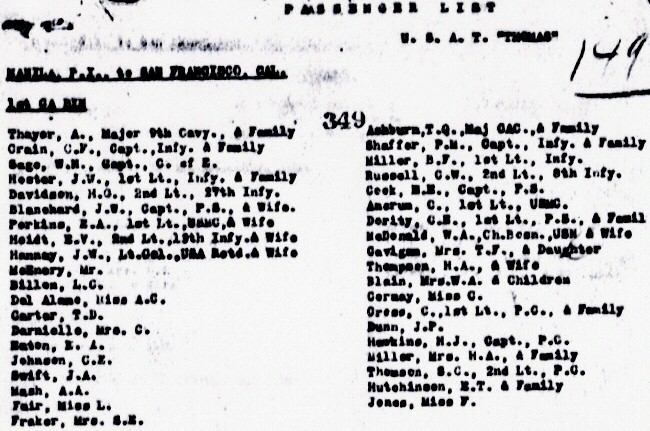 ---
January 18, 2007

Robin Prising sends these reminiscences of the Perkins-Anderson families:

Dora was the daughter of E.A. Perkins, first American representative at the court of the King of Siam and partner of the Manila law firm DeWitt, Perkins and Brady. E.A. Perkins was born in Bangkok in 1888.

Perkins versus Perkins was the talk of cosmopolitan Manila from the late 1920s up till the war and afterwards; even the Manila judge was quite taken aback when Idonah Slade Perkins (plain Polly to her friends) demanded that their teenaged daughter Dora be torn from school and obliged to listen to all the court proceedings. These included the reading of Polly's erotic letters from a chap called Chambers, which Perkins had discovered. The Perkinses, in fact, were never divorced, but Dora's father, who was a quiet man and very much the gentleman, was able to have her placed in his custody and sent to school in Switzerland. Still the lawsuits continued up to the Supreme Court of the United States, even following E. A. Perkins's death in Manila, April 28, 1956 (his last residence was at 650 Dewey Boulevard). Mrs. Perkins left the Philippines for the United States long before the war. In Santo Tomás, Mr Perkins shared a shanty with Miss Holmes, a most wholesome pleasant woman in her late 40s , whom my mother sternly described as his 'housekeeper.' Idonah survived E. A. by four years.

A grown woman, with red-gold hair, Dora was back in Manila by 1938, spirited and stylish, driving a stream-lined black Packard coupe. She lived with her father in their Moorish castle El Nido, a highly visible landmark on Dewey Boulevard, where two turbaned Sikhs in full regalia stood sentry at its main gate. Like my father, Fred Stevens, et al., E. A. Perkins was what was called a Manila Old Timer. Dora Perkins, born in 1914, was herself a highly prized broadcaster over Manila's Radio KZRH, introducing classical music in her exquisitely modulated voice.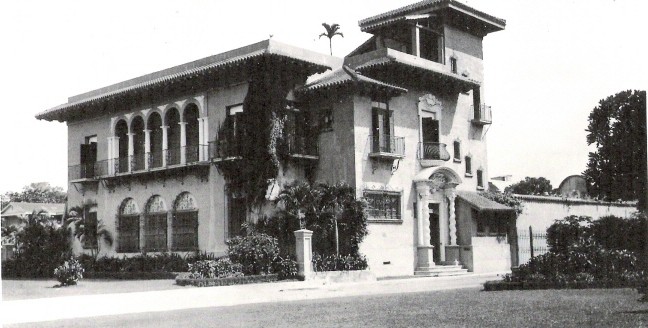 El Nido, the Perkins's Moorish castle on Dewey Boulevard
(Courtesy of Robin Prising)


In 1941 General MacArthur launched his crash program for the defense of the Philippines. As soon as Japan occupied South Indo-China and the United States closed the waters to Japanese trade, war became inevitable. American Army wives and their children in the Philippines were all sent home. The civilians, however, were discreetly advised to keep their families in the Philippines, to maintain the American presence—and to encourage Business as Usual. Just at this time Dora met John Andrew Anderson (U.S Army Techinal Sergeant, service number 7031364) and they fell passionately in love. He appears to have been in the U.S. Army Counter-Intelligence, but I remember him for his handsome baritone voice when at parties he would end a song recital with 'On the Road to Mandalay.' Was it in November that they married? To the strains of the Mendelssohn wedding march, I recall, they came smiling out of church under a military presentation bridge of flashing swords. On December 8th Manila was bombed. The Japanese established a beachhead before the New Year—and Dora saw John Anderson for the last time. The Japanese Imperial Army marched into MacArthur's hastily proclaimed 'Open City' and when they arrested and interned all Allied Civilians, now Enemy Aliens, Dora was by then pregnant. Her baby Sheila would be born in September of '42. Over the next three years Dora lived through imprisonment and starvation, anguished by rumours about John. Her husband had escaped from Corregidor. He had died on the Death March. He was alive at Cabanatuan. He was dead from diphtheria. John was recovering from diphtheria. Had she received the notes he had sent her? Only when Santo Tomás and all the other prison camps were liberated, did she learn that John (19??-1942) had died shortly after the American defeat at Bataan and Corregidor.

In our Manila days, Dora was among the closest friends of my family She called my parents Uncle and Auntie—she had known them since she was born—and my mother was Matron of Honour at her wedding. When we were prisoners, Dora and I were always near each other, wherever we were sent. She kept an eye on me during the months both my parents were hospitalized, and I was with her as the rumours of John living or dead arrived.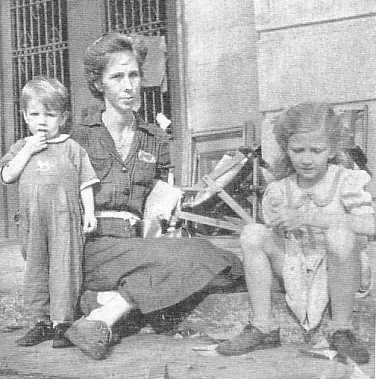 After the liberation of Santo Tomas - 1945
Dora Perkins Anderson, her daughter Sheila, born at the Ateneo,
and a little Scots girl (on the right) named Jean Muir.
(Courtesy of Robin Prising)

By May of 1945, I lost touch with Dora. My mother told me that she left Manila in the late '50s. Evidently, by 1960 she and Sheila were living in Seattle. Only recently have I discovered that first Sheila died in 1987, of causes never explained, despite a extremely thorough post-mortem 'including toxicological and microsopic studies.' Two years later Dora died after a stroke in a nursing home—on her death certificate her mother's name is listed as 'Unknown.'


---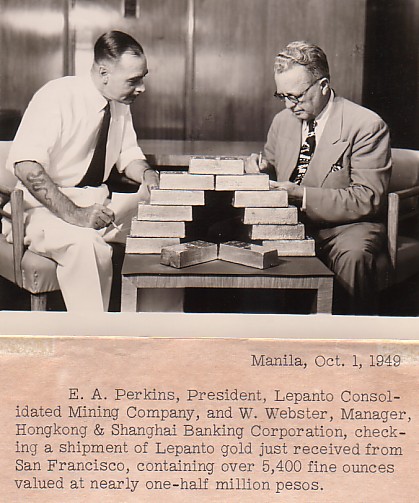 E.A. on the left
Any of you readers know the significance of the snake tatoo?
(Photo purchased on eBay in March 2007.)

If you would like to share any information about the Perkins or Anderson Families
or would like to be added to my POW/Internee e-mail distribution list,
please let me, Tom Moore, know.
Thanks!