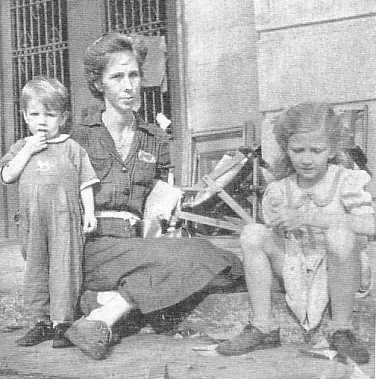 After the liberation of Santo Tomas - 1945
Dora Perkins Anderson, her daughter Sheila, born at the Ateneo,
and a little Scots girl (on the right) named Jean Muir.
(Courtesy of Robin Prising)
---
April 2, 2005

Hi,

My mother (Bella) and her family were in Santo Tomas under the Japs.

Names:

Catherine Thomson MUIR -- Aged 42 on entry to camp and her children:
Bella Mary Edith MUIR -- Aged 12
George Milne MUIR -- Aged 10
Jean Catherine MUIR -- Aged 4
James Waugh MUIR -- Aged 9 Months

These five Muir's were repatriated to Scotland via Australia.

Also James Muir husband of Catherine (above) was in Weishien Camp.

Also Donald Muir (Brother of James above) was in Stanley Camp.



Hope this info is of use to you.

Iain Lourie
e-Mail iain.lourie@xtra.co.nz



If you would like to share any information about the Muir Family
or would like to be added to the POW/Internee e-mail distribution list,
please let me, Tom Moore, know.
Thanks!