From the book, "Santo Tomas" by Frederic Stevens:

British citizens:
Allan George Hyde
Charlotte Thomson Hyde
William Gordon Hyde


---
The following text and photos are courtesy of Ashley Hyde.

June 28, 2008

Hi,

My Papa and I were admiring your web page as he was in the camp, along with his Mother and younger Brother. His name is William Gordon Hyde ( aged 74), his Mother's Name was Charlotte Hyde (now passed away) and his Brother's name is Alan Hyde (aged 73).

During his time in the camp, he got paratyphoid fever, from which he nearly died, as there was no medicine. He is glad to say that an ex-commendant died of the same disease at Santa Tomas with medical treatment made a speech at the beginning of the camp and ended it with the phrase, "While we are victorious we can afford to be magnanimous", and they may have been victorious but were definitley were not magnanimous!!!!!!!!!!!!!!!!!!!!!!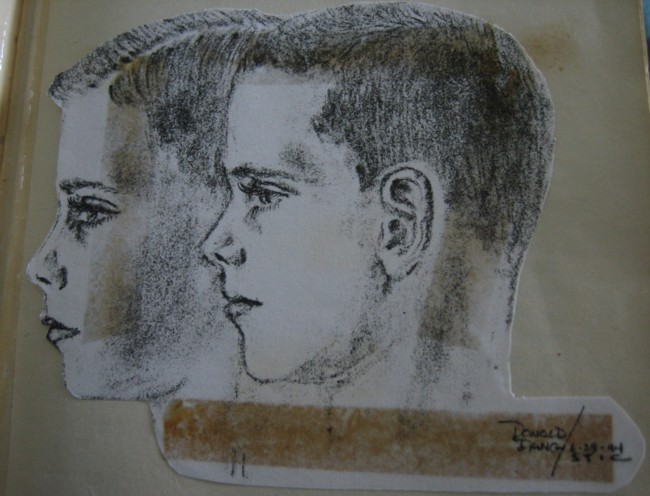 Sketch of papa and his brother in the camp by Donald Dang,
who was an American/Chinese POW and also artist in the camp.


My Papa and his brother took part in alot of boxing in the camp, and my papa won a boxing cup in 1943, which he still has to this day.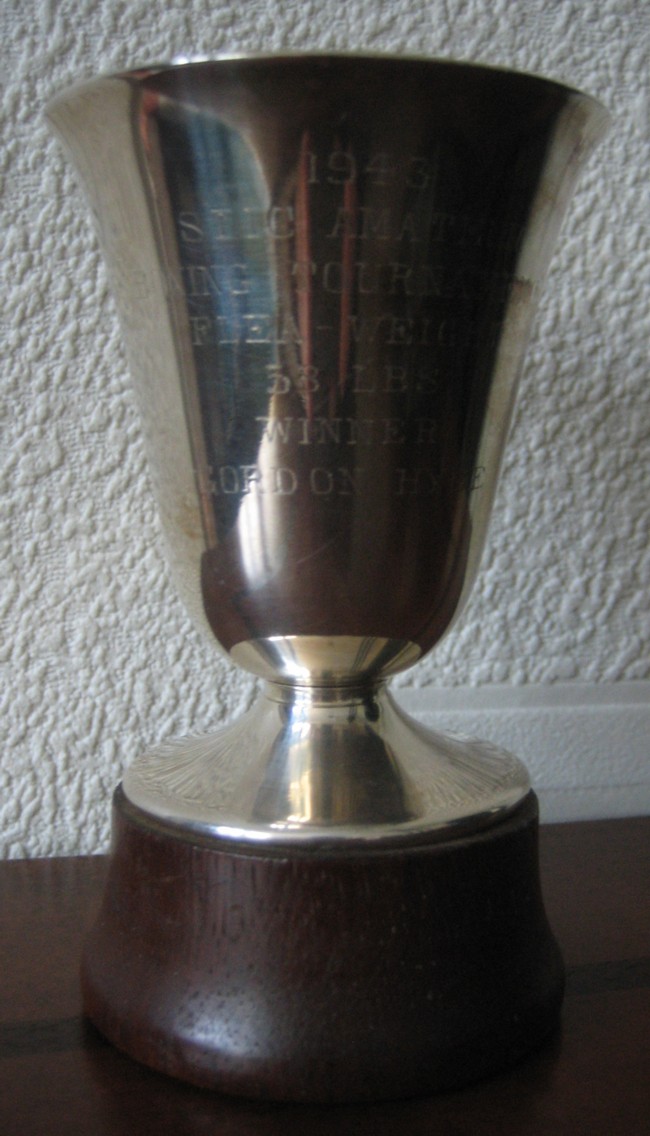 1943
STIC Amatuer
Boxing Tournament
Flea Weight
58lbs
Winner
Gordon Hyde


The runner up was his younger brother Alan Hyde, who he fought in the final. He recieved the bamboo cup for runner up (I will get a pic of that too).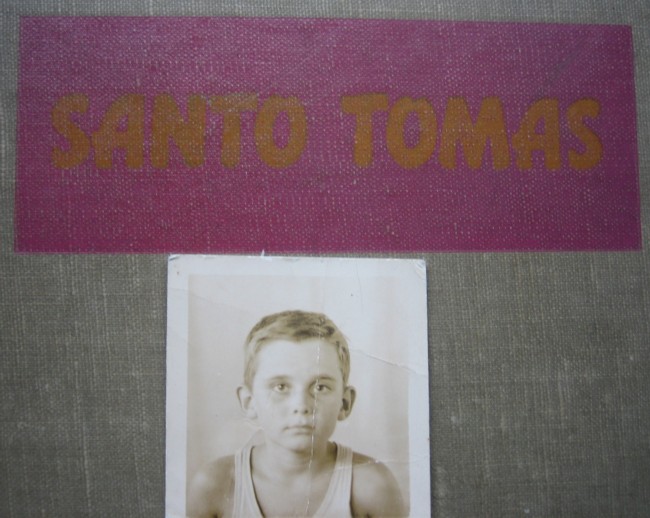 Taken in May 1945 for passport,
to be repatriated by Ship called the Eberlie


After they were freed:
The Eberlie berthed in Los Angeles where they stayed for a week. There was huge celebrations when they were there as the War against Germany was over.

They stayed at the Hayward Hotel in LA. From there they went right across America, where the 1st stop was Kansas with a Brass band playing at the station and a wonderful welcome from the people who boarded the train and who showered them with chocolate sweets and chewing gum for about 10 mins-he said. He will never forget that moment of kindness from the people of Kansas! The train then proceeded through America and Canada to Halifax, Nova Scotia. On the doc there were two German U-boats tied in surrender, fortunatelty enough for all the British POWs, it made the trip across the Atalntic safe from being torpedoed. They arrived at South Hampton a week later and then took the train back to Greenock in Scotland, where my Papa's, mother's parents lived. We later returned to HongKong.

Lionel Fisher was his best pal in the camp, he was British and when last heard from, Lionel was living in Portland, Oregon. Actually, Lionel and Gordon boxed in camp, with Lionel beating Gordon the first time, but never again.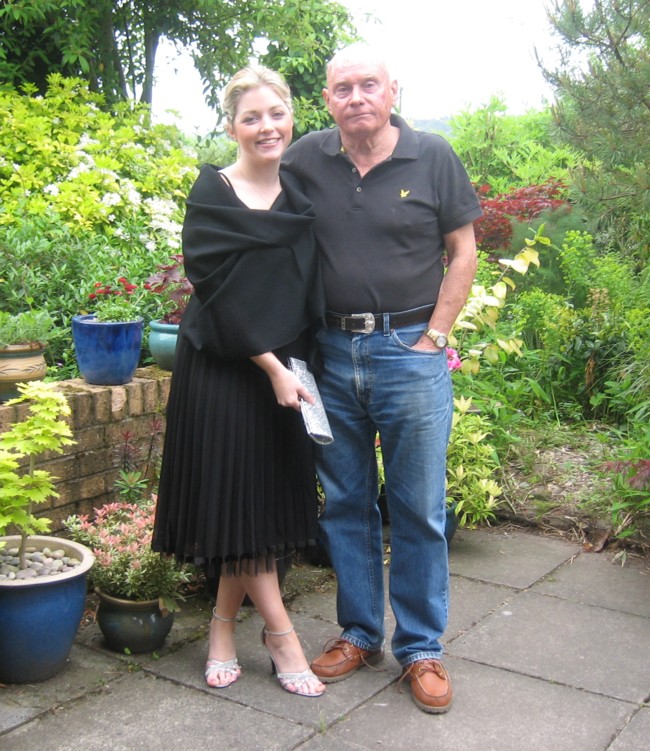 Ashley Hyde and her Papa, William Gordon Hyde
June 2008


My Uncle Allan still stays in Greenock with his wife, Janette, and two children, Susan and Kenneth. My papa, has two children Fiona and Gordon, and two grandchildren: me, and Laura.

We live in Dollar, Clackmannanshire, Scotland, UK.

Kind Regards,

Ashley Hyde
a.hyde943@btinternet.com



If you would like to share any information about the Hyde family
or would like to be added to my POW/Internee e-mail distribution list,
please let the me, Tom Moore, know.
Thanks!