HUGHES (AMERICANS)
AND
MCALPINE (BRITISH)
FAMILIES


Americans
Arthur Edward Hughes
Eleanor Madeline Hughes
James Coy Hughes
John Thomas Hughes
Karl Hughes
Myrtle Mary Hughes

British
Elizabeth Stewart McAlpine
Margaret Elstob McAlpine

---
June 1, 2005

Thank you for your great site.

My mother-in-law, Margaret McAlpine was interred at Santa Tomas. She met her husband there, James Coy Hughes. They were married in the camp.

I have ration cards of Coy's. One has Pabst Blue Ribbon as a sponsor.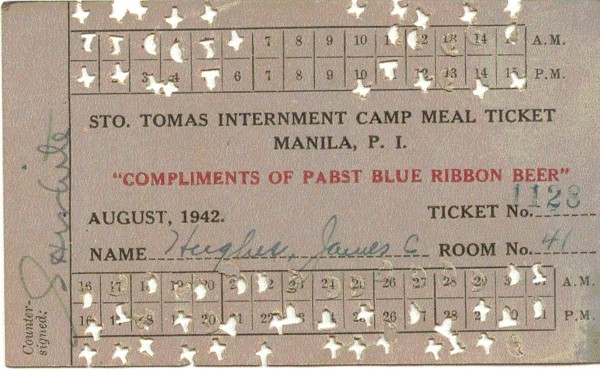 Here is another interesting but not verifiable note. We have three Chinese silk hangings from Margaret. They were originially given to a GE employee by Chiang Kai-shek, who said he would be back to retrieve them later. Of course, that didn't happen. Margaret gave them to us. There is no documentation for these but it is a good story.

Would you add their names to your list??

Thank you.
Cynthia Hughes
clhhughes@earthlink.net

P.S. Loved your site for Georgi. I just talked to Margaret, who is 86 and living in Naples, Fl. She was excited to hear of Georgi and said she was beautiful and everyone knew her or of her. I am sending her what information I have.

Coy Hughes was killed in a plane crash while on GE business in Brazil in 1962(?). Margaret relocated to the US (NC) with her children shortly after.

Thanks again for all you do.






If you would like to share any information about the Hughes or McAlpine Families
or if you would like to be added to my POW/Internee e-mail distribution list,
please let the me, Tom Moore, know.
Thanks!

td>


Background music to this
page can be controlled here.
"Yin Nian Hao"