Anna Harris Hess and her children:
Diane Hess
and
Dennis Hess

Anna's father, Meyer Harris, and her sister, Dora Harris (19??-2002) were also in Santo Tomas.
---
March 6, 2005

Hello, My Mother brother and myself were interned for a period of time in Santo Thomas. My Mother's name -- Anna Harris Hess her two children Diane and Dennis all of us are survivors of WW II.

We left Manila April 10, 1945, on the U.S.S. T. Torrens. (NOTE: Catherine Cotterman was on the same ship and remembers Anna, Diane and Dennis very well. Catherine remembers Dennis falling down the stairs on the ship, but came away with just some brusing.) The ship arrived in San Francisco on May 15, 1945.

My Father, Carl Hess II, owned a gold mine in Baguio. This mine had five different colors of gold ore, and was named the Solacat after the straw hats the rice planters wore. Carl Hess II was a partner in the Brokerage house of Hess and Zietland (not sure of the spelling). Carl Hess II was never interned and was active with the underground till he was killed by the Japanese shortly before liberation.

My question to you is -- can I get a list of the American prisoners? My family would be very grateful for any help you might offer. (NOTE: Yes, I am sending Diane a copy of the Internees listed in Frederic Stevens book "Santo Tomas".)

Diane McCorkle
17725 Reeds Creek Road
Red Bluff, CA. 96080
phone# 530-529-0123
disranch@cwnet.com


---
NOTE: Diane is very excited to hopefully being reconnected with friends from many, many years ago. Drop her a note or give her a call.

Diane has a great story about a buried cedar chest filled with diamonds and some pre-war 8 mm movie film. And here is a frame from that bit of flim...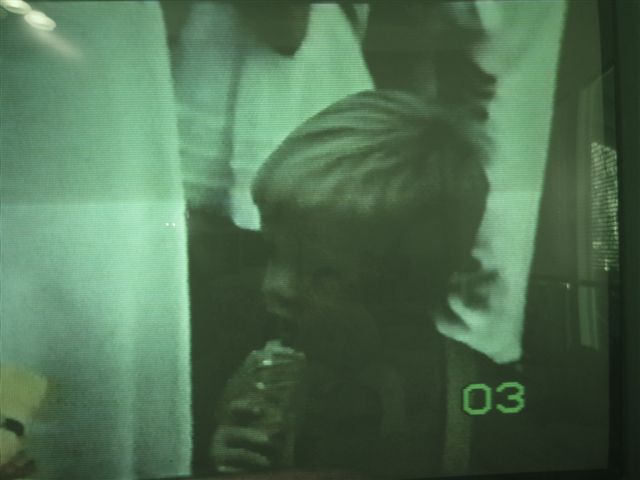 Look like little Edward "Ted" Cadwallader
Manila -- October23, 1940
---
March 8, 2005

Dear Diane,

I remember your mother Anna as she was a good friend of the Brazee Family especially Auntie Mabel Brazee Sweet Palmer. Mabel passed away last December at 94 years of age. Anna and Mabel would hang out at the Army Navy Club and try to impress the young men. It was probably in the late 1920s or early 1930s. We would call her "Anna Banana" when we were little kids. I last saw her at a reunion at Rossmore, Walnut Creek, many years ago. My brother Henry and I again referred to her as "Anna Banana" at the reunion, and we found she didn't like that one bit. It was good to see her and she was still beautiful. The following photo is of Anna with Uncle Jimmy Brazee on the right taken in the 1920s.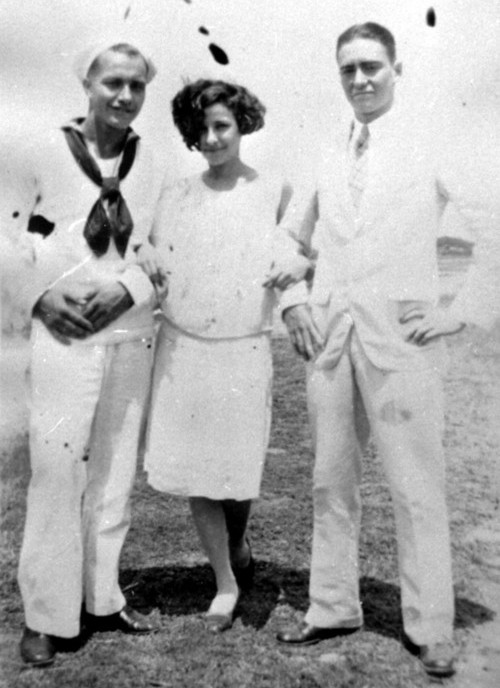 Unknown sailor, Anna Harris, Jimmy Brazzee
probably in Manila - 1920's


Hope this helps.

Connie Ford
E-mail ccford@att.net


---
March 8, 2005

Hi -

I remember Anna Hess very well as she was a good friend of my family. She was a knock out.!!!! Vivacious and dynamic.

The last time I saw her was in Rossmoor at one of the parties.

The time before that was at doctors office in San Francisco where I worked for a few months. She and another woman came in to have lunch with one of my doctors. As they were all walking out the door, the doctor stopped and said to her,"By the way, I have a gal in my office who was also in the Philippines." He came in the back room where I was busy bandaging someone and told me to come out. I did, and Anna and I almost screamed when we saw each other. She was as beautiful as ever and we never stopped talking. The doctor had no choice but to tell me to come along for lunch. Anna and I couldn't stop talking.

How wonderful to be connected again.

Aloha - Sascha (Weinzheimer Jansen)
E-mail mabuhayma@aol.com






If you would like to share any information about the Hess or Harris families
or if you would like to be added to my POW/Internee e-mail distribution list,
please let the me, Tom Moore, know.
Thanks!

td>