Frances Long wrote the following book which was published in 1943.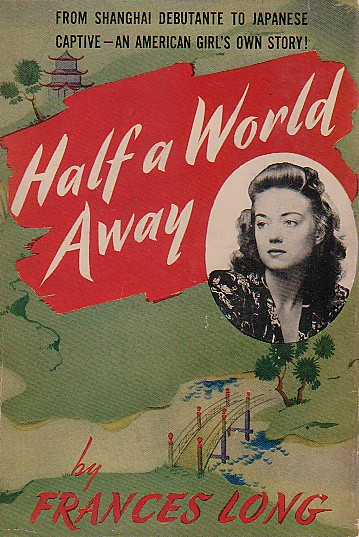 February 2004
Frances Long was interned at Santo Tomas in 1942 and repatriated and sailed home in 1943.
She was on many modes of transportation, the last on the S.S. Gripsholm sailing from Lourenco Marques in Portuguese East Africa .

While in Santo Tomas, Frances was living on the first floor in Room 19 with Georgi Scott and Gladys Bunnell.
---



Frances Scott, writer, volunteer


Frances Edith Scott, a former writer who was active in community work here, died Sunday, Dec. 19, 2004, at Danbury Hospital after a brief illness. She was 84 years old and had lived here for 44 years before moving to Meadow Ridge in Redding four years ago.

Mrs. Scott was born in Shanghai, China, on Sept. 25, 1920, daughter of Edith Hunter Long and Edwin Arthur Long, a United States consular official. She was educated at the Shanghai American School, Cheltenham Ladies College, England, Glendale Junior College, and the American University.

During World War II, she was briefly interned in the camp of Santo Tomas in Manila, the Philippines. During the war, she returned to New York City and wrote the 1943 book, Half A World Away, about her experiences. She also modeled and became a feature writer for the Associated Press until marrying in 1946.

Mrs. Scott came to Ridgefield in 1956 with her husband, Charles Frederick Scott, and her two children, the late Charles Frederick Scott Jr. and Patricia Scott Cole. Mr. Scott died in 1989.

While in Ridgefield, Mrs. Scott was a member of St. Stephen's Church, the Ridgefield Garden Club, and the Silver Spring Country Club. She was active in working to preserve open space and was a member of the Land Conservancy of Ridgefield. She also worked for the preservation of historic structures of Ridgefield, such as the Keeler Tavern. She also volunteered on behalf of the Veterans Park School and the Ridgefield Library.

Mrs. Scott enjoyed swimming, walking, bridge and gardening, and was active in a local investments club.

Mrs. Scott is survived by a daughter, Patricia Scott Cole of Great Falls, Va., and two grandchildren, Charles Kenneth Scott Cole and Claire Patricia Cole.

The Rev. Dr. Aaron Manderbach, rector emeritus of St. Stephen's Episcopal Church, will lead a memorial service on Tuesday, Jan. 18, at 11 a.m. in St. Stephen's Church.

Contributions in her memory may be sent to the Visiting Nurse Association of Ridgefield, 90 East Ridge, Ridgefield, CT 06877.



If you would like to share any information about Frances Long
or would like to be added to the POW/Internee e-mail distribution list,
please let me, Tom Moore, know.
Thanks!