From "Santo Tomas" by Frederic Stevens; liberated from Santo Tomas were:

Adele Clagett Baldwin
Alice Baldwin
Frank Bernard Baldwin

Liberated from Los Banos was:

Rena Baldwin


---
August 25, 2009

Sascha Jansen called me this morning looking for information about the Newland Baldwin family. Looks like he died in Santo Tomas, October 22, 1943. His children were:

Margaret
Jim
Dick
Barry
Newland (Jr.?)
The family had been in the Philippines since about 1912. Newland owned or worked for a company called, "Pacific Commercial Imports Co."

The above is a combination of details from Sascha, Catherine Hoskins and Pat Remley.


---
An abstract from "The Manila Americans" by Lewis E. Gleeck, Jr., published in 1977.

Ned (Newland) Baldwin was born in Manila in 1916, the son of Newland Baldwin Sr. who died in Santo Tomas in 1943. Newland Sr.'s father was Barry Baldwin, who was born in 1836 and died in 1923, four years after he had sold out his interest in Macondray to his son, but 25 years after he arrived in Manila on Dewey's heels in time to see the American flag hoisted over Fort Santiago on August 13, 1898. Ned entered the American School in 1922, when it was located on the present site of the Acme market in Ermita, two blocks from the present American Embassy. He continued in attendance when it moved to Aldecoa and Mabini behind the Admiral Apartments and the Manila Overseas Press Club of the early Seventies. Dewey Boulevard in those days ended there. After seven years in the American School, Mrs. Baldwin and the redoubtable (principal) Mrs. Grove clashed, and Ned finished up at Ateneo, then run mainly by Irish-American Jesuits. The Baldwins lived at their plantation-style house on Naushon Road, a kind of Southern plantation-styled mansion adapted to the Tropics which bordered the Polo Club.

Brothers Barry and James were captured as First Lieutenants in the U.S. Army at Corregidor in 1942, while Ned served with the U.S. Forces in Iceland from 1941 to 1944, being transferred to Hollandia, New Guinea in October 1944. Promoted to Major, he accompanied the U.S. Army all the way to Lingayen Gulf and arrived two days after the initial attacking force took the northern half of Manila on February 3, 1945.

In 1946, both James and Ned Baldwin rejoined Macondray, James to manage the Shipping Department and Ned the Merchandise Department. Thanks to energetic work and pre-war connections, Macondray was the first company to receive a commercial delivery – a small shipment of wheat flour for a hungry city. From that time on, the company was off and running.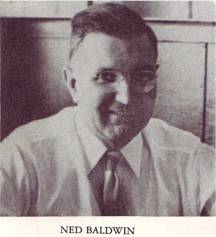 (Photo Courtesey of Lou Gopal)

If you would like to share any information about the Baldwin family
or be added to my POW/Internee e-mail distribution list,
please let me, Tom Moore, know.
Thanks!