From Fletcher Hank's, "WHEN AND HOW THE CNAC CRASHES HAPPENED ON THE HUMP AND ITS ENVIRONS DURING WWII" (hand-dated 5/4/02, page 10)

Weldon Tutwiler and Ged Brown, 03/7/44, C-47 #91.
Took off from Cuba (in the Caribbean), with an airplane overloaded with booze, crashed, burned and killed everyone on board.
The plane was replaced and the number, #91, was assigned to the replacement.

We believe that Ged Brown did not die in this crash.
---

January 28, 2010

Sorry Tom, I canít seem to find anything more about the accident. Fletcher Hanks stated that the plane had been overloaded with booze, and apparently the importation of liquor from Cuba had just become an issue in the U.S. Ė the government preferred that the molasses be used to produce industrial alcohol for the war effort. I donít imagine the accident had any bearing on this, but just three days after the crash, the War Production Board in Washington D.C. placed a strict quota on the importation of rum, cordials, gin and whiskey from Cuba, Mexico, Puerto Rico, etc.

Youíre probably right to wonder if Ged Brown was killed in the accident. William Geddes Brown was born on 14 June 1909 in Cincinnati, OH. He had a wife named Kathryn, and two children named Barrie H. and Jennifer K. Brown. In 1943, Brown and his wife purchased a home at 1748 Biarritz drive at Miami Beach, and some time thereafter, he apparently went to China. On 27 November 1946, he arrived back in the U.S. from Shanghai via a U.S. Army plane. Mr. Brown died at Palm Beach, FL on 20 January 1994.



Nebraska State Journal, 8 March 1944
(Courtesy of Patti Gully)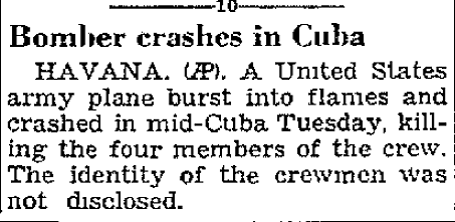 ---
May 16, 2008

Seems like we have lots of bits and pieces about this accident and just who for sure was killed. Captain Potschmidt remembers it as he writes about the TRAGEDY IN CUBA.

---

As far as I can tell and find out, for sure, is that these two men were killed March 7, 1944 taking off from Cuba:
Weldon Tutwiler
Walter Zech, navigator
If there were two other persons on board, whether or not they were killed or survived, their names have not surfaced, yet. Can you help?



Walter R. Zech, the son of Walter Zech, sent the following newspaper clipping from the Philadelphia Evening Bulletin dated 3-11-44.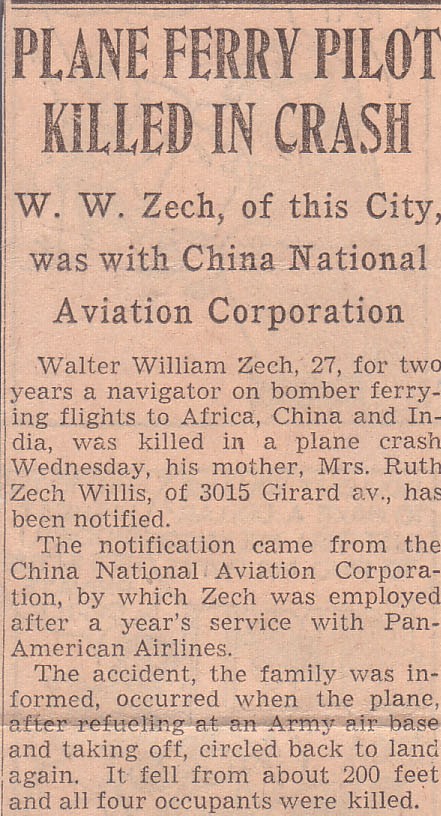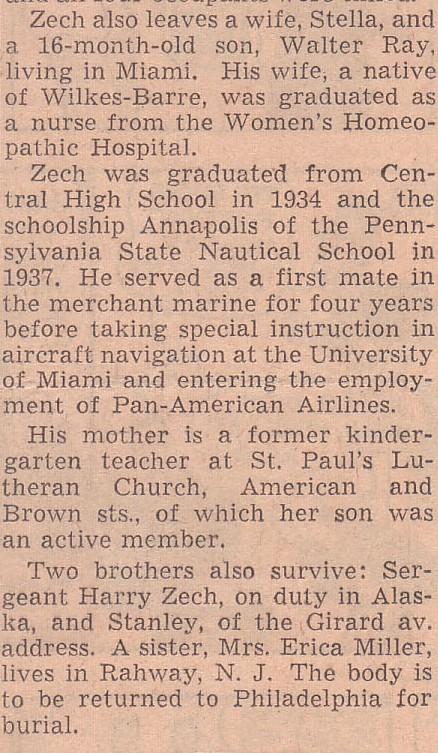 If you can share any information about this accident
or would like to be added to the CNAC e-mail distribution list,
please let the CNAC Web Editor, Tom Moore know.
Thanks!