OCTOBER 7, 1944
TAKEOFF FROM DINJAN SOMEWHERE OVER SADIYA


From Fletcher Hank's, "WHEN AND HOW THE CNAC CRASHES HAPPENED ON THE HUMP AND ITS ENVIRONS DURING WWII" (hand-dated 5/4/02)

James Scoff, 10/07/44, C-47 #101.
All 3 crew killed. Copilot, C. Wong, radio operator, Ding-Tze Chen. Night takeoff from Kinjan in a severe thunderstorm headed for Suifu. No radio message received from him after he checked over Sadiya, 35 miles northwest of Dinjan. Apparently, Jim had decided to return to Dinjan as he crashed 20 miles west of Sadiya, north of Kobo, in the jungle north of the Bramaputra River. Both wings had been twisted off by the severe turbulence. One wing was found on the top of a tall tree. That wing stayed there throughout the war. The other wing was several hundred yards from the first one. Plane was completely demolished as the plane crashed going straight down in a bog where it burned. Evidence of Scoff's body found under his sweater that he always wore. Only the bottom of his shoes could be seen. He was left buried vertically in the swamp. Cause of the accident never determined. Jim had lived through many close calls while destroying two airplanes.
Sources: Kirkpatrick's log and Gudeman, mechanic, who went to the wreck riding an elephant from Kabo.



The following excerpt comes from "The Aluminum Trail" by Chick Marrs Quinn.
See booksetc01.htm for details about this and other related books.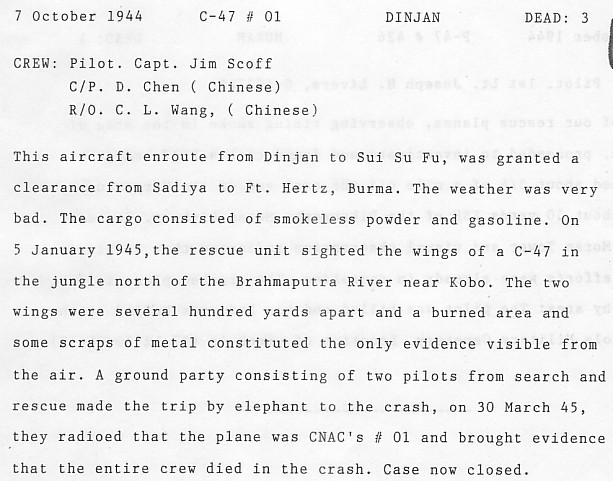 Here is more confusion about who, other than the Captain was in the plane. Chick's book says, Co-pilot D. Chen and Radio Operator C.L. Wang. I just think that Chick got these two names reversed and that C.L. Wang is really C. Wong.






If you can share any information about this accident
or would like to be added to the CNAC e-mail distribution list,
please let the CNAC Web Editor, Tom Moore know.
Thanks!


Background music to this
page can be controlled here.
"Clair de Lune"