AUGUST 31, 1944
FROM KUNMING OVER THE HUHUANG VALLEY NEAR SHIMBUWANG


From Fletcher Hank's, "WHEN AND HOW THE CNAC CRASHES HAPPENED ON THE HUMP AND ITS ENVIRONS DURING WWII" (hand-dated 5/4/02)

Bert Coulson, 08/31/44, C-47 #97.
Both of crew killed but not the captain. Copilot: Ting, Radio operator, C.H. Chang, both Chinese. While flying from Kunming, over the Huhuang Valley, engines missing and started losing power. Bert tried a letdown at Shimbuwang but could not make contact when down to minimum altitude so he pulled up. He hoped he could nurse the ship home but it only got worse. He was on instruments and below minimum altitude for the area. He directed the crew to jump. Then after giving them time to get out, he put the plane on auto-pilot and ran for the back door. Much to his surprise the door was jammed and the crew was still inside. He got the door open and bailed out. One of the crew opened his chute before falling free of the plane and hung up on the tail. The other opened his chute in the plane and died in the crash.

Coulson landed at high speed in a tree. He was scratched and bruised and able to get to the ground in the morning. He followed a stream that led him to the Ledo Road several days later. He ate whatever he could catch and the many leeches that were eating him. He always ate all the leeches before he went to sleep so he would not die during the night due to loss of blood. His Zippo cigarette lighter was the only way of removing the leeches. He considered the lighter saved his life. After the crash, none of the Chinese crews would fly with him because they said, as the captain, he should have been the last to leave the ship. Bert was not bitter about this because he got away with his life. He left Calcutta to return to the States as a crew on a troop ship.
Sources: Kirkpatrick's log and Bert's roommate, Fletcher Hanks.



The following excerpt comes from "The Aluminum Trail" by Chick Marrs Quinn.
See booksetc01.htm for details about this and other related books.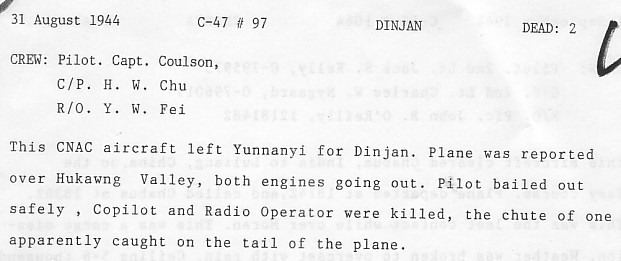 H.H. Chu and Y.W. Fei


Here is another discrepancy regarding the co-pilot and radio operator in this accident.






If you can share any information about this accident
or would like to be added to the CNAC e-mail distribution list,
please let the CNAC Web Editor, Tom Moore, know.
Thanks!


Background music to this
page can be controlled here.
"Clair de Lune"