From John Kenehan's list; Wayne checked out 5/18/1944.

---
From Gene Banning's list of 8/31/00:
"... 2/44; left in late 1946 (actually October 1950) to FTL."

---
In the 1943-45 log book of Don McBride, Wayne listed his home address as:


Wayne P. Snyder
417 W. Mulberry St.
Kokomo Indiana
---
Last known address from the 1995 CNAC mailing list was:
Capt. Wayne Snyder
11430 1/2 National Blvd.
Los Angeles, CA 90064
Telephone (310)477-2036

---
Wayne's widow, Shirlee Snyder, is also deceased (1923-2004).

---
In 2004, the following three covers were purchased from the same lot on eBay.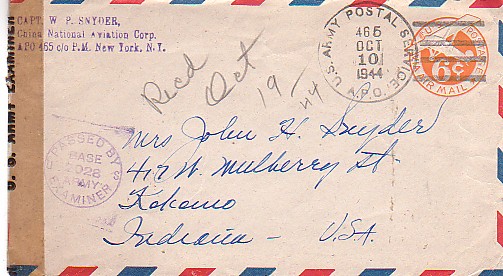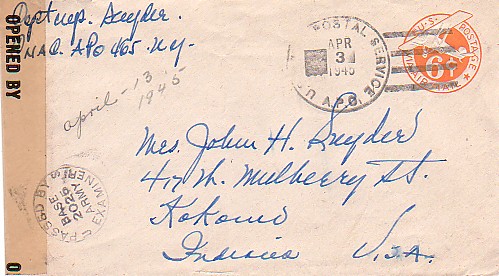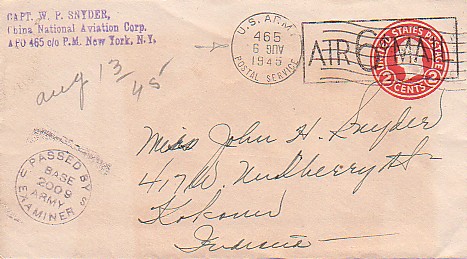 And, here's another envelope seen on eBay.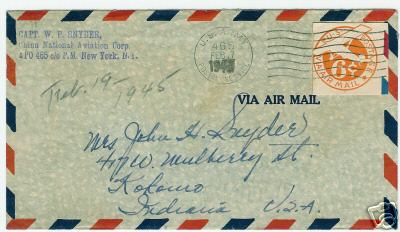 ---
January 6, 2006

Hi Tom,

I remember him from the reunions when they were joint gatherings with AVG and CNAC. He was also a captain with the FTL. He had a tall blond wife and they both attended the reunion in Mallorca, Spain in 1966.

Lydia

---
January 6, 2006

Hi Tom,

Yes I knew and flew with Wayne Snyder. He went on to work for Flying Tiger Line with me for a short time. I never knew him well. He checked out as capt. at CNAC 5-18-44 just behind Fletcher Hanks.

Carey

---
January 6, 2006

I knew Wayne, both with CNAC and, later with FTL, but did not know him well. He had been with CNAC for several years before I hired on, and I'm pretty sure that he stayed in Hong Kong till the end of CNAC in late 1949. Don't really know much more than that.

Don

---
January 7, 2006

Hi Tom -- Good write-up on Sherwood. As for Wayne Snider a very nice Guy. August 1945, Wayne and I were on a brand new C-46 enroute Dinjan - to Liu San, and test flying it without icing equipment. We were co-Captains and over the highest section of the Himalayas we began icing up. No boots and insufficient carburetor heat. Then our right gear came down, While fighting to pump up the wheel the wings and engine iced up. We set the C-46 on auto pilot and prepared to bail out.

As a parting gesture i slashed the ropes. The boys began throwing the five tons of currency overboard. When I looked up their was only four bales left. I yelled stop. "Keep them in case we can buy or way out of SE TIbet. We had drifted down between layers. I ran up and disengaged the auto piled to dodge the peaks and discover a lake ahead.

We circled the lake and finally cranked the gear up. Instead of continuing to Liu Shan, we turned SE for Kunming with our remaining four bales of currency out of the 52. I marked an X on the cloud where we began dropping at 22,000 feet. Wayne stayed with CNAC a few month after the war and went back home.

CED



If you would like to share any information about Wayne Powell Snyder
or would like to be added to the CNAC e-mail distribution list,
please let the CNAC Web Editor, Tom Moore, know.
Thanks!