From Gene Banning's list of 8/31/00:
"... March, 1943; promoted Aug. 1943, killed in crash inst approach to Kunming, 11/19/43, plane #59."

Captain Privensal was a good friend to Flight Capt. J. Gen Genovese and featured in Genovese's book, We Flew Without Guns (1945).

---
March 19, 2003

I am in contact with Gayle DiPillo, the daughter of Albert Joseph Privensal. Albert was born February 23, 1903 and raised in Mt. Tabor, Vermont. Gayle was only three years old when her father was killed. Gayle said her father had two brothers, now deceased, Danny who lived in New York and Harold who lived in Springfield, Massachusetts. She also said that her father flew for the Royal Air Force (RAF) then PanAm then CNAC. While flying with the RAF, Pri and three other RAF pilots had an audience with the Queen of England and noted for their outstanding achievements for England (We're pretty sure that two of those men were Gen Genovese and Al Gingiss). Family history says Albert managed the Aero Dinner at or near Brainard Field, learning to fly from Frenchy Deschone (we guessed at the spelling) (Here are some great plane pictures from that time http://www.acepilots.com/pioneer/air_photos.html).

Gayle continues to provide additional information as it turns up. She would love to hear from anyone who knew her father. She can be reached at her home in Connecticut:

Gayle DiPillo
95 Ledgewood Road
West Hartford, Connecticut 06107
USA
Telephone 860-521-5547

Here's more from Gayle...

May 5, 2007

Dear Pepperbud,

A note of thanks for your many updates and news on CNAC and its many pilots of which my father was one. I have been in contact with "Gen" who tells me they used to fly by the seat of their pants, so to speak.

My dad was Captain Albert Joseph Privensal and wound up as a character in Gen's book, "We Flew Without Guns", an intrigueing account of how things were then. My dad left when I was three years old never to be seen again in these parts. Sure wish I could have had more time with him and really gotten to know him.

I have heard many stories about him and his amazing athletic endeavors. It seems as if every where I go someone knew him and to this day still raves about the man. I guess every loved him. Gen tells me he was "an uncommon man in a common world".

I would so appreciate it if you could once again send me those striking photos of the Hong Kong airport with logo. They are simply amazing! Somehow, I seem to be unable to pull them up and I so loved seeing them. I also enjoyed your "inspirational" message!

Please let me hear from you soon. Also, please inquire if there is a way of obtaining a photo of my father. (did you fly with him or know him well? - no, I did not know him.)

Many thanks as I wait to hear from you....

Gayle Privensal DiPillo
babygtd@yahoo.com

---
August 5, 2007

The following information comes from a cousin of Al's named Jim Provensal. Click here to read more about the Provensal/Privensal family. Thanks, Jim.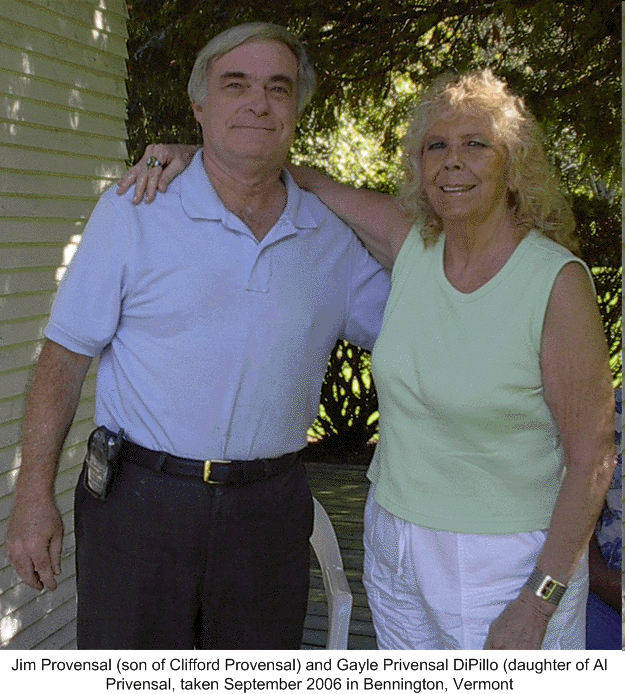 ---
Click here to see the Hartford, Connecticut Veterans Memorial Wall of Honor, which includes the name of Albert J. Privensal.



If you would like to share any information about Albert Privensal
or would like to be added to the CNAC e-mail distribution list,
please let the CNAC Web Editor, Tom Moore, know.
Thanks!