My best guess for this cover is 1931 or 32 or maybe even 33. Do I hear any other dates?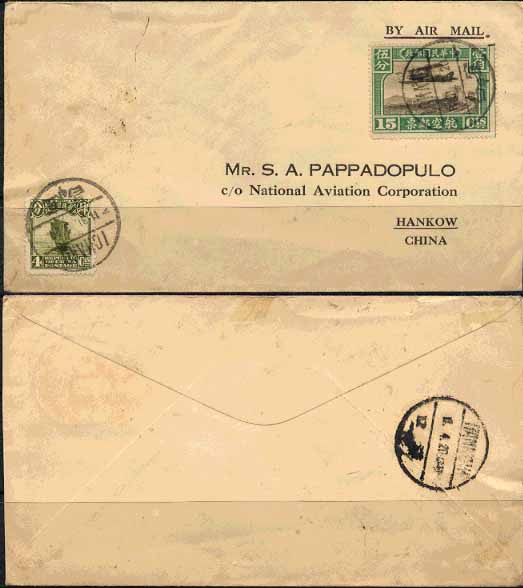 HELP!! Does anybody out there know this "Mr. S. A. Pappadopulo"?
China 1930 CNAC $1+0.45c Airmail cover -US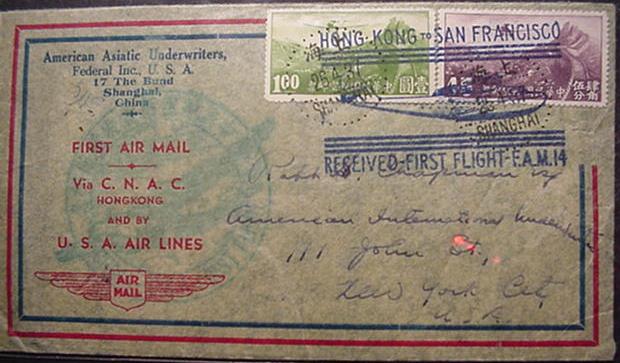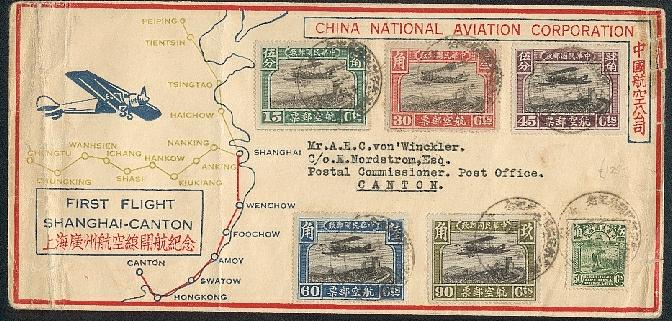 193? First Flight - Shanghai to Canton
Sent with the Airmail set of 1929 and the 50c "Reaper" of 1923.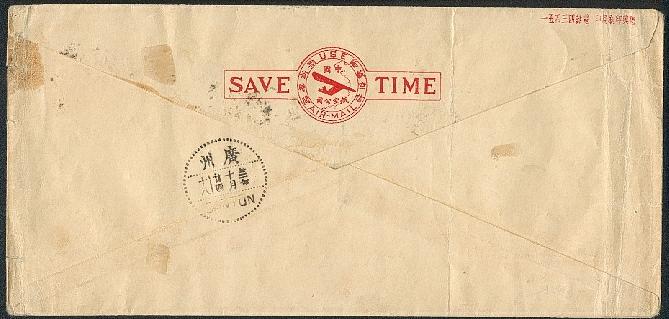 Back side
March 31, 1931 -- Hankow to Ichang -- FFC.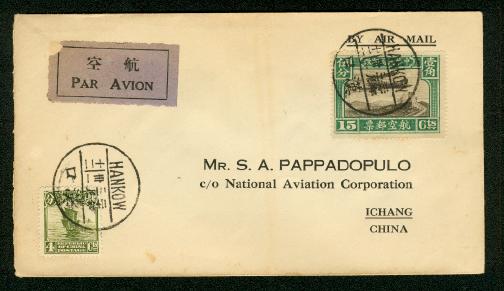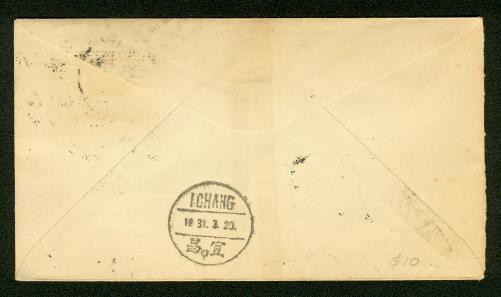 1931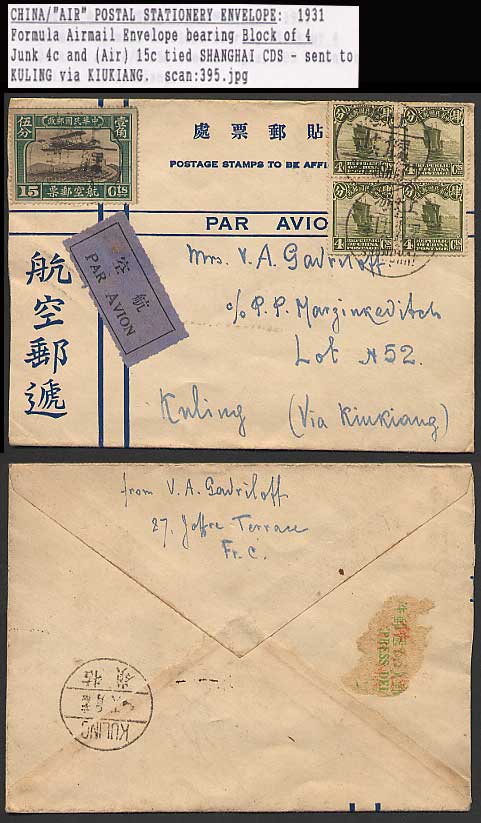 May 29, 1933 China Natational Aviation Corp. FFC Chungking-Chengtu
First flight cover on vivid, multicolor No.10 air mail stationery of the China National Aviation Corporation.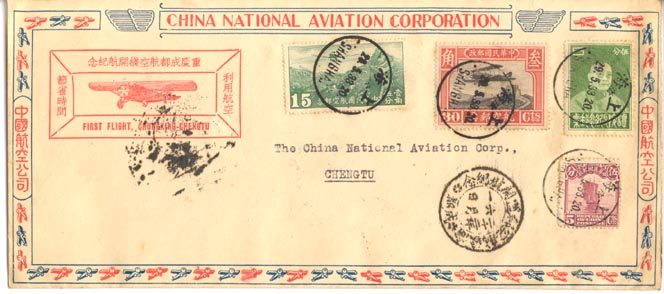 CHINA 1933 First Flight cover Canton-Shangai CNAC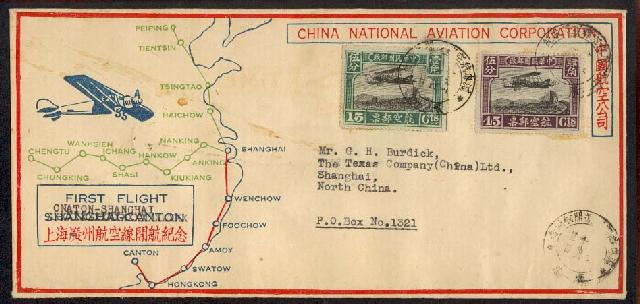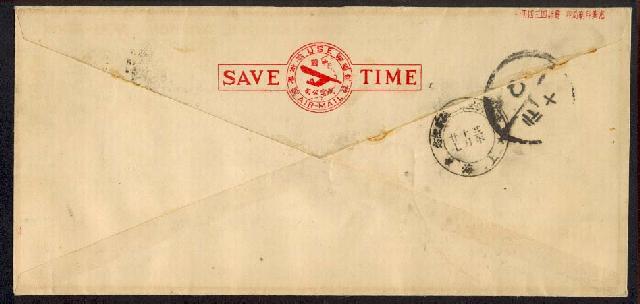 Another First Flight - October 1933, Canton to Shanghai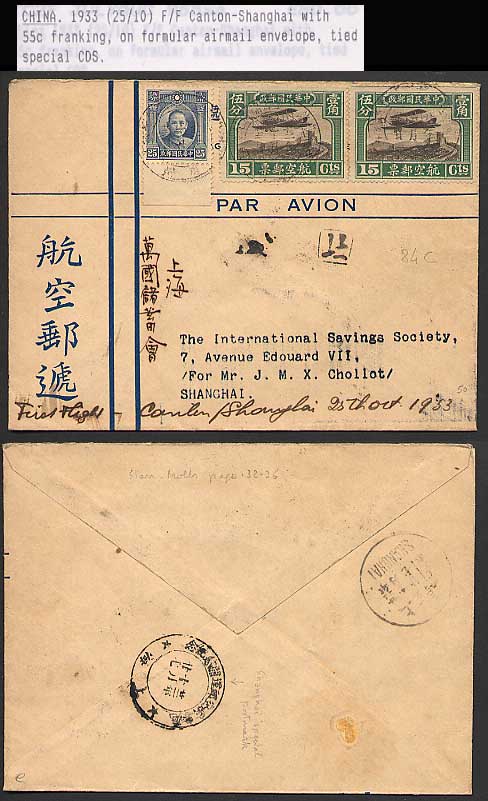 Another First Flight - October 1933, Canton to Shanghai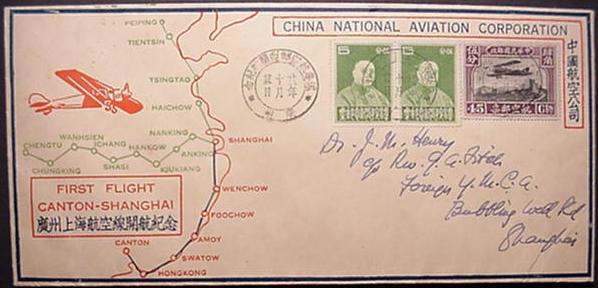 This first flight cover was sent on 10/24/1933 from Shanghai to Foochow via Canton.
It is the first flight from Shanghai to Canton.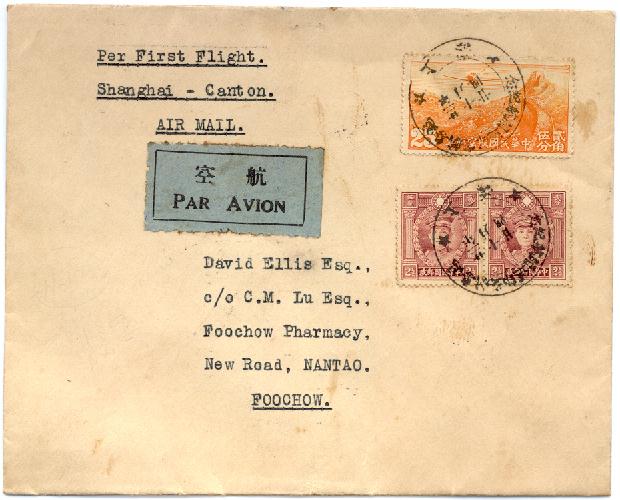 China 1933 FFC w/C6-10 Shanghai-Chungking
1933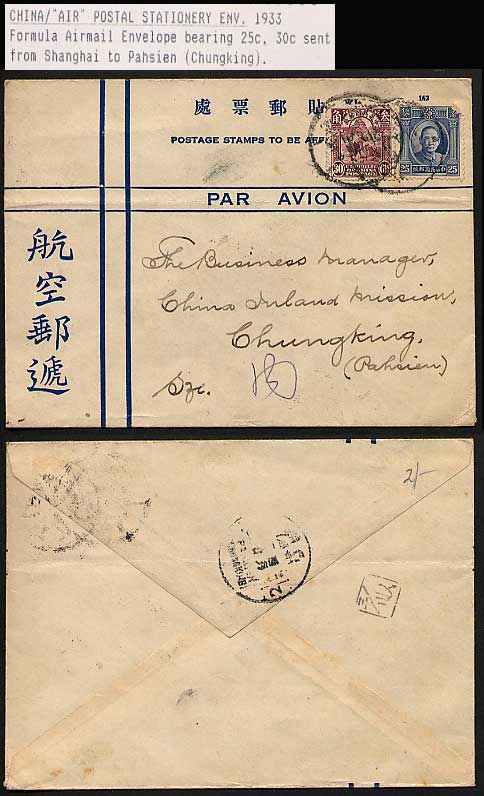 June 2, 1935 China airmail cover sent from Shanghai to Union Hospital in Hankow,
franked with 5c, Scott #299; and 25c, #303.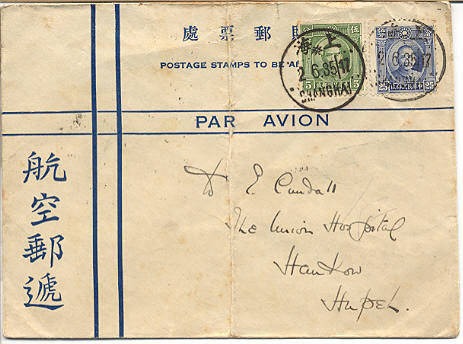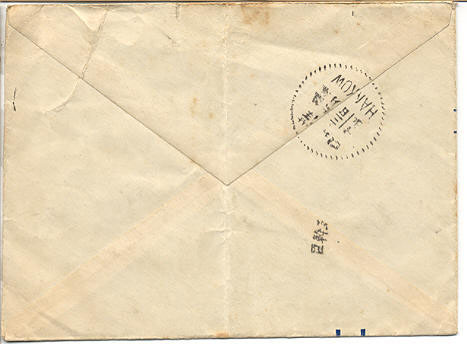 A July 12, 1935, Registered cover from China to Hong Kong.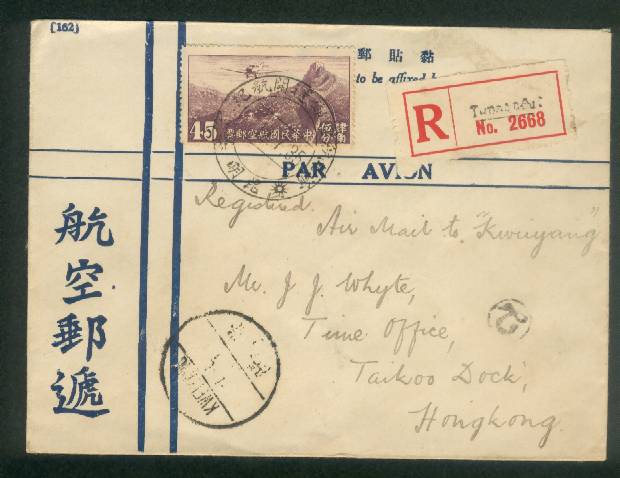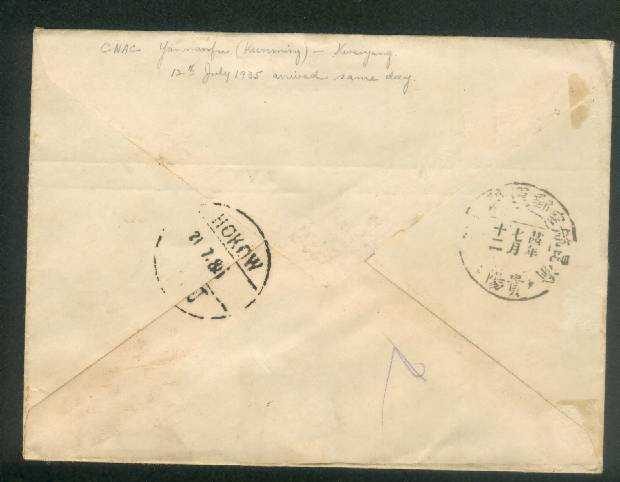 On July 3, 1936, the Belgium Postal Service accept the first air mail to China in collaboration with the K.L.M., the Imperial Airways and the C.N.A.C. (Chinese National Aviation Corporation). The route was: Brussels-Amsterdam-Penang with the KLM, Penang-Hong Kong with Imperial Airways and Canton-Shanghaï with CNAC. Departure: Brussels July 3, 1936. Arrival: Shanghaï July 16, 1936. This cover left Shanghaï on July 22 and arrived in Theux (Belgium) on August 10, 1936.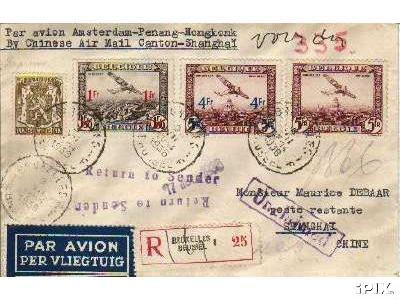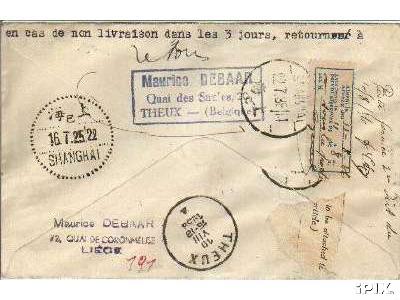 REPUBLIC OF CHINA AIRMAIL COVER TO HONG KONG FROM AMOY, CHINA NOVEMBER 5, 1936 TIED WITH CHINA SC #C13. COVER COMMEMORATES THE 1ST ANNIVERSARY OF HONG KONG 5/11/36. COVER BACKSTAMPED VICTORIA, HONG KONG 5 NOVEMBER, 1936.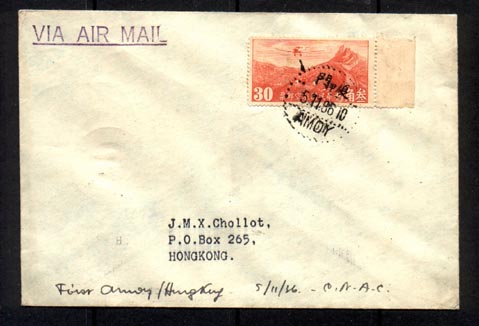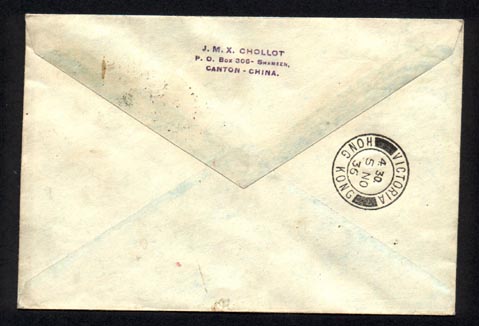 1936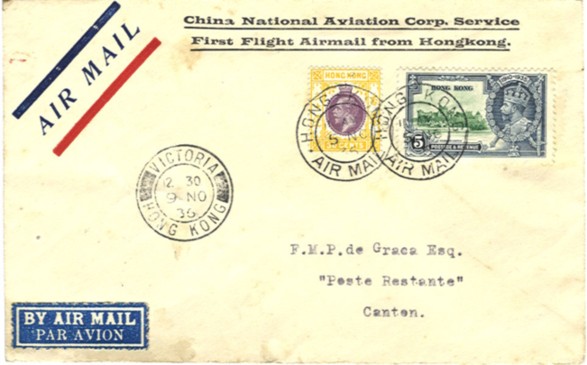 November 5, 1936 Hong Kong to Amoy
China National Avation Corp. Services
First Flight Airmail from Hong Kong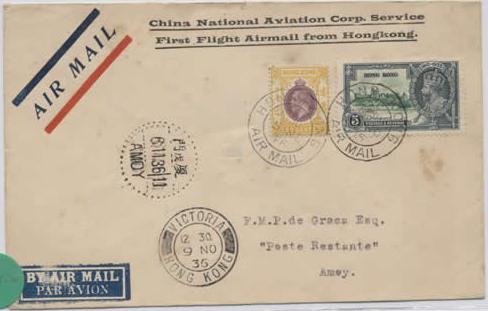 Macau to Hong Kong, 1937
Pan American Airways and CNAC-HONG KONG First Flight Cover flown from Shanghai, China to San Francisco on Apr. 26,1937. Postmark is Shanghai on April 26,1937. Backstamped on Apr 30,1937 at Guam. The Cover was flown aboard the Famous Martin M-130 "China Clipper" Flying Boat Airmail Sercice across the Pacific.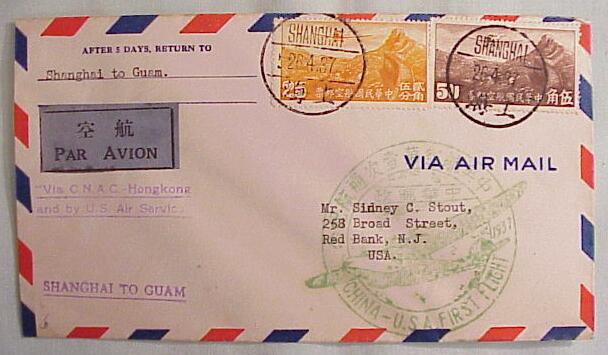 Does anyone remember Chen Ling, Esq.?
June 28, 1937


Arrival in Hong Kong - June 29, 1937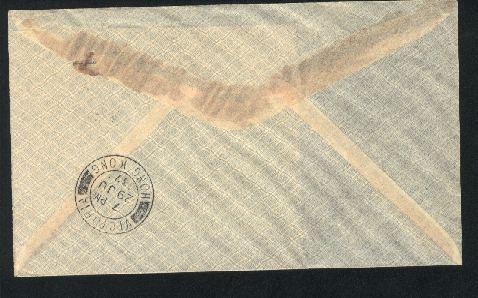 AUGUST 8, 1937
CRASHED INTO THE SEA, IN BIAS BAY, AT CHILANG POINT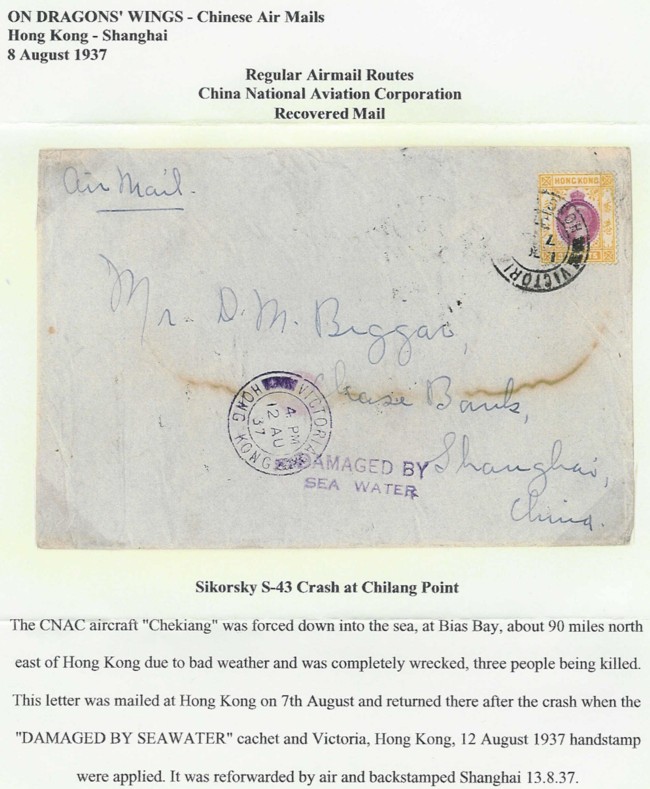 December 1937 -- First flight from Hong Kong to Chungking
December 1937 -- Another first flight from Hong Kong to Chungking
China 1937 PanAm/CNAC First Flight to USA
CHINA 1937 FIRST FLIGHT Shanghai - H.K. - USA
FAM 14 First Flight China-US 1937. Registered from Shanghai to Delaware, Ohio
Different cover, but another FAM 14 -- Registered from Shanghai to Delaware, Ohio
This is a fantastic cover sent from the Shanghai Telephone System Company to the Vice Pres. of ITT in New York, NY. There are 8 Shanghai cancels dated 26.4.37. It is Hong Kong to San Francisco Received-First Flight-F.A.M.14. This cover is 9" x 11" and has 11 China stamps: (1)#C18, (1)#317, (1 single)#296, (2 pairs)#296, (1)#C13, (1)#C18, (1 pair)#C16. I scanned the front of the cover, a good high resolution of the stamps, and scanned a portion of the back. The back has a nice cancel of San Francisco. $28.60 is written in pencil on the front, which happens to be the total of the stamps in 1937. This is an excellent example of some great postal history!


4 May 1937 Shanghai to New York, First Flight, F.A.M. 14 Front Back


Another 1937 First flight cover from Shanghai to New Jersey.


1939 China Airmail Cover to USA via Hong Kong.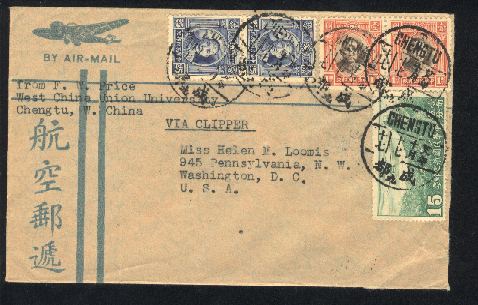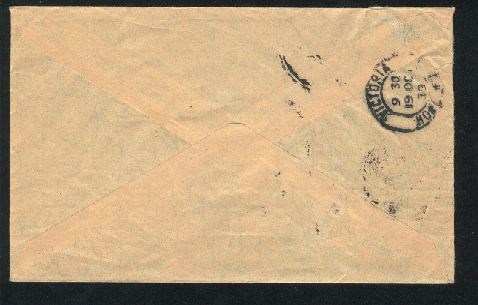 1939 China National Aircraft Company #10 cover.
From Hong Kong to New York.
Franked with Hong Kong stamps -- a pair of Scott#161; the 30 cent olive bister and the 5 dollar Scott#165.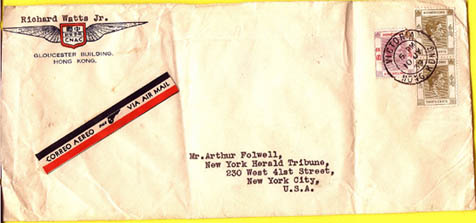 Anyone know if "Richard Watts, Jr." worked for CNAC?
This first day cover from 1942 demonstrates the US support for China.


It was 1945 - Anyone remember Mr. Tai T. Wing?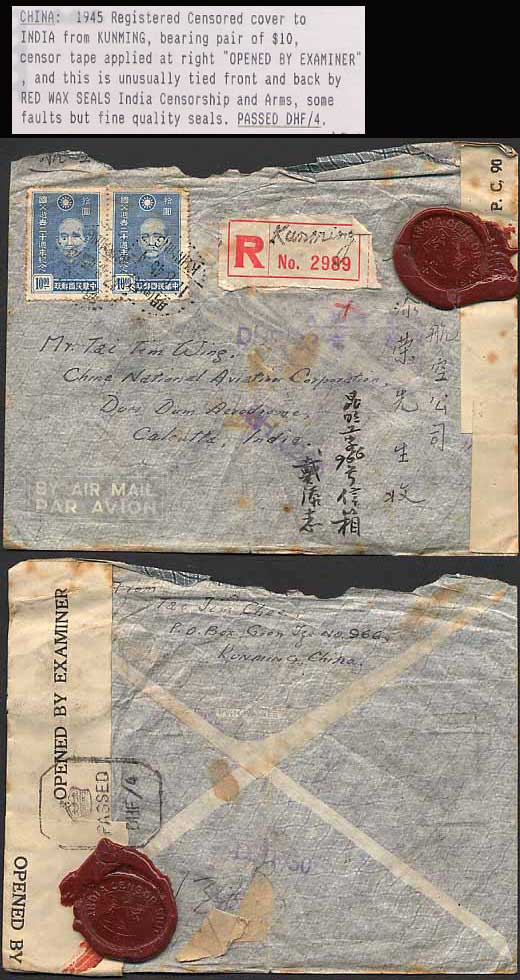 China - 1947 Shanghai-U.S. First Flight Front Back



Here's another example of the same post mark.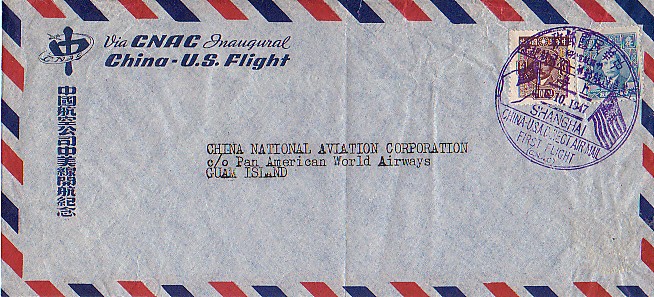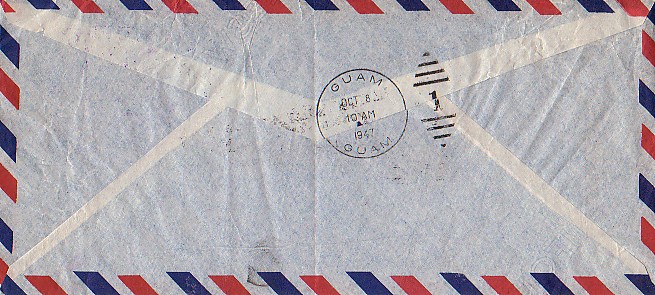 (Courtesy of Tom Moore)
Hong Kong - 5 July 1998
History of Kai Tak
and
First Day Cover Souvenir Stamp Sheet
commorating the closure of Kai Tak
and
Unused Souvenir Stamp Sheet