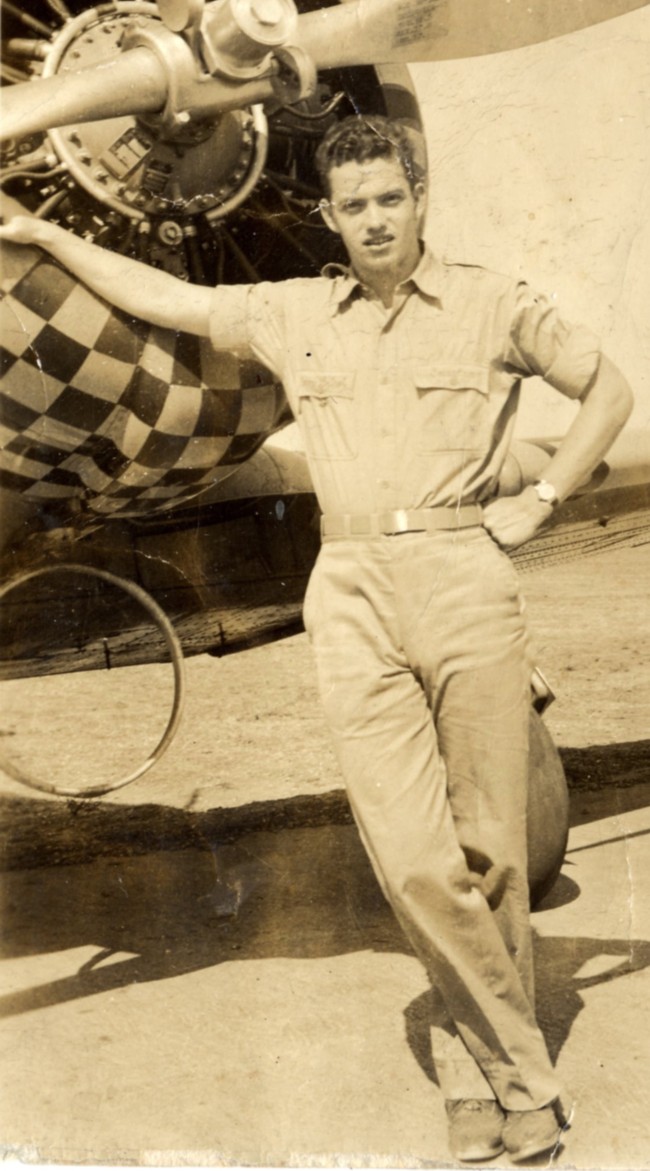 John Oakes
(Courtesy of John's daughter, Donna Perkins)



The following note comes from aviation Photographer, Bill Larkins, about the above photo of John Oakes. Thank you Bill.

Tom:

I knew I had seen that plane before but you threw me by my thinking it had to do with China. I finally gave up on the export mods etc and went back to basics. It is a North American BC-1 as I thought, and in the Army Air Corps and not in China. The odd lump on the bottom of the cowling is important for proper identification.

I finally found this photo in my files and it could be the same plane because of the insignia on the side. An important item is the DF loop under the center section and most BC-1s did not have it. The insignia is of the 3rd Staff Squadron at Fort Leavenworth, Kansas. So my question is "was Oaks in the Air Corps in Kansas?" His uniform and pose is not at all standard for AC photos. Just curious from my end...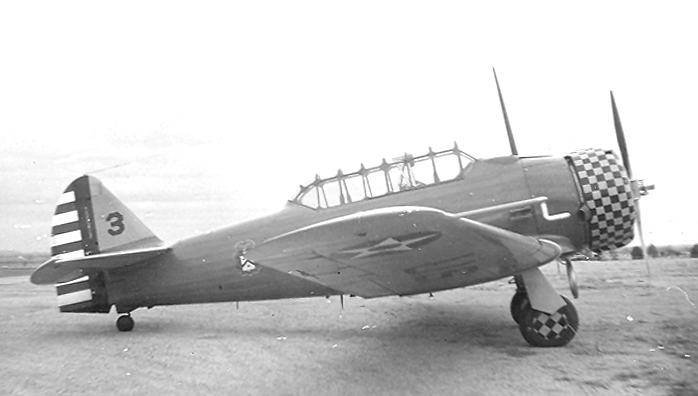 Thanks for the fun of finding it - even if it did take hours.

Bill
wtl@earthlink.net


---
The CNAC Web Editor would like to thank John Oakes for the following information about his time with CNAC.

August 18, 2000

John Oakes
P.O. Box 163
Valley Springs, CA 95252
(209)772-9354

"I was not a pilot; I was one of the Pan American World Airways mechanics which PanAm "loaned" to CNAC to help upgrade and speed up maintenance of the C-47 and C-46 cargo airplanes. My agreement with PanAm and CNAC (then a PanAm Affiliate) was to stay at CNAC for two years, or until WWII ended, whichever occured first. There were 12 or so of us, dispersed thru the CNAC Wartime System, mostly at Calcutta (Dum Dum) and Dinjan (Assam Valley India) and Kunming. I arrived at CNAC on Leapyear Day 2/44.

I lived at Dum Dum Aerodrome, a British controlled facility, at the CNAC Staff Quarters. This was also the CNAC main base for operations and maintenance. At the living quarters, for "Stateside" personnel, I met many CNAC people; new arrivals, R. & R. pilots, people waiting for travel orders, and pilots who were ill. There, I had opportunities to meet, and know many interesting and usually colorful people. Many of those names are on the pages you sent me. Long conversations occured.

If OK with you, I'll make copy(s) of some of the pages you sent, and pencil in bits of information on the people I knew. It may not help you too much in your quest for info on Emil Scott, as during those days, people came and left very quickly. But who knows, it might open a lead for you. Will send soon.

Sadly over 2/3 of those great guys are gone, as 55+ years have passed.

Good Luck!

John Oakes (Retired PanAm/1980)"


---

April 13, 2009

John Donald Oakes died peacefully Friday March 20 at a San Andreas care facility. He was 89.

Mr. Oakes was born in Buenos Aires, Argentina on March 13, 1920. In 1940, Don graduated from the Spartan School of Aviation in Tulsa, Oklahoma . He immediately was hired by Pan American World Airways based in Brownsville, Texas. In Brownsville he met his beloved wife Gladys Jean Parker, they were married for 64 years. In 1944 Pan Am sent John to India and China where he worked for 3 years for China National Airways. As a maintenance supervisor, he spent 40 years with Pan American, traveling around the world 3 times on various assignments. He was based in New York, Mexico City, and Miami before coming to San Francisco in 1961. He retired in 1981. John and Gladys moved to the Sierra foothills in 1989.

Mr. Oakes was an an avid reader and writer. He enjoyed writing long letters to his many acquaintances all over the world. He loved his dogs and cats.

He is survived by his two daughters, Karen Sue Oakes of San Andreas and Donna Jean Perkins of Murphys, son-in law Richard Perkins; sisters Dorothy MacGregor of Pittsburgh,PA, Leah Hopping of East Meadow, NY, his brother Victor Oakes of Naples, FLA; and his grandson Dustin Burress of Kingman, AZ.

He was preceded in death by his wife Gladys Parker Oakes in 2007.

A private service will be held. San Andreas Memorial Chapel is handling arrangements. In lieu of flowers, donations requested for the Calaveras Humane Society.



If you would like to share any information about John Oakes
or would like to be added to the CNAC e-mail distribution list,
please let the CNAC Web Editor, Tom Moore, know.
Thanks!