From Wings Over Asia Volume II Copyright @ 1972

"Woody and the crew used good judgment, as they moved the damaged airplane to a wooded spot and had it very effectively camouflaged. A Mrs. Brown, one of the passengers took some excellent pictures of the plane."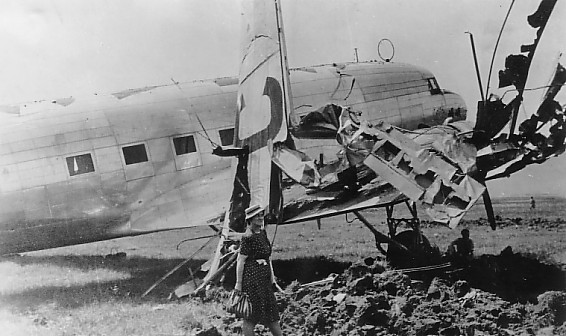 Mrs. Robert Ellsworth Brown
standing next to famous DC-2 1/2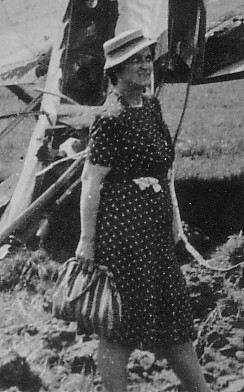 ---
From An Airline At War by Robert L. Willett:

"The pilot was identified as H.L. Woods of Winfield, Kansas, and the other Americans as Dr. and Mrs. Robert Ellsworth Brown of Ann Arbor,, Mich., superintendent and head nurse, respectively, of the University Hospital at Chengtu."


---
China Weekly Review, 31 May 1941, p. 429:
"Dr. Robert Ellsworth Brown and Mrs. Brown, formerly of the American Methodist Mission Hospital in Wuhu, whose plane was bombed while standing at Suifu, Szechuen, reached Chengtu, capital of Szechuen, on May 25 none the worse for the incident. The plane belonging to C.N.A.C. and was piloted by H.L. Woods of Shanghai. They were flying from Hongkong to Chungking on May 20 when they received a message that Chungking was under bombardment by Japanese planes. Pilot Woods immediately brought his plane down on the landing field at Suifu and all sought shelter in a bomb proof. The Japanese dropped bombs on the airfield which did small damage to the plane. Dr Brown recently returned from the U.S. where he assisted in raising funds for the construction of a number of new buildings for the University Hospital at Chengtu of which he has been appointed superintendent. Before going to America, Dr. Brown made a survey of the malarial situation on the Yunnan-Burma border."


---
February 19, 2009 -- Regarding Mrs. Brown's first name...

I once indexed a massive scrapbook for the YWCA filled with news clippings from the '30s and '40s about the Y's activities and the high-powered women who ran the place. Married women weren't allowed to work for a wage, so they channelled their brains and energies into volunteer activities. But they had no first names, either - just Mrs Frank Smith, Mrs Henry McEachern, etc., and I had a heck of a time trying to find out who they were. I talked to some elderly women from the period and they said they worked side by side for years, sometimes every day, and never knew each other's Christian names.

Got it! Mrs. Brown is the former Mae C. Willis of Danville, Illinois. She and Robert Ellsworth Brown were wed on Christmas Eve, 1907, and had two children, Willis E. (b. 1909) and Harold P. (b. 1912).

Patti (Gully)


---
Taken from the book, The Soochow Astronomical Chart by Will Rufus and Hsing-chih T'ien (1945):

A rubbing was made by Doctor Robert Brown who was the Superintendent of University Hospital in Chengtu, Szechuan, China and presented to the American astronomer Will Rufus.


---
February 19, 2009 -- collected from various sources...

The Browns were Methodist medical missionaries. Robert was Director/Superintendent of the American Methodist Mission Hospital in Wuhu (on the Yangste River near Nanking) for 20 years (circa 1918 to 1938). It was also known as the Wuhu General Hospital of the Methodist Episcopal Mission. He left Wuhu in 1939 and went to the large city of Chungking (Central China). He also seems to have travelled a bit in 1938. In 1941 he was studying hospital administration at the University of Michigan Medical School. These studies likely spanned 1940-1942. In 1943 he was back in China as Director of the University Hospital in Chengtu, the capital of Sichuan Province.



If you would like to share any information about Dr. and Mrs. Robert Ellsworth Brown
or would like to be added to the CNAC e-mail distribution list,
please let the CNAC Web Editor, Tom Moore, know.
Thanks!