In the 1943-45 log book of Don McBride, Melvin listed his address as: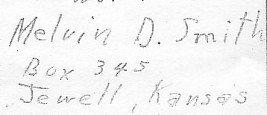 Melvin D. Smith
Box 345
Jewell, Kansas
---
From the 1960-1962 and the 1965 CNAC Mailing List:
Smith, Melvin
Box 345
Jewel, Kansas

---
How about this great shot taken in Egypt...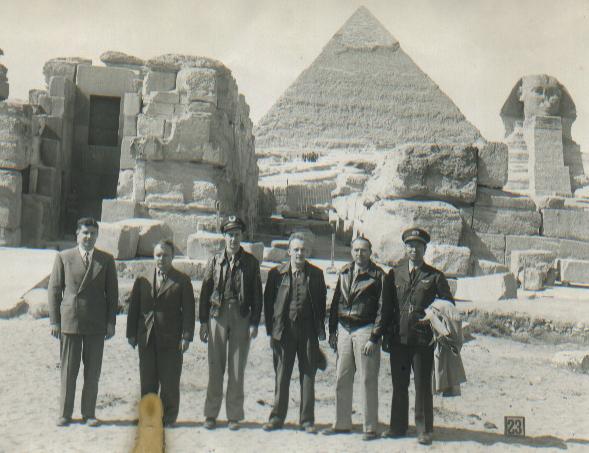 Egypt by the pyramids
-- left to right --
Bob Sherwood, Melvin Smith, Andy Longbotham, Rolph Preus, Jim Tate, Hugh Chen (Chinese senior Captain)


(Here's a close-up of those faces)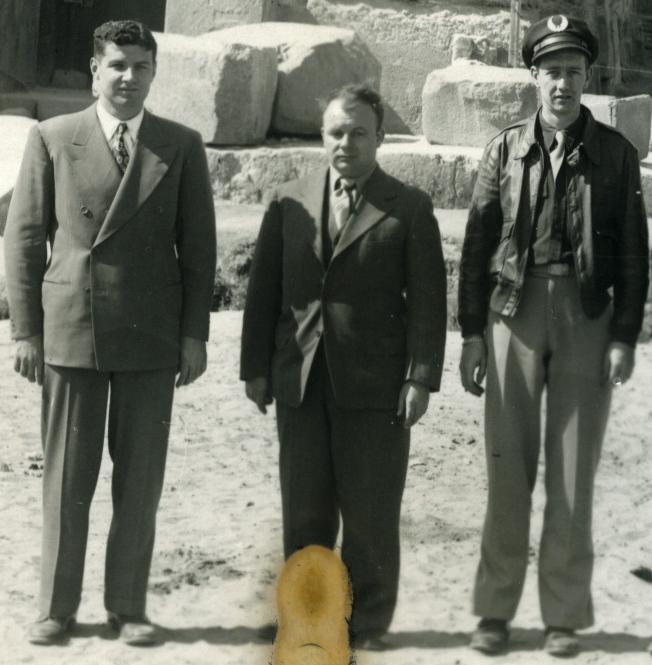 Bob Sherwood, Melvin Smith and Andy Longbotham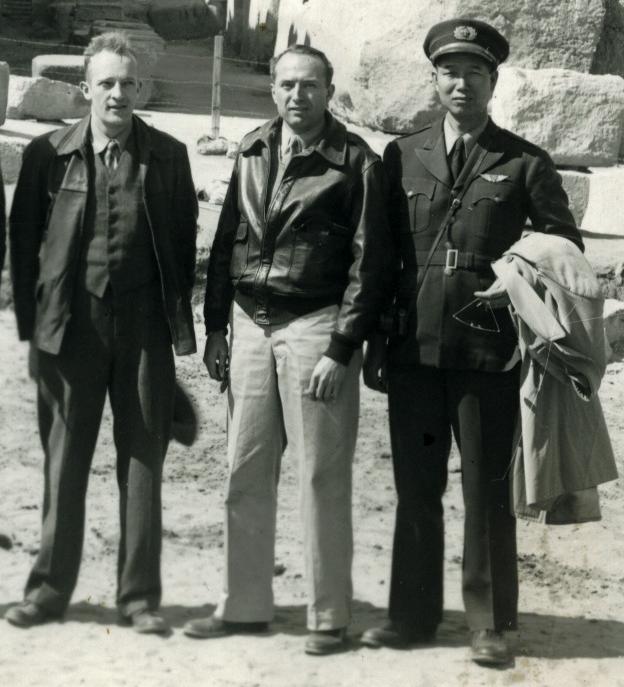 Rolf Preus, Jim Tate and Hugh Chen



May 24, 2007

Next to me is Melvin Smith who attended a techers college in I think Hays, Kansas. On one Hump flight he took Lowel Thomas, a well known newscaster. Thomas invited him to look him up in NY. When the war ended we did get to NY. I asked Smitty if he was going to look up Thomas. He replied, "Bob, I would not think of such a thing." I heard Thomas had his own 9 hole golf course. I would have looked him up.

Bob (Sherwood)


---
November 30, 2005

Dear Mr. Moore,

The newspaper clipping you sent to the Jewell County Record reached me through a classmate who's husband had taken flying lessons from Melvin. I am the sister-law, wife of his brother Arno. I live in Highland, CA (next to San Bernardino).

Melvin passed from a heart attack on Nov. 11, 1988, this was his second, the first was in 1966. Melvin never married, spent several years after his discharge in the Jewell area, moving to San Bernardino, CA in 1947 until his passing.

Melvin was next to the oldest of 9,(5 boys 4 girls), of this group the youngest boy and 3 girls, which live in and around Salina, Ks is all that's lift. My Husband Arno (Melvin's brother) was in the 40th combat enginers (from Africa to Omaha beach to the end) The next to youngest brother did a tour in Navy at end of WW II, later a top engineer that worked on designs to get the missells to stay on course and retired from Martin-Merrietta, then went into realistate in Denver area, was killed in an auto accident in -87- 54 years old. The youngest brother retired from the Navy (not sure the correct title but the top one as a non-com). Was on air-craft carriers and a weather tracker also out of Pannama. The sisters all stayed around Salina as farmers wife's.

Melvin grew up on a farm in western Ks. The high school was 25 miles away and a Model-T was the vehicle that got them there. Collage was about 100 miles away in Hayes, Ks.(I'll have to look up who he pledged too, have his ring and key). As I stated earlier he never married. Right out of service he did shuttle new private planes to the new owners. Did custom combining from Texas to the Canadian border for a few years. Moved to Big Bear, Ca. in -59- and had his own realestate business till his first heart attack in -66-. He was never able to go back to his home and remained in San Bernardino.

His want for learning never left him as he was always taking some course at the Valley Jr. College here. Got in to photography, big time from all the equipment he had. Liked astrology, going to yard sales and finding clocks, watches, etc. to work on. It was Arno and I that had to dismantle his home in Big Bear as well as 17 years here in S.B. This is how I now have his papers, emblems, and some pictures, his flight jacket was not in the best of shape so we didn't save it, just the patches that was on it. I will try and get out his papers and get copies made but don't hold your breath. I have 3 daughters and 2 sons that live either a mile or 30 from me, a g'daughter, husband, and their 2 year old daughter that lives right next door and I'm a busy crafter, this is why I get behind.

Hope this was of some help.

Yours truly,

Betty Belle Smith
E-mail beebzzy2000@yahoo.com

(Betty Belle - Thank you for sharing your information about Melvin. It is greatly appreciated. Tom)



If you would like to share any information about Melvin D. Smith
or would like to be added to the CNAC e-mail distribution list,
please let the CNAC Web Editor, Tom Moore, know.
Thanks!